Welcome Message

February 17-18, 2020
Paris, France
Aim:
Surgery 2020 provides opportunities for both academics and business, and countries to share their research through the conference podium.
Provide opportunities for educators to receive feedback on their findings through discussions and allow them to establish contacts with leading members of other countries and institutions. Tours are the main way to "break the ice" away from the formalities of the meeting room, providing an informal environment for discussing different angles. Even in the interconnected world of internet and satellite conferencing, there is no substitute for personal interaction.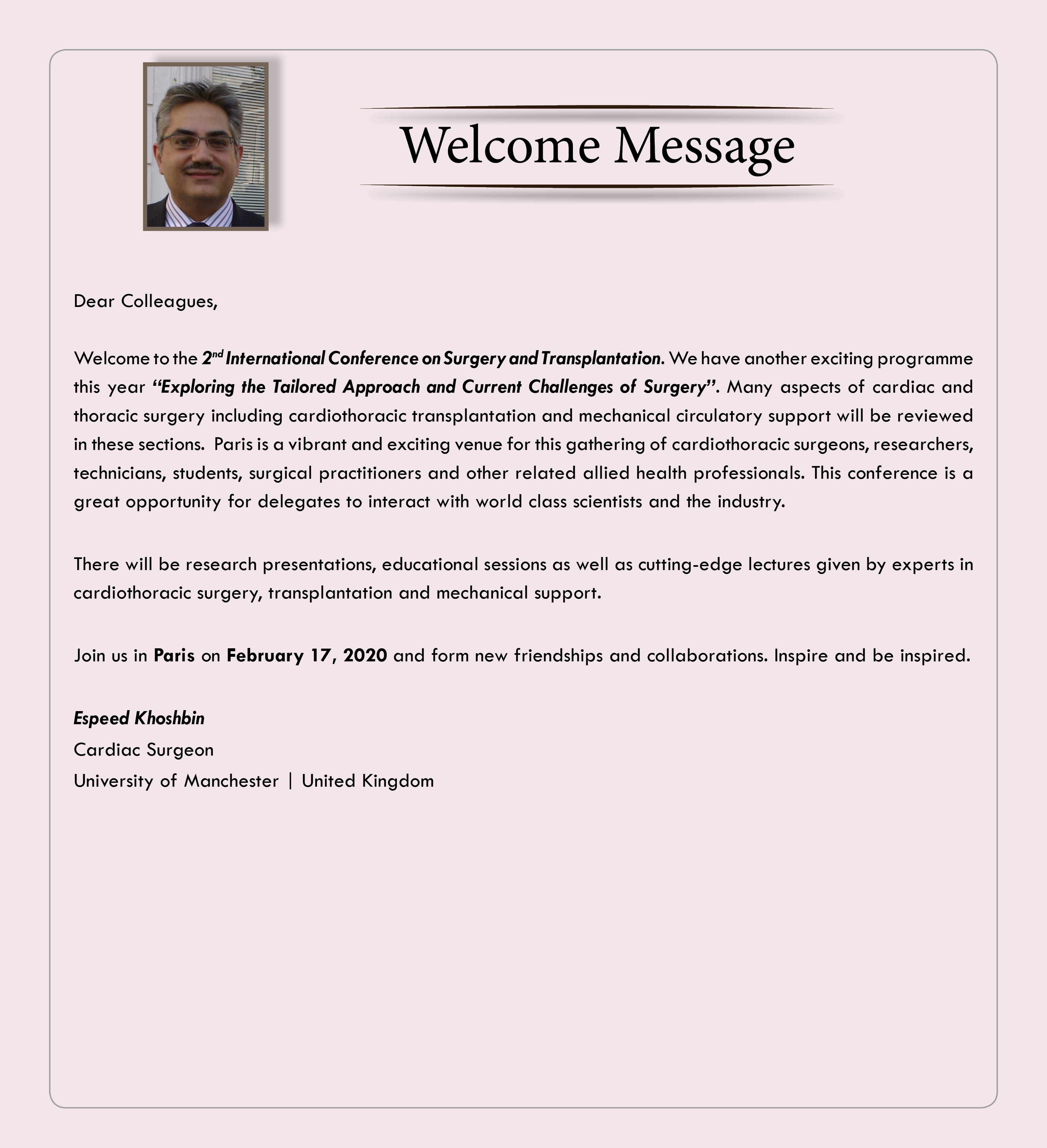 Important Update
---

Submit Abstract within Deadline to get the
Early Bird Tickets

!


Abstract Submission Deadline




| | |
| --- | --- |
| Oral Presentation | October 15,2019 |
| Poster Presentation | October 15, 2019 |
| e-poster | October 15, 2019 |
| Video Presentation | October 15, 2019 |

Early Bird Ticket ends on

October 15, 2019

Abstract Review Process

Within 24-48 hours

On- spot Registration

February 17, 2020


To submit your Abstract, Click http://surgerymeet.alliedacademies.com/abstract-submission based on the sample abstract template.
Benefits of Surgery 2020


Target Audience:
We are expecting healthcare professionals and researchers from the field of Surgery and Organ Transplantation.
Who can attend:
Doctors

Surgeons

Anaesthesiologists

Medical professionals

Fellowship holders

Medical students

Nurses

Surgical Tool Technicians

Pharmaceutical industries.

Ophthalmologists

Neurologists

Nephrologists

Gastroenterologists

Surgical oncologists

Dentist

Cardiologist

Orthopaedic surgeons

Trauma care surgeons

Podiatrist

Gynecologists

Neurosurgeons and others.
Sessions and Tracks
In this context, the organizers invite the research papers and case studies in the following non-exclusive tracks,

Session 01: General Surgery and its advancement

A general surgery have an ideal knowledge on surgical techniques that principally concentrates on wide area such as lungs, heart, liver, pancreas, gallbladder and stomach. General surgery is expected that the certified surgeon with additional intelligence and experience relevant to the pathology, physiology, anatomy, immunology, epidemiology and also in clinical care domains include wound healing, transfusion and disorders of coagulation, infection and antibiotic usage, metabolism and nutrition; minimally invasive and endoscopic intervention (including colonoscopy and upper endoscopy), shock and resuscitation, metabolism and nutrition.
Otorhinolaryngologists (also known as otolaryngologists or ENT Surgeons) are surgical specialist who can diagnose evaluate and manage a extensive range of disease of the neck and head, include the nose, ear and throat regions. Otorhinolaryngology (ENT)/Head and Neck Surgery researchers have progressive surgical treatments such as neck reconstruction surgery, transoral robotic surgery, laryngeal transplants, small blood vessel (microvascular) head, through-the-mouth (transoral) laser microsurgery.
Endocrine surgery is a subdivision of general surgery with the analysis and management of surgical disorder that principally focused on thyroid, parathyroid, adrenal glands and pancreas. Endocrine surgical can be performed on endocrine gland to treat a hormonal or antihormonal effect in human body. This surgery involve to expel carcinomas which has evolved within or on endocrine gland. The method of operation through endoscopic techniques is indicate as endonasal surgery.
Ophthalmic surgery, well-known as ocular surgery which can performed on eye. Laser eye surgical treatment or laser corneal surgery is the procedure accomplished by using spending of laser on floor of the eye. Laser eye surgery reshapes the cornea, the clear front part of the eye. This changes its focusing power. This procedure is carried out to treat the conditions like myopia, hyper metopic and astigmatism. Glaucoma method accelerated pressure in eye or nerves system present in the eye which results in loss of eyesight and this is well diagnosed as increased intro-ocular pressure.
Cardiothoracic surgery is specialty involve in surgical treatment of organs within the thorax (the chest), principally the heart, lungs and oesophagus. This includes surgeons who can be called congenital heart surgeons, cardiac surgeons, general thoracic surgeons and cardiovascular surgeons. Normally, cardiovascular surgery is done to treat disease include congenital heart disease, ischemic disease or treat valvular heart disease from various causes including, atherosclerosis, rheumatic heart disease and endocarditis. Cardiac surgeons perform various kinds of surgery including aortic surgery which can replacing an enlarged or damage blood vessels leaving the heart and hear valve surgery used to repair and replacing narrowed or leaking heart valves.
Urology Surgery procedures required huge incisions with broad hospitalization and recovery. Minimally invasion surgery also known as keyhole or laparoscopic surgery has advance development in the field of urologic surgery with the computer technologies and advancement of engineering. The organs division of urology are kidneys, urethra, urinary bladder, adrenal glands, ureters, and the male reproductive organs. Nephrectomy is a urologic surgery for the removal of kidney. Pyeloplasty which is surgical reconstruction of the renal pelvis to culvert and de-compress the kidney. Paediatric urology is urologic disorders in children. Such diseases chiefly are vesicoureteral reflux, immature genitalia cryptorchidism, congenital irregularities of the genitourinary tract and enuresis. Feminine Urology is a subdivision of urology dealing with urinary incontinence, overactive bladder and pelvic organ prolapses.
Neurosurgery is the medical speciality deals with the diagnosis, rehabilitation and surgical treatment of disease or injuries to the peripheral nerves, brain, extra-cranial cerebrovascular system and spinal cord. Neurosurgery is the most extraordinary and modernized strategy for the treatment which include pc helped imaging, magnetoencephalography, stereotactic radiosurgery, figured tomography and appealing reverberation imaging (MRI). Certain speciality of neurosurgery are functional neurosurgery, endovascular neurosurgery, vascular neurosurgery, stereotactic neurosurgery and epilepsy surgery.
Plastic Surgery is a branch of surgery that specialises in restoring forms and functions to damage or missing tissues and skin. The cause of defect normally related to surgery, illness, injury, or congenital abnormality. The rapidly emerging techniques is deals upon the exploitation of key principle of surgery, pathology, anatomy and physiology. Reconstructive plastic surgical procedure will be carried out to correct the functional impairments due to facial bone breaks, injuries, accidents and congenital construction, which include infectious sicknesses, cleft palate. To enhance the physical appearance commonly plastic surgery will be done. The global corrective surgery and system is maintain to achieve USD 43.9 billion by 2025, as per report by developing utilization of web-based social networking, Inc. Innovative advancements, web-based social networking and expanding discretionary cashflow are a part of the variables prone to drive the market amid the figure time frame.
Bariatric surgery has most effective and durable treatment for morbid obesity. Surgery results in naturally reduced in weight and help to prevent, better or resolve more than 40 obesity-related diseases or conditions such as certain cancers, type 2 diabetes, obstructive sleep apnea, and heart disease. People with morbid obesity or BMI?30 have a 50-100% accelerated risk of premature death compared to individuals of healthy weight.
Gender reassignment surgery is also known as Sex reassignment surgery, is a surgical procedure by which a transgender person's physical appearance and function of their existing sexual characteristics are altered to resemble that socially associated with their identified gender. In addition to Gender reassignment surgery, patients may need to follow a lifelong course of masculinizing or feminizing hormone replacement therapy.
Surgical Robotics Market was estimated as $3 billion of 2014, and is evaluated to collect $6 billion by 2020, enrolled a CAGR of 10.2% throughout estimate period (2016?2020). Medical robots used for prosthetics or home assistance, minimally invasive surgery, emergency response, targeted therapy, represent one of the rapid growing sectors in the medical devices industry. Most advanced area of medical robotics is the development of surgical robots for minimally invasive surgery and microsurgery.
Surgical oncology is branch of surgery used to diagnose, stage and treat cancer, and certain cancer-related symptoms. As one among a few modalities inside the management of malignancy, the assert to fame of surgical oncology, before contemporary solution the main growth remedy with a opportunity of development, has advanced in steps like medicinal oncology (pharmacotherapy for tumor), which became out of hematology, and radiation oncology, which have become out of radiology.
Paediatric surgeons work with young patients from predeveloped and unborn babies to children and young adults. It include general, urology, plastic, orthopaedic, oral and ophthalmic surgery as well as ENT. Specialist adult surgeons may work with paediatric surgeons to treat uncommon childhood syndrome. Pediatric surgeons can examine and treat surgical needs including Transplantation operations, Endoscopic procedures such as colonoscopy, esophagogastroduodenoscopy, bronchoscopy.
Surgical Pathology is examination of a tissue specimen is obtained by biopsy and surgical resections to render the diagnostic results. These techniques are usually performed by both macroscopic and microscopic analysis of the given specimen by a surgeon or a non-surgeon. Tissue specimens can be obtained from different body parts. Surgical Pathology may involve in examining and evaluating the molecular property of a tissue by laboratory tests such as immunohistochemistry.
Transplantation is the transfer of human cells, tissues or organs from a donor to a recipient with the aim of renovating function(s) in the body. Transplantation of human cells, tissues or organs saves many lives and restores essential functions where no alternatives of comparable effectiveness exist.
Organ transplantation is often the only treatment for end state organ failure. The procurement of organs for transplantation involves the removal of organs from the bodies of deceased persons. This removal must follow legal requirements, including the definition of death and consent.
Related Associations and Societies:
Europe: European surgical Association | European Society of Surgery | European societyof Surgical Research | Conferences and Meetings on Surgery | European Societyof Trauma and Emergency Surgery | European Society of Aesthetic Surgery | European Society of Surgical Oncology
USA: American Surgical Association (ASA) | American college of Surgeons | Association of Academic Surgery | American Association for Surgery of Trauma | Ambulatory Surgery centre Association | American Society of General Surgeons | Society of Thoracic Surgeons | Central Surgical Association | Association ofWomen Surgeons | Western Surgical Association
Asia-Pacific: Asia-pacific Society of Thyroid Surgery | Asia-pacific Society of Thyroid Surgery | Japan Society of Surgical Infection | Asia-pacific Hepato-Pancreatic-BiliaryAssociation | Asia-pacific Association of Surgical Tissue Banking
Market Analysis and Past Conference Report
A general surgery have an ideal knowledge on surgical techniques that principally concentrates on wide area such as lungs, heart, liver, pancreas, gallbladder and stomach. General surgery is expected that the certified surgeon with additional intelligence and experience relevant to the pathology, physiology, anatomy, immunology, epidemiology and also in clinical care domains include wound healing, transfusion and disorders of coagulation, infection and antibiotic usage, metabolism and nutrition; minimally invasive and endoscopic intervention (including colonoscopy and upper endoscopy), shock and resuscitation, metabolism and nutrition.
The general surgery market is forecast to grow steadily moving into the next decade. The market was valued at $14.6 bn in 2017 and is expected to reach a value of $21.6 bn in 2024, increasing at a Compound Annual Growth Rate (CAGR) of 5.7%, according to Global Data, a leading data and analytics company.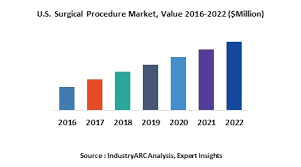 In 2017, the market for endoscopy devices was estimated to be $7.6 bn and is expected to grow at a CAGR of 7.3% to reach a value of $12.5 bn in 2024.
An increasing demand for minimally invasive therapies, and advancements in imaging technology is fuelling the growth of the endoscopes market which currently accounts for more than half of the general surgery market in terms of market size.

An increasing emphasis on early diagnosis of diseases such as cancer, is fuelling the growth of the biopsy devices market. This is expected to grow at a CAGR of 2.2% from 2017 to 2024. Increasing obesity rates are expected to drive the market for bariatric surgery devices at a CAGR of 9.3% from 2017 to 2024 due to an increasing number of bariatric surgical procedures.

The robotic surgical systems market is expected to witness significant growth over the forecast period, with a CAGR of 13.5% from 2017 to 2024 for robotic surgical systems used within general surgery.
The general surgery market saw a price erosion in many countries, and the trend is expected to continue throughout the forecast period. Budget constraints on healthcare systems, along with a purchasing process that is becoming more transparent and stakeholder-intensive – is expected to control the costs and effectiveness of the purchasing process; as well as the devices that come with it.
Past Conference Report


The International Surgery and Ortho Conference was held during October 25-26, 2017 at Toronto, Canada.
It is our pleasure to thank our wonderful Speakers, Delegates, Students, Media Partners, and Associations for making Surgery 2017 Conference a grand success!
Surgery 2017 has taken the privilege of honouring Keynote Speakers,
Seyed M Rezaian,

California Orthopeadic Medical Clinic,

USA

Xiaoping Ren

, Harbin Medical University,

China

Anthony Yeung

, Desert Institute for Spine Care,

USA
whose talk made this meeting to begin in the interesting manner.
The panel discussion sessions started with the questions raised by the delegates towards the speakers had made this event much more interesting. We would like to thank our delegates from various parts of our world.
The honorable speakers of the Surgery 2017 includes:
·

Mikhaylov Vladimir

, Eternity Medicine Institute,

UAE

·

Weiguang Ho

, Ulster Hospital,

UK

·

Renjie Xu

, Suzhou Municipal Hospital,

China

·

Sheldon Nadal

, Sheldon H. Nadal D.P.M,

Canada

·

Mansoor Jafri

, Dr. Gray's Hospital,

Scotland

·

Mitra Mahdavi-Mazdeh,

Tehran University of Medical Sciences,

Iran

·

Justin Arockiaraj,

Christian Medical College and Hospital,

India

·

Shagun Bhatia Shah

, Rajiv Gandhi Cancer Institute and Research Centre,

India

·

Uduma Felix U

, University of Uyo,

Nigeria

·

Montasir Junaid,

Armed Forces Hospital Southern Region,

Kingdom of Saudi Arabia

·

Sadaf Qadeer

, Sir Syed College of Medical Sciences,

Pakistan

·

Yaser Said Abdelrhman Selim

, Samtah General Hospital,

Kingdom of Saudi Arabia

·

Laura Kerselaers

, Brussel University Hospital,

Belgium

·

Hilda Romero-Zepeda

, Autonomous University of Queretaro,

Mexico

·

Steven T Leung,

Wake Forest Baptist Medical Center,

USA

·

Vikram Saini

, MAMC Agroha,

India

·

Shiva Prasad Parajuli

, Kaski Model Hospital, Pokhara,

Nepal
The conference ended with the poster presentation session by eminent surgeons and the students from the different countries took the conference to the highly informative manner.
With the great success of Surgery 2017, We would like to proudly announce the commencement of 2nd International Conference on Surgery and Transplantation to be organized during February 17-18, 2020 at Paris, France
Let's Meet at Paris, France
More Info: http://surgerymeet.alliedacademies.com/
If you are interested!
Email us at: surgery@alliedagather.com