About the Conference
On behalf of organizing committee we take great pleasure to invite participants from all over the world to attend
3rd World Congress on Bio-Polymers and Polymer Chemistry
, scheduled during February 24-25, 2020 at Rome, Italy mainly focused on the theme "Accelerating the research trends and recent innovations in Polymer Chemistry". Polymer Chemistry conference aims to bring together the prominent researchers academic scientists, and research scholars to exchange and share their experiences in all aspects of Polymer Chemistry. It is also an interdisciplinary platform for researchers, practitioners, and educators to present and discuss the most recent advances, trends, and concerns as well as practical challenges and solutions adopted in the fields of polymer chemistry.
International Conference on
Polymer Chemistry
will focus on many interesting scientific sessions and covers all frontier topics in polymers which include Basic Principles in polymer physics, Biopolymers and Bio-Plastics, Synthetic and Green Polymers, Bio-Catalysis in Polymer Chemistry, Polymer Science and Applications and many more from across the globe, it held with the discussions on bio-polymers, polymer chemistry.
The focus is mainly on minimizing the hazards and maximizing the efficiency of any chemical choice. The conference also includes Keynote speeches by prominent personalities from around the globe in addition to both oral and poster presentations.
On behalf of Polymer Chemistry 2020, we are glad to invite contributions from the enthusiastic academicians, scientists to organize International Symposiums/Workshops that are both empirical and conceptual in exploring new dimensions of green chemistry challenges towards achieving the solutions.
Who should attend???
Research Institutes and Companies providing research products and services for the Higher Education Sector polymer scientists, technologists, Chancellors/Vice Chancellors/ Promoters / Directors / Principals / Chairpersons /Academicians / Senior Management / Administrative Heads & Decision makers of Universities /Higher Educational Institutions (Public & Private)Media… and many more
Why exhibit???
Branding and marketing opportunity Showcase opportunities available in your own market and encourage foreign universities to collaborate Opportunity to sign MoUs with Global Universities and Institutions which are interested in Global Market Opportunity to explore tie-ups for research, student and faculty exchange programs, twinning programs, etc.
Registration benefits:
Only Registration Includes....
· All 2 days programs
· Reception banquet
· B2B meetings
· A free paper abstract in our Journal for free of cost
· Accepted Abstracts will be published in respective supporting journals, each abstract will be labelled with a DOI Provided by Cross Ref.
· Certificate of the presentation by International Organizing Committee (IOCM)
· Can attend all the Interactive sessions and Workshops
· All attendees can avail CPD Credits (Continuing Professional Development) by attending our prestigious conference.
· Career Guidance Workshops to the Graduates, Doctorates and Post-Doctoral Fellows
· 2 days Lunch during the conference
· Coffee break during the conference
· Conference Kit
Package A: Above 12 features including the following...
· Breakfast during the Conference
· 2 Night's accommodation (i.e. February 23rd & 24th 2020) in a deluxe single/double room at the conference
Package B: Above 14 features including the following...
· 1 Night extra accommodation i.e. February 25th 2020 (Total 3 nights)
Exhibitor/Exhibition
· Get Benefits of Exhibitor
Welcome message
Welcome message:
With great pleasure, we invite you to participate in the Conference on
Polymer Chemistry 2020
which is going to be held on February 24-25, 2020 at Rome, Italy. The topic of the conference covers a wide range of critically important sessions related to Polymer Chemistry and its advancement. On the behalf of Scientific Committee and as Member of the scientific Committee it is a great pleasure to invite you to this enlightening Conference.
It will be the best opportunity to know and share new experiences in the field of polymers, with the most renowned Polymer speakers from all over the world, making this event the event of the year in our specialty. We look forward to meeting you and exchanging experiences, new research work and always contributing to improving the quality of life of our patients, the engine of knowledge and research in our profession. Let's meet at the International Conference on Polymer Chemistry 2020 in Rome, Italy.
Target Audience:
Eminent personalities, Directors/Managers, Head of Departmental, Presidents/Vice Presidents, CEO's, Professors, Associate and Assistant professors, Doctors, Research Scholars and students from the related fields, Other experts in Polymer Chemistry, Students, Researchers, University Professors, Delegates, Attendees etc.
Sessions and Tracks
Polymer physics
deals with the physical structure and also the properties of polymers, as well as the reaction kinetics of
polymerization
of monomers and degradation of polymers. Polymers are giant molecules and therefore are terribly sophisticated for resolution employing a settled methodology. In the state of liquid, polymer is strongly depends on the temperature. The thermal fluctuation affects the shape of a polymer when there is an external temperature is given to a liquid state of polymer. There are many applications of polymer physics with in the space of optoelectronics, coating, medicine, food and so on. The polymers can be made in a chain form. There are two types of polymer chain.
They are:
· Ideal chain model
· Real chain model
Bio-polymers
are polymers produced by living organisms; in alternative words, they are compound
biomolecules
. Bio-polymers provide an alternative to oil based plastics, as they are made up off plants, usually polymers of starch or polylactic acid (PLA). They are presently used for luggage bags, cutlery and plates, pens, clothing, credit cards, food packaging, agricultural films, teabags, occasional filters, diapers and napkins.
Bio-plastics
are plastics derived from renewable biomass sources, like vegetable fats and oils, corn starch, straw, woodchips, food waste, etc. Bio-plastics are not free of environmental impact, and the carbon emissions related to growing crops and changing these into the specified chemicals has to be taken into consideration.
There are four main kinds of bio-polymer based respectively on:
· Starch
· Sugar
· Cellulose
· Synthetic materials
Synthetic polymers
are human-made polymers. Synthetic polymers are derived from crude oil, and created by scientists and engineers. Examples of synthetic polymers include nylon, polythene,
polyester
, Teflon, and epoxy. Examples of naturally occurring polymers are silk, wool, DNA, polysaccharide and proteins. Green and Natural Polymers Are on the Rise. As their name implies, natural polymers (or biopolymers) are polymers that occur naturally or are produced by living organisms (such as polysaccharide, silk, chitin, protein, DNA).
The powder will be chemical compound or many other alternative materials and a range of binders will be utilized based on the powder used. Fused filament fabrication (FFF) (or fused deposition modelling – FDM) was developed in the early 1990s as another
3D printing
approach that like SLS uses preformed polymer as the building material. PLA is a biodegradable plastic made from renewables such as corn-starch. While several 3D-printer manufacturers are providing metal 3D-printing services, it'll be some time before the economies of scale that helped bring down the price of plastic 3D printing affect the DMLS market.
3 Types of Plastic Used in 3D Printing-
· Polylactic Acid (PLA)
· Acrylonitrile butadiene styrene (ABS)
· Polyvinyl Alcohol Plastic (PVA)
Bio-catalysis
refers to the use of natural substances that include enzymes from
biological
sources or whole cells to speed up chemical reactions. Enzymes have pivotal role in the catalysis of hundreds of reactions that include production of alcohols from fermentation and cheese by breakdown of milk proteins. Bio-catalysis have many advantages over chemo catalysis in the context of green chemistry, which include mild reaction conditions (physiological pH and temperature), the use of environmentally compatible catalysts (enzymes) and solvents (usually water), high chemical activity and sensible regio- and chemo-selectivities for multifunctional molecules.
· Enzyme Immobilization
· Chemoenzymatic synthesis of block co-polymers
· Bio-catalytic Routes to Monomers
· Silicon-Containing Materials
A
polymer
is a massive molecule, or macromolecule, composed of many repeated subunits. Due to their broad range of properties, each artificial and natural polymer plays essential and omnipresent roles in everyday life. The field of chemical compound science includes researchers in multiple disciplines including chemistry, physics, and engineering. Polymers are studied with in the fields of physics science and macromolecular science, and
polymer science
(which include polymer chemistry and polymer physics).
The main polymers application areas include:
· Biomedical Applications-Regenerative Medicine, Drug Delivery, Bone Implants and Substitutes, Biomedical Devices related Applications, Bioactive Polymers
· Electronics
· Optics
· Polymers at surfaces and interfaces
· Energy conversion and storage
· Packaging
Bioinorganic chemistry may be a field that examines the role of metals in biology. Many biological processes like respiration depend upon molecules that fall within the realm of
inorganic
chemistry. Bioinorganic chemistry is the behavioral study of metalloproteins as well as artificially introduced metals including non-essential, in medicine and pharmacology.
Bioinorganic
Materials and Nanotechnology session is especially to phenomena and processes together of inorganic materials, nanomaterials and biological systems.
· Inorganic Nano crystals
· Inorganic Nano materials Synthesis
· Metal Oxide Nanoparticles
· New trends in green chemistry
A polymer that can be decomposed by microorganism is named as
biodegradable
polymer. The biodegradable polymers are the polymers which are degraded by the micro-organism within a suitable period so that biodegradable polymers & their degraded products do not cause any serious affects on the environment. The decomposition reactions involve hydrolysis to non- toxic small molecules which may be metabolized by or excreted from the body.
Biological
polymers are large molecules composed of the many similar smaller molecules coupled along in an exceedingly chain-like fashion. The individual smaller molecules are called monomers. When small organic molecules are joined together, they can form giant molecules or polymers Natural polymers are used to build tissue and other elements in living organisms.
· Preparation of peg/chitosan bio composites
· Molecularly imprinted hydrogels as potential carriers
· Spray dried hydroxyapatite-polymer composites
· Polymers with additives
· Biological Polymers- Proteins, Carbohydrates, Lipids
Polymer engineering is mostly associated with an engineering field that designs, analyses, and modifies
polymer materials
. Engineering polymers are materials with superior structure–property correlations. These properties enable the use of the engineering polymers in specific, high-end applications in automotive and aerospace industries. The recent developments of chemical compound have revolutionized the sphere of fabric science increasing the use of chemical compound primarily based substances from building materials to
Packing materials
, Fancy decoration articles, Electrical engineering, Communications, Automobile, Aircrafts, etc.
Plastics engineering specialties:
· Medical plastics
· Consumer Plastics
· Recycled or recyclable plastics
· Automotive plastics
· Elastomers / rubber
· Biodegradable plastics
· Plastics processing
Polymer
Nano-composites
consist of a polymer or copolymer having Nano particles dispersed in the polymer matrix. Polymer nanotechnology group can develop enabling techniques for the patterning of practical surfaces. Polymer Nano science is that the study and application of Nano science to polymer-
nanoparticle
matrices, wherever nanoparticles are those with at least one dimension of less than 100 nm. The most common type of filler particles utilized by the tire industry had traditionally been Carbon black (Cb), produced from the incomplete combustion of coal tar and ethylene.
· Bio-hybrid polymer Nano-fibers
· Bio-hybrid nanofibres by electrospinning
· Bio-hybrid polymer nanotubes by wetting
· Tissue engineering
Polymers are increasingly being used in a wide variety of applications in
electronics
and photonics, most of which use polymers in their traditional role as engineering materials. For more than 50 years, we have been developing and manufacturing polymer optical components and complex
optomechanical
electronic systems for our customers using sophisticated injection molding process. Metal
nanoparticles
have been used since the medieval times to create beautiful colours in glass windows. The effect is a result of strong colour-dependent light absorption in metal nanostructures; through excitation of collective electron oscillations known as plasmons.They are associated with doped fiber amplifiers, which give light-weight amplification without lasing.Fiber nonlinearities, like stimulated Raman scattering or four-wave mixing can also provide gain and thus serve as gain media for a fiber optical device.
· Hybrid Polymers
· Fabrication of Organic Light-emitting Devices (OLED)
· Polymer Solar cell
· Electro-Optics and Nonlinear Optics
· Thermoplastic Polymers
· Polymer Fibres
The chemical gas
polymerization
process of the UOP operates on olefin-containing gases. In both thermal and catalytic polymerization processes, the feedstock is usually pretreated to remove sulfur and nitrogen compounds. This method converts propylene and butylene to high-octane fuel or
petrochemical
polymers. Polymerization may be a method in which a substance of low molecular weight is transformed into one of the same composition but of higher molecular weight, maintaining the atomic arrangement present in the basic molecule.The stability of petroleum is dependent upon the molecular relationships of asphaltene and organic compound constituents and also the balance with the other constituents of petroleum. The asphaltene constituents are the highest molecular weight heaviest and most polar compounds in
crude oil
. During crude purification, the asphaltene compounds are non-distillable and remain in the residual fuels as the distillable fractions are removed.
· Desulfurization Process in Petroleum
· Petroleum refining
· Polymerization and alkylation
· Drag reducing agent
· Hydrocracking
· Isomerization
Polymers play a crucial role in
medical
applications and biomaterials are already habitually used in clinical applications. However, several medically approved polymers are not yet optimized for their aspired application. Properties such as mechanical characteristics, plasticity and degradation behaviour need to be adapted to the designated application. For medical applications, the surface properties are of major importance. Polymers are also constantly gaining attention in trendy
biomaterial
analysis wherever polymeric materials should act as mechanically stable, degradable and custom-made scaffolds, drug carriers or hydrogel-based artificial biomimetic living thing matrix. In this space, major progresses can be achieved via 3D printing of hierarchical materials with tissue-like structures.
· Polymers for Artificial Joints
· Bioabsorbable Polymers for surgical applications
· Adhesives for medical applications
Modern scientific tools revolutionized the process of polymers thus available
synthetic polymers
like useful plastics, rubbers and fiber materials. For every polymer application, understanding which materials are optimal for their purpose permits accurate prediction of behaviour and performance over their lifecycle in real world conditions. When considering a polymer application, understanding how a material behaves over time allows us to assess its potential application and use.
Molecular
science has developed enormously in recent eras. It has become a necessity in our daily routines we shall talk now about the basic applications of polymers without which life wasn't that easy. Polymeric materials tested include raw materials, compounds, foams, structural adhesives and composites, fillers, fibres, films, membranes, emulsions, coatings, rubbers, sealing materials, solvents, inks and pigments.
· In aircraft, aerospace, and sports equipment
· Polymers in holography
· Biopolymers in molecular recognition
· Organic polymer flocculants in water purification
· Polymeric Biomolecules
· Monomeric Units
· Renewable Biomass Sources
Polymer drug conjugates play a crucial role in the delivery of drugs. In the polymeric drug conjugates, the bioactive agent is combined covalently with chemical the substance to realize the efficient delivery of
bioactive
agents with in the required or specific period of time along with the enhancement of permeability and retention time. Among them, could be a biodegradable polymer having versatile nature due to its 2 chemical element atoms connected on each sides of phosphorus atom of its polymeric backbone, it can be easily replaced by nucleophilic substitution reaction.
Plastic
packaging for food and non-food applications is non-biodegradable, and also uses up valuable and scarce non-renewable resources like fossil fuel.
· Inter facial Polymerization
· Polyaramids and Polyimides
· Enhanced tumor targeted gene delivery
· Polypeptide Synthesis
Futures of
Bio-polymers
demand the manufacturer for brand spanking new materials is overwhelming. Applications by the use of new materials should utilize the properties of those polymers, and also the products should be developed based on those properties. The main concerns for humans in the future can be energy & resources, food, health, mobility & infrastructure and communication. Synthetic polymers have since an extend time played a relatively important role in present-day medicinal observations.
Polymers
occupy a prominent role in this modern living. From the tooth brush, lunchboxes, toys, pens etc, a lot of products are being used every day. It is absolutely fascinating when we understand the polymers and its utmost functionalities. From the daily utilities to the most advanced areas of research, polymer is a fundamental component. Man synthesized artificial polymer mimicking the natural polymers, which is a group of molecules combined together.
Plastics are generally
organic
polymers of high molecular mass, and sometimes contain different substances. They're typically artificial, most typically derived from petrochemicals, however, associate array of variants square measure made of renewable materials like polylactic acid from corn, or Cellulosic from cotton linters.
Plastic is associate organic waste. As basic components of its monomers primarily comprises
Carbon
and gas. We are able to simply divide waste particles in to 2 varieties, like organic waste and inorganic waste. Inorganic waste is that the form of material that isn't rotten in soil.
· Polyethylene Terephthalate (PET or PETE or Polyester)
· High-Density Polyethylene (HDPE)
· Polyvinyl Chloride (PVC)
· Low-Density Polyethylene (LDPE)
· Polypropylene (PP)
· Polystyrene (PS)
Polymers /plastics square measure made by with chemicals linking one or additional "link" chemicals to provide long chains of powerfully connected chemicals known as polymers. They are used for producing
client merchandise
, like coatings, lubricants, goods, aerospace, building materials etc.
The
selling strategy
sets your selling goals, defines your target markets and describes. However, you'll act positioning the business to realize advantage over your competitors. The selling combine, who follows from your selling strategy, is however you attain that 'unique commercialism proposition' and deliver advantages to your customers.
Market Analysis
Recent trend observed with in the global polymer market is increasing demand for polymers in numerous industries, including building and construction, packaging, consumer goods, electronics and telecommunication, and automotive. These industries are primarily substituting paper, glass, and metals with polymers, as a result of their low weight and price. The market has seen a significant growth in developing countries such as India, China, and Brazil, as consumers' purchasing power is increasing. Also, population of these countries are increasing, which increase the demand for essential products, which in turn, is driving the market growth.
The global polymers market size was at around $666.5 billion as of 2018, and its value is poised to grow at a CAGR of 5.1% during the forecast period (2019-2025). Increasing consumption of polymers in various end-user industries such as packaging, construction, automobiles, and healthcare, for the manufacturing of elastomers, adhesives, and surface coatings, is projected to fuel the growth of the market. Polymeric materials are usually obtained from oils such as petroleum and crude oil, but significant research is initiated to develop innovative methods of producing these materials using renewable energy sources.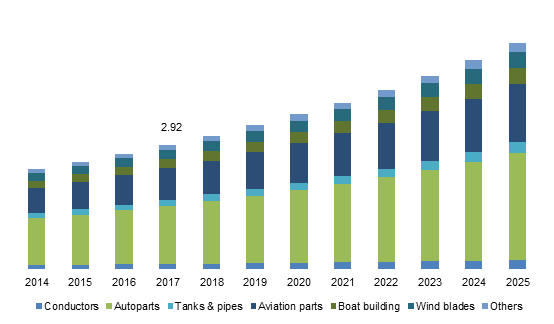 Allied Academies welcomes all the polymer chemists, technologists, research scholars, industrial professionals and student delegates from chemical sectors to be a part of the esteemed Polymer Chemistry 2020. This will be the best amalgamation of academic research and industrial innovations, involving every aspect of bio-polymers and polymer chemistry techniques. However, it is open to all types of advanced research methodologies both from academia and industry.