About Conference
It is our pleasure to welcome you to the
3rd Global Conference on Tissue Engineering and Regenerative Medicine, Stem Cell Research
on June 29-30, 2020. Regenerative Medicine 2020 Special Conference builds on the hugely successful preceding conferences, hosted by the Allied Academies. The program includes multiple opportunities for
networking
and interaction. As well as the lively Poster Discussion sessions, there will be
Panel Discussions
at the end of each day for speakers and participants to engage beyond discussing the data, into envisioning a future that integrates rapidly evolving technologies into basic,
transitional
and clinical research.
Theme of the Conference is "Novel Insights & Innovations in Stem Cell Research and Regenerative Medicine"
Why to attend the Conference:



Presenting your ideas and work gives you new
perspective about work as people may ask questions that make you think about your project differently. Gaining expert knowledge, exchanging views and information and allowing them to discuss tomorrow's challenges in Stem Cells. This event emphasizes at bringing the advancements in the fields of Tissue Engineering, Stem cells and related fields.
Who should attend?




We welcome all

Individuals

representing academia, public health researchers and practitioners, Stem cell researchers, Biology-practitioners, Immunologists & Microbiologist, pharmacists,

Healthcare professionals

, social scientists, epidemiologists, social workers, students, Researchers, Academicians, Practitioners, Early Career Scholars, students along with Industries and others engaged in endeavours related to

Regenerative Medicine

and Stem Cell research and business. We also invite industry scientists who are interested in targets for

novel therapies

. This is an excellent forum for informal networking and meeting potential collaborators.
Sessions/Tracks
Tissue engineering is the engineering of tissues, biomaterials using biochemical and physiochemical factors to replace biological effected tissues, which has a great scope in organ or cell replacements. The theme of Tissue Engineering is to assemble functional process to restore, stabilize or improve effected tissues or complete organs, recently artificial skin and cartilages are the results of Tissue engineering; often, the tissues involved require certain mechanical and structural properties for proper functioning. This has been applied to perform particular biochemical functions using cells within an artificially-created support system. To advance in these methods, Tissue Engineering uses nature individuality as source for the production of extracellular scaffolds, either from natural or synthetic basis as well as bioreactors and bio-devices to imitate natural physiological orders of particular tissues
PROS & CONS:
Pros:
Improve tissues such as skin, muscle and bone

Improve organs such as heart kidney and liver

Engineering tissues can possibly help a person to overcome a disease or illness

Tissue engineering

can be able to cure extreme and mild arthritis in patients that receive this kind of treatment

Tissue engineering has the capacity of prolonging our lives and making the quality of our lives more superior
Cons:
Scaffolds are difficult to construct

Takes a lot of research and understanding of each organ and tissue

Presence of hidden diseases or illnesses in the base tissue.
Related: Tissue Engineering Conference | Regenerative Medicine Congress | Tissue Engineering Meetings | Tissue Science Conferences | Regenerative Medicine Congress | Stem Cell Conferences | Tissue Engineering Events | Stem Cell Research Conferences
Related Associations & Societies: Tissue Engineering and Regenerative Medicine International Society, Maryland Stem Cell Research Commission, New York Stem Cell Foundation, NIH Stem Cell Centre, Norwegian Centre for Stem Cell Research, ScanBalt Stem Cell Research Network, Sheffield Centre for Stem Cell Biology
Regenerative medicine is the sub division of translational research in Tissue engineering and molecular biology which helps in replacing, regenerating the human cells, tissues or whole organs to restore its healthy function. This method gives the sustainability and stimulates to heal the body damaged tissues or organs which are previously irreparable. It also helps in regenerating tissues or organs inside of the laboratory and implanting then when the body cannot repair on its own, if the organs are regenerated from the patient's own cells, the shortage of organs available for donation will be solved also the problem of organ transplant rejection
Regenerative medicine therapy is defined as a cell therapy which is used to modify, cure and reverse the serious effects of the particular disease which even may be life threatening, using the tissue engineered products, human cell, tissue product or any other combinations of biomaterials to formulate the regenerative medicine.
Related: Regenerative Medicine Congress | Tissue Engineering Conference | Embryonic Stem Cells Conferences | Tissue Engineering Meetings | Tissue Science Conferences | Regenerative Medicine Workshop | Stem Cell Conferences | Regenerative Medicine Events
Related Associations & Societies: Institute for Stem Cell Biology and Regenerative Medicine at Stanford School of Medicine, Harvard College Stem Cell, Society Foundation for the Accreditation of Cellular Therapy, Fraunhofer Institute of Cell Therapy and Immunology, International Society for Stem Cell Research (ISSCR), Lund Stem Cell Center
Stem cells are non-specialized cells and they have the ability to become many different types of cells. Therefore, these cells play a key role in the body's healing process and the stem cell regenerative medicine which also as known as Stem Cell Therapy (SCT)
Stem cell facilitated drug discovery
Various types of stem cells were used to facilitate drug discovery. They can be potentially used as the disease models to treated or cure many life-threatening or chronic illnesses. Human embryonic stem cells (ESC) may store the genetic information which may be discovering how some diseases develop. Also, the human stem cells are being used to test new drugs. By using stem cells, not only the process of drug research and its subsequent path to becoming an approved drug can be accelerated
Disease-specific stem cell therapy development
Adult and embryonic stem cells, nowadays, are able to treat cancer, Parkinson's disease, baldness, Alzheimer's disease, sclerosis, blindness, Type 1 diabetes, muscle damage and neurological disorders, and many others. The aim of any stem-cell therapy could lead to cures for a myriad of diseases afflicting humans, and to repair a damaged tissue that can't heal itself. Stem cell therapies not only simply transplanting cells into the body but also be possible to stimulate stem cells already in the body to directing them to grow new, healthy tissue. The isolation of stem and progenitors cells is now being developed for many clinical applications. In Creative Bio labs, the services of disease-specific stem cell therapy development provide various stem cells which correspond to different types of disease.
Related: Stem Cell Conferences | Tissue Engineering Conferences | Tissue Engineering Congress | Regenerative Medicine Conferences | Tissue Science Congress | Tissue Engineering Workshop | Tissue Engineering Symposia | Regenerative Medicine Workshop | Stem Cell Conferences
Related Associations & Societies: Australian Society for Stem Cell Research, American Society for Cell Biology, Australian Stem Cell Centre, Cambridge Stem Cell Initiative, Columbia University Stem Cell Initiative, European Society of Gene and Cell Therapy (ESGCT), Euro Stem Cell
Biotechnology is the vast field that uses scientific strategies with organisms to produce new kinds of organisms or new products for agricultural, medical, industrial, and scientific purposes. It includes genetic manipulation & DNA recombinant technology of organisms to produce Insulin, hormones, human albumin, antibiotics, follism, monoclonal antibodies, and many drugs for previously untreatable diseases also.
It is also frequently associated with landmark breakthroughs in new medical therapies to treat diabetes, Hepatitis B, Hepatitis C, Cancers, Arthritis, Haemophilia, Bone Fractures, Multiple Sclerosis, Cardiovascular as well as molecular diagnostic devices than can be used to define the patient population. Herceptin is the first drug accepted for use with a matching diagnostic test and is used to treat breast cancer in women whose cancer cells express the protein HER2.
Stem Cell Transplants for Cancer Treatment:
In a typical stem cell transplant for cancer terribly high doses of chemo are used, sometimes in conjunction with radiotherapy to undertake to kill all the cancer cells. This treatment additionally kills the stem cells within the bone marrow. Soon after treatment, stem cells are given to exchange those that were destroyed. These stem cells are given into a vein, very similar to a blood transfusion. Over time they settle within the bone marrow and start to grow and create healthy blood cells. This process is called engraftment.
There are 2 main types of transplants. They are named based on source of the stem cells.
Autologous: The stem cells from individual who get the transplant.
Allogeneic: The stem cells come from a match connected or unrelated donor.
Bioprinting is an additive manufacturing process where
biomaterials
such as cells and growth factors are combined to create tissue-like structures that imitate natural tissues.
The technology uses a material known as
bioink
to create these structures in a layer-by-layer manner. The technique is widely applicable to the fields of medicine and
bioengineering
. Recently, the technology has even made advancements in the production of
cartilage tissue
for use in reconstruction and regeneration.
In essence,
bioprinting
works in a similar way to conventional
3D printing
. A digital model becomes a physical 3D object layer-by-layer. For this reason, in order to optimize cell viability and achieve a printing resolution adequate for a correct cell-matrix structure, it's necessary to maintain sterile printing conditions. This ensures accuracy in complex tissues, requisite cell-to-cell distances, and correct output.
The process principally involves preparation, printing, maturation, and application. This can be summarized in the three key steps:
Pre-bioprinting
involves creating the digital model that the printer will produce. The technologies used are computed tomography (CT) and magnetic resonance imaging (MRI) scans.
It is the actual printing process, where bioink is placed in a printer cartridge and deposition takes place based on the digital model.
Post-bioprinting
is the mechanical and chemical stimulation of printed parts so as to create stable structures for the biological material.
Bio banking is the process of storage of biological samples that can be a piece of human tissue taken from a healthy or a diseased part of the body.
Biobanks
have provoked questions on privacy, medical ethics and research ethics. While viewpoints on what constitutes appropriate
biobank
ethics diverge, consensus has been reached that operating
biobanks
without establishing carefully considered governing principles and policies could be detrimental to communities that participate in
biobank
programs. The common
tissues
used are cornea, skin, bones, cartilage, joints, heart valves, fascia, tendons and a human cadaver.
·
Organ donation
·
Clinical application of banked tissue
·
Trends in
biobanking
and Preanalytics
Medical devices vary according to their intended use and indications. Examples range from simple devices such as tongue depressors, medical thermometers, and disposable gloves to advanced devices such as computers which assist in the conduct of medical testing, implants, and prostheses.
An artificial organ
is an engineered device or tissue that is implanted or integrated into a human — interfacing with living
tissue
— to replace a natural
organ
, to duplicate or augment a specific function or functions so the patient may return to a normal life as soon as possible.
Next-generation sequencing (NGS) refers to the deep, high-throughput, in-parallel
DNA sequencing
technologies developed a few decades after the Sanger DNA sequencing method first emerged in 1977 and then dominated for three decades (Sanger F1997, Mards ER2008). The NGS technologies are different from the Sanger method in that they provide massively parallel analysis, extremely high-throughput from multiple samples at much-reduced cost (Mardis ER 2011). Millions to billions of DNA nucleotides can be sequenced in parallel, yielding substantially more throughput and minimizing the need for the fragment-cloning methods that were used with Sanger sequencing.
Bioengineering is a control that applies engineering principles of design and analysis to biological systems and biomedical technologies. Examples of bioengineering research include bacteria engineered to produce chemicals, portable disease diagnostic devices, new medical imaging technology and tissue engineered organs.
Biomaterials and its Applications:
Biomaterials are those materials be it natural or synthetic, alive or lifeless, and usually made of multiple components that interact with biological systems. Biomaterials are mainly used in medical applications to augment or replace a natural function.
Biomaterials are having many applications, such as cancer therapy, artificial ligaments and tendons, bone plates, orthopaedic for joint replacements, and ophthalmic applications in contact lenses, for wound healing in the form of surgical sutures, nerve regeneration, clips, in reproductive therapy as breast implants, etc. It is also having some non-medical applications such as to grow cells in culture, cell seeding, assay of blood proteins in laboratories, etc.
Related: Biomaterials Conferences | Embryonic Stem Cells Conferences | Stem Cell Transplant Conferences | Organ Engineering Conferences | 3D Bioprinting Techniques Conferences | Acellular Prosthesis Conferences
Nanotechnology is manipulation of matter on an atomic, molecular, and supramolecular scale. Nanotechnology is an excellent future prospect for biomaterial and nanotechnology in the field of medicine. Nanomedicine "the application of nanotechnology to health" showed an exponential growth for the last two decades. In now day's nanoparticles are showing a great interest because of their unique optical, magnetic, electrical, and other properties emerge. Nanotechnology is mostly used for regeneration practices and cancer treatment.
Clinical Trials on Regenerative Medicine:
There are currently over 5,000 registered clinical trials testing regenerative medicine – specifically involving stem cell research – on ClinicalTrials.gov. In a field that's developing so rapidly with such a high level of innovation, we think it's important that we recognise the progress (and challenges) of researchers around the world.
While it's difficult – if not impossible – to choose just 5 from thousands of truly ground breaking studies, we've done our best to narrow it down to showcase a wide range of clinical trials that are testing regenerative medicines on a wide range of conditions.
Some of the Clinical trials on Regenerative medicine and stem cells are:
Stem Cells From Baby Teeth Shown to Regrow Damaged Dental Tissue
A Novel Immunotherapy Approach Causes Patient's Breast Cancer To Disappear
For the First time, a Clinical Trial Will Investigate Stem Cell Therapy For Severe Traumatic Injury
Allogeneic Mesenchymal Stem Cells Treating Infants With A Rare Heart Condition
Related: Biomaterial Science Conferences | Adaptive Cell Therapy Meetings | Biobank Workshop | Biomarker Events | Biomaterials Symposia | Internal Medicine Conferences | Degenarative Disorders Meetings | Regenerative Medicine Market Congress
Related Associations & Societies: The Centre for Stem Cell and Regenerative Medicine, The American Society of Gene & Cell Therapy, Texas Heart Institute and Stem Cells, UK Stem Cell Bank, The Scottish Stem Cell Network, The Swiss Stem Cell Network, Tiantan Puhua Stem Cell Centre, The New South Wales Stem Cell Network
Biopharmaceuticals merchandise are molecules that are parts of biological systems that are utilized in the treatment of human and animal health and sickness by clinical trials. The applications of biopharmaceuticals include: agonist and antagonist of important receptors and enzymes, replacement products to treat genetic defects, the induction of protective immune responses (vaccines), and the inhibition of inappropriate immune responses (treatment of allergy and autoimmunity). They can even be mixtures of biological molecules like antibodies with cytoxic compounds and agents, like antibody-drug conjugates that are being employed these days in cancer therapies.
Biomedical imaging concentrates on the capture of images for both diagnostic and therapeutic purposes. Snapshots of in vivo physiology and physiological processes can be garnered through advanced sensors and computer technology. Biomedical imaging technologies utilize either sound (ultrasound), x-rays (CT scans), magnetism (MRI), radioactive pharmaceuticals (nuclear medicine: PET, SPECT) or light (endoscopy, OCT) to assess the current condition of an organ or tissue and can monitor a patient over time over time for diagnostic and treatment evaluation.
New imaging techniques bring new means for peering into the human body, helping to reduce the need for more invasive diagnostic and treatment procedures. Biomedical image processing is similar in concept to biomedical signal processing in multiple dimensions. It includes the analysis, enhancement and display of images captured via ultrasound, MRI, x-ray, nuclear medicine and optical imaging technologies.
Related: Biosicences Workshop | Neuroinflammatory Disorders Conferences | Cord blood Congress | Blastocyst Meetings | Hematopoietic Events | Preclinical Research Conferences | Drug screening Conferences | Biomaterials Workshop
Gene therapy is an experimental technique that uses genes to treat or stop disease. In the future, this method might permit doctors to treat a disorder by inserting a sequence into a patient's cells rather than using medication or surgery. Researchers are testing many approaches to gene therapy, including:
· Replacing a mutated gene that causes illness with a healthy copy of the sequence.
· Inactivating, or "knocking out," a mutated sequence that's functioning improperly.
· Introducing a replacement gene into the body to assist fight a disease.
There are 2 differing kinds of gene therapy looking on that sorts of cells are treated:
Somatic gene therapy: Transfer of a section of DNA to any cell of the body that doesn't turn out spermatozoon or eggs. Effects of gene therapy won't be passed onto the patient's youngsters.
Germ line gene therapy
:
Transfer of a section of DNA to cells that turn out eggs or spermatozoon. Effects of gene therapy are going to be passed onto the patient's youngsters and future generations
.
Bioinformatics and computational science are relevant orders enabling computational techniques to break down instinctive information and create calculations and scientific strategies by learning from different orders like software engineering,
material science
& measurements. This field is picking up significance in different research fields like Neural Networks. Subfields identified with this theme are
computational pharmacology
,
computational immunology
, computational disease science,
computational neuroscience
, and so forth this field is picking up significance in different research fields like Neural Networks. Subfields identified with this theme are computational immunology, computational pharmacology, computational neuroscience,
computational disease science
and so forth.
Market Analysis
Market Growth of Stem Cell & Regenerative Medicine Research:
Global Market of Regenerative Medicines anticipated achieving USD 30,237 million by 2022.Current Research says that, Regenerative Medicine has opened several insights in the field of Health and Medicine and approaches to treat and cure complex degenerative, Neurological and genetic, acquired as well as hereditary disorder and to restore the function of tissues and cells in the damaged and missing organs by other therapies. North America takes the lead in global market in 2015 and expected to remain ascendant during 2015-2022. Stem Cell Therapies are also used to treat cancer and different immunodeficiency and Auto immune syndromes. And now Stem Cells are also stands as a new weapon against Neurodegenerative Diseases, cardiovascular Diseases. Eyesight syndromes, wound healing, spinal cord injury, etc.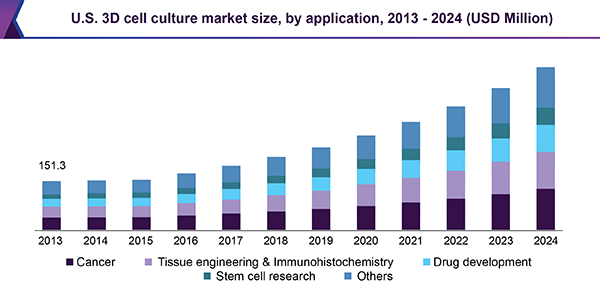 The worldwide Stem cell & regenerative medicines market is functional with several parameters like product type, application, sources, geography and users. In focused to the product type stem cells market is divided into human embryonic stem cells, adult stem cells, IPsec's, etc. Whereas, regenerative medicines applied the potential of these stem cells to regenerate, repair & replace tissues or the organ which are affected due to injury, natural aging process, and some diseases.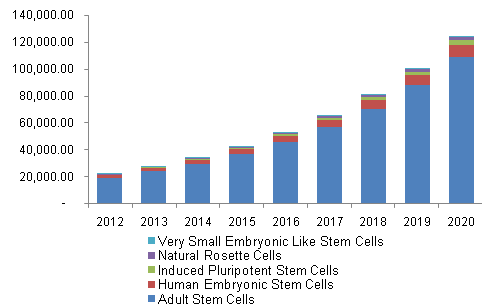 These novel approaches are able to restore the performance of cells & tissues and applied in broad range of fields starting form Tissue Engineering to cosmetic surgery therefore, now it seeks the central attraction of researchers to focuses on the new technologies like Utilization of Nano-materials in immunomodulation, drug delivery to make the growth in regenerative medicines market and blend it with stem cell culture to open new insights, possibilities which can bring evolution in the field of medicine.
Raw Material Analysis for stem cell Market
The regenerative medicine market is broadly divided into three categories namely biologically derived materials, synthetic materials, and genetically engineered materials. The Synthetic materials and genetically engineered materials have high demands in the market due to its higher efficiency as compared to other naturally derived materials. Synthetic materials have used hydrogel in tissue engineered scaffolds. While Genetically Engineered materials designed in vitro condition with desired gene and potentials. Financially investment for Stem cell and Regeneration Medicine are done by private inventors, and publicly traded stock as well as Government as these research holds the Possibility to Treat numerous Number of Diseases.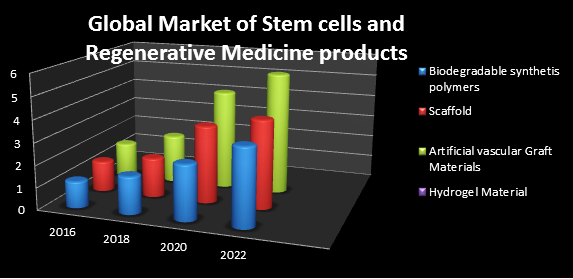 Cosmeceuticals Market:
Stem cell Culture Is also used in the field of Plastic and
Cosmetic surgery
to Remove wrinkles and different ageing issue .As these market is associated with fiction world it will contribute a good amount in the economy and growing rapidly .The market was
evaluated
at $42.24 billion in 2016 and is expected to reach a value of
$68.72 billion
by 2022, witnessing a CAGR of 8.52% during the predicted period, 2017-2022.
Cosmeceuticals
are the emerging market and so there are lots of opportunities lies in the market that is needed to be explored. North America has been declared as the second largest in the market of cosmeceuticals that has estimated for a share of 31% approx. in 2016.
The United States is the major industry for the organic and in North America natural
cosmetic products
which shares 85% approx. in 2016 with a market value of $10.62 billion. Whereas, the
Asia Pacific
is the third largest industry for skin care products market which estimated a share of 22% approx. in 2016.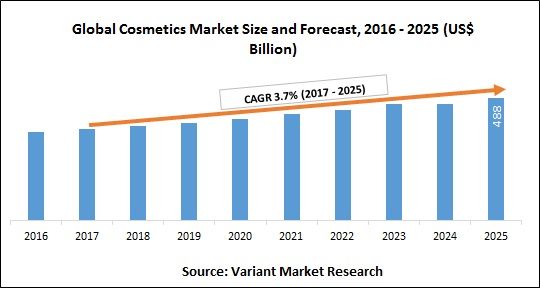 Market Study of Stem Cells & Regenerative Medicine:
Europe:
The regenerative medicine & stem cells market is expected to reach USD 13.578 billion by 2022 from USD 5.06 billion in 2016 at a CAGR of 21.80% during the period 2016-2022.
Middle East:
The regenerative medicines market is expected $ 40.55 billion revenue in 2022 from $ 17.03 billion revenue in 2016.
USA:
The regenerative medicine & stem cell market is assuming to reach $38.70 billion by the year 2022 from $ 13.33 billion in 2016 at a CAGR of 23.56%.