Welcome Message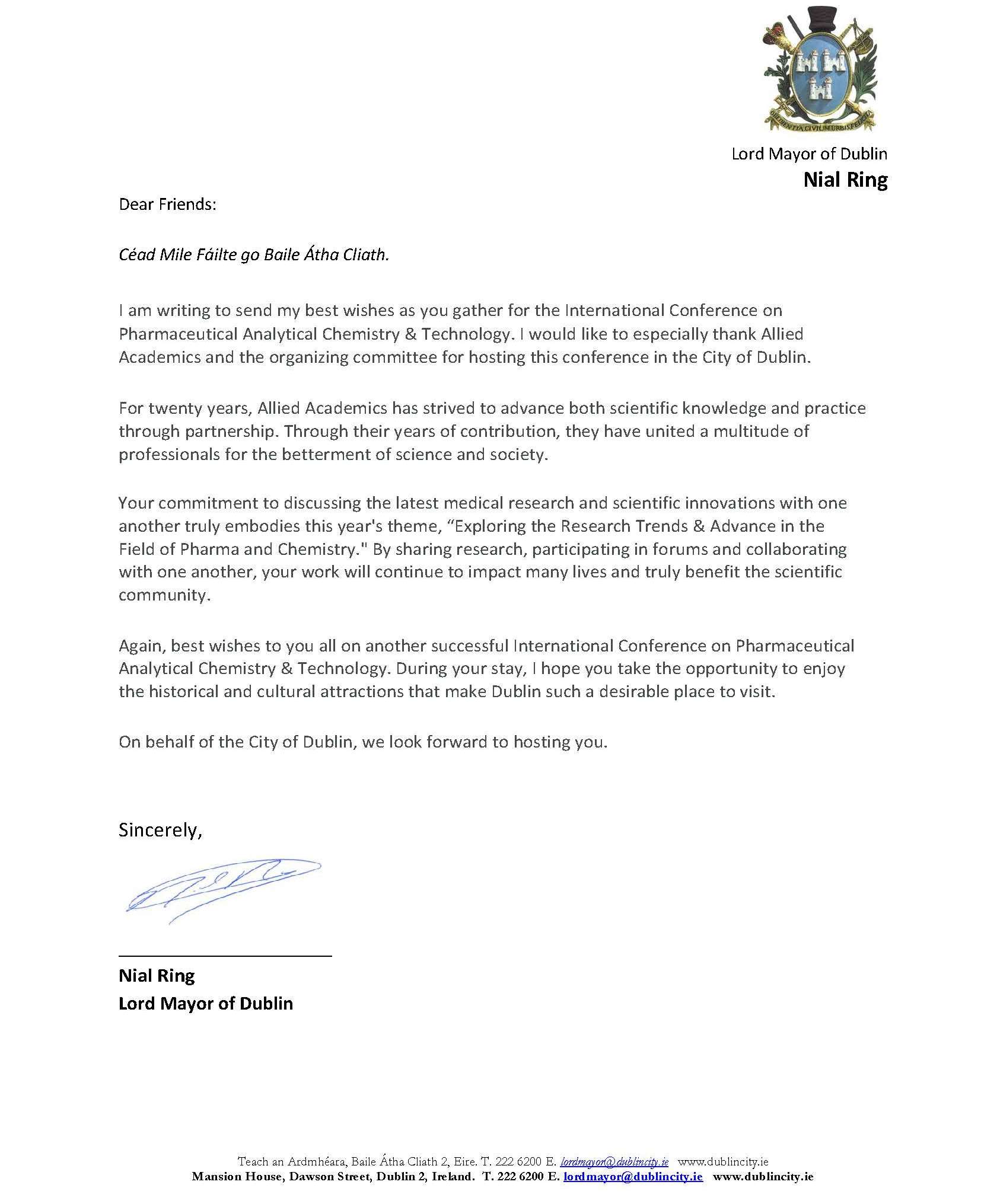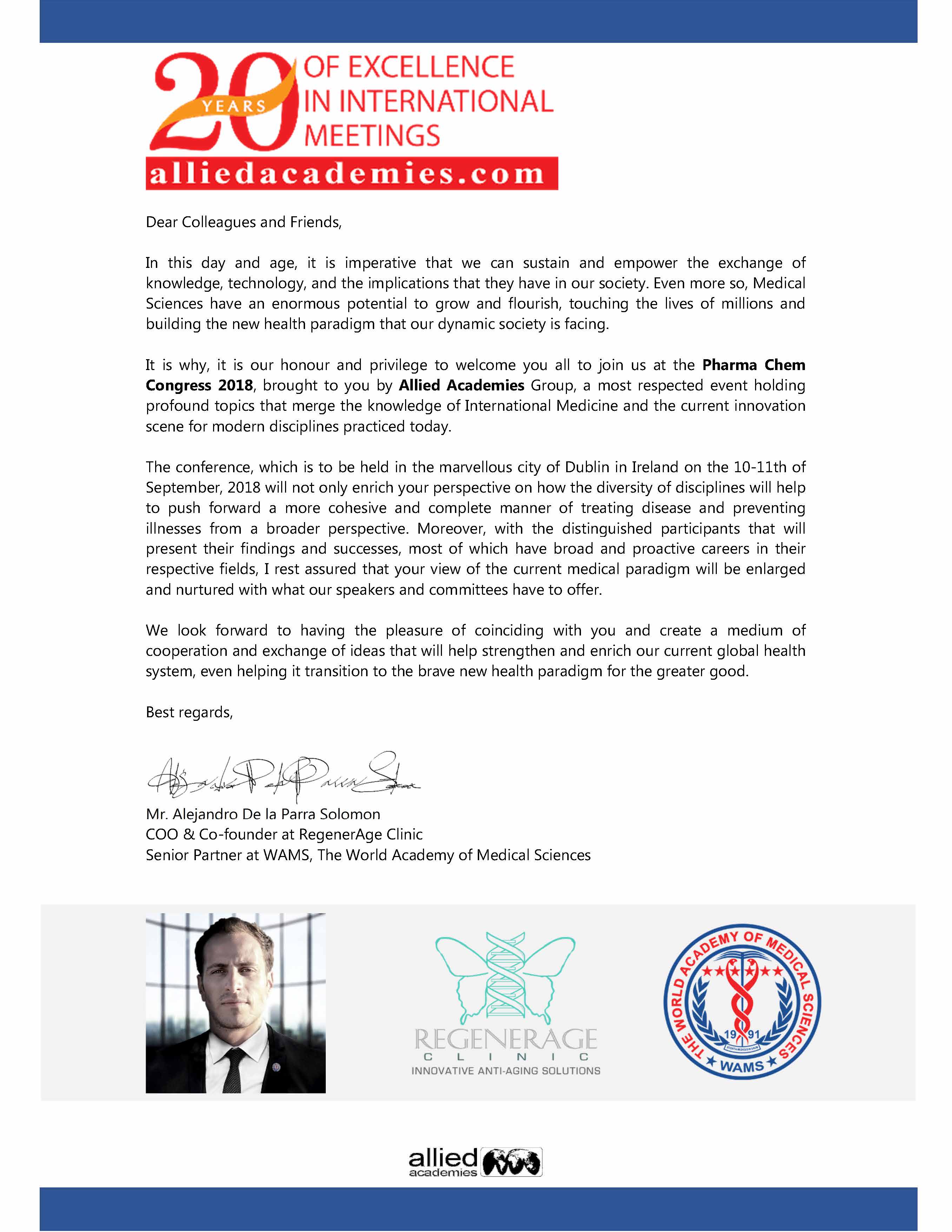 Pharmaceutical Chemistry 2018 extended its warm welcome the theme of: "Exploring the Recent Trends & Advancesin the Field of Pharma and Chemistry". It is a platform for Pharmaceutical and Chemistry experts and scientific professionals to explore the researchchallenges & current trends and advanced strategies in the field of Pharmaand Chemistry research areas. Pharmaceutical Chemistry 2018 is a specially designed group conference and would lay aplatform for the interaction between specialists, directors, professors,faculties, experts and research fellows around the world reputed researchinstitutes, universities and companies, agencies, association & societies. PharmaceuticalChemistry focus on accelerating the scientific discoveries in the arena of Pharma and Chemistry to interchange information on their up-to-date research progress. We are delighted to have your presence at "International Conference on Pharmaceutical Chemistry & Drug Discovery" Scheduled to be held during 10-11 September, 2018. Dublin, Ireland. The Pharmaceutical Chemistry & Drug Discovery is gearing up for an exciting and informative event procuring plenary lectures,Workshops on a variety of topics, Poster presentations and various sessions for participants from all over the world.
Why to Attend ?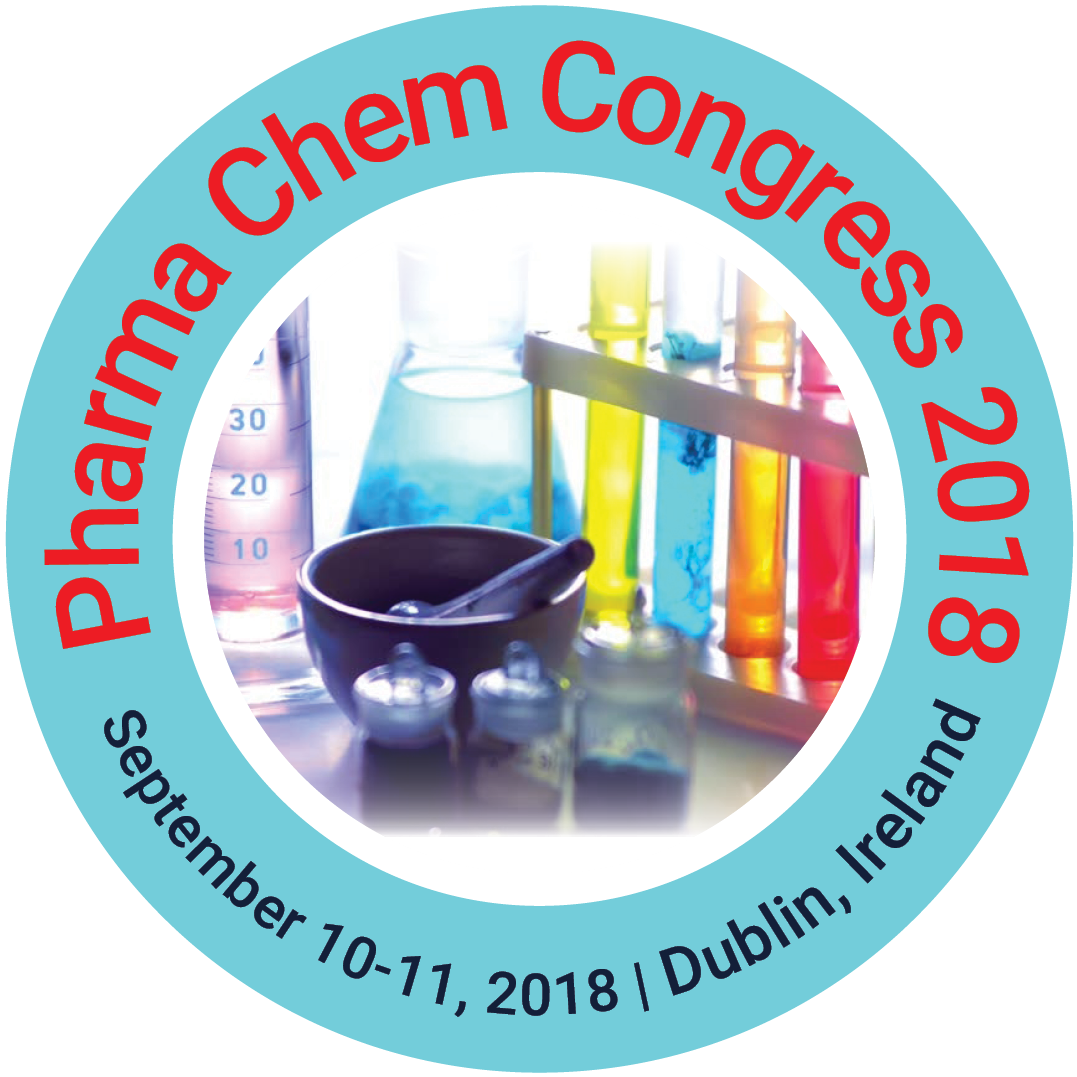 Pharma Chem Congress 2018 is a platform unites researches, scientists,professors from all over the world to create new contacts to share and spread innovative thoughts and recent advancement in the field of Pharmaceutical Chemistry & Drug Discovery. Pharma Chem Congress unites people who have an enthusiasm for various fields of pharma and Chemistry. Target audience will be workforce from both industrial and academic fields which incorporate; Professor, Researchers, Business monsters, Directors, Vice presidents, Co-executive, Managing Directors, Industry officers, Doctorates, Professors, Post Doctorate Fellows, Vendors of consumer products, Pharmaceutical Scientists, Students from the related fields.

Target Audience :

Target Audiencefor Pharma Chem Congress 2018 will be personnel from bothindustrial and academic fields
Whichincludes?
Directors, CEO's of Organizations
Association, Association presidents andprofessionals
Noble laureates in Health Care and Medicine
Bio instruments Professionals
Bio-informatics Professionals
Research Institutes and members
Directors/Managers
Head of Departmental
Presidents / Vice Presidents
Professors, Associate, and Assistant professors
Research Scholars and students from the fields of Pharma and Chemistry
Related Associations :

Association of pharmacy Technicians
Austrian pharmaceutical Society
American Association of Colleges of pharmacy
International Council of Chemical Associations
European Association of Chemical and Molecular Sciences
Related organizations :

Johnson & Johnson
Roche
Sanofi
Sinopec
Formosaplastics
Scientific Session
Session 1: Computational Chemistry and Chemical Biology :
Computational chemists everyday work influences our understanding of the method the world works, helps manufacturers design more productive and efficient processes, characterizes new compounds and materials, and helps other researchers extract useful knowledge from peaks of data. Computational chemistry is also used to study the fundamental properties of atoms, molecules, and chemical reactions, using quantum mechanics and thermodynamics. Chemical Biology research practices the tools of chemistry and synthesis to understand biology and disease pathways at the molecular level. Advanced biological chemistry interests include various topics such as nucleic acids, DNA repair, bio conjugate chemistry, electron transport, peptides and peptidomimetics, glycoscience, biochemical energy, vitamins, cofactors and coenzymes, bio molecular structure and function, drug activity, imaging, and biological catalysis. Biophysical Chemistry signifies the union of chemistry, physics, and biology using a variety of experimental and theoretical methods to understand the structure and function of biological systems.
· Chemical and Molecular dynamics
· Synthetic biology
· Genome Analysis
Session 2: Research Studies in Pharmacology :
Study of Pharmacology is how substances interact with living organisms to produce a change in function. It deals with the research, discovery, and characterization of chemicals which show biological effects and the illumination of cellular and organism function in relation to these chemicals. If substances have medicinal properties, they are considered pharmaceuticals. The Pharmacology involves mechanisms of drug action, drug composition and properties, interactions, toxicology, therapies, medical applications, and anti pathogenic capabilities. These are research studies that trial how well new medical approaches work in people. Every study answers scientific questions and tries to find enhanced ways to prevent, screen for, diagnose, or treat a disease. Clinical trials may also compare a new treatment to a treatment that is already available.
· Bioassay and Dose effect relationships
· Drug Transport across Biological Membranes
· Toxicology and Pharmacogenomics
Session 3: Pharmaceutical Analysis :
Analytical methods needed to be validated to provide reliable data for regulatory submissions. These methods are important for a number of purposes, including testing for QC release, testing of stability samples, testing of reference materials and to provide data to support specifications. It provides a comprehensive exposure of method development and validation requirements to progress a pharmaceutical compound, at each stage of product development.
· Electroanalytical methods
· Mass Spectrometry
· Titrimetry
· Gravimetric analysis
Session 4:Drug Formulation / Pharmaceutical formulation :
Drug Formulation is the process where different chemical substances including the products which are combined to produce a medicinal product. There are numerous anatomical routes which are thought them as medical drugs that can be administered directly into the human body. The selection process of the route depends upon three factors which are: the effect desired type of disease & finally the type of product. The oral route is the oldest route which has been used for conventional & the novel drug delivery administration. Transdermal route is the medical treatment that will apply to surfaces of the body such as skin/mucous membrane. Inhalation route is the type of medical treatment application route where the medical treatment will directly reach the lungs, through this way this route is considered as the route of choice to avoid systemic effect and increase the bioavailability of the drug in the system.
· Enteral formulations (Tablet, Capsule, Sustained release)
· Parenteral formulations (Liquid, Lyophilized)
· Topical formulations (Cutaneous, Cream, Ointment, Gel, Paste, Powder)
· Container Closure
Session 5: Advanced Organic Chemistry and Inorganic Chemistry :
The fundamental chemistry reaction sorts square measure addition reactions, elimination reactions, substitution reactions, pericyclic reactions, arranging reactions, chemistry reactions, and reaction reactions. In organic synthesis, the organic reactions square measure employed in the development of recent organic molecules. The assembly of the many synthetic chemicals like medicine, plastics, food additives, and materials depend upon organic reactions. There is no limit to the quantity of doable organic reactions and mechanisms. However, sure general patterns square measure determined that may be accustomed describe several common or helpful reactions. Every reaction features a stepwise reaction mechanism that explains however it happens, though this elaborate description of steps isn't invariably clear from a listing of reactants alone. Synthetic organic reactions will be organized into many basic sorts. Some reactions match into over one class. For instance, some substitution reactions follow an addition-elimination pathway.
· Aromatic Compounds
· Heterocyclic Compounds
· Polymers
· Biomolecules
Session 6: Protein and Cellular Engineering and Statistical Mechanics :
Protein engineers alter, design, and synthesize protein molecules for new and specialized uses, both to explore biology and to exploit new therapeutic opportunities. Their work consist of monitoring vital biological processes via enzymes altered to affix affinity labels and proximity tags, or via recombinant antibodies that selectively bind other proteins, disclosing their locations, co-factors, and activities. Such engineering could eventually lead to the molecular-level diagnosis of disease, as well as more precise treatment targeting and rapid analysis of therapeutic efficacy. Department scientists develop and apply an array of protein engineering approaches that includes : Rational design: Precisely modifying protein structures to alter their functions as both enzymes and substrates. Phage display: Using bacteriophages to generate billions of antibodies with different combinations of amino acids at antigen contact points, then testing for those that selectively bind a target protein. DEnovo design: Using computational algorithms to select amino acid sequences that will fold into protein structures to achieve specific chemicals and biological properties such as catalysis, binding, and trans membrane transport.
· Investigating cellular interactions in tissue
· Globally analysing and dissecting apoptosis
· Creating fluorescent probes targeting the genome and key bio pathways
Session 7: Pharmaceutical Biotechnology and Tissue Engineering :
The last few years have been a positive period overall for both the pharmaceutical and biotechnology industries. Most importantly, there has been a renaissance with regard to the increase in the number of new drugs approved and under development for the two segments of the business. Many of these innovations are determined by new research methods and the growth of new therapeutic options, such as immune-related oncology drugs, personalized medicine, stem cells, and biologics. We are also witnessing the development of a greater number of drugs that cure diseases rather than just extend life.
· Immunogenicity of Therapeutic Proteins
· Design of proteins
· Monoclonal Antibodies
· Molecular Biotechnology
· Nucleic acids
Session 8: Natural Products Chemistry :
Naturally occurring substances that are used to restore or maintain good health. They are frequently made from plants, animals, microorganisms and marine sources. They come in a wide-ranging variety of forms like tablets, capsules, tinctures, solutions, creams, ointments and drops. Natural products are used and marketed for a number of health reasons, like the prevention or treatment of an illness or condition, the reduction of health risks, or the maintenance of good health. They must be safe to be used as over-the-counter products. Products needing a prescription are regulated as drugs.
· Primary metabolites
· Secondary metabolites
· Biosynthesis
· Modern natural product derived drugs
Session 9: Drug Designing Methodologies :
The fundamental problem in computational drug design is accurately estimating ligand-receptor binding affinity. Historically, this shortcoming combined with the complexity, resources, and time requirements has hampered the utility of structure-based drug design. However,Moore's Law coupled with recent developments in GPU (Graphics Processing Unit) driven computing has made it possible to achieve accurate results in reasonable time frames. These calculations are performed chemically using molecular dynamics to adequately sample a suitable thermodynamic path and intermediate states. The measured energies during chemical transformation are then used to computationally estimate ligand-receptor binding affinity by a number of published techniques - including Thermodynamic integration
· Rational drug discovery
· Computer – aided drug design
· Molecular modelling drug design
· Computer graphics in drug design
Session 10: Drug Discovery and Development :

Researchers discover new drugs through new insights into a disease process that allow researchers to design a product to stop or reverse the effects of the disease. Various tests of molecular compounds to find possible beneficial effects against any of a large number of diseases. Existing treatments that have unanticipated effects.New technologies, such as those that provide new methods to target medical products to specific sites within the body or to manipulate genetic material. At this stage in the process, thousands of compounds may be R&D potential candidates for development as a medical treatment. After early testing, however, only a small number of compounds look promising and call for further study. Once researchers identify a promising compounds for development, they conduct experiments to collect information. How it affects different groups of people (such as by gender, race, or ethnicity) differently and, How it interacts with other drugs and treatments and its effectiveness as compared with similar drugs.
· New chemical entity development
· Pre – Clinical stage
· Clinical phase stage
· Novel initiatives to boost development
Session 11: Green Chemistry in Pharmaceutical Industry :
Preventing environment pollution is an essential issue in the current world than cleaning up the atmosphere. By tradition, chemists have designed product that is effective and economical. They need to think about the waste generated throughout the process of the new chemicals and product and its toxicity. Inventing any novel product that is of concern to North American country or ecosystems ultimately goes into the environment at the top of the lifetime of these substances, resulting in accumulation, degradation, and toxicity. Hence, it's invariably higher to settle on the process protocols that generate minimum Industrial waste and finished product with few chemicals usage and synthesis steps. Our science builds on nice achievements by chemicals and chemists. It's been quite a hundred and fifty years that we've not been finding the way to create new molecules.
· Green solvents
· Green Chemistry and Sustainability
· Designing Sustainable Solutions
Session 12: Heterocyclic Chemistry :
The heterocyclic compound or ring structure may be a cyclic compound that has atoms of a minimum of two completely different components as members of its ring. Heterocyclic chemistry is the subdivision of chemistry addressing the synthesis, properties, and applications of those heterocyclic. In distinction, the rings of isocyclic compounds consist entirely of atoms of a constant part. Even though heterocyclic compounds could also be inorganic, maximum contain a minimum of one carbon. Whereas atoms that square measure neither carbon nor hydrogen is normally referred to in organic chemistry as heteroatoms, this can be typically compared to the all-carbon backbone. But this doesn't stop a compound like a borazine (which has no carbon atoms) from being tagged "heterocyclic". IUPAC recommends the Hantzsch-Widman language for naming heterocyclic compounds.
· Fused rings
· Functional Group Chemistry
· General Strategies for Heterocyclic compounds
Session 13: Biopharmaceutical and Biologics :

Biologics are genetically engineered proteins derived from human genes. They are designed to inhibit particular components of the immune system that play pivotal roles in fuelling inflammation, which is a central feature of rheumatoid arthritis.The pathophysiologic rationale for, and clinical application of, Biologic agents in the management of autoimmune diseases, cancers, or other pathologies where a molecular target can be identified.
· Nanobiopharmaceuitics
· Medical devices
· Biologics: sugars, proteins, nucleic acids
Session 14: Overview on Pharmaceutical Industry :
There are various Pharmaceutical Industries all over the globe who delivers and manufacture the drugs where are advantages beyond a typical CMO (Contract Manufacturing Organization) to the drug product market. Many prominent pharmaceutical developers and manufacturers have a large and different scientific team who brings a broad depth of knowledge and experience. Pharmaceutical Industries are manufacturing significant difference in their products from the development phases to commercialization. A detailed analysis of the industry structure of contract manufacturing, contract research, and contract packaging has been conducted. Revenues are broken down by type of industry. Sales figures are estimated for the five-year period from 2013 through 2018. The United States is currently spending almost $250 billion a year for prescription drugs. If drugs were sold in a competitive market, without government-imposed patent monopolies, this might achieve savings up to $200 billion a year
· Pharmaceutical Manufacturing Equipment
· Laboratory & Quality Control Equipment
· Pharmaceutical Machinery: Standards
· Pharmaceutical processing Equipment
Session 15: Pharmaceutical Chemistry Novel Aspects :
Pharmaceutical chemistry is a subdivision at the intersection of chemistry, especially synthetic organic chemistry, and pharmacology and various biological specialties, where they are involved with drug design, chemical synthesis and development for a market, or bio-active molecules (drugs). In particular, Pharmaceutical chemistry in its most common guide focusing on small organic molecules/entities encompasses synthetic organic chemistry and aspects of natural products chemistry and computational chemistry in close combination with chemical biology, enzymology, and structural biology, together targeting at the drug discovery and development of new different therapeutic agents. It involves chemical aspects of identification, and later systematic, thorough synthetic alteration of new chemical entities to make them appropriate for therapeutic use. It includes synthetic and computational aspects of the study of existing drugs and agents in development in relation to their bioactivities (biological activities and properties), i.e., understanding their structure-activity relationships (SAR). Pharmaceutical chemistry is focused on quality aspects of medicines and aims to assure fitness for purpose of medicinal products.
· Process Chemistry Considerations
· Design of Safer Chemicals and products
· Global Pharmaceutical Policy
· Modelling and designing of small compounds
Abstract Submission and Registration
Allied Academies, the largest Open Access Publisher and Scientific Events Organizer, publishing more than 400 Open Access journals and organizing more than 300 scientific events per year offers membership to students. International Conference on Pharmaceutical Chemistry & Drug Discovery Committee would like to invite speakers to submit their research for inclusion in the Pharma Chem Congress 2018 scientific program.
Pharma Chem Congress 2018 has over 15 tracks designed to offer acomprehensive outlook that addresses current issues in Pharma and Chemistry research and current trends; Speakers are allocated specific slots corresponding to their session.
The abstract/s can be submitted online under submit abstract in homepage or through e-mail at pharmachem@alliedconferences.org
The completed registration/s are to be received per attendee andthe corresponding payment in Dollar by the given deadlines. Please note thatthe registration is not available on-site.
Register Here: http://pharmachemistrycongress.alliedacademies.com/registration
Market Analysis

Why Dublin ?

The kingdom of Dublin became Ireland's Principal city. As of 2010 Dublin was listed by the Globalization and world cities research network as a Global city with a ranking of 'Alpha'-which places it amongst the top thirty cities in the world. Dublin region is the economic center of Ireland. It takes the attention of tourist by having many places like St Patricks Cathedral, Kilmainham Gaol, Guinness Storehouse, The Irish house party.
Economic improvements of Dublin attracted a number of global pharmaceutical, information & communications technology, Companies in the city & greater Dublin area. Pfizer has European headquarters & operational bases in the Dublin city.
The several located in the enterprise like jazz pharmaceuticals & Leo Pharma & Mallinckrodt & Medtronic's & Helsinn & Horizon pharmaceuticals and Allergan, Trinity Biotech. And it is the hub of several research centers like Focus research institute & The Economic and Social Research Institute, National Institute for Bioprocessing.
Global Market Analysis:
Over the last decade, industry's productivity has been decreasing with rising R&D costs and time is taken to reach a market. Medicinal chemistry is defined as a focused science that is developed to cover a wide-ranging of fields related to identification, synthesis and drug development for therapeutic applications. This science has evolved from medical chemists focusing on drug target or pathway in mind and league of elaborative chemistry-driven processes to a modern generation of high-throughput screening (HTS) libraries that are formed by combinatorial chemistry based on limited structural distinctions across large drug like scaffolds.
This change was desired because of high attrition rate in pre-clinical and incubation drug development studies because of earlier methods. While the prime task of medicinal chemists has not changed significantly over a period of time, the computational tools and chemicals and perspectives at their clearance or removal have advanced extensively.
The several tools of medicinal chemistry are in silico modeling, structure-based drug design (SBDD), comparative molecular field analysis (CoMFA) or 3D QSAR method. In particular, the fragment-based drug design hopefully stands out because of substantial improvements in research and productivity. One of the main challenges of drug discovery is to design a robust drug that is both safe and effective in a wide range of the population. The several drug designing types are structure-based drug design, natural products-based drug design, fragment-based drug design, diversity concerned with synthesis and chemogenomics.
Due to modern technology an substitute approach to the large combichem libraries (10,000 plus molecules) is available, these are minor focused arrays known as chemogenetic arrays that assist for confining of the particular pharmacophore model for the specific family to target but considering ADME and drug-like properties. The compound arrays must be synthetically feasible and to minimize the attrition rate in preclinical testing, must also consist of definite properties regarding adsorption, distribution, metabolism, elimination, and toxicity (ADMET).
During this process, the ADMET constraints traditional from information mining, in vitro and in vivo studies are often compiled into computational packages to enable chemists to predict the drug-likeliness of a compound.
The current market trends observed with medicinal chemistry operations are outsourced by most of the pharmaceutical companies because this helps the companies to pace up the research process making it time and cost efficient. The outsourcing trend supposed from the North American and European pharmaceutical companies to the companies of developing companies like India, China, and Others from the Asian continent.
Pharmaceuticals represented a US$300 bn-a-year market globally as of 2015, the World Health Organization states. The global pharmaceutical market is estimated to surpass US$400 bn by 2018, with the ten major pharmaceutical companies collectively commanding about a third of the market. Companies in the pharmaceutical industry are considered by their sizeable expenditure on R&D and marketing initiatives in a bid to rake in more revenue. The development of biopharmaceuticals represents a milestone for the industry and personalized therapies carry enormous promise in the near future.
Although mature markets continue to account for over half of all global revenue of the pharmaceutical industry, both large and niche pharmaceutical companies are now rousing up to the lucrative potential that lies in growth markets. Costs associated with bringing innovative molecules to the commercial space are progressively rising. To add to this, new medicines launches have continued to chart a flat graph. This could, however, also be an enormous opportunity for pharmaceutical companies in both matured and growth markets.
Global Pharmaceutical market sales Statistics :
The world pharmaceutical market was worth an estimated 844,679 million $ (763,101 million Euro) .The North American market (USA & Canada) remained the world's largest market with a 49.0% share, well ahead of Europe With a 21.5% and Japan with a 8.3% ,Latin America with a 4.7% and Africa & Asia & Australia with a 16.4%.
Geographical breakdown of sales of new medicines launched during 2011-2016