Welcome Message
Mental Health 2019 cordially welcomes all the participants and contributors from worldwide to attend "World Summit on Psychiatry Disorders, Mental Health, and Wellness" which is going to be held in Philadelphia, USA during June 24-25, 2019 across the theme "Advanced Treatment and Research Opportunities in Psychiatry and Mental Healthcare".
We invite you to join us at the Mental Health 2019, where you will be sure to have a meaningful experience with scholars from around the world. All members of the Mental Health 2019 organizing committee look forward to meeting you in Philadelphia, USA.
We continue to have significant problems with Negativity, drug abuse, depression, Organizational pressure, and psychological well-being. As the world grappling under so much stress and negativity, the light of positive psychology is the only hope at the end of the tunnel. Behavioral science is the emerging field which adds significant dynamism into the psychology world.
About Conference
The Mental Health 2019 is a unique platform for a focused plan of the current research in the field of Psychiatry, Psychology and Mental Disorders which includes prompt Keynote presentations, Oral talks, Poster presentations, Delegate views, board talks, and Exhibitions. We welcome all the Psychiatrists, Psychologists, Scientists, Professors, Neuropsychiatrists, Researchers, Mental health professionals, spiritual healers, Research scholars, Healthcare professionals, Pediatrists, Pharmacologists, Students, Rehabilitation specialists, Clinicians, Physicians, Nurse practitioners, Counsellors, Young researchers, Therapists, Companies, Hospitals, Organizations, Medical centers, Business entrepreneurs, Social workers, Start-ups and Industrial professionals related to the fields of Psychology, Psychiatry and Healthcare sectors to be a part of this esteemed Mental Health 2019 Conference..
Psychiatry is the branch of medicine that is concerned with the study, treatment, and prevention of mental illness, using both medical and psychological therapies. Psychiatry includes various levels of mental state conditions starting from neuropsychiatry to general psychiatric conditions. Psychiatry meetings try to focus on all these mental conditions. Mental health includes our emotional, psychological, and social well-being. It helps us to determine how we handle stress and make choices. It is important at every stage of life, from childhood & adolescence till adulthood. Mental health may include an individual's ability to enjoy life and create a balance between life activities and efforts to achieve psychological resilience.


Mental Health 2019 is the leading meeting dedicated to Psychiatrists and Psychologists to share their expertise, inferences and recent advancement in their research work on the direction of psychological well-being and happiness in the world with the theme "Advanced Treatment and Research Opportunities in Psychiatry and Mental Healthcare"


We are gratified to invite all the participants from all part of the world to attend the Psychiatry Conferences entitled "World Summit on Psychiatry Disorders, Mental Health and Wellness" scheduled during June 24-25, 2019 at Philadelphia, USA
Target Audience:
Psychologists, Psychiatrists,

Neuropsychiatrists

, Psychotherapists

Nurse Practitioners

Professors, Associate Professors, Assistant Professors

Ph.D. Scholars

Graduates and Post Graduates

Directors, CEO's of Organizations

Association Presidents, Vice Presidents, and Professionals

Noble laureates in Health Care and Medicine

Pharmaceutical development companies

Research Institutes and members

Medical devices Manufacturing Companies

Training Institutes

Business Entrepreneurs
Participation Benefits
All accepted abstracts will be published in the respective International supporting Journals

Each abstract will receive a

(DOI)

Number provided by CrossRef

All attendees will receive individual certification

Special privileges on

group registrations

Networking with Experts in the Field

Live Streaming of your presentation through our websites and YouTube

Best Poster Competitions and Young Researcher Competitions among students all over the world

The Career Guidance Workshops to the Graduates, Doctorates and Post-Doctoral Fellows

Chance of

B2B meeting

Opportunity to organize

Workshop/Symposia

Opportunity to collaborate with our event

Avail the opportunity to organize pre-conference workshop

Individual momentos will be given to the Organizing Committee Members

Appreciation momentos will be awarded to the Moderators

Opportunity to interact with eminent personalities from all around the globe

Handbook and conference kit

60% discount on

manuscript

publication
Major Psychology Associations and Societies in the USA:
American Psychological Association

American Academy of Clinical Neuro Psychology

American Board of Professional Psychology

Atlanta Psychological Association

Illinois Psychological Society

Iowa Psychiatric Society

Ohio Psychological Association

Wisconsin Psychological Association

Society for Occupational Health Psychology

Psychology Societies and Associations around the Globe
There are approximately 200 Psychological & Psychiatric associations globally which deal with various Psychological & Psychiatric disorders. Few of them are:
American Psychological Association

International Positive Psychology Association

New Zealand Association of Positive Psychology

Indian Association of Positive Psychology

National Positive Psychology Association

Western Positive Psychology Association

American Psychiatric Association

European Psychiatric Association

European Association of Social Psychology

Asian Cognitive Behavioral Therapy Association

Association for Psychological Science

Association of Black Psychologists

International Association of Applied Psychology

International Council of Psychologists

Society for General Psychology

Society of Australasian Social Psychologists

Society of Experimental Social Psychology

Society for the Advancement of Behavior Analysis (SABA)
Sessions/Tracks
Forensic and Emergency Psychiatry
Child and Adolescent Psychiatry

It is a medical subspecialty within psychiatry that focuses on the evaluation, diagnosis, and treatment of people who are suffering from one or more disorders related to addiction. This may contain disorders including legal and illegal drugs, gambling, sex, and other impulse control disorders. Addiction psychiatrists are substance abuse experts. Growing amount of scientific knowledge, such as the health effects and treatments to substance abuse, has led to advancements in the field of addiction psychiatry.
Psychotherapy is a way to help people with a broad variety of mental illnesses and emotional difficulties. Psychotherapy can help eliminate or control troubling symptoms, so a person can function better and can increase well-being and healing. Psychotherapy is a general term for treating mental health problems by talking with a psychiatrist, psychologist or other mental health providers.
Cognitive behavioral therapy (CBT) is a short-term, goal-oriented psychotherapy treatment that takes a hands-on, practical approach to problem-solving. Its goal is to change patterns of thinking or behavior that are behind people's difficulties, and so change the way they feel. It is used to help treat a wide range of issues in a person's life, from sleeping difficulties or relationship problems to drug and alcohol abuse or anxiety and depression.
Psychopharmacology is demarcated as a scientific study that deals with the influence of medicines have on mood, perception, discerning, and activities. Psychopharmacology is differentiated from Neuropsychopharmacology that highlights the relationship between drug made changes within the working. Psychoactive drugs relate mainly with specific receptors or target sites found in the nervous system to persuade a pervasive change of cells within the nervous system and alters the consciousness and behavioral changes in psychological or physiological functions.
Telepsychiatry is the application of telemedicine to the specialty field of psychiatry. The term typically describes the delivery of psychiatric assessment and care through video conferencing. Telepsychiatry services can be offered through intermediary companies that partner with facilities to increase care capacities, or by individual providers or provider groups. Most commonly, telepsychiatry encounters take place at medical facilities under the supervision of onsite staff, though at-home models are becoming accepted if they are in compliance with HIPAA standards.

Psychology is the branch of science which deals with the science of mind and behavior. It studies with the mental and behavioral characteristics of an individual or a group and gives solution for many complex aspects. Psychology is a challenging discipline and it includes many sub-fields. The professional practitioner is called Psychologist and the research works carried is of great values as it covers the social issues.
Neuropsychology and Neurodegenerative Disorders

Neuropsychology concerned with the applied science of brain-behavior relationships. This field incorporates principles of assessment and intervention based upon the scientific research of human behavior as it relates to the normal and abnormal functioning of the central nervous system. Neurodegenerative diseases are incurable and debilitating conditions that result in progressive degeneration and/or death of nerve cells. This causes problems with movement (called ataxias), or mental functioning (called dementias). Assessment includes neuropsychological tests, patient history, qualitative observation, neuroimaging, and diagnostic procedures.
Emotional wellness is not recently the nonattendance of mental issue. It is characterized as a condition of prosperity in which each individual understands his or her own potential, can adapt to the typical worries of life, can work gainfully and productively, and can make a commitment to her or his group. Emotional well-being impacts every single one of us. We have emotional well-being, similarly as we have physical wellbeing. Individuals living with an emotional well-being issue or condition can encounter positive psychological well-being, and an individual may encounter poor emotional wellness without a psychological wellness condition.
Depression, anxiety, psychological distress, sexual violence, domestic violence and escalating rates of substance use affect women than men across different countries and different settings. Pressures created by their multiple roles, gender discrimination and associated factors of poverty, hunger, malnutrition, overwork, domestic violence, and sexual abuse, combine to account for women's poor mental health. When women dare to disclose their problems, many health workers tend to have gender biases which lead them to either over-treat or under-treat women.
Bipolar Disorder and Schizophrenia

Bipolar disorder and schizophrenia are severe mental illnesses commonly referred to as psychotic disorders, meaning symptoms can include psychosis—impaired thoughts and emotions severe enough to induce a disconnect from reality. Bipolar disorder causes severe shifts in mood, ranging from depressive lows to manic highs. Schizophrenia is a chronic and severe mental health disorder that affects how a person thinks feels, and behaves. People with schizophrenia may seem like they have lost touch with reality and can experience hallucinations, delusions, and disorganized thinking.
Anxiety, Stress, and Depression

Sleep disorders involve problems with the quality, timing and amount of sleep, which cause problems with functioning and distress during the daytime. Sleep difficulties are linked to both physical and emotional problems. Sleep problems can both contribute to or exacerbate mental health conditions and be a symptom of other mental health conditions.
Obsessive-compulsive disorder (OCD) is a mental health condition characterized by distressing, intrusive, obsessive thoughts and repetitive, compulsive physical or mental acts. The obsessions or compulsions cause marked distress, are time-consuming, and interfere with a person's normal function. Indications of OCD can occur in children and teenagers, with the disease usually beginning gradually and worsening with age. Symptoms of OCD can be mild or severe. Some people experience obsessive thoughts only, without engaging in compulsive behavior.
Mental nursing or psychological well-being nursing is the selected position of a nursing that has represented considerable authority in emotional wellness and watches over individuals of any age with dysfunctional behavior or mental trouble, for example, schizophrenia, bipolar turmoil, psychosis, gloom, dementia and some more.
Market Analysis
Scope and Importance:

Mental Illness or psychotherapeutic conditions are classified as abnormal thoughts, feelings, and behavior, for a determined amount of time, which causes distress or emotional/physical impairment. This includes a wide range of psychological or psychiatric disorders and often requires psychiatric intervention. Conditions can be caused by either a biological origin such as genetic, chemical, and anatomical; or a psychological origin such as trauma or conflict. Extraordinary advances have been made in the treatment of mental illness. An understanding of what causes some mental health disorders has led to greater sophistication in tailoring treatment to the underlying basis of each disorder. As a result, many mental health disorders can now be treated nearly as successfully as physical disorders.
Most treatment methods for mental health disorders can be categorized as either somatic or psychotherapeutic. Somatic treatments include drug therapy and electroconvulsive therapy. Psychotherapeutic treatments include individual, group, or family and marital psychotherapy; behavior therapy techniques (such as relaxation training or exposure therapy); and hypnotherapy. Most studies suggest that for major mental health disorders, a treatment approach involving both drugs and psychotherapy is more effective than either treatment method used alone. The psychotherapeutic drug industry continues to struggle through a morass of issues that are directly or indirectly affecting competition. Some hurdles recently faced by competitors in this market include advertising restrictions, label changes, and some general negative views about mental illness treatments. However, there have been considerable strides in many areas of the market including advanced delivery techniques, increased education and awareness efforts, and improved effectiveness.
Research Analysis
Physical disorders are, compared to the general population, more prevalent in people with severe mental illness (SMI). Although this excess morbidity and mortality is largely due to modifiable lifestyle risk factors, the screening and assessment of physical health aspects remain poor, even in developed countries. Moreover, a specific patient, provider, treatment and system factors act as barriers to the recognition and to the management of physical diseases in people with SMI. Psychiatrists can play a pivotal role in the improvement of the physical health of these patients by expanding their task from clinical psychiatric care to the monitoring and treatment of crucial physical parameters. At a system level, actions are not easy to realize, especially for developing countries. However, at an individual level, even simple and very basic monitoring and treatment actions, undertaken by the treating clinician, can already improve the problem of suboptimal medical care in this population. Adhering to monitoring and treatment guidelines will result in a substantial enhancement of physical health outcomes.
Furthermore, psychiatrists can help educate and motivate people with SMI to address their suboptimal lifestyle, including smoking, unhealthy diet and lack of exercise. The adoption of the recommendations presented in this paper across healthcare systems throughout the world will contribute to a significant improvement in the medical and related psychiatric health outcomes of patients with SMI.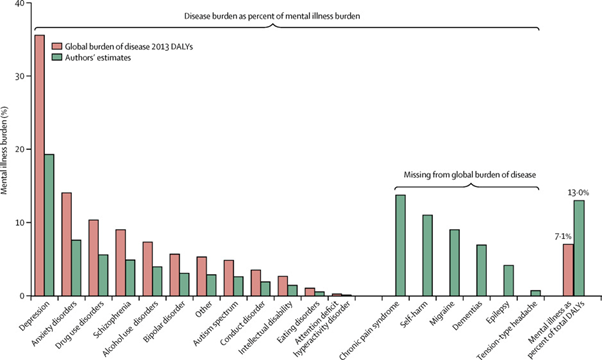 Market Analysis in the USA
More than one in four American women took at least one drug for conditions like anxiety and depression last year, according to an analysis of prescription data.

The report, by pharmacy benefits manager

Medco Health Solutions Inc

, found the use of drugs for psychiatric and behavioral disorders in all adults rose 22per cent from 2001.

The medications are most often prescribed to women aged 45 and older, but their use among men and in younger adults climbed sharply.

In total, more than 20% of American adults were found to be on at least one drug for

mental health disorders

.

Several celebrities have gone public in recent years with their battles with mental health disorders.
U.S. Mental Health Statistics
In 2016, almost one out of every five adults in the United States had some form of mental illness in the preceding year. Nearly seven percent of all adults suffered a major case of depression within the same period. American Indians and native Alaskans have the highest level of mental health issues, while Asians and Pacific Islanders have the lowest. Oregon and Utah are the two states where the highest percentage of poor mental health is reported, while South Dakota and New Jersey are reported to have the lowest percentage.
Prevalence of Mental Illness
Approximately 1 in 5 adults in the U.S.—43.8 million, or 18.5%—experiences mental illness each year.

Approximately 1 in 25 adults in the U.S.—9.8 million, or 4.0%—experiences a serious mental illness each year that substantially interferes with or limits one or more major life activities.

Approximately 1 in 5 youth aged 13–18 (21.4%) experiences a

severe mental disorder

at some point during their life. For children aged 8–15, the estimate is 13%.

1.1% of adults in the U.S. live with schizophrenia.

2.6% of adults in the U.S. live with bipolar disorder.

6.9% of adults in the U.S.—16 million—had at least one major depressive episode in the past year.

18.1% of adults in the U.S. experienced an anxiety disorder such as

posttraumatic stress disorder

, obsessive-compulsive disorder, and specific phobias.

Among the 20.2 million adults in the U.S. who experienced a substance use disorder, 50.5%—10.2 million adults—had a co-occurring mental illness.