Welcome Message:
We are glad to invite all intellectuals, academic founders, doctors, nurses, technicians, healthcare psychologists, young researchers, and delegates to attend and participate in the 5th International Conference on Healthcare and Health Management which is planned to execute on the 7th of December 2022 in Dubai | UAE.

The theme of the Congress: proclaim to emphasize healthcare
Healthcare 2022 provides a tremendous opportunity to get interlinked with fine people around the world in the field of Health, and along with that, it is monitoring health equity and wellness. Keynote speeches, special sessions, poster presentations, hands-on workshops, plenary talks, progress papers, and more are going to be part of congress.
Beyond sharing knowledge with the harmonious people in the field of nurses, pharmaceutical, infectious disease specialists, general practitioners, healthcare technologists, laboratory technicians, pharmacists, medical physicists, dental hygienists, surgeons, pathologists, dental hygienists, healthcare consultants, and also tremendous opportunity to get connected with esteemed doctors, researchers, university professors, CEO's scientists, and academic people.
We are putting in our enormous work to make the annual summit a huge victory. We hope to see you all in Health 2022 and also, and we desire that you will appreciate the hospitality of UAE.
Benefits of Attending:
Registered Speakers have Access to attend all keynotes and plenary sessions.




Participants are welcome to attend all technical sessions and workshops held during the conference.

The abstract book as well as the conference proceedings are available for purchase (Hard Copy).

Participation Certificate (Hard Copy).

An opportunity to have your work published in the conference proceedings.

An opportunity to submit your research for peer evaluation to one of the supported publications.
Call for Abstract and Benefits of Exhibitors
Call for Abstracts:
People are invited to submit their abstracts for Health 2022. Depending on the number of abstracts submitted earlier and the original quality of data will decide the approval of the abstract.
Abstracts topics:
Cardiology

Chiropractic Healthcare

Dental and Oral Health

Dermatology Care

E-Health and Telemedicine

Endocrinology

Epidemiology

Gastroenterology and Hepatology

Genomics in Healthcare

Geriatric and Gerontology Healthcare

Gynecology and Obstetrics

Health Management

Healthcare in Nursing

Healthcare Services and Technology

Hospice Health Care and Nutrition

Mental Health

Microbiology and Pathology

Neuro Health Informatics

Oncology related research

Orthotic and Prosthetics

Palliative Care

Patients Safety in Healthcare

Pediatric Healthcare

Pharmacy and Health Science

Podiatric and Health

Primary Health

Psychology and Psychiatry

Public Healthcare

Urology and Renal Health

Women's Health
Abstract submission criteria:
Modification in abstracts can be allowed until the deadline date arrives.

After a complete evaluation, only the "accepted" or "rejected" e-mail will be sent to the applicant.

Abstract content should be unique and in English.

The names and surnames of the author and co-author have to be mentioned clearly along with their affiliation.
Benefits of Exhibitors:

Providing one display booth (Size-3X3 sqm).

The exhibitor profile was published on one page in the Health 2022 souvenir.

Advertising your name on our conference website.

Promotional video on company products during the conference (Post session and Breaks).

One complimentary scientific program registration.

Logo recognition on the conference banner, flyer, and scientific program.

The conference kit will include your one A4 flyer.

Get a chance to sponsor one poster presentation award.
Past Conference Report & Market Analysis
Health 2019:
3rd InternationalConference on Healthcare and Health Management was conducted during November 4-5, 2019 in Prague, the theme was based on "Global Review and Forecast on Healthcare Management".

Health 2019 was marked with multiple sessions like keynote presentations, panel discussions, and e- poster presentations. Health 2019 Congress started with a welcoming note along with opening remarks and went through interactive settings.
Scientific topics:
Health Care

Pediatrics

Health and Medicine

Disease Management

Nursing

Healthcare Innovation

Mental Health

Epidemiology

Sexual and Reproductive Health
2019 in Prague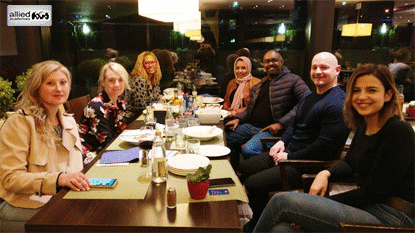 Highlighted speakers of Health 2019:
Gerald C Hsu| éclair MD foundation | USA




Nichelle A Mullins | Charter Oak Health Center | USA

Marilyn Parkin | International College of Medical Intuition |Canada

Geert van den Brink | HAN University of Applied Sciences |Netherlands

Solange Ghernaouti | University of Lausanne | Switzerland

Jintang Wang | Beijing Geriatric Hospital | China

Cheryl Wang | Fuzhou University | China

John Ebnezar | Consultant Orthopedic & Spine Surgeon | India

Schalow G | Tartu University | Estonia
Health 2022:
4th InternationalCongress on Healthcare and Health Management was conducted on March 08, 2022, as a virtual conference. Theme: "Interventions of the health system in patient care delivery during Covid 19 crises"

Various sessions were conducted:
Clinical case presentations

Interactive workshops

Poster and oral presentations

Young research forum

Debates and product exhibitions
Significant speakers of Health 2022:

ShalviGaikwad | Shreedevi Hospital | India

Om Raj Katoch | University Of Jammu | India

Manpreet Kaur | Configuration Analyst, Evolent Health International | India

SedaNur Kemer | Ondukoz Mayis University |Turkey

NilayComuk Balci | Ondokuz Mayis University | Turkey

SedaKaraman | Ondokuz Mayis University | Turkey
Participants of the Health 2022 conference had the opportunity to learn with other fellow partners about future conflicts and scope in the healthcare sector. Interactive workshops improved effective conversation. Discussion among the participants developed and solved the healthcare provision in their workstations.
To visit past conference book proceedings:
Now it's time for the 5th InternationalConference on Healthcare and Health Management 2022. We hopefully looking for your support and participation in this Congress. We were expecting your presence on the World stage along with your active involvement which would make the event a huge success.

Market Analysis:
The market for healthcare analytics was worth USD 12.3 billion in 2022. Evidence-based and personalized medicine are increasingly used in healthcare decision-making and are linked to positive patient outcomes.
Digital health is the management of various healthcare processes for people's health and well-being via the use of electronic communication and information technology. The market for digital health was valued at USD 174.2 billion in2021 and is anticipated to increase at a CAGR of 18.2% between 2022 and 2030 to reach USD 475.1 billion.
Report Metric & Details:
Market Size: USD475.1 Billion by 2030
CAGR: 4%(2022-2030)
Historical Data: 2019-2020
Base Year: 2022
Forecast Period:2022 to 2030
2030 Value Projection: USD 32,792.0 Million
Growth Drivers: Emergence of big data in healthcare,
With the emergence of personalized and evidence-based medicine,
Rising investments in venture capital funds and
Technological advancements
Pitfalls & Challenges: Lack of skilled IT professionals in healthcare
Data integrity and safety issues
Metrics:

Google Analytics continuously gathers information about the traffic to your website. The program presents this information in a number of reports, each of which has widgets configured to track particular metrics and dimensions.
They are numerical evaluations of the data that Google Analytics monitors. Among the metrics in Google Analytics are:
Sessions

Session duration

Conversion rate

Goal Completion
Useful metrics in Google Analytics:
Number of Users

Number of Sessions

New Users

Average Time on Page

Average Pages per Session

Bounce Rate

Conversion Rate