About Label
Euro Materials Chemistry 2021, the conference more discussed and focused on Materials Science and Chemistry, Nanomaterials, Polymeric materials, organic materials chemistry, inorganic materials chemistry, analytical materials chemistry, physical materials chemistry.

Euro Materials Chemistry 2021 will serve the global community in the development and distribution of valuable information. It aims to support global research communities by empowering clusters of scientists to regularly meet and discuss topics with front runners in the field. This conference covers important and relatively broad subject areas in the fields of Materials Science and Materials Chemistry.
Benefits of this Webinar
We will Send you a recording copy with the slides to mailing address

International speaker certificate

Publication of your full paper and biography on Conference website

Abstract publication in the conference proceeding with the unique DOI given
Welcome Label
6th

International Conference on

Materials Science and Chemistry

is going to be organizing a Webinar

on November 08-09
, 2021.
Which includes prompt Keynote presentations, Oral talks, Poster presentations and Exhibitions
.
Euro Materials Chemistry 2021
conference happy to invite
chemical professionals, researchers, professors, scientific communities, delegates, students, business professionals and executives
.
Target Audience
Materials Chemistry

Association

Materials Chemistry Societies

Materials Chemistry Researchers

Materials Science

Researchers

Materials Chemistry Students

Materials Chemistry Scientists

Directors of Materials companies

Directors of

Materials Chemical companies

Materials Chemistry Engineers

Materials Science Students

Physicists/Chemists

Exhibitors

Industry Investors

Materials Scientists/Research Professors/

Nanotechnologists

Junior/Senior research fellows of Materials Science/ Nanotechnology

/

Polymer Science

Directors, Deans and Head of the departments in Chemistry and its related fields

Professors, Assistant and Associate professors of Chemistry and its related fields

Delegates from various Pharma and instrumental companies

Laboratory

Chemists

Polymer companies

Others
Session/Tracks
Track 1: Materials Science and Chemistry
Nanostructure is often used when referring to magnetic technology and also applied in case of advanced materials. Atomic structure arranged the structure of molecules, crystalline solids, their characterization, instrumentation for atoms of materials. Microstructure means structure of materials. Modern materials refer properties of materials and traditional materials. Reticular Chemistry means linking of discrete molecular building units into crystalline porous extended structures through strong bonds. Crystallography is defined as arrangement of atoms in a crystalline solid. Allotropes of carbon with a cylindrical nanostructure are termed as Carbon nanotubes (CNTs). A macromolecule is defined as a molecule containing a large number of atoms, such as protein, nucleic acid.
Atomic structure and chemical bonding
Modern materials chemistry
Carbon nanotubes




Macromolecules
Track 2: Materials Science and Engineering
Material science and engineering, also commonly known as materials science, It is divided into inorganic, organic, bulk, micro scale and Nanoparticles. Different materials exhibit different properties according to their nature. A biomaterial is interacting with biological systems for a medical purpose. Energy materials like photovoltaic cells help in sustaining energy resources. Biomimetics is used for solving complex human problems. Mining and metallurgical defines convert raw materials into useful products adapted to human needs. Piezoelectric materials produce an electric current under mechanical stress. Electronics, photonics and devices are used for developing of components for processing information or for system control. Energy harvesting can be described as a process of capturing and amassing by product energy when it is readily available and can be converted into usable electrical energy – such as operating a microprocessor within its limits.
Materials Science and Engineering
Energy materials and catalysis
Electronics and photonics
Energy harvesting materials
Track 3: Various Aspects of Materials Chemistry
Pharmaceutical chemistry is used for drug development. Organometallic chemistry is having a chemical bond between carbon and metal atoms. Green chemistry is also a sustainable chemistry, it is design of chemical products and process of hazardous substances. Cluster chemistry is study of polyhedron of metal atoms. Physical chemistry is studying the physical characteristics, or properties, of molecules. Electrochemistry is study of electricity and how it relates to chemical reactions. Amateur chemistry has a private hobby for pursuit chemistry. Click chemistry is well-understood organic reaction to quantitatively synthesize step-growth polymers. Cosmetic chemistry physiologically works on skin. Clandestine chemistry means illegal drug laboratories. Regenerative medicine is study of replace of organs. chemical synthetic methods that make it possible to prepare a large number (tens to thousands or even millions) of compounds in a single process come under the concept of Combinatorial chemistry. Petroleum Chemistry is mixture of different hydrocarbons.
Scope and applications in pharmaceutical chemistry

Scope and applications in organometallic chemistry

Scope and applications in green chemistry

Scope and applications in cluster chemistry

Scope and applications in physical chemistry

Scope and applications in electrochemistry

Chemical kinetics of materials

Scope and applications in amateur chemistry

Scope and applications in click chemistry

Scope and applications in cosmetic chemistry

Insilico chemical assessment

Scope and applications in clandestine chemistry

Scope and applications in regenerative chemistry

Scope and applications in combinatorial chemistry
Track 4:
Materials Syntheses and Characterization
Syntheses of materials, to understand the origins of functional responses of materials and also the role of materials in science, industry, and technology. Solid State chemistry is boundary between molecules and inorganic systems. Composite materials are combined of two or more bonded materials. A metamaterial is defined as an artificial composite materials and electrical properties. Coordination chemistry is the study of compounds that have a central atom surrounded by molecules or anions. Ceramics are metal and non-metallic compounds that are shaped and heated with high temperatures. understand the origins of functional responses of materials and also the role of materials in science, industry, and technology. Often a pure substance needs to be isolated from a mixture or after chemical reactions.
Materials and their isolation
Track 5: Analytical Materials Chemistry
For constitute the field of analytical study we have different techniques related to the synthesis of materials. Instrumental analysis is used for assessment of purity, their chemical composition, structure and function. Analysis of chemical compounds was done to produce results for "what chemicals are present, what are their characteristics and in what quantities are they present?" Basic methods are having important factors like sample preparation, accuracy, precision and cleanliness. Calibration curves are used for help quantities of sample detect the synthesized novel compounds. Certain equipment like electron microscopes, spectrometers, diffractive instruments and so on was employed in the analytical process of a particular synthesis. Scanning electron microscope (SEM) helps in microstructural analysis, fault diagnosis, imaging and elemental analysis of solid materials. Microscopes mostly deals same kind of characteristics during the process of synthesis. Mass spectrometer will be majorly availed to detect the masses of individual species within a sample. X-ray diffraction (XRD) deals with analysis of solid materials for phase determination. Rutherford backscattering (RBS) is the major instrument for materials science and chemistry.
Scanning and transmission electron microscopy (SEM, TEM, STEM)
Atomic force microscopy (AFM)
X-ray photoelectron spectroscopy (XPS)
Secondary ion mass spectrometry (SIMS)
Rutherford backscattering
Auger electron spectroscopy
Track 6: Polymer Materials and Technology
Polymer chemistry is study of synthesis and chemical properties of polymers. Polymer synthesis, also called polymerization, is the process by which monomers (small molecules) are covalently bonded to form a (usually long) polymer chain or network. Polymers are characterized by the presence of monomer units and microstructures. Surface functionalization of a polymer structure is the key component of a coating formulation allowing control over such properties as dispersion, film formation temperature, and the coating rheology.
Polymer blends means at least two polymers are blended to create a new material with different physical properties. A polymer alloy includes multiphase copolymers but excludes incompatible polymer blends. Polymer processing is done by extrusion and injection moulding; other processes include calendaring, compression. Polymer testing is used for capabilities identification of chemicals composition, diverse analytical capabilities, unknown materials and chemical contamination. It is used for identifying fundamental structural information including molecular weight, molecular weight distribution and information on branching. Polymers are manufactured by pressured conditions, pressure less conditions and so on.
Polymer blends and alloys
Polymer rheology and processing
Future challenges in polymer science
Track 7: Nanomaterials
A material having particles or constituents of nanoscale dimensions, or one that is produced by nanotechnology is a Nanomaterial. like carbon based, metal based, dendrimers and composites. Useful applications focus on cases of nanomedicine, nanobiotechnology, green nanotechnology, energy applications of nanotechnology, industrial applications of nanotechnology, potential applications of carbon nanotubes and nanoart. The characteristic properties of nanomaterials shows current trending technology of material design. The general methods of synthesis are Bottom-Up approach which includes the chaotic and controlled processes and Top-Down approach which includes various methods of nanolithography. Recent nanotechnology leads to the development of advanced electrode materials for high-performance Li-ion batteries. The use of nano-porous membranes serves to isolate the transplanted cells from the body's immune system. These pores are large enough to allow small molecules such as oxygen, glucose, and insulin to pass, but are small enough to impede the passage of much larger immune system molecules such as immunoglobulin.
Applications of nanomaterials
Nanomaterials and their properties
Synthesis of nanomaterials
Nanotechnology in materials
Track 8: Inorganic Materials Chemistry
Inorganic Materials Chemistry includes the study of metallic or non-metallic properties. Metals are materials holding or possessing the characteristics of metals. Non – metals are materials they are not possessing. A liquid crystal is between liquid and solid. Inorganic nanotubes have a composition of metal oxides which are morphologically like carbon nanotube. Superconducting materials are some of the most powerful electromagnets known. Those materials are used in MRI/NMR machines, mass spectrometers, and beam-steering magnets used in particle accelerators. Stoichiometric analysis of materials deals with the relative quantities of reactants and products of a chemical reaction whereas gravimetric analysis deals with the relative properties of reactants and products. Zeolites are aluminosilicate and microporous minerals which are used as catalysts in the most of the chemical reactions.
Stoichiometry and gravimetry
Polymorphism and allotropy
Superconducting materials
Track 9: Organic Materials Chemistry
Organic materials are used for made wood furniture, feathers, leather, and synthetic materials such as petroleum-based plastics. Functional properties were studied, and related structural applications will be considered to play a key role. Nomenclature to the compounds was given based on the chemical structure and isomerism was observed in relation to the radical displacement of atoms within the structures. Structural chemistry involves the determination of structure of compounds using various instrumental techniques and the derivation of desired results by having a detailed study of the conclusions drawn during the process of analysis. Metal-organic frameworks (MOFs) are materials in which metal-to-organic ligand interactions yield porous coordination networks with record-setting surface areas surpassing activated carbons and zeolites. De-localization of orbitals within the complex substances form conjugated systems of materials which lead to the derivation of chromophores used in synthetic processes. Diamond and carbon materials are mostly used in organic synthesis applications .
Nomenclature and isomerism
Conjugated systems and chromophores
Diamond and carbon materials
Track 10: Applied Materials Chemistry
Ultrasound is used for capturing live images inside our body. sol–gel method is used for producing solid materials from small molecules. This method is mainly used in oxides of silicon and titanium. Sonochemistry is understanding the effect of sonic waves and wave properties on chemical system. The electrical and magnetic phenomena is used for better prospective in manufacturing. It is somewhat arbitrary subset of phenomena of electromagnetism in general. Plastic fabrication is the design, manufacture and assembly of plastic products through number of methods.
Plastics fabrication and uses
Track 11: Current Innovations in Materials Chemistry
Materials chemistry innovations are does not appear to be chemistry intensive, for example, electronics- and photonics-related advances. While the connection of these technologies that have revolutionized our way of life to disciplines such as electrical engineering, optical engineering, and computer science is readily discerned, materials chemistry also plays a significant role in their development and can be seen to provide an enabling foundation through materials and process design and development for desired functionalities.
Materials characterization techniques
Materials chemistry and physics
Track 12: Research Aspects of Materials Chemistry
Emerging Materials is understanding of new materials in single crystal form for both fundamental science and early-stage technology. Molecular electronics is study of molecular building blocks for the fabrication of electronic materials. Biomedical materials are compatibility in the human body. Surface science is the study of physical and chemical phenomena and it is interface between solid–liquid, solid–gas, solid–vacuum, and liquid–gas. Optoelectronics is the study and application of electronic devices that source, detect and control light, usually considered as a sub-field of photonics. Computational Materials Science has a huge scope and calls for hierarchical and multi-scale methods involving modelling, simulation and first-principle calculations on all materials classes.
Computational materials science
Track 13: Advanced Materials Science and Technology
Graphene materials means 2-dimensional carbon atoms are arranged in atomic-scale chicken wire (hexagon) pattern. Two-dimensional materials are synthesized by selective extraction process which is critically important when the bonds between the building blocks of the material are too strong (e.g., in carbides) to be broken mechanically in order to form Nano structures. These have a thickness of a few nanometres or less. Electrons are free to move in two-dimensional plane, but those are restricted in third direction is governed by quantum mechanics. Magnetic topological insulator comprised of two-dimensional (2-D) materials, those are potential of providing many interests and applications by manipulating the surfaces states. Chemistry of electrical and mechanical properties are in peculiar style and these are applied mostly in case of ambipolar electronics, transistors and so on.
Graphene material science
Analogues of two-dimensional materials
Chemical and mechanical properties of graphene and 2-D materials
Market Analysis
Materials Chemistry directs towards the synthesis and amalgam of materials of higher potential, using the concepts of physical chemistry. These materials carry magnetic, electronic, catalytic or organic uniqueness. These inventions led to the development of upgraded fabrication techniques. Chemical Material developing companies face a menacing challenge delivering profitable growth in a dynamically competing, low-growth world.
There are a lot of multinational companies associated with the production of materials developed through the concepts of chemistry. The production of the advanced materials needs the knowledge of both chemical and physio-chemical material concepts. To develop these materials there is and an essential role of research wing (induced by production cost) within the company and most importantly the cost the material to the market. R&D operations are as important as other operation within the firms but, it provides new innovations, higher quality product, higher margin materials as well as products.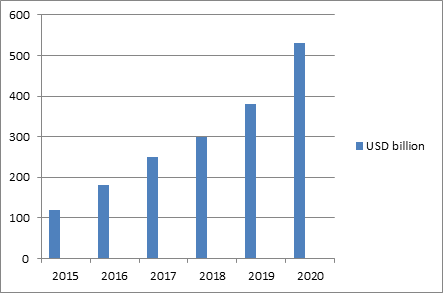 View ahead in global markets:
The future for R&D growth in the Chemical material development field shows an example of improvement in the global economy and concerned market with the industries as well.
According to the global business reports, this field is forecast to grow by 3.6% to reach $12 billion in the year 2014. The overall worldwide R&D forecast to grow a marginally higher 4.7% rate to reach $45 billion in the year 2014. In the Euro zone and UK, there's no significant growth or demand gain found for chemical industries. And by Brexit cloud, the economic viewpoint in the UK has found to be decreasing in industrial manufacturing activity. Whereas, key elections in France, Germany, and Italy, which may push these countries towards more protectionism. This could have a strong response to the growth of chemical industries and also their growth within the European Union. Let's focus on the chemical material industry of UK. The national board is 'Royal Society of Chemistry'. UK Chemical and material development industries have Turnover of 71.2 Billion Euro. There are 3,335 companies established for this stream, which has 1,64,000 employees working. The English Chemical Material developing industry has ranked first in Europe and fifth at the global level.
The middle east is going through the economic restructuring phase due to low oil prices and contraction in the amount of fossil fuel. This economic condition is leading towards various new chemical industry establishments in those regions. According to economists in near future, we can find 16 percent of the domestic growth in Middle East regions through Chemical material manufacturing Industries. In the Asia Pacific, China has GDP growth of 6 percent that is almost double of the rest of the world. This clearly indicates towards China remains one of the brightest spots in the Chemical materials development.