About Conference
Important Dates
Conference Dates: May 22-23, 2019
Normal Registration: 20th April, 2019
Abstract Acceptance Notification: Within 2 working days from the date of submission
The principles of green chemistry and technology conference are focusing on Prevention, Atom economy, Less hazardous chemical synthesis, Designing safer chemicals, Design for energy efficiency, Use of renewable feedstock's, Reduce derivatives, Catalysis, Design for degradation, Real-time analysis for pollution prevention, Inherently safer chemistry for accident prevention.
Green chemistry and technology conference is correlating two topics of Environmental chemistry and the technology used for the better environment sustainability (sustainable chemistry). It includes Chemical Engineering in which the design of chemical products and processes on that to reduce and eliminate the use of substances which is hazardous to humans, animals, plants, and the environment.
In Green chemistry and technology we can find a variety of existing ideas and research on atom economy to catalysis of an atom. The development of green chemistry and technology evolved to a shift in environmental problem-solving strategies as nowadays it is too important to know about this topic as at this movement it is really necessary to command, control, regulate and reduce the industrial emissions towards the active prevention of pollution in enlivenment.
The set of concepts of green chemistry and technology event organized to discuss your opinion and broader adoption of terms such as "clean" and "sustainable" life of living beings.
Why to Attend
The exciting and innovative program brought together national and international experts to promote the exchange of the latest Chemical & technological practices and cutting-edge research in Green Chemistry and Technology 2019 in Rome, Italy. State-of-the-Technological Lectures, Free Communication Sessions and Chemical and Technical Educational Symposia, were appreciated by the 2018 attendees. With this enthusiastic support of our Organizing Committee and Editorial Board Member, we are overwhelmed to announce Global Experts Meet on Green Chemistry and Technology as a continuum of our previous successful conference. It will be held on May 22-23, 2019 Rome, Italy. The conference will focus on "Modern Approaches in Chemical Engineering & Geo Technology".
The field of Green Chemistry and Technology is growing rapidly, and its development is making tremendous impacts in Environmental Sciences and New Technology. The importance and significance can be gauged by the fact that it has made huge advancements over the course of time and is continuing to influence various sectors.
Why attend?
Euro Green Chemistry 2019 highlights the theme "Modern Approaches in Chemical Engineering & Geo-Technology" which focus on the latest advancements in Green Chemicals and Geo-Technology of various Techniques which are occurring all around on globe.
Euro Green Chemistry 2019 provides two days robust discussions on methods and strategies related to Chemical Engineering, Geo-Technology and Management of Environmental Biology and new technology for sustainability as well as explore new ideas and concepts on a global scale. This two-day event provides a perfect platform for leading scientists, researchers, scholars, practitioners, Chemists, Engineering experts, Technology providers, equipment and Agrotechnology tools manufacturers/vendors to gain knowledge about the latest advancements in Chemical research and modern Technology within the respective field and encourages new innovations and research ideas around the globe.
Other Reasons:
World Class Speakers and Fresh New Talent from across the Globe in Chemical Engineering & Geo-Technology.

Packed Schedule: Workshops, Multi-track Conference, Expo area and more...

To educate yourself on modern Technology and new chemical research of Green Chemistry and Technology.

To enhance your ability to treat the growing problems of Environment sustainability and Chemical research.

To network with your fellow primary researchers.

To empower yourself to fill the void created by the national shortage of participants.
Benefits:
Accepted abstracts will be published in conference souvenir.

Accepted Abstracts will be published in Allied Academies respective journals

Global networking: In transferring and exchanging Ideas

A Unique Opportunity for Advertisers and Sponsors at this International event.

Each abstract will be labeled with a DOI provided by CrossRef

Our online publicity attracts 90000+ users and 160000+ views

Great chance to attend other scientific conferences freely as a delegate at the same venue or five-star hotels at Rome.
Intended Participants:
Directors, Board Members, Presidents, Vice Presidents, Deans and Head of the Departments
Researchers, Scientists, Faculties, Students
Associations and Societies
Colleges Departments
Chemical Companies and Industries
Eco devises Manufacturing Companies
Manufacturing Companies and Industries
Laboratory Technicians and Companies
Business Entrepreneurs and Industrialists
Training Institutes
For Scientific Sessions please go through the link: http://greenchemistry.alliedacademies.com/call-for-abstracts
For Abstract Submission please go through the link: http://greenchemistry.alliedacademies.com/abstract-submission
Join us in Rome, Italy in the month of May 22-23, 2019
01. Find the latest developments, Research, Innovations, and Technology in Green Chemistry and Technology
02. Lectures by the world's prominent professionals and poster presentations & Young Researchers
03. Network with Green Chemistry & Technologist with colleagues from more than 50 countries
Sessions/Tracks
Track 01: Chemical Engineering
Chemical Engineering deals with the design, development of processes and operation of machines and plants through which the physical or chemical state of materials undergo various changes. Founded on the principles relating to chemistry, physics, and mathematics, Chemical Engineering finds application in process industries. Chemical engineering is arguably the engineering discipline most directly concerned with the challenges of sustainable development. After all, chemical engineers design most industrial processes that convert primary resources (be they of fossil, mineral or biogenic nature) into materials that then form the base for any further production. In addition to that, they are also in charge of most environmental technologies.
Sub-Tracks
Biochemical Engineering
Environmental Engineering
Composite Materials
Material Science and Engineering
Chemical Reaction Engineering
Materials Synthesis and Processing
Track 02: Geochemistry
Geochemistry is a branch of the geologic sciences that weds physics and geology, so there is a geologic sub-discipline, geochemistry, in which chemistry and the geologic sciences come together. Geochemistry is the study of the chemistry of natural earth materials and the chemical processes operating within and upon the Earth, both now and in the past. Geochemical analyses are carried out on any natural sample such as air, volcanic gas, water, dust, soil, sediment, rock or biological hard tissues (especially ancient biological tissues) and also on anthropogenic materials such as industrial effluent and sewage sludge.
Sub-Tracks
Applied Geochemistry
Aquatic Geochemistry
Earth Sciences & Geography
Mineralogy & Geochemistry
Geophysics & Geosystems

Track 03: Atmospheric Chemistry
Atmospheric chemistry is the study of the components of planetary atmospheres, particularly that of the Earth. It specifically looks at the composition of planetary atmospheres and the reactions and interactions that drive these dynamic and diverse systems. The topic encompasses lab-based studies, field measurements and also their modeling. It is also a branch of atmospheric science in which the chemistry of the Earth's atmosphere and that of other planets is studied. It is a multidisciplinary approach to research and draws on environmental chemistry, physics, meteorology, computer modeling, oceanography, geology and volcanology, and other disciplines.
Sub-Tracks
Photochemical Smog
Global Warming
Acidic Deposition
Ozone Depletion
Toxic Air Pollutants
Track 04: Plant Pathology
Plant pathology is the scientific study of diseases in plants caused by pathogens and environmental conditions. Organisms that cause infectious disease include fungi, oomycetes, bacteria, viruses, viroids, virus-like organisms, phytoplasmas, protozoa, nematodes, and parasitic plants. Under this track we are covering diseases of temperate and tropical plants caused by fungi, bacteria, viruses, phytoplasmas and nematodes; physiological, biochemical, molecular, ecological, genetic and economic aspects of plant pathology; disease epidemiology and modeling, disease appraisal and crop loss assessment; and plant disease control and disease-related crop management.
Sub-Tracks
Plant Diseases
Terminator Technology
Nematode Parasites
Bacterial Diseases of Plants
Gene Silencing
Track 05: Geotechnical Engineering
Geotechnical engineering largely involves defining the soil's strength and deformation properties. Clay, silt, sand, rock, and snow are important materials in Geotechnics. Geotechnical engineering includes specialist fields such as soil and rock mechanics, geophysics, hydrogeology and associated disciplines such as geology. Geotechnical engineering is helpful for the study of the behavior of soils under the influence of loading forces and soil-water interactions. This knowledge is applied to the design of foundations, retaining walls, earth dams, clay liners, and geosynthetics for waste containment. The goals of geotechnical engineers could range from the design of foundations and temporary excavation support, through route selection for railways and highways, to the increasingly important areas of landfill disposal of wastes and groundwater contamination.
Sub-Tracks
Geotechnical Research and Development
Rock Engineering
Earthquake Engineering
Supporting Technology
Transportation Engineering
Hydraulic & Water Resources Engineering
Track 06: Environmental Toxicology
Environmental toxicology is a multidisciplinary field of science concerned with the study of the harmful effects of various chemical, biological and physical agents on living organisms. Areas of special interest are: molecular mechanisms of toxicity, biotransformation and toxicokinetics, molecular, biochemical & physiological mechanisms explaining differences in sensitivity between species and individuals, characterization of pathophysiological models and mechanisms involved in the development of effects and the identification of biological markers that can be used to study exposure and effects in man and animals.
Sub-Tracks
Recent Advances in Environmental Management
Ecotoxicology
Organic and Inorganic Pollutants
Heavy Metals in the Environment
Aquatic Toxicology
Eco-Engineered Bioreactors
Track 07: Agricultural Science
Agricultural science is a broad multidisciplinary field of biology that encompasses the parts of exact, natural, economic and social sciences that are used in the practice and understanding of agriculture. Agricultural science involving the use of scientific tools and techniques, including genetic engineering, molecular markers, molecular diagnostics, vaccines, and tissue culture, to modify living organisms: plants, animals, and microorganisms.
Sub-Tracks
Soil & water sciences
Agricultural Biotechnology
Economics and Management Sciences
Hydrology and Stability
Greenhouse
Soil Compaction
Agricultural Education
Track 08: Chemical Industry & Market Analysis
The chemical side of the industry is expected to grow from $3.1 to $14.9 trillion. The chemical industry is expected to add more than new 500 world-class steam crackers around the world by 2050. In various categories based on their functional and industrial significance, including ceramics, inorganic and organic chemicals, oils, esters, surfactants, acids, oleochemicals, alcohols, solvents, source gases, neutral gases, process gases, petrochemicals, ceramics, polymers, salts, dyes, bases, colorants. The oil and gas sector provides various specialty chemicals.
Sub-Tracks
Oil, Gas and Petroleum Refineries
Polymer Science and Engineering
Chemicals & Materials Market
Agricultural Chemicals
Biological Control
Track 09: Sustainable Development
Sustainable development is the organizing principle for meeting human development goals while at the same time sustaining the ability of natural systems to provide the natural resources and ecosystem services upon which the economy and society depend. The desired result is a state of society where living conditions and resources meet human needs without undermining the integrity and stability of the natural system.
Sub-Tracks
Sustainable Development Goals
Green Architecture & Green Design
Sustainable Agriculture
Rural Development
Industry, Innovation & Infrastructure
Track 10: Agrochemicals
This session of agrochemicals deals with the chemicals which are related to the field of agriculture like fertilizers, pesticides etc. Agrochemicals are mainly introduced into the market for the purpose to protect crops from the pests, insects and to improve quality of the crop yield.
Sub-Tracks
Agricultural Chemicals
Fertilizers
Insecticides
Liming & Acidifying Agent
Agrochemicals effects on Environment
Track 12: Chemical Oceanography
Chemical oceanography investigates the chemical composition of seawater. Chemical oceanographers study the interactions between organic and inorganic substances and the biological, physical and geological conditions of the ocean to understand how marine chemistry is influenced by physical processes and exchanges with the atmosphere, biosphere, and geosphere.
Sub-Tracks
Marine Chemistry on Earth
Organic Compounds in the Oceans
Marine Biogeochemistry
Ocean Acidification
Track 13: Civil & Environmental Engineering
Civil and environmental engineering is playing a central role in helping define the future. From infrastructure preservation and energy conservation to climate change and national security, society needs leaders who are able to think critically about the materials, design, systems, operations, and management of civil infrastructure systems.
Sub-Tracks
Structural Engineering & Geomechanics
Sustainable Design & Construction
Pollution Management
Water Resources Engineering
Transportation Engineering
Track 14: Plant Science Research
Plant Sciences is the study of plant growth, reproduction, evolution, and adaptation, as well as the use of plants for food, fiber, and ornamental purposes. While students majoring in Plant Sciences necessarily share a common enthusiasm for plants, the variety of available courses and research opportunities encourage a great diversity of individual interests and career paths. Plant Science students gain the expertise necessary to advance research in and address many local, regional, and global challenges.
Sub-Tracks
Plant Genetics & Genomics
Plant Enzymes & Biosynthesis
Phytochemical Analysis
Weed Management
Pest Management
Plant Tissue Culture
Track 15: Arid Environments
Arid environments cover about one-third of the Earth's surface, comprising the most extensive of the terrestrial biomes. Deserts show considerable individual variation in climate, geomorphic surface expression, and biogeography. Climatically, deserts range from dry interior environments with large temperature ranges to humid and relatively cool coastal environments with small temperature ranges. Deserts develop because of climatic topographic and oceanographic factors that limit the amount of rain or snowfall that a region receives. Most global deserts are subtropical in distribution.
Sub-Tracks
Paleoclimate & Pale environments
Anthropology & Human Ecology
Land Degradation
Environmental Monitoring
Geomorphological Processes
Track 16: Agronomy

Agronomy considers the whole range of influences on crop production including climate and adaptation, soil, water, and water availability, crop genetics, the properties of the soil and how the soil interacts with the growing crop; what nutrients the crop needs; the ways that crops grow and develop; and how best to control weeds, insects, fungi, and other crop pests. Non-biological considerations such as economic requirements, consumer and farmer behavior also inform agronomic practices, as do environmental constraints.

Sub-Tracks
Agroecosystems
Organic Farming
Horticultural Crops
Crop Physiology & Production
Agro climatology & Modeling
Track 17: Chemistry of Fungi
Chemistry of Fungi includes the introduction to the chemistry of fungal metabolites. The topic we involve under this track is to illustrate within the context of fungal metabolites, the historical progression from chemical to spectroscopic methods of structure elucidation, the development in biosynthetic studies from establishing sequences and mechanisms to chemical enzymology and genetics and the increasing understanding of the biological roles of natural products.
Sub-Tracks
Fungi & Development of Microbiological Chemistry
The Chemistry of Growing Fungi
Fungal Diversity
Fungal Ecology
Fungal Allelopathy
Track 18: Sustainable Chemistry
Sustainable chemistry is a scientific concept that seeks to improve the efficiency with which natural resources are used to meet human needs for chemical products and services. Sustainable chemistry encompasses the design, manufacture, and use of efficient, effective, safe and more environmentally benign chemical products and processes. It is also a process that stimulates innovation across all sectors to design and discover new chemicals, production processes, and product stewardship practices that will provide increased performance and increased value while meeting the goals of protecting and enhancing human health and the environment.
Sub-Tracks
Chemical technology
Bioresources
Pharmaceutical technology
Photochemistry
Product and material design
Industry and sustainable chemistry
New molecules, materials & products
Catalysis
Track 19: Algal Research
In Algal Research many technologies are involved like algae biology, biomass production, cultivation, harvesting, extraction, bioproducts, and econometrics. We are also focusing on current research on algal biology (phylogeny, molecular traits and metabolic regulation of microalgae for biofuels), algal cultivation (phototrophic systems in open ponds, heterotrophic systems), algal products and economics, algal harvesting and extraction systems, new conversion technologies for algal biomass and techno-economic modeling of algae biofuels systems.
Sub-Tracks
Algal Bioprocesses
Algal Biomass, Biofuels & Bioproducts
Harvesting and oil extraction system
Biodiversity and bioprospecting of algae
Wastewater based algae biofuels production
Track 20: Industrial Crops & its Products
Industrial Crops and its Products is the hottest topic in academic and industrial research on industrial crops and products. It also called a non-food crop is a crop grown to produce goods for manufacturing, for example of fiber for clothing, rather than food for consumption. Industrial crops are the designation given to an enterprise that attempts to raise farm sector income and provide economic development activities for rural areas. Industrial crops also attempt to provide products that can be used as substitutes for imports from other nations.
Sub-Tracks
Aquaculture Engineering
Irrigation Science
Applied Engineering in Agriculture
Biosystems Engineering
Agricultural Mechanization in Asia, Africa, Europe & Latin America
Track 21: Recycling


Recycling is important to preserve the environment and to leave the planet in a better condition than we found it. Did you know that the average American throws away four pounds of trash daily? That is more than 1.5 tons of waste per person per year. Multiply that by 6 billion people and you know we have a major problem with waste. The need to protect the environment has become more imperative with the advancement of technology. Materials that have become common over the past century, such as plastics, are not easily returned to the Earth through the natural process.
Sub-Tracks
Waste Processing Technologies
Product (eco) design and recycling
Waste and Recycling Targets
Reduce, Reuse, Recycle
Market Analysis
The global market for renewable chemicals is expected to grow from $51.7 billion in 2015 to $85.6 billion by 2020, with a compound annual growth rate (CAGR) of 10.6% for the period of 2015-2020. Renewable alcohols dominated the market with about 40.7% of total sales in 2014, but will likely decrease to 39.1% market share by 2020. Raw materials for renewable chemicals production, which ranked second at a 40.6% market share in 2014, is expected to fall to 35.5% during the forecast period (2015-2020) due to the uptake of alternative feedstock used in the production process. Bio-based organic acids, ketones, and aldehydes accounted for the third-biggest market share in 2014, at 8.1%, including some well-known and used chemicals. Market share for this segment should increase to 13.9% by the end year. Growing consumer awareness towards renewable chemicals and increasing environmental concerns are driving growth in the market.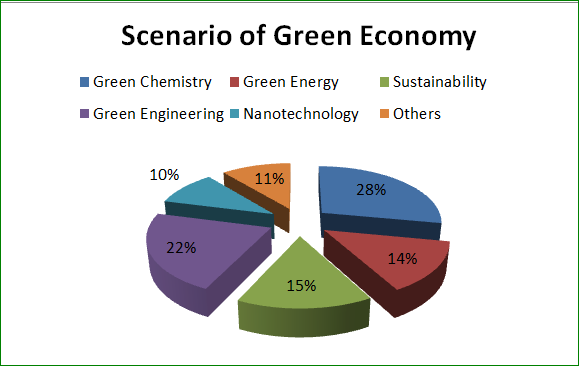 The increasing demand for greener products, the growing need for cost-effective processing, cheaper feedstocks, and new product avenues are driving the commercialization of alternative chemical products. Current Research reveals in its new report that the recent economic turmoil in the U.S. economy and the increased global demand for energy supplies and subsequent cost hikes in oil and gas also should spur significant growth rates.

Alternative chemical products include chemicals produced from biobased feedstocks, as well as end-use chemical products that incorporate both bio-based chemicals and green chemistry principles (i.e., end-use chemical products include cleaning products derived from bio-based ingredients and solvent-free cleaning products).
The total alternative U.S. chemical end-use product market should reach $149.9 billion and $884.1 billion in 2016 and 2026, respectively, reflecting a 10-year compound annual growth rate (CAGR) of 19.4%. Pharmaceuticals as a segment should increase from $27 billion in 2016 to $96.2 billion in 2026, growing at a 10-year CAGR of 13.5%. Alternative packaging products should reach $25 billion and $232.1 billion in 2016 and 2026, respectively, demonstrating a 10-year CAGR of 25%. The market for alternative cleaning and detergent products, estimated at $29.3 billion in 2016, should reach $158.7 billion in 2026 on a 10-year CAGR of 18.4%.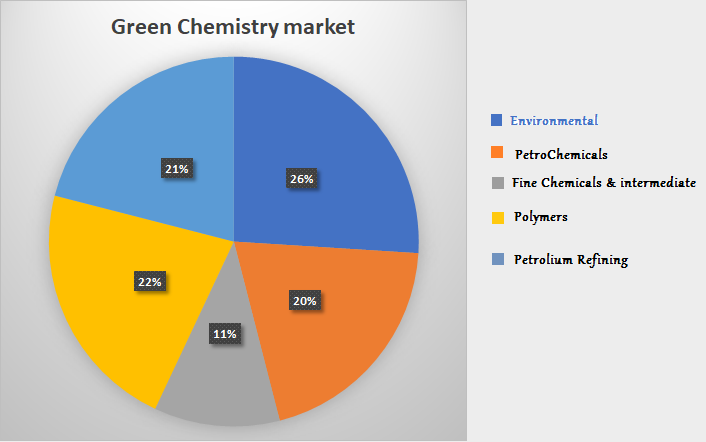 The market for green chemistry is set to outpace the overall global chemical market during the current decade. Companies are reducing their use and generation of hazardous substances, creating safer products and lowering the impact of processes on human health and the environment. The impetus for market growth stems from a combination of tightening regulations and demand from consumers for more sustainable products. The EPA continues to facilitate the adoption of this revolutionary and diverse discipline, which should lead to significant environmental benefits, innovation and a strengthened economy.
Rising fossil fuel feedstock costs and stricter environmental regulatory controls are incentivizing manufacturers to use green chemistry technologies to offset the large capital investment required to change and/or upgrade current equipment and facilities. For the chemical industry, the continuous change in environmental matters means not only new risks but also new business opportunities. Chemical producers now understand that preventing pollution makes as much business sense as spending less on raw materials and capturing more market share.
Alternative chemical products also offer the chemical industry new market opportunities in an otherwise stagnant marketplace dominated by big companies. In the alternative chemical segment, smaller players can compete with global conglomerates and gain market share quickly for specialty niche products. However, many dominant alternative chemical manufacturers are already making substantial footholds in these emerging markets.