About Conference
Abstract Submission last Date May 29th 2018

The Green Chemistry and Technology, Dublin, Ireland June 18-20, 2018 will focus on current advances in the research and use of Green Chemistry with the whole concept of this advanced technology is to agenise from past, analyse the present and implement for the future the latest innovative evolving theories and technologies to surpass the hurdles and make modish frontiers. Allied Academy Organizes 1000+ Conferences Every Year across USA, Europe & Asia with support from 1000 more scientific societies and Publishes 1000+ Open access Journals which contains over 50000 eminent personalities, reputed scientists as editorial board members. To know more about the Allied Academies visit: http://alliedacademies.com/
Green Chemistry & Technology 2018 Conference will be a multidisciplinary gathering and present major areas such as Green synthesis, Green catalysis, education and policies. The forum of Scientists, students and researchers from all corners of the globe, come together to discuss future science. Each session of the meeting will be included with expert lectures, poster and discussions, join us to design sustainable development processes, innovations by which and how these strategies drive new policies, advances the business and human health protection. We are glad to invite you on behalf of organizing committee to join us, where you are the decision maker for future.
Green Chemistry & Technology 2018 Conference purpose is to fill your head with knowledge you can use: ideas, new trends, amazing ingenuity. Our focus is on sustainable Development and Green Technologies, which we believe are foundational to the success of individual organizations as well as our cities, states, nations and world. Attendees come to Green Chemistry & technology Conference to learn from experts in their community and leave.
Every year over 300 of experts representing renewable energy companies, technology and service providers, governments, investors and consultants attend our Green Chemistry Conferences
" http://greenchemistry.alliedacademies.com/"
With so much to see and do, you can't miss the excitement and energy of Green Chemistry Conference in Dublin, Ireland.
The global chemical industry is expected to grow from $4 trillion to $7.3 trillion by 2022. According to a 2013 report from Pike Research, Green Chemistry represents a market opportunity that will grow dramatically from $6.8 billion in 2015 to $198.5 billion by 2023. The same report also estimates that Green Chemistry is forecast to save industry $85.5 billion by 2023. a part of the $92 billion European Chemical Industry.
The Goal of Green Chemistry and Chemical Engineering is to minimize waste, eliminating the toxicity of waste, minimize energy use and utilize green energy (solar thermal, solar electric, wind, geothermal etc.) - that is, no fossil fuel.
The objective of this conference is to provide a significant platform to network and meet experts in the field and sampling of the scientific and engineering basis of green chemistry & Technology with specific process as examples.
Welcome Massage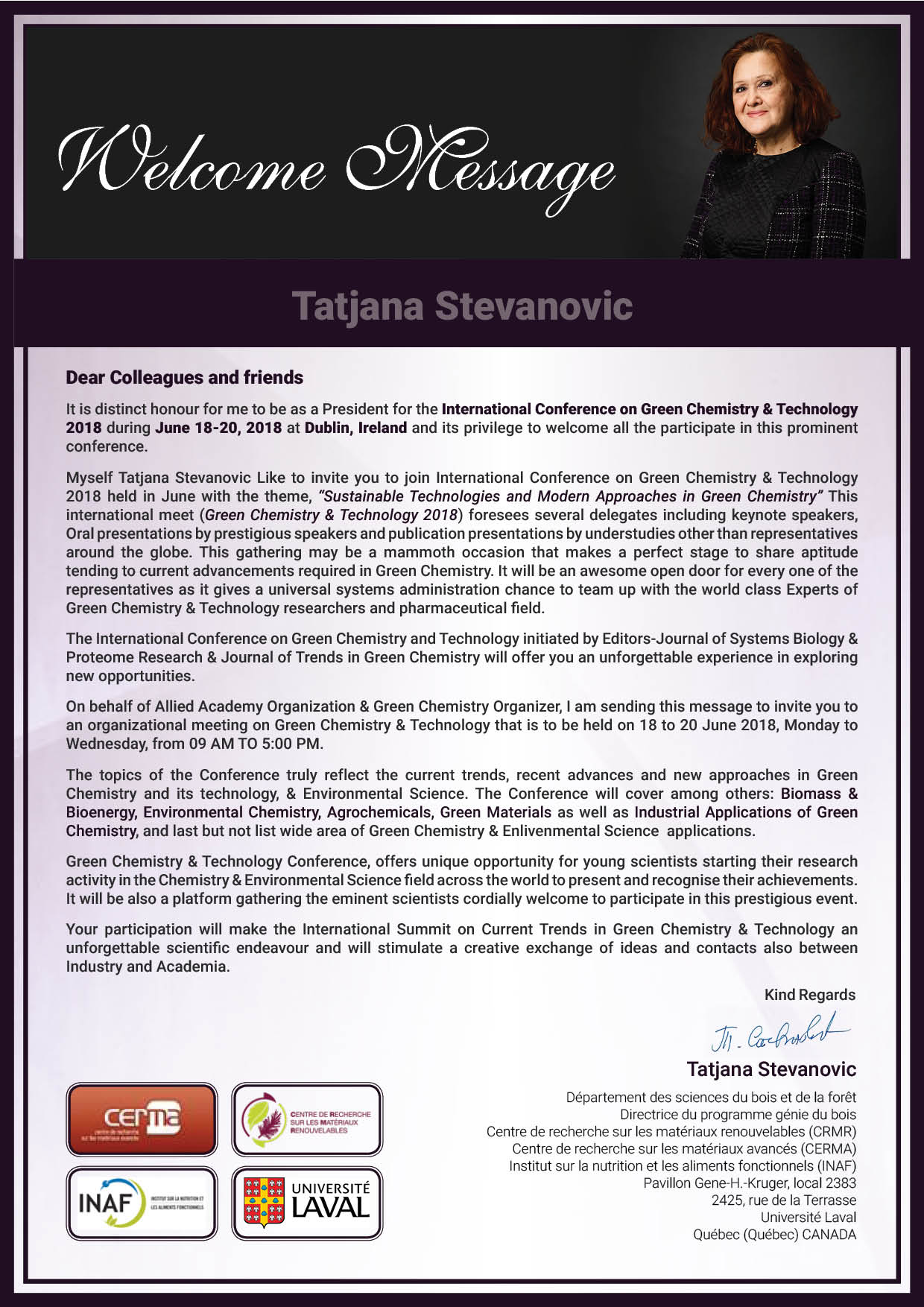 Sessions/Tracks
Track 1: Biomass & Bioenergy
Biomass & Bioenergy is a renewable energy source which is derived from the carbonaceous waste of natural and human activities. It is derived from various sources, including the by-products from timber industry, raw material from the forest, agricultural crops, household waste and wood.
1.1 Biomass Conversion Methods
1.2 Biomass Energy Resources
1.3 Biomass Power & Thermal
1.4 biomass Science & Technology
1.5 Conversion of Vegetable Oils, Derivatives and By-products
1.6 Applications of Science in Industry
Track 2: Environmental Chemistry
Environmental chemistry is a branch of chemistry, containing aspects related to organic chemistry, analytical chemistry, physical chemistry and inorganic chemistry, as well as more diverse areas, such as biology, public health, biochemistry, toxicology, and epidemiology. The present environmental issues leads to the remediation of environmental media, and to new, low energy, low emission, and sustainable processes. Environmental chemistry explains concerning the pollution of air, water, food and living organisms by toxic metals, soils, fossil fuels, pesticides.
2.1 Soil chemistry & Soil pollution
2.2 Atmospheric chemistry and air pollution
2.3 Chemical oxygen demand
2.4 Biological oxygen demand
2.5 Bio mineralogy
2.6 Xenobiotic metabolism
2.7 Astrochemistry
2.8 Environmental medicine
Track 3: Agrochemicals
Agrochemicals encloses a wide variety of farming techniques. Sustainable agriculture explores to achieve farm profitability, community prosperity and environmental protection. Green chemistry moves processes and products towards an innovative economy based on renewable feedstocks. Both the fields envision safe products, a clean environment, healthy people, green jobs, and importantly, a systemic approach to sustainably production.
3.1 Crop Protection Solutions
3.2 Enhancement Technology
3.3 Science to the Farmers
3.4 Chemicals & Petrochemicals
3.5 Agro Chemical & Agro Equipment's
3.6 Agriculture & Horticulture
3.7 Agro & Specialty Chemicals
Track 04: Green Materials
Green materials are composed of renewable resources from environment and its factors. Green materials are environmentally amenable due to their impacts were considered over the life of a product. The concepts of green materials figured out from the field of green chemistry, the utilization of its principles to reduce or eliminate hazardous substances in the design, manufacture and application of chemical products. At the elementary level, research in green materials looks to develop alternatives to traditional materials or processes that offer an environmental advantage.
4.1 Nanomaterials & Nanotechnology
4.2 Biosensor & Bioelectronic Materials
4.3 Biomaterials & Biodevices
4.4 Composite & Ceramic Materials
4.5 Computational Materials
4.6 Constructional & Engineering Materials
4.7 Optical, Electronic and Magnetic Materials
4.8 Environmental and Green Materials
4.9 Science & Technology of Polymers
4.10 Energy & Harvesting Materials
4.11 Smart Energy Technologies
4.12 Structural Materials
Track 05: Trends in Green Chemistry
Green Chemistry has established firm ground providing essential pattern criteria for the advancement of efficient chemical syntheses. The twelve principles of green chemistry have been recognized as elementary principles for future sustainable chemical industry and environmental protection. Future Trends in Green Chemistry includes Biocatalysts and biotransformation's processes, new enzymes for organic synthesis, Hydrogen production,
5.1 Source Reduction
5.2 Incorporate Sustainability early in the design process
5.3 To Create Industrial Processes that Avert Hazard Problems
5.4 Development of Eco-friendly chemicals and materials
5.5 Analysis on the ecotoxicological and environmental effects of biomass processing
5.6 Use of Environmentally Benign Solvent systems
5.7 Generating Wealth from Waste
Track 06: Industrial Applications of Green Chemistry
Industrial Applications encompasses major chemicals, reagents, solvents, catalysts and almost all types of organic reactions for synthesis of active pharmaceutical substances. Many chemicals and chemical processes tangled are hazardous, toxic and may show adverse effects on human health and environment. Industries can influence and advance the environmental performance with utilizing green chemistry. Green chemistry is being employed to develop innovative drug delivery methods that are more effective and less toxic.
6.1 Chemicals Production
6.2 Food & Flavor Industry
6.3 Green Technologies in the Pharmaceutical Industry
6.4 Paper & Pulp Industry
6.5 Polymer Industry
6.6 Sugar & Distillery Industries
6.7 Textile and Tannery Industry
6.8 Green Chemistry in Agrochemicals
6.9Waste minimization in drug discovery
Track 07: Biopolymers & Bioplastics
Biopolymers are chain-like molecules made up of repeating chemical blocks and can be very long in length.The studies are more concerned to Green Composites, Biopolymer Feed Stock Challenges, Biofibers & Microbial Cellulose, Biomaterials and Bioplastics.
7.1 Biopolymer Applications
7.2 Biopolymers as Materials
7.3 Composites in Biopolymers
7.4 Biopolymers: Applications and Trends
7.5 Biodegradable polymers
7.6 Biopolymers in Biomedical Applications
7.7 Recycling & Waste management of Biopolymers
7.8 Biopolymers in Biofibers & Microbial Cellulose
7.9 Future & Scope of Biopolymers
Track 08: Polymer Chemistry
Polymer Chemistry review the recent application and trends about Biopolymers its chemistry and its Environmental Applications, this session is designed and focused to discuss advances in technology in all areas from chemical synthesis or biosynthesis to end use environment applications.
8.1 Polymers Processing and Products
8.2 Environmental Applications
8.3 Biodegradable Polymeric Materials
8.4 Biopolymers and Biodegradable Plastics
8.5 Biopolymers from Renewable Resources
8.6 Smart and Functional Polymers
8.7 Principles of Polymer Chemistry
8.8 Microwave-Enhanced Polymer Chemistry and Technology
8.9 Recent Advances in Polymer Chemistry
8.10 Polymer Nanotechnology
8.11 Synthetic Polymers
8.12 Polymers for catalysis for energy application
8.13 Bio-catalysis in biochemistry
8.14 Solid waste management of polymers
8.15 Marketing of polymer
Track 09: Environmental Pollution & Global Warming
Environmental Pollution & Global Warming is one of the biggest problems that we are facing today is that of Environmental pollution, Environmental Pollution is an undesirable change in the physical, chemical or biological characteristics of air, water and soil that may harmfully affect the life or create potential health hazard of any living organism.
9.1 Pollution Sources & Effects
9.2 Global Warming
9.3 Ocean and Climate change
9.4 Pollution Analysis
9.5 Environmental Protection
9.6 Pollution Ecology & Toxicology
9.7 Human Impact on the Environment
9.8 Environmental Sustainability and Development
9.9 Pollution Solutions
9.10 Recycling & Waste Management
9.11 Risk assessment
9.12 Trending Market in Pollution Control
Track 10: Research Systems on Green Chemistry
In the field of Green Chemistry Research, Green Chemistry Application, and many related topics. As the theme of the conference relates it serves as a global platform to converse concerning the current developments, recent advances, new approaches and future approaches in the field of Green Chemistry Research.
10.1 Green Chemistry & Engineering Metrics
10.2 Green Nanotechnology
10.3 Water Remediation
10.4 Sustainability
10.5 Green Catalysis
10.6 Synthetic Techniques of Green Chemistry
10.7 Future of Green Chemistry
10.8 Green Synthesis
10.9 Waste Monitoring & Management
10.10 Green House
10.11 Organic Synthesis
10.12 Green Energy & Green Engineering
10.13 Circular Economy & sustainable chemistry
10.14 Green Chemistry & Commerce Council (GC3)
10.15 Green Computing
10.16 Analytical Methodologies
10.17 Education & Teaching in Green chemistry
Track 11: Green Economics
At basic level, the green economy is the clean energy economy comprising mainly of four sectors: renewable energy (e.g. solar, wind, geothermal); green building and energy efficiency technology; energy-efficient infrastructure and transportation; and recycling and waste-to-energy. The green economy is not just about the ability to produce clean energy.
11.1 Taxonomies of Economics and Finance
11.2 Greening
11.3 Green library Projects
11.4 Green Manufacturing & Processes
11.5 Innovative Financing Solutions for Green Initiatives
11.6 Green Economy Promise into Practice
11.7 Environmental/Welfare/Development
11.8 Green Solutions, Eco Taxes, Eco-labelling, Environmental Management
11.9 Resource Management, Zero Waste, Reuse, Recycle, Repair
Track 12: Waste Valorization & Management
Waste Valorization is the process of converting waste from organic materials, food and agriculture waste, producing a great deal of methane in landfills, several processes are being developed to transform organic waste materials into something useful to produce energy, chemicals, or materials that can be used in industrial processes. Developing advanced waste valorisation techniques for the green production of chemicals, materials, and fuels through the advancement of green techniques.
12.1 Green Processing Technologies
12.2 Pyrolysis and Bio-engineering
12.3 Waste Valorization Strategies: Case Studies
12.4 Valorization of Agricultural and Municipal Waste
12.5 Valorization of Food Waste for Bio-energy
12.6 Waste-to-energy
12.7 Challenges in Waste Valorization & Management
Track 13: Renewable Sources
Renewable resource may be a resource which may be used repeatedly and replaced naturally that typically includes oxygen, fresh water, solar energy, timber, wood, paper and leather and biomass. With the help of green chemistry, the approach towards the renewable resources can be made increasingly usable technologically and economically. There is a wide spectrum of renewable feed stocks including trees, grasses, shrubs, marine resources waste which is used for developing new, sustainable, low environmental encounter routes to useful chemical products, and biofuels in current era of the technology in green chemistry.


13.1 Bioactive Compounds from Biomass
13.2 Biobased Materials
13.3 Biomass fractionation
13.4 Biocatalysis for Bioresource Transformation
13.5 Bioenergy
13.6 Bioproducts from Woody Biomass
13.7 Biorefineries
13.8 Biosurfactants
13.9 Chemical Platform Molecules
13.10 Downstream Processing
13.12 Micro and Macro Algae Technology
13.13 Plant cell wall Modification
13.14 Pre-treatment & Transformation of lignocellulosics
13.15 Sustainability
13.16 Thermochemical Transformations of Biomass
Track 14: Green Chemical Reactions
Reactions play the most elementary role in synthesis. The ideology of Green Chemistry drives for the development of new green chemical synthesis and reaction conditions that can potentially provide benefits for chemical synthesis in terms of energy efficiency, product selectivity, operational simplicity, and health and environmental safety.
14.1 Aqueous Phase Reactions
14.2 Biocatalysts in Organic Synthesis
14.3 Safer Reagents for Synthesis
14.4 Microwave Induced Green Synthesis
14.5 Organic Synthesis in Solid State
14.6 Green Reaction Media and Related Green Initiatives
14.7 Phase-Transfer Catalysis in Green Synthesis
14.8 Ultrasound Assisted Green Synthesis
Track 15: Green Manufacturing & Processes
Green manufacturing is a method of manufacturing that decreases waste and pollution. Green manufacturing goals are achieved through product and their process design. Areas of applications of green manufacturing includes Lean manufacturing where attention paid to waste generated along the way and energy reduction in streamlined logistics; Materials reuse, recycling; Green plastics (biodegradable); Product design; solvent less technologies; electronics; It will provide the congress to present the technology in green manufacturing and its relevant fields, such as eco-friendly design/manufacturing, development of manufacturing efficiency, Clean Polymerization Methodologies, energy saving and waste reduction process, using eco-friendly materials like Green building materials, Bio-based Materials, Bio-inspired Materials.
15.1 Bionanomaterials: Design, Synthesis and Application
15.2 Lignin Based Materials
15.3 Bio Based Plastics & Composites
15.4 Environmentally Benign Methods for Polymer Synthesis
15.5 Environmentally Benign Processing & Manufacturing of Materials
15.6 Green Building Materials
15.7 Green Polymers & Polymer Composites
15.8 Innovative Materials for Sustainable Construction & Cultural Heritage
15.9 Nanocomposites
15.10 Properties & Applications of Green Materials
15.11 Bio-based Renewable, Chemical feed Stocks
15.12 Synthesis, Development, Rheology & Application of Renewable and / or Biodegradable Polymers
15.13 Green Bio-based Materials & Products
Track 16: Green Energy and Efficiency
Green energy is usually well-defined as the energy that comes from natural sources such as sunlight, rain, wind, waves, tides, plants, algae and geothermal heat. These energy resources are renewable in nature. Renewable energy sources have smaller impact on the environment which produces pollutants such as greenhouse gases as by-product, causative to climate change. Green energy utilizes energy sources that are readily available. Developments in renewable energy technologies have lowered the cost of solar panels, wind turbines and other sources of green energy.
16.1 Biofuels & Bioenergy
16.2 CO2 Capture, Storage & Utilization
16.3 Energy Storage & Network
16.4 Green Solvents for Energy Conversion
16.5 Hydrogen Energy & fuel Cells
16.6 Renewable Storage Technologies
16.7 Solar Photovoltaics
16.8 Battery Power
16.9 Quantum Dots
16.10 Wind & Geothermal Energy
Track 17: Environmental Sustainability
Green Chemistry offers an apt structure for achieving sustainability through its principles proposed by Anastasi and Warner. It also possesses significant barriers of which major one is the good environmental performance of green chemical processes. Hence it requires a need for Green Chemistry to incorporate quantitative tools to evaluate the greenness of new chemical processes, a Life Cycle Assessment (LCA) for both environmental and economic issues. The usefulness of LCA will be evaluated in dealing with Advanced Oxidation Processes (AOPs) for wastewater treatment. LCA as quantitative instrument in the framework of Green Chemistry and pollution prevention, thus serving as a tool to assess the sustainability of new products, processes and technologies.
17.1 Carbon Foot Print
17.2 Clean Processing & Utilization of fossil Resources
17.3 Climate Change & Pollution Control
17.4 Environmental & Ethical Assessments
17.5 Life Cycle Analysis
17.6 Reuse
17.7 Sustainability Evaluation
Track 18: Green Engineering


Green engineering advances the design of products and processes by applying technologically and financially practicable processes and products in a manner that simultaneously decreases the amount of pollution that is generated by a source, minimizes exposures to potential hazards as well as protecting human health without relinquishing the economic efficiency and viability.
18.1 Principals of Green Engineering
18.2 Innovations in Green Engineering
18.3 Efficient use of mass like energy, Space & Time
18.4 Sustainability throughout Product life Cycle
18.5 Industrial Application of Green Engineering
Track 19: Green Manufacturing
The current global science and technology innovation present new development trends and characteristics. Emerging information technology like internet and big data technology are widely permeating which drives green, intelligent, ubiquitous, and group technology revolution in almost all the fields. To become more intelligent, green, service-oriented, and interconnected are important for the development and revolution of manufacturing industry.
19.1 Industrial Engineering
19.2 Organizational Management
19.3 Sustainability Manufacturing Strategy Management
19.4 R&D project management of high-end equipment
19.5 Environmental and Sustainability Assessment
19.6 Operations Management of Smart Factory
19.7 Production engineering management of high-end equipment
19.8 Inventory Planning and Control of Green Products
19.9 Green Logistics Operation and Management
19.10 Service engineering management of high-end equipment
19.11 Remanufacturing engineering management of high-end equipment
19.12 Quality Management Based on Industrial Big Data
19.13 Development Management of Renewable Energy Technologies
19.14 Big Data Applications in Smart Manufacturing
Market Analysis
Why to attend???
Meet experts and influencers face to face
Conferences provide a great opportunity to network where most people can help each other uncover ideas and spark inspiration.
To learn new things in your field
Conferences Build Your Knowledge Base
Encounter new vendors and suppliers
Attending a conference allows you to grow and challenge yourself
Attending conferences grow your professional network
Position your company as a champion
Network with leaders and influencers from the scientific, academic and R&D communities
Target Audience:
Directors, Presidents, CEO's from companies, Industrial Experts, Business Intelligence Experts, Scientists, Research Associates, Vice Presidents, Manufacturers, Brand Marketers, Advertising Agency Executives, Professors and Students from Academia.
Market Analysis:
The global market for green chemistry, which includes biobased chemicals, renewable feedstocks, green polymers and less-toxic chemical formulations, is projected to grow from $11 billion in 2015 to nearly $100 billion by 2020.
According to Pike Research, the North American market for green chemistry is projected to grow from $3 billion to over $20 billion during the same period. Renewable chemicals derived from bio-based feedstocks using environmentally friendly production technologies has gone global. BCC Research estimates in its new report the global chemical industry will grow to over $1.5 trillion per year when bio-based and renewable products replace existing products and provide new revenue sources to companies and regional economies.
Renewable chemicals or bio-based chemicals are obtained from renewable sources such as biomass, organic waste products, microorganisms, agricultural waste and agricultural feedstocks are used to produce other chemicals. They are used in various applications across different industries such as in pharmaceuticals, housing, transportation, textiles, environment, hygiene, and food processing. The manufacture of lubricants and surfactants, resins, consumer goods, and plastics for environmental purpose use renewable chemicals.
The global market for renewable chemicals is expected to grow from $51.7 billion in 2015 to $85.6 billion by 2020, with a compound annual growth rate (CAGR) of 10.6% for the period of 2015-2020. Raw materials for renewable chemicals production, which ranked second at a 40.6% market share in 2014, is expected to fall to 35.5% during the forecast period (2015-2020) due to the uptake of alternative feedstock used in the production process.
The enzyme industry has experienced significant growth during the last decade due to the global, growing demand for cleaner and greener technology to preserve the environment.
According to BCC Research, the global market for industrial enzymes is expected to grow from nearly $5.0 billion in 2016 to $6.3 billion in 2021, demonstrating a five-year compound annual growth rate (CAGR) of 4.7%. As a segment, food industrial enzymes should approach $1.5 billion and $1.9 billion in 2016 and 2021, respectively, growing at a five-year CAGR of 4.7%. Animal feed industrial enzymes, as a segment, is forecast to total $1.2 billion and nearly $1.6 billion in 2016 and 2021, respectively, reflecting a five-year CAGR of 5.2%. This market segment is expected to rise due to higher investments in renewable sources of energy and increased demand for animal feed products.
Growing consumer awareness towards renewable chemicals and increasing environmental concerns are driving their growth in the market. In addition, regulators in the U.S., U.K. and E.U. have formulated rules concerning the manufacture and disposal of petrochemicals, which have helped to boost the renewable chemicals consumption during the past few years as companies seek compliance.
Energy supply chain issues are an important market driver. Fossil fuel-based resources are finite in stock and face continuing and increased demand. Almost 80% of available raw materials and energy sources are consumed by close to 20% of the developed world's population. China and India, both of which have populations of over 1 billion people, are exhibiting rapid economic growth, which is boosting demand for energy and chemicals production.