Welcome Message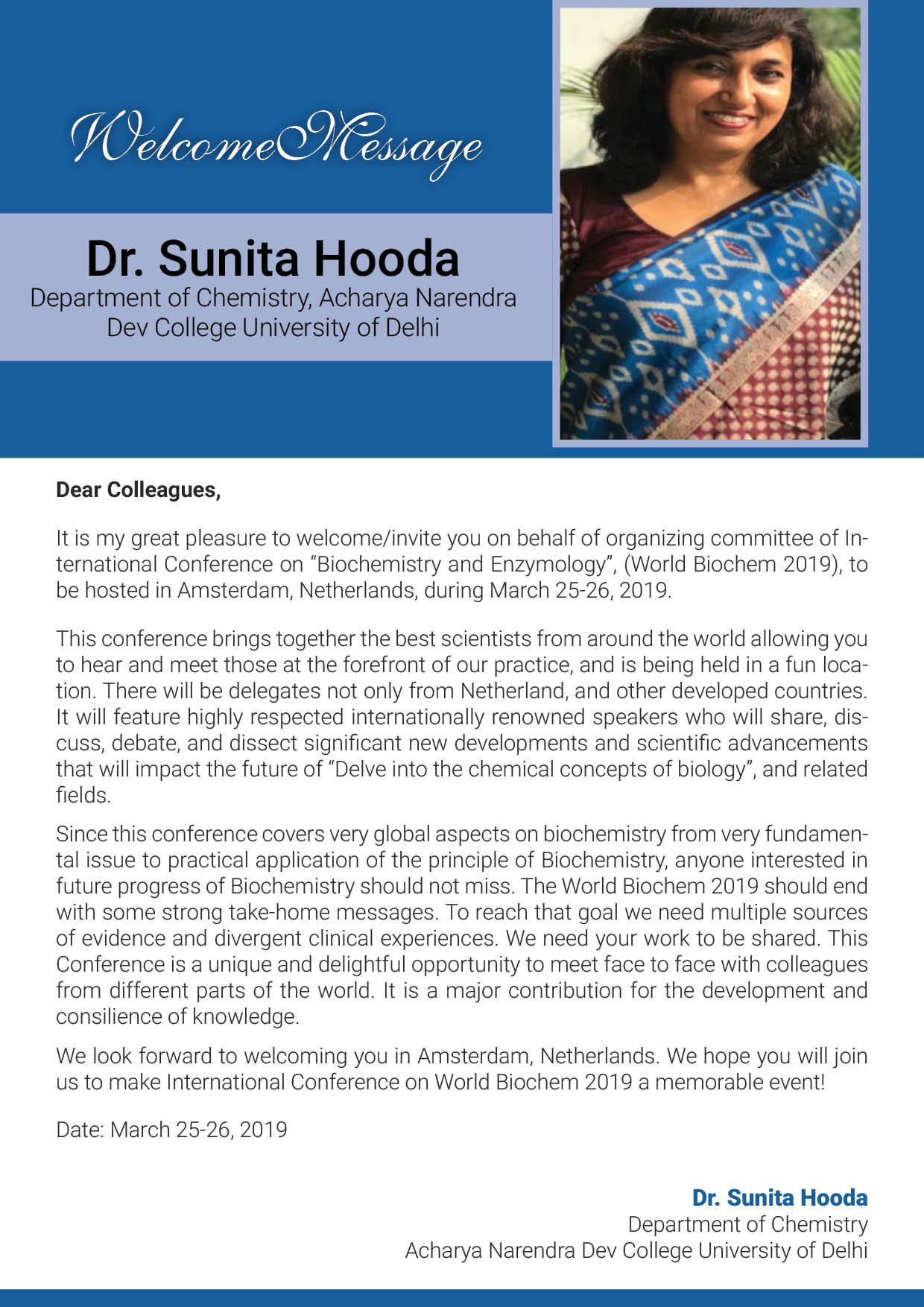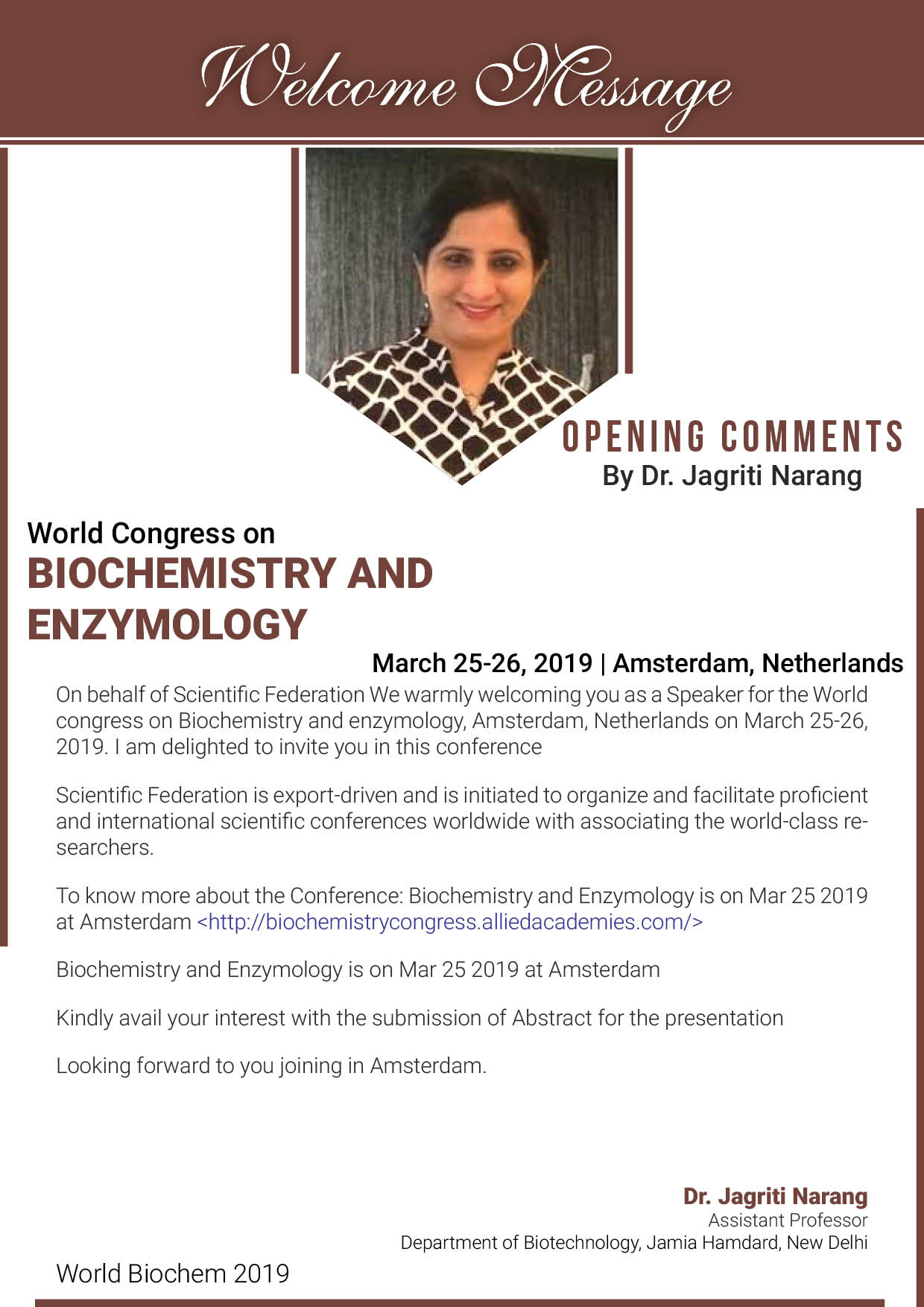 About Conference
World Biochem 2019 is very glad to invite proficient delegates, scientists, professors, students, young researchers, business executives, scholars, chemists and professionals across the globe to be part of World Congress on Biochemistry and Enzymology on March 25-26, 2019 to be held at Amsterdam, Netherlands. Keynote speech, exhibitions, oral and poster presentations outline the key attractions of the conference on the theme "Delve into the chemical concepts of biology".

Register now for the conference by choosing appropriate packages suitable to you.
Why to attend the conference:
Presenting your ideas and work gives you new perspective about work as people may ask questions that make you think about your project differently. Gaining expert knowledge, exchanging views and information and allowing them to discuss tomorrow's challenges in Biochemistry. This event emphasizes at bringing the advancements in the field of biochemistry and related fields.
Target audience:
· Directors/ Managers
· Business Delegates
· Director of Laboratories
· Universities, Industries
· Investigators
· Post-Doctoral Fellows
· Research and Diagnostic Laboratories
· Clinical Fellows
· Students
· Biochemical Research companies
· Healthcare Institutions
· Market Research and Consulting Firms
Submit your Abstract to any of the mentioned tracks. All related Abstracts are accepted
Sessions & Tracks
Defense mechanisms against oxygen radicals

Novel compound as effective as FDA-approved antibiotics

Treatment for drug addiction relapses

Extension of life span by cellular keeping

Therapeutic use of gene editing and its risk

Covalent interaction for bio materials and biotechnology


Production of a value-added compound

Implementation of synthetic pathways

Biofuels generation

Structure prediction by hybrid approach

Molecular modelling

NMR and EPR

Proteolysis

Alzheimer's disease in the omics era

Liver diseases

Cardiac makers

Risk factors in breast cancer

Transgenic crops

Molecular farming

Plant growth regulators and food safety

Plant tissue culture

Complex lipidome analysis

Lipids and atherosclerosis

Cholesterol biosynthesis

Phospholipids and sphingolipids

Diabetic Dyslipidaemia

Glycosylation

Glyco-nutrients

Dietary glycans and prebiotics

Proteoglycans and glycosaminoglycans

Lipoglycoprotiens

Animal biosynthesis


Monoclonal antibodies

Obstetrics & gynaecology

Endocrinology of dairy animals

Alcohol metabolism

Drug metabolism

Neurotransmitter metabolism

Lipid and fatty acid metabolism
Steroid metabolism

Vitamin and co-enzyme metabolism

Nanoparticle synthesis

Nano biomechanics


Nano medicine

Peptoid nanosheets

Pharmacokinetics

Pharmacodynamics

Drug delivery

Spectrophotometry

Chromatography

Immunological techniques

Centrifugation

Blotting and molecular techniques

Nutritional genomics

Food adulteration and contamination

Vitamins and minerals

Nutraceuticals

Fortification and enrichment
Enzymes are attractive targets for drug therapy because of their essential roles in life processes and properties like recycling. Although enzymes are essential for life, dys-regulated enzyme activity can also lead to disease states. In some cases mutations in genes encoding enzymes can lead to abnormally high concentrations of the enzyme within a cell (over expression). Hence in-depth study is necessary in order to modify enzymes as suitable targets in drug design.


Dys-regulated enzyme activity and its effects




Recent developments in PTP1B inhibitor discovery
Enzyme kinetics involves the measurement of the rate at which chemical reactions that are catalysed by

enzymes

occur. Enzyme's kinetics can reveal the catalytic mechanism of this enzyme, its role in

metabolism

, how its activity is controlled, and how a drug or an agonist might inhibit the enzyme. The kinetic constants can help explain how enzymes work and assist in the prediction of the

behavior

of

enzymes

in living organisms. Knowledge of the enzyme kinetic constants allows us to gain a better understanding of the enzymes and processes that take place in human metabolism.
Enzyme assays

Significance of kinetic constants

Enzyme catalysis
Improvement in the activity and usefulness of an existing enzyme or creation of a new
enzyme
activity by making preferable changes in its amino acid sequence is called
Enzyme
Engineering. The development of last few years is the application of genetic engineering techniques to enzyme technology. There are number of properties which may be improved or altered by genetic engineering including the yield and
kinetics of the enzyme
.
Gene expression and gene construction

Rational enzyme design

Enzymes in gene cloning

Elimination of allosteric regulation
A
Bio process
is any process that uses complete living cells or to obtain desired products. Like other applications of
biotechnology
, modern bio process technology is an extension of ancient techniques for developing useful products by taking advantage of natural
biological
activities. As techniques and instrumentation are refined,
bio processes
may have applications in other areas where chemical processes are now used.
Industrial bio processing

Environmental bio processing

Starch enzymatic processing

Enzyme immobilization
Genomics
and
proteomics
are the newer biological disciplines, and research in these areas has been driven by the application of technology to biology. The techniques of genomics and
proteomics
are used to address topics as varied as the causes of cancer, the fundamental
biochemical reactions
of life and the interactions between different proteins.

Molecular
biology
deals with the molecular basis of
biological
activity between
biomolecules
in the various systems of a cell. Several methods have been developed to identify, isolate, and manipulate molecular components in cells including DNA, RNA, and proteins. . Some techniques enable molecular
biologists
to study higher plants and animals, opening up the possibility of manipulating plant and
animal genes
to achieve greater agricultural productivity and also opened the way for the development of gene therapy.
Medical
bio statistics
is a major branch which is exclusively concerned with
medicine
and health. By applying the tools of statistics in the field of
biology
accuracy in determining the causes of the disease can be increased which helps in maintaining public health.
Clinical trials
often lead to new interventions becoming available that help people to live longer and to have less pain or disability.
Quantitative genetics

Biostatistics tools
The development of biological database

Psychotherapeutic and behavioural therapie
Biophysicalchemistry is the study of physical properties of biological macromolecules at chemical sequence level. It is also used to describe techniques suited to understanding the physical properties of biological molecules at a chemical level, including NMR spectroscopy and X-ray crystallography.

Market Analysis
The

biochemistry

market in the world is

developing

rapidly and estimated to reach $100 Billion by 2025, at a CAGR increased by 10 times during 2011-2015. America is creator with 47% of market share, shadowed by Europe with an attempt of 35%. The Asia-Pacific's business sector is relied to grow at a CAGR of 23% among this period. Japan is the second main,

life sciences

market in the world next to the United States. According to figures Japanese

biotechnology

market is expected to

develop

from $43.3 billion in 2013 to $53.8 billion by 2017.

Technavio has published a new report on the global

biochemistry

analyser market from 2017-2021. (Graphic: Business Wire)

2.

Enzymology

is a new technology that is growing rapidly due to its higher applications in a lot of fields and due to having bright and clear future vision. A most exciting development over the last years is the application of genetic engineering techniques in

enzymology

. There are a number of properties which may be improved by genetic engineering including the kinetics of the enzyme the ease of downstream processing & various safety aspects.

Enzymes

from dangerous or unapproved microorganisms and from slow-growing plant or animal tissue can be cloned into high production microorganisms.

New enzyme structures can be designed and then produced in order to improve on existing enzymes or create new activities.

According to the report, one of the major factors driving the growth of the market is the advancement in technology. The increase in automation of

biochemistry

is the key advancement in technology for

analysis

of

biochemical

entities. This analysis consumes less time and generates results quickly. Further, the report states that one of the key challenges in this market is the negative impact of worldwide recession.