Welcome Message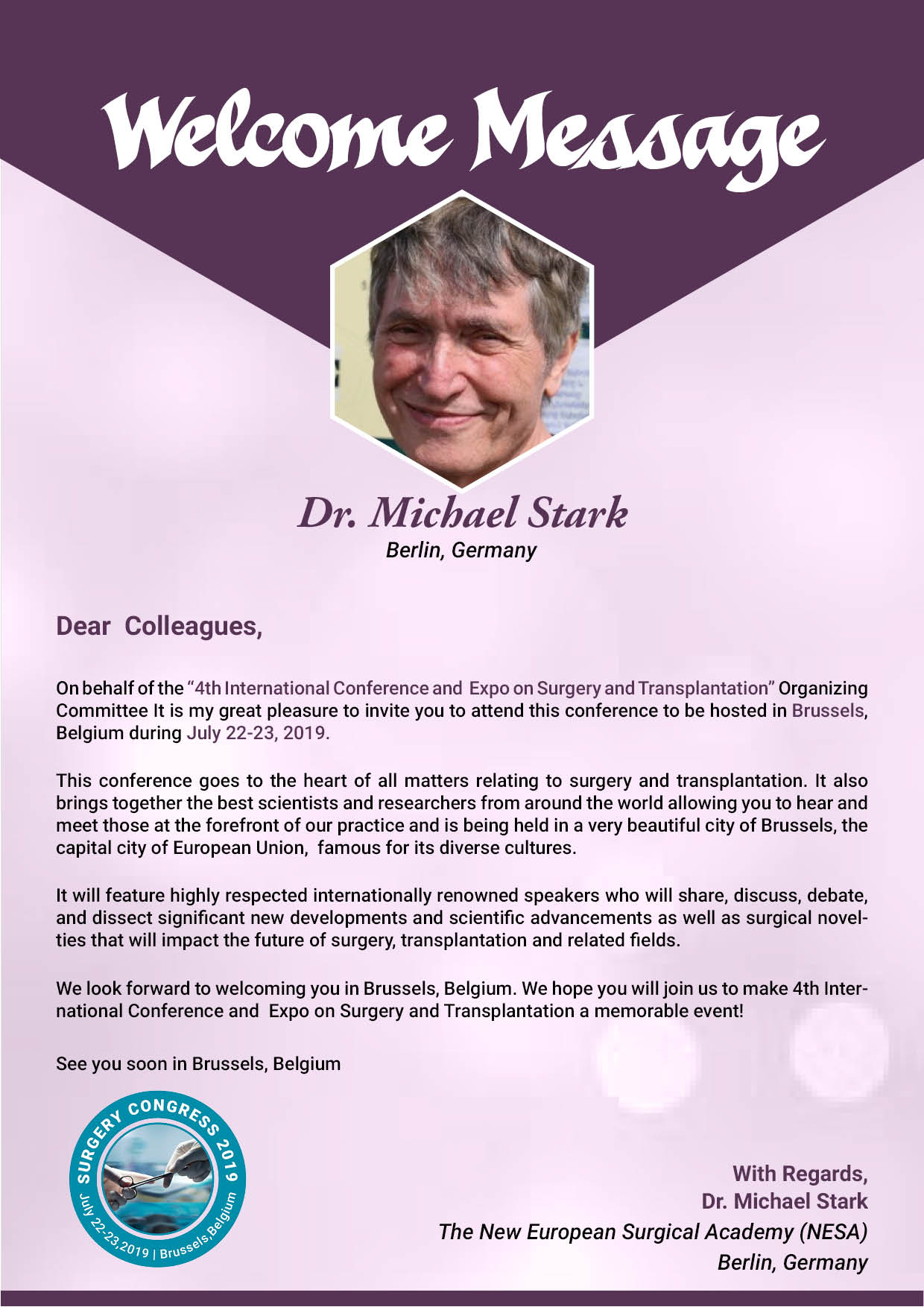 We are very delighted to invite you all to the "4th International Conference and Expo on Surgery and Transplantation" which is going to be held on July 22-23, 2019 in Brussels, Belgium which includes various people presenting their research in the form of brief keynote speech, speaker talks, Workshops, Symposia, Speaker sessions and Exhibition covering a range of topics and important issues which may be helpful for us all from the research to the practical implementations.
This international conference will be act as a platform for Surgery and Transplant Specialists, healthcare professionals, clinicians, researchers, academicians, statisticians, business professionals, foundation leaders, direct service providers, policymakers, advocates and others related to this topic to discuss and exchange their valuable views on recent Surgery and Transplantation related concepts, encouraging various methods in the study of large disease burden and highlighting existing opportunities in the field of surgery and transplantation such as Pediatric surgery, Cardiac surgery, Neurosurgery, ENT surgery, Plastic surgery, Microsurgery, Laparoscopic surgery and many more.
Abstract Submission & Important Dates
Abstract Submission Guidelines:
The length of the abstract must not exceed 300 words.

The title should be in Sentence case.

Should write name of the author and co-authors (if any).

You must provide your full name, affiliation (degree, institution/company/University name, address, contact number and email address).

Short biography of the author(limited to 100 words).

They must be submitted before the deadlines.

All the abstracts will be reviewed by the committee and you will get a email within 24-48 hours after submission of your abstract.

All the accepted abstracts will be published in the conference proceeding books.
Abstract Submission Link: http://surgerycongress.alliedacademies.com/abstract-submission
Important Dates:
| | |
| --- | --- |
| Conference Dates : | July 22-23, 2019 |
| Abstract Submission ends: | June 30, 2019 |
| Early bird Registration ends: | March 31, 2019 |
Registration Link: http://surgerycongress.alliedacademies.com/registration




Benefits of attending our conference:
· Keynote and Plenary Sessions
· Symposiums/ Business Exhibitions
· CPD Credits by CPD Standards Office, UK.
· Will be felicitated with IOCM Certificate.
· Handbook & Conference Kit.
· The abstract will be published in conference proceeding books.
· Abstracts will be published with DOI number by Cross Ref.
Who can attend:
Doctors

Surgeons

Anesthesiologists

Medical Professionals

Residents

Fellowship holders

Medical Students

Nurses

Surgical tool technicians

Pharmaceutical Industries

Healthcare Industries
Scientific Sessions
Track-1 General Surgery
General surgery, is actually a surgical specialty performed by General Surgeons when cure is impossible through medication only. Initially all surgeons need to start their training in general surgery; many then go on to focus on another specialty. They can be found practicing various types of surgery and the broad-based nature of their education makes it potential for general surgeons to perform many procedures in the performance of their jobs. It can be used for routine procedures performed in special diseased cases, such as vasectomy, or for more complicated operations requiring a medical team in a hospital setting, such as laparoscopic cholecystectomy. Areas of the body cured by general surgery include the stomach, liver, intestines, appendix, breasts, thyroid gland, salivary glands, some arteries and veins, and the skin. The brain, heart, eyes and nerve to name only a few are areas that require expert surgical repair.
Track-2 Plastic Surgery
Plastic Surgery is a surgical area that deals with restoration, reconstruction, or alteration of body and facial defects due to birth ailments, injuries and trauma. It also involves the enhancement of the appearance of a person through cosmetic surgery. Plastic surgery is performed by the Plastic Surgeons mainly to correct physical imperfections and to rebuild parts of the body that have been damaged by trauma or disease.
Track-3 Microsurgery
Microsurgery is a general term for surgery that requires miniaturized instruments and operating microscope. Microsurgical reconstruction is used for complex reconstructive surgery problems when other options such as primary closure, healing by secondary intention, skin grafting, and local or regional flap transfer) are not adequate. The most obvious advancement is successive anastomosis of smaller blood vessels and nerves (typically 1 mm in diameter) which have allowed transfer of tissue from one part to another part of the body and re-attachment. Microsurgical techniques are utilized by several specialties such as: general surgery, ophthalmology, orthopedic surgery, gynecological surgery, otolaryngology, neurosurgery, oral and maxillofacial surgery, plastic surgery, pediatric surgery etc.
Track-4 Pediatric Surgery
Pediatric Surgery is the branch of surgery that involves the surgery of fetuses, infants, children, adolescents, and young adults. For young patients requiring surgery it provides the highest quality care. Pediatric surgeons perform inpatient and outpatient surgeries as well as pre-surgical testing and patient consultations to determine the need for an operation. Subspecialties of pediatric surgery are neonatal surgery and fetal surgery.
Track-5 Neurosurgery
Neurosurgery mainly focuses on the prevention, diagnosis and treatment of the diseases and disorders related to central nervous system (brain and spinal cord) and the peripheral nervous system. It involves a medical discipline and surgical specialty that provides care for patients in the treatment of pain or pathological processes that may modify the function or activity of the central nervous system, peripheral nervous system, autonomic nervous system, the supporting structures of these systems and their vascular supply by Neurologists. It mainly involves Neuropathology and Neuroanesthesia.
Track-6 Cardiac Surgery
Cardiac surgery, also known as heart surgery performed by Cardiologists that involves surgical operations performed on heart to correct life-threatening conditions such as ischemic heart disease, congenital heart disease, valvular heart disease etc. The surgery can be either open-heart surgery or minimally invasive surgery depending on the cardiovascular condition. The purpose of cardiac surgery is to improve patient's lifespan of heart.
Track-7 ENT Surgery
ENT Surgery is the branch of surgery which is concerned with the medical and surgical treatment of the ears, nose and throat by ENT Surgeons. Their skills include diagnosing properly and managing diseases of the sinuses, larynx (voice box), oral cavity, and upper pharynx (mouth and throat) and adjacent structures of the head and neck.
Track-8 Orthopedic Surgery
Orthopedic surgery is the branch of surgery that deals with conditions involving the musculoskeletal system by orthopedic surgeons. They use both surgical and nonsurgical means to treat spine diseases, musculoskeletal trauma, degenerative diseases, sports injuries, infections, tumors, and congenital disorders. It mainly involves arthroscopy and arthroplasty.
Track-9 Vascular Surgery
Vascular surgery is the branch of surgery in which surgery is performed by medical therapy, surgical reconstruction and minimally-invasive catheter procedures to treat diseases of the vascular system, veins, arteries and lymphatic circulation. The specialty evolved from general and cardiac surgery as well as minimally invasive techniques. Vascular surgeons are trained for diagnosing the disease-affected parts of the vascular system excluding those of the heart and brain. Cardiothoracic surgeons and interventional cardiologists manage disease affected heart vessels. Neurosurgeons and interventional neuroradiologists manage diseases of the vessels in the brain surgically.
Track-10 Oncology and Surgery
Historically, surgery was the only treatment for cancer with pioneering surgeons pushing the boundaries of knowledge down through the millennia . Only in the last century have non surgical means provided an alternative way to surgery. Despite the advances in medical and radiation oncology, surgery is still the only modality with the potential to cure most solid cancers. The goals of the surgical oncologists are to remove the cancer affected tissue without harming the healthy tissue surrounding it, also known as a clear margin or clear excision. Sometimes it is not possible to remove the whole tumor, and a special surgery known as "debunking" is done to remove as much of the tumor as possible and to relieve indications such as airway obstruction, pain, or bleeding. As part of the multidisciplinary care team, oncology surgeon provides expert opinion about biopsy techniques, optimal image guidance, the likelihood of achieving clear margins, and what will be the role for surgical management of more advanced disease.
Track-11 Gynecological Surgery
Gynecological surgery is a branch of surgery performed on the female reproductive system by gynecologists which includes techniques for benign conditions, cancer, infertility, and incontinence. Gynecologic laparoscopy is an alternative to open surgery. Through laparoscope surgeons look inside the pelvic area. Open surgery often requires a large incision. Sometimes Gynecology Surgery may be performed for elective or cosmetic purposes by the Gynecologists.
Track-12 Laparoscopic Surgery
Laparoscopic surgery is a specific technique for performing surgery was commonly used for gall bladder surgery and for gynecologic surgery with the aid of a tiny camera. The use of this technique has expanded into intestinal surgery in last 10 years. In traditional "open" surgery the surgeon uses a single incision to enter into the abdomen. Laparoscopic surgery uses several 0.5-1cm incisions. Each incision is called a "port" and at each port a tubular instrument known as a trocar is inserted. Specialized instruments and a special camera (laparoscope) are passed through the trocars during the procedure. At first the abdomen is inflated with carbon dioxide gas to provide a working and viewing space for the surgeon in this procedure. The laparoscopic camera transmits images or videos from the abdominal cavity to high-resolution video monitors in the operating room. Throughout the operation the surgeon watches detailed images of the abdomen on the monitor. This system permits the surgeon to achieve the same operations as traditional surgery but with smaller incisions.
Track-13 Laser Surgery
Laser surgery is a type of surgery that uses a laser to cut tissue or remove a surface lesion such as a skin tumors. There are various types of lasers that differ in emitted light wavelengths and power ranges and in their ability to clot, cut, or vaporize tissue. The most frequently used lasers are the YAG laser, the pulsed-dye laser, the argon laser, the CO2 laser, the exciter laser, the KTP laser, and the diode laser. Laser surgery is commonly used on the eye. Methods used include LASIK which is used to correct near and far-sightedness in vision and photorefractive keratectomy, a procedure which permanently reshapes the cornea using an exciter laser to remove a small amount of the human tissue.
Track-14 Robotic Surgery
Robotic surgery also called computer assisted surgery is a type of minimally invasive surgery. "Minimally invasive" means that instead of operating on patients through large incisions, surgeons use miniaturized surgical instruments controlled by controllers that fit through a series of quarter-inch incisions. It was developed to enhance the capabilities of surgeons performing open surgery. During this surgery, instead of directly moving the instruments, the surgeon uses one of two methods to control the instruments either a direct telemanipulator or through computer control. A telemanipulator is a remote manipulator that permits the specialist to perform the regular actions associated with the surgery while the robotic arms carry out those movements using end-effectors and manipulators to perform the actual surgery on the patient.
Track-15 Eye Surgery
Eye surgery is also known as ocular surgery performed on eye or its adnexa by ophthalmologists. The eye is a fragile organ, so it requires extreme care before, during, and after a surgical procedure. An expert ophthalmologist can select the suitable surgical procedure for the patient and responsible for taking the essential safety precautions. Today it continues to be a widely practiced type of surgery with developed various techniques for treating eye problems.
Track-16 Other types of surgeries:
· Surgical Endocrinology
Track-17 Pre-Operative Care and Anesthesiology

Patients who are mentally and substantially prepared for surgery tend to have better surgical outcomes. Preoperative training meets the patient's need for information regarding the surgical experience, which in turn may help to overcome most of his or her fears. Patients who are more informed about what to expect after surgery often cope better with postoperative pain and decreased mobility. Preoperative care is extremely important prior to any invasive procedure, regardless of whether the procedure is minimally invasive or a form of major surgery. Anesthesiologists play a major role before and after surgery.
Track-18 Nursing and Surgery
A surgical nurse also known as a scrub nurse, trained in preoperative care, providing care to patients before, during and after surgery. To become a theatre nurse, registered Nurses must complete extra training. There are different phases during surgery where the theatre nurse is needed to support the patient and assist the surgeons, surgical technicians, nurse anesthetists and nurse practitioners. In pre-operative phase, they must help to organize the patient and operating room for the surgery. The last phase is post-operative, enduring that the patients are provided with suitable care and treatments.
Track-19 Transplantation

Transplantation is the transfer (engraftment) of human cells, tissues or organs from a donor to a recipient with the aim of renovating function(s) in the body. The donor and recipient may be at the same location or organs may be transported from a donor site to another location. There are various types of transplantation like Autograft, Allograft, Isograft and Xenograft. HLA Typing is very crucial in the process of transplantation.
Track-20 Stem Cell Transplantation
A stem cell transplantation also called bone marrow transplantation is a medical procedure in which diseased bone marrow is replaced by highly specialized stem cells that progress into healthy bone marrow. Stem cells are special type of cells with the ability to divide and develop into many other kinds of cells. The main goal for stem cell transplantation is that blood cells (red cells, white cells and platelets) and immune cells (lymphocytes) arise from the stem cells, which are present in marrow, peripheral blood and cord blood. Intense chemotherapy or radiation therapy kills the patient's stem cells by stopping the stem cells from producing sufficient blood and immune cells. Hematopoietic stem cell transplantation is the transplantation of multipotent hematopoietic stem cells, usually obtained from bone marrow, peripheral blood. In hematopoietic stem cell transplantation two types of grafts are there autologous and allogeneic. In leukemia and many types of cancers stem cell transplantation can be used to restore with healthy bone marrow and patients who have blood disorders like lymphoma and other genetic blood diseases. After transplantation drugs are taken to suppress immune system so that graft rejection can be prevented.
Track -21 Organ Transplantation
Organ transplantation is one of the major improvements in modern medicine. Organ transplantation is often the only treatment for final stage organ failure, such as liver and heart failure. The procurement of organs for transplantation involves the removal of organs from the bodies of deceased persons or brain dead person. This removal must follow legal requirements, including the definition of death and consent as transplantation raises a number of bioethical issues.
The major organ transplantations are listed below:
Track 22: Blood Transfusion
A blood transfusion is a harmless, common procedure in which blood is given to one person through an intravenous (IV) line in one of ones blood vessels. Blood transfusions are done to replace blood lost during surgery or due to a serious damage or in case of blood cancer. A transfusion also may be done if our body can't make blood properly because of an illness. During a blood transfusion, a small needle is used to insert an IV line into one of your blood vessels. Through this line, one can receive healthy blood. The process commonly takes 1 to 4 hours, depending on how much blood one need.
Track-23 Hair Transplantation
Hair transplantation is a highly-specialized minor surgical process for both men and women that permanently reallocates living and growing hair follicles into areas of hair loss. Hair follicles, harvested from the back of the head can be transplanted into other areas of the scalp (hairline, temples, top, crown, scars, etc.) or other areas of the body (face, eyebrow, eyelash, chest, etc.) where hair is needed or preferred. Hair stem cell transplantation is used due to the damage of hair follicle and several modern approaches are using in trichology treatments and number of type surgeries are using in hair transplantation like androgenetic alopecia.
Track-24 Transplantation Immunology and Immunogenetics
In case of end stage organ failure, the immune system is lacking ability to distinguish the existence of beneficial and harmful foreign pathogens. Immune system develops effective mechanisms to fight foreign agents so these mechanisms are involved in transplant rejection. Graft-versus-host diseases are common problems in allogeneic tissue transplantation. Rejection is an adaptive immune response which comes through cellular immunity and also by humoral immunity though the action is joined by components of innate immune response i.e soluble immune proteins & phagocytes and. Different types of transplanted tissues tend to favor diverse balances of rejection mechanisms.
Today, most transplant recipients are maintained on immunosuppressive drugs. The side-effects of such antirejection drugs, which can themselves be life threatening, include increased risk of infection, cancer, diabetes, and other conditions. In time, however many patients develop a tolerance to the implanted organs and some can eventually be weaned off the drugs.
Recommended Associations & Societies :

Europe: European surgical Association | European Society of Surgery | European society of Surgical Research | Conferences and Meetings on Surgery | European Society of Trauma and Emergency Surgery | European Society of Aesthetic Surgery | European Society of Surgical Oncology

USA: American Surgical Association (ASA) | American college of Surgeons | Association of Academic Surgery | American Association for Surgery of Trauma | Ambulatory Surgery centre Association | American Society of General Surgeons | Society of Thoracic Surgeons | Central Surgical Association | Association of Women Surgeons | Western Surgical Association

Asia-Pacific: Asia-pacific Society of Thyroid Surgery | Asia-pacific Society of Thyroid Surgery | Japan Society of Surgical Infection | Asia-pacific Hepato-Pancreatic-Biliary Association | Asia-pacific Association of Surgical Tissue Banking

Market analysis
Market Analysis of Surgery and Transplantation

Modernization and changes in the lifestyle have prompted the pervasiveness of various types of disorders like cardiovascular issues, neural disorders, tumor and many more. The reason might be hereditary, acute or chronic, however, in extraordinary conditions; surgical help gives an open door for offering the person a new and better life. Subsequently, there is a need for the unbeatable evolution in the field of surgery to treat the affected victims.

The rise in surgery cases, together with the advancement in sophisticated techniques of new treatment etiquette, has made interest for more automated products. Automation relies upon incorporation of a few devices into clinically useful frameworks. Coordinated frameworks help to make medications quick and practical.

According to the European Union statistics, the most prevalent surgery called cataract surgery is performed 4.2 million times in the European member countries whereas in Cyprus it is found to be only 300 times per 100,000 inhabitants. The recent trends in the field of surgery were found to be the cosmetic surgery with the greatest growth in the last ten years. It has found to gain great importance from both developed and under developed countries.

The most common five cosmetic surgeries among the women are mentioned in the bar chart below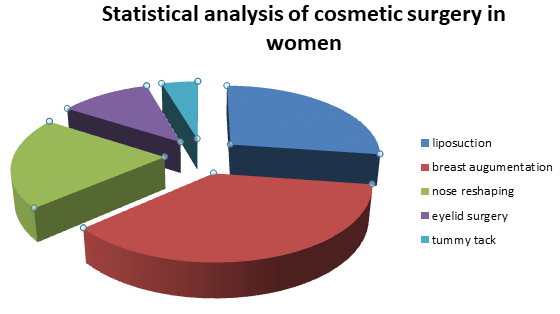 The global surgical procedures volume market is categorized by the presence of a number of enterprises, competing to achieve a powerful market position and revenue. The industry is projected to showcase incredible growth and revenue potential, on account of the rising technological advances in healthcare, disposable incomes, and demand of minimum suffering during medical treatments, finds Transparency Market Research. Many companies such as Allergan PLC, Cutera Inc, Lumenis Ltd and Cynosure Inc. currently hold string position in the market by expanding their footprint through networking with healthcare organizations, and invest in the research and development of medical technology. It is predictable that the worldwide surgery market will reach a volume of approximately 2.2 bn procedures by 2023. It stood at about 1.3 bn in 2014 and is expected to exhibit a steady CAGR throughout the duration period of 2015 to 2023. The gynecological surgery section is predicted to grasp a dominant market share by volume, on account of better and more precise prognosis and treatment of disorders and the surging in the spending capacity of individuals on better healthcare.The eventual fate of surgical strategies lies in the headway of technological innovations in the medical field. Directly exploited for gynecological methodology and gall bladder expulsion, single-entry point laparoscopic surgery is exceptionally progressed in the field of surgery.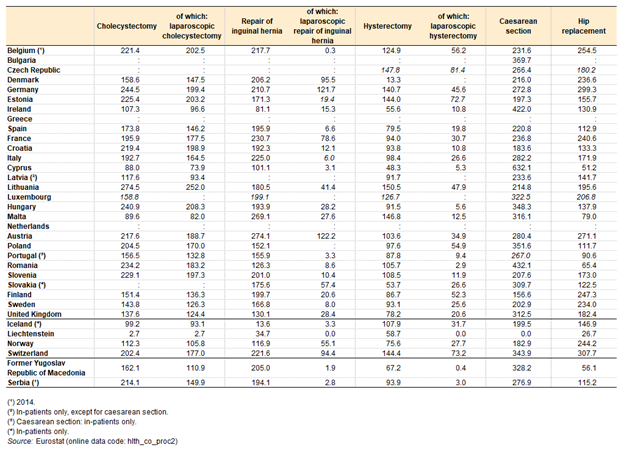 Recent statistics show that there are about 290 associations related to surgery in European countries, nearly 60 in the united kingdom.
Medical Robotics and Computer Assisted Surgery Market Overview:
The Medical Robotics and Computer Assisted Surgery Market is anticipated to gain a growth of $20.5 billion by 2022. Medical Robotics is a technologically advanced surgical, rehabilitation, and assistive solution used mainly during complex surgical procedures, physical complications, and hospital automation, respectively.
According to a new report by Grand View Research Inc. worldwide transplantation market is expected to reach $ 51.0 billion by the year 2025, growing at a CAGR of 9.1%. Increasing cases of organ failure has resulted in massive growth in the transplantation market. Rising demand for various transplant products such as tissue products, immunosuppressants, and organ preservation solutions is a major factor anticipated to boost growth of the market.Thus, many biotechnology and medical device companies have begun to concentrate on the development of advanced technologies and transplant products for management of organ failure.
In addition, introduction of advanced tissue products like DeNovo NT Graft, Chondrofix Osteochondral Allograft, and DuraMatrix Collagen Dura Substitute Membrane provides higher benefits during treatment. Computerized automated support systems with advanced systems and software allow easy & effective maintenance of tissues.
More than 60 million people in USA and one in 10 American adults requires one or the other type of transplantation. The global market for organ and tissue transplantation products and devices has already reached $55.6 billion in 2014. This market is estimated to grow at a Compound Annual Growth Rate (CAGR) of 6.8% to reach $62.9 billion by 2015 and $88.1 billion by 2020. $16,000 (in millions) is allotted towards the research in diverse transplantation areas. More than 500 societies, associations and a large number of companies which basically deals with diagnostic kits and medical devices are associated with this field; they have generated an average revenue of $294.2 billion in the world market.
The Belgian Transplantation Society (BTS) was created in 1993 as the scientific organization dealing with organ transplantation in Belgium. In 2016, a total of 1044 transplantations were performed in 8 Belgian transplant centers. There are 7 centers with an active program of cardiac transplantation, 4 with lung, 7 with kidney and/or pancreas, 6 with liver, and 2 with intestine transplantation. In 2011 one face transplant has been performed at a university hospital in Ghent. The large majority of solid organ transplantations performed in Belgium are Deceased Donation (DD) transplants . Thanks to one of the world's highest DD rates (between 24 and 30 deceased donors per million inhabitants from 2006 to 2015, 28.4 in 2016).Over the past 10 years, the percentage of controlled Donations after Circulatory Death (DCD) to the DD pool has substantially increased to reach 29% in 2016 .

The global stem cell therapy market is segmented into allogeneic and autologous stem cell therapy. In addition, based on the therapeutic applications, the global stem cell therapy market is divided into eye diseases, metabolic diseases, GIT diseases, musculoskeletal disorders, immune system diseases, CNS diseases, CVS diseases, wounds and injuries, and others. The market is estimated to grow at a CAGR of 39.5% from 2015 to 2020, to reach $330million by 2020.
Bone Marrow Transplantation has a $1.3 billion per year market in the US based on 2007 data. Over the period from 2004 – 2007 (most recent available data), in the US, it was the hospital procedure with fastest growing number of hospital stays (51.3% growth, 15,100 hospital stays in 2007) and aggregate cost growth (84.9% growth, $1.3 BN in 2007).
Analysis included 8029 heart transplant recipients aged ?18 years and transplanted between January 1, 2001 and December 31, 2006. Heart failure consumes about 2.5% of the heath care budget.
Over the past 25 years, lung transplantation has become a viable treatment option for patients with a variety of end-stage lung diseases. In 2007 more than 1,400 lung transplants occurred in the United States. Another 2,000 Americans remain on lung transplantation waiting lists, while 90 more are waiting for transplantation of both a heart and lung.
There are currently about 123,193 people waiting for lifesaving organ transplants in the U.S. Of these, 101,662 are waiting for kidney transplants. The median wait time for an individual's kidney transplantation is 3.6 years and can vary depending on health, compatibility and availability of organs. 17,105 kidney transplants took place in the US in 2014.
A total of 29000 whole pancreas transplantations and 1500 islet transplantations have been performed worldwide until today.
Every year, more than 1,500 people die waiting for a donated liver to become available. The number of centers increased from 59 to 116 and the number of liver transplants performed in the US more than doubled from 1,713 to 4,487; the waiting list grows every year.
The international market for blood products was valued at $ 23.5 billion in 2012. Latest Research expects the market to reach more than $28.8 billion by 2017 and register a five-year compound annual growth rate (CAGR) of 4.1% for the period 2012 to 2017. Various forces driving this industry are the cost of collection and processing, technological advances, an aging population, demand for plasma-derived therapeutics, and the changes in the incidence of diseases and surgical procedures and catastrophes requiring blood transfusions.
Eye transplants are performed routinely. In fact, of all tissue transplants, the most successful is a corneal transplant. More than 40,000 cornea transplants are performed in the United States each year.
Recommended Associations & Societies :

Europe: European surgical Association | European Society of Surgery | European society of Surgical Research | Conferences and Meetings on Surgery | European Society of Trauma and Emergency Surgery | European Society of Aesthetic Surgery | European Society of Surgical Oncology

USA: American Surgical Association (ASA) | American college of Surgeons | Association of Academic Surgery | American Association for Surgery of Trauma | Ambulatory Surgery centre Association | American Society of General Surgeons | Society of Thoracic Surgeons | Central Surgical Association | Association of Women Surgeons | Western Surgical Association

Asia-Pacific: Asia-pacific Society of Thyroid Surgery | Asia-pacific Society of Thyroid Surgery | Japan Society of Surgical Infection | Asia-pacific Hepato-Pancreatic-Biliary Association | Asia-pacific Association of Surgical Tissue Banking