About
Public health is the science of analysing the health of a population and the outbreaks of diseases and this is the basis for public health and nutrition. "Health" includes physical, mental and social wellbeing. In the term 'public health', public can be a small group of people while considering a small area or a very large number of population as in the case of pandemic. According to '
WHO
', public health is interdisciplinary and it includes
epidemiology
, biostatistics and health services.
The main theme is to improve the quality of life by prevention and treatment of diseases, including mental health through surveillance of cases and promotion of healthy behaviours, communities and environment as many diseases are preventable through simple and non-medical methods. Public health and Nutrition plays an important role in disease preventing efforts in both the developed and developing countries through local health systems where larger parts of the developing countries remain plagued by preventable or treatable infectious diseases and also by poor maternal and child health. The 'WHO' identifies core functions including:
Serve as an

early warning system

for impending public

health emergencies

.

Articulating ethical and

evidence-based policy

options.

Monitoring the health situation and assessing health trends.

Setting norms and standards and promoting and monitoring their implementation.
Why Public Health now ?

Well, ones own

well being

can lead to the well being of the people around them and this applies similarly to the diseased condition of the same person/s. Diseases always seek ways to penetrate and jeopardize the lives of not only the person involved but also the people around him. This when extended to wide perspectives might imply that we all, in terms of health and well being, are connected and just don't quite grasp the depth of it's enormity and this conference is exactly what aims to bring that to life. In fact,

public health

must be an ever discussed topic with the quickly changing disease states and rapidly adopting techniques and technologies to combat them.

Purpose of attending!


This Conference focuses on the emerging health issues and non-communicable diseases and explores the developments in every aspect of public health, nutrition and research. Provides insight into immense knowledge on the researches and explores into new technologies.

The conference mainly focuses on: Public health, Public health nursing, Healthcare and hospital management, Public health nutrition, Global mental health, Maternal, infant and child health, Communicable diseases, Non-communicable diseases, Sexual and reproductive health, Occupational safety and health, Nutritional health, Adolescent health care, Environmental health, Disaster management and public health and Sustainable development goals in the perspective of public health improvisation.

TARGET AUDIENCE:

· Noble laureates in Healthcare and medicine

· Academicians

· Dieticians

· Public health professionals

· Health professionals

· Scientists

· Research scholars

· Policy makers

· Research areas of Public health, Epidemiology and Nutrition

· Associations, association presidents and professionals

· Bio-informatics professionals

· Manufacturing companies

· Diagnostic companies

· Business entrepreneurs
Welcome Message
It is an honour and our immense pleasure to invite all the noble laureates, great scientists, academicians, dieticians, public health professionals, research areas of public health and nutrition association professionals, business entrepreneurs and all the students and citizens from all over the world.
We are very much pleased to invite everyone to share and exchange their knowledge and experience about public health and nutrition.
The main theme being "Public Health: Discovering new ways to ameliorate Global Health"
We cordially welcome you all to participate in this World Congress on Public Health, Epidemiology and Nutrition.
Let's have a wonderful meet in the beautiful city of Lisbon, Portugal. Please mark your calendars 3rd & 4th of September-2018.
Scientific Sessions
SESSION-1: Public health
We humans, living as individuals are always a part of a community anywhere we go. Living in a society, it is a moral obligation of all beings that we all be and do well not only in terms of work and behaviour but also in terms of our health and wellbeing as it might affect people around us, family and society alike. Some diseases might be communicable that spread through air, water other substances such as used clothes or utensils. Hence everyone's healthy wellbeing is of utter significance for a nation's build and progress. Public health is defined as "the science and art of preventing disease, prolonging life and promoting human health through organized efforts and informed choices of society, organizations, public and private, communities and individuals." Analysing the health and disease conditions of the population is the basis for public health.
· Environmental health
· Community health
· Behavioural health
· Health economics
· Public policy
· Mental health
SESSION-2: Epidemiology
When public health comes into the question, along with it comes the question of the study of people in a selected population group, their health and disease conditions to precisely measure the state of the public health in that particular area. Epidemiology is the study and analysis of the distribution and determinants of health and disease conditions in a given population. Epidemiology plays a major role in policy making based on the study of risk factors, statistical analysis of decades of data, and research in life sciences. Major areas of this study include the investigations on causes, transmission, outbreak, and surveillance studies to an extent till where they draw appropriate conclusions to bring out solutions, amends, and ways to prevent, cure and eradicate and even eliminating the possibility of reoccurrence of such an incident again. Epidemiology is the keystone of public health, it's implementation and progress.
SESSION-3: Public health nutrition

It is a science which evokes the health status of the country by throwing light on the food and nutrition system implemented. It focuses on the issue of dietary needs of Population. Through the medium of nutrition diseases can be prevented, expectancy of life can be prolonged and even health can be promoted by the art of public health nutrition. The aim of the public health nutritionists is to achieve good health and well-being by making healthier food and nutrition-related choices. Public health nutrition works on the total system not only to eradicate the specific disease but also to improve the overall wellbeing of the people of a nation.
SESSION-4: Maternal,infant and child health

This session mainly discusses about the well-being of mothers, infants and children who determine the health of next generation of a country. They help in predicting the future public health challenges for families, communities and healthcare system. Despite major advancements there's an increasing rate of preterm births, due to the complications occurred in pregnancy. Many of the complications are associated with obesity and improper health and nutrition.
Preconception and interconception care provide an opportunity to identify existing health and nutritional risks and to prevent future health problems for women and their children. These problems include unhealthy weight, heart diseases, diabetes, genetic disorders and sexually transmitted diseases.
SESSION-5: Adolescent health and Nutritional care

This session speaks on the adolescence which is a unique intervention point in every person's life. It determines the knowledge about optimal nutrition during young adulthood which can prevent or delay adult onset diet related illnesses later on. It is the second most critical period of physical growth in life cycle. For many adolescents, inadequate quality and quantity of food are the prime determinants of nutrition problems leading to:
· Stunted growth
· Overweight/obesity
· Iron deficiency
· Folate deficiency
SESSION-6: Global mental health

Global mental health involves the study, research and practice of improving mental health of all the people worldwide. The training includes the developing of cultural competencies, understanding epidemiology in cultural and geographic contexts, improving the access to care and treatment and to navigate health and nutrition systems and policies in which people acquire the knowledge and skills required to design and integrate them into a better health and nutrition systems which provides superior treatment in primary care, educate the public, develop human resources, monitor community mental health and make fitter psychotropic drugs available.
SESSION-7: Communicable diseases
Diseases that are easily spread are known as communicable diseases. Communicable disease pose a major threat to public health as it affects the health of a large population group easily and in cases of epidemics or in worst case scenarios, pandemics. Hence a thorough study and wide spread knowledge of the 'care to be taken' and various ways of prevention of spreading of the infections must be informed to public to make sure least damage to public health. These diseases spread through air and water or from person to person or by a vector such as insects or animals or by contact with a contaminated surface / object.
· Tuberculosis
· Flu
· HIV
· Malaria
· Hepatitis A
SESSION-8: Non-communicable diseases

This session speaks about the chronic disorders that occur for long duration, generally at the rate of slow progression and they are the significant reason for grown-up mortality and morbidity rates worldwide. Non-transmittable infections are recognized by WHO as "Group II Diseases," a classification that aggregates the following conditions/reasons for death: Malignant neoplasms, different neoplasms, diabetes mellitus, endocrine issue, neuropsychiatric conditions, sense organ diseases, cardiovascular ailments, respiratory illnesses (e.g. COPD, asthma, others), stomach related infections, genitourinary illnesses, skin diseases, musculoskeletal diseases (e.g. rheumatoid joint inflammation), innate peculiarities (e.g. cleft palate, down syndrome), and oral conditions (e.g. dental caries). These are recognized from Group I illnesses (transferable, maternal, perinatal and healthful conditions) and Group III sicknesses (unexpected and deliberate injuries)
SESSION-9: Sexual and reproductive health

Sexually transmitted diseases (STD) are referred to as sexually transmitted infections (STI) and venereal diseases (VD) and these are the diseases that are passed from individual to individual through sexual contact. As indicated by the Centres for Disease Control and Prevention (CDC), about 19 million people are infected every year in the United States alone. The majority of the sexually transmitted infections don't cause side effects at first. Penile releases, pelvic pain, ulcers close by the private parts, vaginal release are a portion of the signs and manifestations of the ailment. These STDs can be spread through a sexual movement relying upon the kind of sickness. Sexually transmitted diseases are regularly caused by Microscopic organisms, infections and parasites. A few immunizations may diminish the danger of specific diseases such as hepatitis B.
SESSION-10: Occupational safety and health

As depicted by the World Health Organization (WHO), word related to occupational health offers with all elements of health and nutrition and security in the work place and has a principle canter around essential counteractive action of dangers. An extensive variety of work environment perils pose dangers to security, health and safety of individuals at work. In the United States, the United States Department of Labour contains all the data about non-deadly and fatalities at work place. "World Day for Safety and Health" was praised on April 28 to spread awareness of health and safety in the work place. The extent of word related occupational safety and health has developed bit by bit and persistently in the light of social, political, mechanical and financial changes. Organization of Health and Safety clarifies the necessities of specific work place and a model at that point upholds business and adherence to those guideline requirements.
SESSION-11: Nutritional health

A balanced diet is essential for good health and sustenance gives energy, protein, basic fats, vitamins and minerals for a body to live, develop and work appropriately. Diet and nutrition assume a vital part in significant reasons for death, sickness and disabilities like coronary illness, stroke, hypertension, atherosclerosis, weight, tumour, osteoporosis, dental caries and gall bladder disease. It explains the communication of supplements and other nourishing substances with relation to maintenance of an organism, development, health infections and nutritional disorders.
SESSION-12: Environmental health

The surroundings in which we live in have a tremendous effect on our health no matter how healthy we eat. Environmental health is the branch of public health that is dedicated about all parts of the normal and assembled condition that may influence human health. Health and nutrition is the science, practice, and investigation of a human's prosperity and their health and anticipating ailments and human wounds. Different terms alluding to or concerning natural health are ecological public health, and public health protection/natural wellbeing security. Ecological health and natural security are especially related. Ecological health is centred around the normal and manufactured situations for the advantage of human health, though natural and built environments are concerned about ensuring the regular habitat for the advantage of human health and the biological community. Research in the ecological health field tries to constrain the hurtful exposures through regular things, for example: soil, water, air and nourishment.
Session-13: Disaster management and public health
Disasters affect public health. When a natural calamity occurs, there is a lot of loss to public infrastructure as well as public health because of the destruction of natural habitat and the fact that they'll be cut-off from the main land. Also the working conditions are sub-minimal and it becomes increasingly difficult for organisation personnel to provide help. It is in times as such that government must take drastic and innovative measures as quickly as possible because it takes a longer period of time to restore what has been lost, both the natural habitat and the artificial infrastructure as well.
· Storms
· Floods
· Disaster management policies
· Disaster management organisations
SESSION-14: Sustainable Development Goals (SGDs)

Reaching out for public health infrastructures or providing and promoting public health awareness policies in developed countries is far more efficient when compared to developing / underdeveloped countries due to lack of resources, skilled health care personnel and also the knowledgeable policy making members. Hence it becomes tough to maintain the level of standardized public health that's necessary to keep everyone around going good. United Nations has taken an initiative and proposed a long term goal plan which focuses on overall development that leads to faster progress in a various large sectors which in-turn will lead to faster development in public health as well. There are a total of 17 sustainable development goals which UN expects to achieve by the year 2030. Of these 17 goals 4-6 goals fall directly in the circle of publichealth.
· Zero Hunger
· Good Health and Well-Being for people
· Clean Water and Sanitation
· Sustainable Cities and Communities
· Decent Work and Economic Growth
Market Analysis Report
Market analysis
In the past quarter-century of quick monetary combination, in spite of the fact that the span of the worldwide work constrain served as India, China, and the change economies opened their outskirts to exchange and speculation, advance toward poverty reduction in low and middle income nations was unassuming. As per World Bank investigations, in the period of 1981 and 2005 the quantity of individuals living in extreme poverty declined by 505 million. This decrease is represented totally by financial development in China, where half of the poverty diminishes happened before that nation grasped domestic or worldwide market changes. Barring China, extraordinary destitution expanded by 123 million in the period of 1981 and 2005, with diminishes in poverty in a few nations counterbalance by more prominent increments in others. Nor did economic development fundamentally lift individuals exceptionally far: The quantity of individuals living on wages beneath a less outrageous meaning of destitution ascended by 402 million—745 million barring China—over a similar period to 3.2 billion, or generally a large portion of the total population (see Figures 1 and 2). As one senior World Bank advancement business analyst finished up, "it is difficult to keep up the view that's growing outside exchange is… an intense power for neediness decrease in creating nations". It is additionally important that poverty reducing growth in China—and in some different nations, for example, Vietnam—concurred with the fast marketization of medicinal services arrangement, prompting emotional decreases in access and moderateness, and a significant part of the advances being developed and neediness diminishment that happened over the period being referred to may have been fixed by the subsidence that started in 2008 as an immediate outcome of the interconnectedness of worldwide money related markets.
fig.1: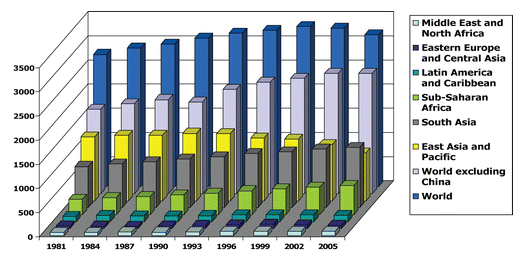 fig.2
In case of Europe

Governments across Europe are increasingly recognizing the need to strengthen essential public health functions so as to maximize their contribution to health, wealth, and societal well-being
Ever since the birth of public health in the seventeenth century, its success has depended on close interaction with society. Today we live in a globalized world undergoing changes more rapidly than ever before and this places increasing demands on the public health community. The scope of action goes far beyond health and medical care. Public health professionals must acquire skills to reach out to the whole of society where the significant determinants of health are located, including working conditions, education, and the environment, and offer practices and opportunities to establish new structures, partnerships and networks. Regulation and legislation are also necessary to limit the health damaging impacts from certain environments, products and procedures
Over the past two centuries, public health has achieved tremendous successes, exemplified most strikingly by the remarkable reductions in deaths and disability from many infectious diseases. However, there is still much to be done, especially with regard to what has become the major component of the disease burden in the WHO European Region, non- communicable diseases (NCDs), many of which are due to lifestyle factors and amenable to public health action. The 2010 Global Burden of Disease Study reported that ischaemic heart disease was the leading cause of death in all parts of Europe in 2010 (Lozano, Naghavi et al. 2012) and the leading cause of disability- adjusted life years in central Europe, eastern Europe and central Asia, coming second in western Europe to lower back pain (Murray, Vos et al. 2012). Public health measures, such as tobacco control, salt reduction, improved diets and physical activity, and reduction in hazardous alcohol intake, are among the key actions that could help to accelerate progress in the struggle to reduce NCDs, both in Europe and beyond (Beaglehole, Bonita et al. 2011). There is a growing body of evidence to suggest that many of these interventions are cost- effective and of major long-term benefit to societies (McDaid and Suhrcke 2012). The need for a sustained public health response to these epidemiological patterns has been recognized by a growing number of national and international organizations. The UN High- Level Meeting on Non- Communicable Diseases, in September 2011, has called attention to the urgent need for the prevention and control of non- communicable diseases worldwide. The new European health policy framework, Health 2020, adopted by the member states of the WHO European Region in September 2012 in Malta, has also emphasized the need for public health action, including through intersectoral policies (WHO 2012b). One of its main pillars is the European Action Plan for Strengthening Public Health Capacities and Services (WHO 2012a), also adopted in Malta, which in turn builds on the 2008 Tallinn Charter (WHO 2008).
Health promotion is an essential part of public health. However, countries in Europe differ widely in how far they promote the health of their populations. This applies to health promotion activities, the integration of health promotion in health service provision, and the ways that countries have moved towards healthy public policies in other sectors. The training of professionals involved in health promotion activities also differs widely across countries. The scope for improvement seems to be largest in countries in central and eastern Europe and the former Soviet Union, but there is also much room for improvements in western Europe. In particular, it will be necessary to ensure the quality of health promotion programmes, with more equitable coverage and better use of emerging technologies.
The involvement of public support and all sectors of society in a mutual manner is necessary to achieve progress in promoting the health of the population. One must go beyond the narrow of focus of lifestyles, risks, behaviours and patterns that point out the underlying determinants of health no matter what ever the sector they belong from.
Public Health in Portugal
Health in Portugal is characterized by the existence of a high quality healthcare system (ranked as the 9th best in Europe and 12th in the World), allowing the country to achieve good rankings in several health indices.
Portugal's infant mortality rate has dropped sharply since the 1980s, when 24 of 1000 newborns died in the first year of life. It is now around 3 deaths per a 1000 newborns. This improvement was mainly due to the decrease in neonatal mortality, from 15.5 to 3.4 per 1000 live births.
Only one third of adults rated their health as good or very good in Portugal (Kasmel et al., 2004). This is the lowest of the Eur-A countries reporting and reflects the relatively adverse situation of the country in terms of mortality and selected morbidity.
In 2015 it was estimated that 13.09% of the population has diabetes, costing about $2,011 per person per year.
List of societies associated with
Public Health
:
ASSOCIATIONS
· American Public Health Organization
· Association of Public Health Laboratories
· American Society of Tropical Medicine and Hygiene
· Association of State and Territorial Health Officials
· Association of Schools of Public Health
· California Association of Public Health Laboratory Directors
· Caribbean Epidemiology Centre
· The Carter Center
· Council of State and Territorial Epidemiologists
· National Association of County and City Health Officials
· National Association of Local Boards of Health
· National Institutes of Health
COMPANIES
· Balchem Corporation
· Bioplex Nutrition Inc.
· Biothera
· DSM Nutritional Products
· Weider Nutrition International
· USANA Health Sciences
· Purity Products, Inc.
· Martek Biosciences Corporation
· Loders Croklaan