Welcome Message
Allied Academies are pleased to welcome you to attend the International Conference and Expo on Proteomics and Molecular Medicine, scheduled during March 18-19, 2019 in Chicago, USA. Proteomics 2019 aims to gather the Researchers, principal investigators, experts and researchers working under academia and healthcare industry, Business Delegates, Scientists and students across the globe to provide an international forum for the dissemination of original research results, new ideas, and practical development experiences. We hope that you will grasp this academic occasion to revitalize the enduring connections and flash with new peers around the globe.

Meet the Global Inspiring Experts and Speakers at our Proteomics 2019 to talk about on new advances in the field of medical and engineering to improve health and treatment and additional innovations. Proteomics 2019 not just make a phase to exchange estimations to the enormous social occasion of individuals, yet also endeavor to spread concentrated and research advances in the clinical, definite and physiological parts of medicinal and designing. It happens to be more feasible for everyone to put in the photograph with novel research and to perceive the degree and note worthiness of specific research run in the field of therapeutic and designing.
Allied Academies is a well-developed and presumed publisher which started distributing in the year 1994. At first, the convergence of the social occasion was to make gatherings with distribution and publications of articles in Business and Management, with time the distributor expanded the subject degree and by focusing on different branches of learning.
In this voyage of disseminating, the distributor got an achievement and various honor for stalwart commitment and altogether considering moral practices. Bound together Allied Academies has transformed into a prominent choice for the experts and academicians to display their marvelous duties. The distributor gives pursuers and creators an aggregate stage to confer their work to the overall gathering.
The fundamental focus is to distribute remarkable research work with lifted necessity and interest close by various sorts of articles including review articles, short correspondence, Editorial, case reports, Commentary, Perspectives etc., Makers are being requested to take after individual journal rules for advance.
With the fundamental goal of passing on consistent understanding identifying with various late subjects, the Allied journals are helping the primary makers from wherever all through the world to share and exchange their novel and way breaking intends to the world. The journals are going about as powerful outlets for different scientists including workers, experts and understudies and different renowned people from the related gathering.
About Conference
It is an honor to welcome you all to the International Conference and Exhibition on Proteomics and Molecular Medicine going to be held from March 18-19, 2019 at Chicago, USA.

Through the current tendencies of our Theme, Recent advancements, applications, and Innovations in Proteomics and Molecular Medicine, Congress of Proteomics intermixes short keynote presentations, potential speakers, Exhibition, Forum, and workshops. Proteomics along with Bioinformatics has a great pre-eminence in the support and inspiration for the next generation of scientists, Young Researches and activities to encourage interaction with their peers and experts. The 2019 Proteomics Congress will have an impact at an attractive time to meet people in the field of research and therefore it is a delight to open a door to know the capacity in the field, young researchers and potential speakers. The Conference also includes essential topics on Proteomics, Quantitative Proteomics, High Performance Proteomics techniques, Proteomic Applications, Protein Separation and Characterization methods, Protein Mass Spectrometry, Protein Interaction and Signaling Networks, Current Trends in Proteomics, Protein expression profiling, Glycoprotein, Phosphoproteomics, Pharmaceutical Proteomics, Nanoproteomics, Cardiovascular Proteomics, Proteomics in Nephrology, Human Brain Proteome, Prions and Diseases and many more.

Collectively, the Conference aims to be an excellent interdisciplinary meeting in the Proteomics Life sciences for the presentation of research, the forum, learning, inspiration, and encouragement, leaving participants with new knowledge and research ideas and perhaps the beginning of international collaborations and friendships.
Target Audience:
Global Experts in Proteomics
Proteomics Researchers
Biologists
Bioinformaticians
Scientists
Young Researchers
Directors
Professors
Healthcare Professionals
Pharmaceutical leaders
Business Delegates
Clinical fellows
Students
Proteomics Research organizations, societies, and associations
Business Entrepreneurs
Training Institutes
Software developing companies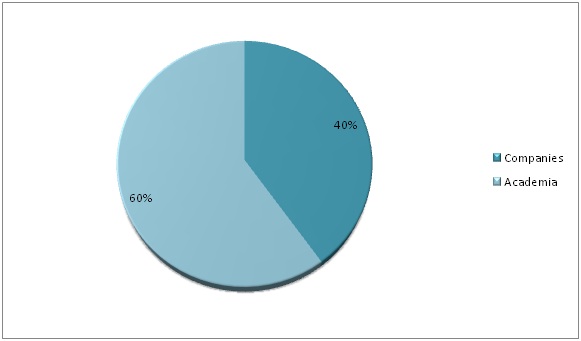 Conference Opportunities
For Researchers and Faculty Members:
· Speaker Presentations
· Poster Display
· Symposium hosting (4-5 member team)
· Workshop organizing


For Universities, Associations & Societies:
· Association Partnering
· Collaboration proposals
· Academic Partnering
· Group Participation


For Students and Research Scholars:
· Poster Competition (Winner will get Best Poster Award)
· Young Researcher Forum (YRF Award to the best presenter)
· Student Attendee
· Group registrations


For Business Delegates:
· Speaker Presentations
· Symposium hosting
· Book Launch event
· Networking opportunities
· Audience participation


For Product Manufacturers:
· Exhibitor and Vendor booths
· Sponsorship opportunities
· Product launch
· Workshop organizing
· Scientific Partnering
· Marketing and Networking with clients
Sessions/Tracks
Bioinformatics
is the Interdisciplinary field of science and it is determined as conceptualized in terms of molecules applying in Information Technology. Through Mathematical and statistical techniques, In Silico analysis can be done in
Bioinformatics
. And it also perceives the Organisational principles of
nucleic acid
and
protein
sequences which are known as
Proteomics
. The most common use of
Bioinformatics
includes the Identification of
Nucleotides
and Candidate genes.
Post-translational modifications

Computational methods for

protein

Biomarkers


Protein

Identification

Proteomic modeling tools
3rd International
Conference on Enzymology
and
Molecular Biology
, March 05-06, 2018 London, UK; 13th International
Conference
on
Metabolomics
and
Systems Biology
, June 11-12, 2018 London, UK; 13th International
Conference on Structural Biology
, July 13-14, 2018 Toronto, Canada; 5th International
Conference on Glycobiology
,
Lipids
&
Proteomics
, August 27-28, 2018 Toronto, Canada; 3rd International
Conference on Molecular Biology
&
Nucleic Acids
, August 27-28, 2018 Toronto, Canada; 23rd Annual Lorne
Proteomics
Symposium, February 01-04, 2018, Victoria, Australia; The
Molecular Medicine Tri Conference
, February 11-16, 2018, San Francisco, California; The 66th Annual
Conference on Mass Spectrometry
, May 15-18, 2018, Osaka, Japan; XXII International
Mass Spectrometry
Conference
, August 26-31, 2018, Florence, Italy; HUPO 2018, September 30-October 03, 2018 Florida, USA.
Related Societies and Associations:
Electrophoresis

Isoelectric Precipitation

Chromatography

Centrifugation
Protein

Profiling

Protein

Chips

X-Ray Crystallography

Nuclear Magnetic Resonance

Reverse Phased

Protein

Microarrays
Drug Discovery

Mining

Disease Diagnosis
Metabolic networks

Gene Co-expression networks

Protein

-DNA Interactions

Neuronal Networks
Artificial Neural Network Models

2DE Gel Patterns

Troubleshooting image analysis in 2DE
Biolayer Interferometry

Microscale Thermophoresis

Surface Plasmon Resonance

Advanced light microscopy Techniques
Estimate

Protein

secondary structures from sequence data

Estimation of the tertiary structure by comparative modeling

Ab Initio Method

Fold Recognition
Matrix Screening

Pooled matrix Screening

Random library Screening

Limitations of the Yeast two-hybrid system
Glycoanalysis

Enrichment of Glycoproteins

Glycoproteins

Separation and Detection of Glycoproteins
Quantitative

Phosphoproteomics


Association of Phosphorylated residues

Identification of Phosphoproteins and estimation of Phosphorylated sites

Preparation of sample for Phosphoprotein analysis
Proteomics

role in Target Identification

Proteomics

and Target Validation

Development of lead compounds

Clinical Development
Nephrotoxicity

Diabetic Nephropathy

Urological Malignancies

Podocyte

Proteomics

Market Analysis
Global Proteomics Market
The Global proteomics market rate was valued at over USD 11.8 billion in 2015 and expected to reach USD 31 billion by 2022.Market rate is proceeding due to target diseases such as cancer, diabetes, cardiovascular and so on. The main aim of studying proteomics in the 21st century is to perceive the diseases at early stages. multiple reactions monitoring is the recent advancement in this field as it specifies the proteins present in the cerebrospinal fluid to dredge up multiple sclerosis in later stages.
The Global Proteomics market is segmented into Microarray, chromatography, x-ray crystallography, Immunoassay, Spectroscopy, protein fragmentation segments, Electrophoresis, and others. The reagent segment will lead overall proteomics market in the forecast period. proteomics market in terms of the product type is such as Instrumentation Technologies, Reagents, and Services.
The Global Proteomics market is mainly segmented based on North America, Europe, Asia, Pacific, Latin America, Africa and the Middle East. Further, each region is hinged to provide global market revenue in countries such as India, Japan, U.S, Canada, U.K, Brazil and GCC countries.
Importance & Scope:

There are numerous advances in this proteomics innovation, especially in the field of sub-atomic science. New proteomics and genomics advancements and creations could be utilized for ailment biomarker revelation and to screen tolerant reaction to the treatment. Proteomics might likewise set up new, atomic order of the malady. Applying genomic and proteomic strategies to body liquids and tissue concentrates would put profitable goal diagnostic force in the hands of the clinician however approval of those techniques is an imperative issue. The quick extension of the analytic apparatuses considering advancements in proteomic and genomic advances can be essential for the improvement of customized solution.

Why Chicago, USA??
Chicago is the third most populous city in United States. The city is an international hub for finance, commerce, industry, technology, telecommunications, and transportation, with O'Hare International Airport being the busiest airport in the world. The city has numerous convention centers and venues for trade events, among them the Double tree by Hilton Hotel is the place where we accommodate.

The study and research of the proteomics is top in USA when compared to the Europe and Asia. Proteomics related companies and products are mostly found in Chicago. The well-developed technologies related to protein are used in universities in Chicago.
North America is the largest market for proteomics market and is contributing the most as compare to other regions. The large share of this regional segment can be attributed to factors such as easy availability of funds from various organizations for carrying out proteomic research using innovative technologies and stringent regulatory requirements regarding pharmaceutical manufacturing.
United States Proteomics Instrument will grow by 20-45% per year, while it is usually 20-45% per cent or more in developed economies, this United States Proteomics Instrument category will continue to rise at a significantly higher rate than overall.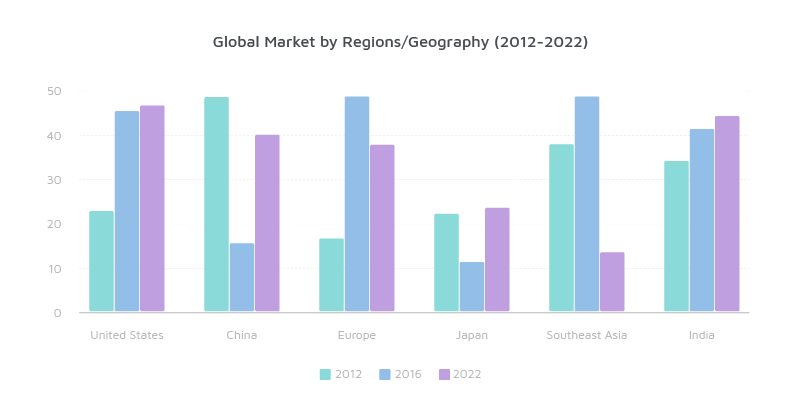 The global proteomics market is fragmented in nature. Some key players in this market are Agilent Technologies Inc. (U.S.), Bio-Rad Laboratories, Inc. (U.S.), Bruker Corporation (U.S.), Danaher Corporation (U.S.), GE Healthcare (U.S.), Luminex Corporation (U.S.), Merck KGaA (Germany), PerkinElmer Inc. (U.S.), Thermo Fisher Scientific, Inc. (U.S.), and Waters Corporation (U.S.). These leading players have primarily focused on new product launches, acquisitions, agreements, collaboration, partnerships, and expansions for growth in the market.
Why to attend??
Meet Your Target Market with late business covers Proteomics making news which shows the colossal development in business sector esteem for proteomics innovation till 2019. Since proteomics interrelated with omics sciences like Genomics, precision Medicine, Lipidomics, Fluxomics and Transcriptomics, it would be an awesome open door for organizations managing Analytical instruments valuable in these fields. Likewise, numerous up and participating to come understudies and scientists can advantage themselves world class International workshops, symposia amid the gathering which will be directed by specialists in the fields.
Glance at Market of Proteomics:
The Global Proteomics business sector to develop at a CAGR of 8.39% over the period 2014-2019. Propels in mass spectrometry have turned into a noteworthy pattern for the development of the business sector as the information gave by these instruments are exceedingly exact and widely utilized for information Examination.
Increment popular for customized medications is one of the significant benefactors to the development of the business sector. Customized drugs are created by hereditary make-up of an individual, and today are broadly utilized for treatment of diabetes and diseases, for example, lung tumor.
Global Life science Market Share by Country
Statistics of Industries Associated with Proteomics:
North America was the business sector pioneer with an offer of ~42% of the worldwide business sector, trailed by Europe with an offer of ~38%. The vicinity of an expansive number of expository hardware producers has contributed altogether toward the North American and European proteomics market. Be that as it may, the Asia-Pacific area speaks to a huge development open door for the proteomics market amid the figure time of 2014 to 2019. The APAC business sector is relied upon to develop at a CAGR of 23% amid the gauge period. The development in this business sector is driven by the developing pharmaceutical and biotechnology commercial ventures.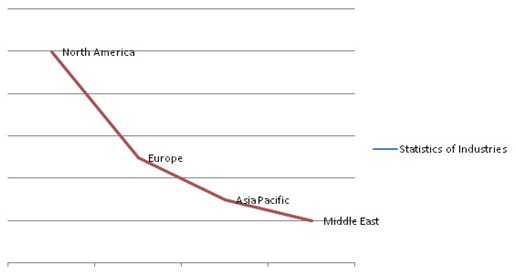 Major Proteomics related associations around the Globe:

Human Proteome Organization
European Proteomics Association (Eupa)
Spanish Proteomics Society– (Sport)
Netherlands Proteomic Platform (NPP)
Japan Human Proteome Organisation (Jhupo)
Italian Proteomic Association (Itpa)
Portuguese Proteomic Association (Rede Procura)
Iranian Proteomic Society
Taiwan Proteomic Society (Tps)
Austrian Proteomics Society
European Proteomics Association
British Mass Spectrometry Society
Belgian Mass Spectrometry Society
Danish Mass Spectrometry Society
Australian and New Zealand Mass Spectrometry Society
Indiana Proteomics Consortium
Proteome Society
European Federation of biotechnology
Australasian Proteomics Society
Proteomics Market by Product, USD Million, 2013 - 2024: