About
Allied Academies welcomes and Invites all the participants from over theworld to attend the "InternationalPlastic Surgery Conference" going to be held in São Paulo, Brazil, on December6-7, 2017.


Plastic Surgery 2017 highlights the theme "An insight to lifetransforming techniques in Plastic Surgery". Plastic Surgery 2017 is an eventdesigned in a way to provide an exclusive platform for new researchers,scholars, physicians, Plastic Surgeons, Dermatologists, and educators to showcaseand discuss the most recent research, trends, and practical challengesencountered in the concerned field. The conference covers a broad range of importantsessions from basic research to recent innovations in Reconstructive Surgery, CosmeticSurgery, Body Contouring & Sculpting, Breast Surgery, Sex reassignmentsurgery, and Latest Advances in Plastic Surgery.
This two days event will include keynote sessions, speakerpresentations, poster presentations, Workshops and Exhibitions on the latest ininnovative techniques as well as research papers in the areas of Plastic Surgery.
Plastic surgery is a specialized surgery that involves the restoration, alteration,or reconstruction of the human body. When someone brings up the plastic surgerysubject, most of the people think of just standard procedures such as face liftor rhinoplasty. The reality is that there are over 50 plastic surgeryprocedures such as liposuction, Dermabrasion, Hair transplantation, Upper armlift, and many more.
Why to attend:
Plastic surgery is a specialized surgery which is mainly used for therestoration and enhancement of the aesthetic appearance. It can be performed onany parts of the body.
People who have experienced this feel confident, reborn and enjoy lifeto the fullest. In short, the plastic surgery can work wonders.
The global plastic surgery market is categorized on the basis ofsurgical and non-surgical procedures. The surgical procedure is further segmentedinto liposuction, breast augmentation, nasal surgery, and eyelid surgery.Non-surgery procedure includes photo rejuvenation and hair removal.
As per the latest report, suggested by PR Newswire, theglobal market of cosmetic surgery and services is currently worth over $20billion and it is expected to shoot $27 billion by 2019. According to PersistenceMarket Research (PMR), the global plastic surgery market is estimated to showsteady growth over the next five years.
Target Audience:
Plastic Surgeons

R&D Companies

PhD Scholars

Physicians

Healthcare Companies

Plastic Surgery Societies
Sessions/Tracks
Reconstructive surgery is executed to treat those parts of the body which are functionally or aesthetically affected by congenital defects, trauma, developmental abnormalities, tumors, infection, or disease. It is generally performed to improve function and ability. This varies from cosmetic surgery which is performed without a medical reason. Surgeons who perform reconstructive surgery have special expertise in plastic surgery for a particular area of the body, such as the face, breast, trunk, upper and lower extremities, or hands. Reconstructive surgery is most commonly used after some types of surgery, specifically to remove the cancer. For example, after a mastectomy mostly patients choose to have reconstructive surgery. Another example is when a plastic surgeon or otolaryngologist replaces nerves or tissue during treatment for skin cancer. This type of surgery also involves transplantation in some cases.
Pediatiric Plastic Surgery is performed in case of some children, born with complex abnormalities in their appearance and growth of the face and skull. These congenital complications may also involve the heart, brain, lungs, gastrointestinal tract or liver. There is a particular condition named craniosynostosis, in which bone sutures of the face or skull are fused rather than open. Because of this children may experience brain dysfunction or abnormal development due to increased pressure within the skull. To treat this particular abnormality, Craniofacial Surgery is performed. Craniofacial surgery is a major component of Pediatric Plastic Surgery. As per the annual plastic surgery procedural statistics, 15.9 million surgical and minimally-invasive cosmeticprocedures were performed in the USA in 2015, which shows 2% increase over 2014.
General Dermatology & Plastic Surgery
The Dermatology & Plastic Surgery, in collaboration, are more concerned with appearance. This includes multiple range of procedures such as dermatologic surgery, including laser surgery, Mohs micrographic surgery and soft tissue augmentation, cosmetic and reconstructive breast surgery, upper extremity surgery, pediatric craniofacial surgery, and reconstructive microsurgery. The field of Dermatology & Plastic Surgery has gained remarkable interest all over the world. As per the Global Information statistics, the cosmeceuticals market has crossed $31.84 billion in 2016 and according to the report released by Medical Insight; the market of home-use devices and disposables is expected to rise by 11.4% 2018.
Nonsurgical treatment for facelifts divided into three categories: replenishing lost volume, tightening deeper tissue, and resurfacing the superficial skin. These surgeries nose revisions and chin enhancement are extremely effective, but they also include IV sedation and recovery time. A more appropriate and less invasive solution for this may be one of the many non-surgical treatments.
The global Non-Surgical Treatments such as dermal filler, Botox, Kybella market is expected to register a good CAGR for the forecast period. On considering the geographic region, North America held largest share in this global market followed by Europe, Japan and Asia Pacific. The main reason behind this large practice is the high occurrence of several skin problems among the population.
Cosmetic surgery or Aesthetic Surgery mainly focuses on improving the body appearance and confidence. It includes surgical and nonsurgical procedures. Under this field, the most commonly performed surgeries are Rhinoplasty, Facelift, Eyelid Lift, Brow Lift, Neck Lift, Tummy Tuck, Gynecomastia Treatment, Laser Resurfacing, Botox®, and Filler Treatments
The global aesthetics market was registered at $2.5 billion in 2013 and is forecast to hit $5.4 billion by 2020, at a CAGR of 11%. Future growth of this market will be driven by sustained economic recovery in few developed countries such as the US. The statement is aided by increasing awareness among the general public about the aesthetic procedures.
Hand Surgery is a very specialized surgery which is performed to treat diseases that cause pain and impair the strength, function and flexibility of your wrist and fingers. This Surgery seeks to restore the normal the function of hands and fingers injured by trauma or abnormalities that were present at birth. Hand surgery can treat Rheumatoid arthritis, Dupuytren's contracture, Carpal tunnelsyndrome.
Regenerative Medicine is considered as Future of Plastic Surgery. Regenerative medicine is the science of using adipose-derived stem cells harvested from fat to regenerate cells and tissues in the human body. The main concept behind using regenerative medicine is not to relying exclusively on drugs or invasive surgical procedures and harnesses the body's own powers to heal itself. The field deals with the process of engineering human cells, or tissues to replace and restore normal function. While regenerative medicine chiefly includes therapies and devices that use stem cells as well as other cellular products such as platelet-rich plasma (PRP).
There are some biomedical procedures in the field of regenerative medicine may involve the use of stem cells. Such as: injection of stem cells i.e., directed differentiation; use of biologically activated molecules administered alone or in the form of infused cells i.e., immunomodulationtherapy.

Oral and Maxillofacial Surgery
Oral and Maxillofacial Surgery is specialized field which includes the diagnosis, surgical and adjunctive treatment of injuries, diseases, and defects involving both the aesthetic and functional aspects of the hard and soft tissues of the oral and maxillofacial region.
The global market for dental and surgical implants was estimated to be valued at US$ 1,010.7 million in 2016 and the market is slated to attain the value of US$ 1,398.6 million by 2020-end at a CAGR of 6.2%.
Body contouring surgery involves a number of different body sculptingprocedures. Body Contouring & Sculpting is used by cosmetic surgeons to reshape nearly any area of the body. Through this advanced surgery, patients can effectively remove excess fat and skin.
Body Contouring & Sculpting also involves non-surgical cellulitereduction treatment that can be performed using a range of techniques. One of the most treatments for reducing the cellulite is Lipomassage™ by Endermologie®. Cosmetic surgeons use a variety of body sculpting techniques to help their patients to achieve toned and lean figures, including liposuction, body lift surgery, and tummy tuck.

Latest Advances in Plastic Surgery

Plastic surgery can either be a medical requirement or a personal choice. Either way, it has been evolving significantly over the years. Now, you can have aesthetic surgery performed without any scars, which would have been difficult even a decade ago. Technology continues to develop – today, we have machines that make it possible to deliver incredible results without negative side effects.
The primary purpose of anesthesia is to prevent the pain during any surgical procedure. Without it, the body will feel injured and begin immediate defensive action. Thus, anesthesia blocks body's natural reaction to injuries. During plastic surgery the most common types of anesthesia used is Localanesthesia, Regional anesthesia, Sedation, and General anesthesia. This track depicts the anaesthetic management of the frequently performed cosmetic surgery or reconstructive surgery.

Burn surgery is categorized in two forms: acute and reconstructive. Acute burn care is provided immediately after the injury. In case of complex burns, inpatient and outpatient management is given by plastic surgeons. Reconstructive burn surgery cannot remove the burn scars entirely, but it can help to improve basic functions or to make scars less noticeable.
Breast surgery can either be a medical requirement or a personal choice. Either way, it has been evolving significantly over the years. Breast Surgery is categorized into multiple procedures such as breast augmentation, Breastreduction surgery, breast lift surgery (Mastopexy), fat transfer breastaugmentation.
Sex reassignment surgery or gender reassignment surgery involves the surgical procedures that help to alter the transgender person's physical appearance and function of their existing sexual characteristics. Other clinical terms for SRS are feminizing genitoplasty, orchiectomy, vaginoplasty, phalloplasty and masculinizing genitoplasty.
Market Report
Plastic Surgery 2017 welcomes attendees, presenters, and exhibitors from all over the world to gather in arena. We are delighted to invite you all to attend and register for the "International Plastic Surgery Conference" which is going to be held during December 06-07, 2017 at São Paulo, Brazil. The organizing committee is gearing up for an exciting and informative conference program including plenary lectures, symposia, workshops on a variety of topics, poster presentations and various programs for participants from all over the world. We invite you to join us at Plastic Surgery 2017, where you will be sure to have a meaningful experience with scholars from around the world. All members of the Surgery organizing committee look forward to meeting you in Paulo, Brazil USA
For more details please visit- http://plasticsurgery.alliedacademies.com/
Importance & Scope:
According to the PR Newswire reposrt, Over 20 million cosmetic procedures were performed worldwide in 2014 and according to the statistics suggested by the International Society of Aesthetic Plastic Surgery (ISAPS), Botulinum Toxin is the most popular cosmetic procedure overall for both men and women. In case of surgical procedures breast augmentation procedure is highest among women while eyelid surgery procedure is prevalent among men.
According to the 2015 report released by (ISAPS), worldwide total 3,969,147 surgical procedures of face and head were performed and out of the entire regions Brazil accounts for the highest number such as 430,375.
| | | |
| --- | --- | --- |
| Rank | Country | % of World-Wide Total |
| 1 | Brazil | 10.80% |
| 2 | USA | 10.40% |
| 3 | South Korea | 7.80% |
| 4 | Mexico | 4.70% |
| 5 | India | 4.70% |
| 6 | Germany | 3.20% |
| 7 | Colombia | 2.70% |
| 8 | France | 2.60% |
| 9 | Italy | 1.50% |
Fig 1: Face & Head surgical procedures performed world-wide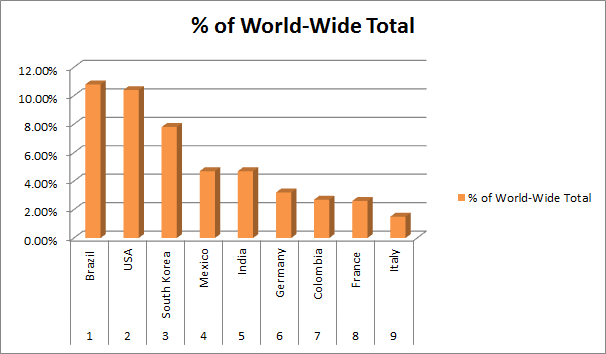 The report suggested by (ISAPS) has also mentioned the top 30 plastic surgeons with respect to the countries. The highest number of plastic surgeons is in USA, followed by Brazil, China, Japan, South Korea, India, Russia, Mexico and so on.
| | | |
| --- | --- | --- |
| Rank | Country | Plastic Surgeons |
| 1 | USA | 6,500 |
| 2 | Brazil | 5,500 |
| 3 | China | 2,800 |
| 4 | Japan | 2,225 |
| 5 | South Korea | 2,150 |
| 6 | India | 2,150 |
| 7 | Russia | 2,000 |
| 8 | Mexico | 1,550 |
| 9 | Turkey | 1,200 |
| 10 | Germany | 1,100 |
Fig 2: Top 10 Plastic Surgeons

The global plastic surgery market is categorized on the basis of surgical and non-surgical procedures. The surgical procedure is further segmented into liposuction, breast augmentation, nasal surgery, and eyelid surgery. Non-surgery procedure includes photo rejuvenation and hair removal.

As per the latest report, suggested by PR Newswire, the global market of cosmetic surgery and services is currently worth over $20 billion and it is expected to shoot $27 billion by 2019. According to Persistence Market Research (PMR), the global plasticsurgery market is estimated to show steady growth over the next five years.

The worldwide surgical equipment market is required to reach $12.1 billion by 2020 enlisting a CAGR of 11.1% from 2014 to 2020. The plastic surgery gear showcase has seen noteworthy changes with developing innovation, for example, negligibly intrusive surgeries, surgical mechanical technology and the presentation of force helped surgical apparatuses. These advances epitomize the later and one of kind headways in the field of medicinal gadgets and increase the adequacy of surgical systems. Besides, high commonness of perpetual sicknesses and developing medicinal services mindfulness has helped the market development for surgical types of gear. This exploration report is gives stick point investigation of the worldwide surgical hardware advertise and pattern through 2020.


Plastic Surgery2017
is an international platform for presenting research about Burn Surgery, Craniofacial surgery, Reconstructive surgery, Scarrevision, Spider veins, Facial implants, Body lift, Lip reduction, Free flap breast, Breast tissue expansion and Others for the benefit of both the academia and business. This event brings together world class scientists, Researchers and Academicians to explore the recent advancements that are taking place in the field of Surgery.

Why Brazil?

São Paulo, Portuguese vocalization Saint Paul is a district situated in the southeast locale of Brazil. The city is an important worldwide city as recorded by the GaWC and is the most crowded city in Brazil, and also in the Southern Hemisphere. The district is likewise the biggest in the Americas and Earth's twelfth biggest city appropriate by population. The city is the capital of the incorporating condition of São Paulo one of 26 constituent conditions of the republic. It applies solid worldwide impacts in business, expressions and entertainment. The name of the city respects the Apostle, Saint Paul of Tarsus. The city's metropolitan territory of Greater São Paulo positions as the most crowded in Brazil, Having the biggest economy by GDP in Latin America and the Southern Hemisphere The city has the eighth biggest GDP in the world, speaking to alone 10.7% of all Brazilian GDP and 36% of the generation of merchandise and enterprises in the condition of São Paulo, being home to 63% of set up multinationals in Brazil, and has been in charge of 28% of the national logical creation in 2005.

Conference Highlights:

Pediatric Plastic Surgery

Non-Surgical Treatments

Hand Surgery

Oral and Maxillofacial Surgery and Dentistry

Latest Advances in Plastic Surgery

Trauma surgery/burn surgery

Sex reassignment surgery