About Conference
Allied Academics invites all the participants from all over the world to attend 4th International Conference on Neurology and Neuroimmunology from September 18-19, 2017 at Dallas, USA which includes prompt Keynote presentations, Oral talks, Poster presentations and Exhibitions.
Allied Academic Publication is an amalgamation of several esteemed academic and scientific associations known for promoting scientific temperament. Established in the year 1997, Andrew John Publishing Group is a specialized Medical publisher that operates in collaboration with the association and societies.
This publishing house has been built on the base of esteemed academic and research institutions including The College of Audiologists and Speech Language Pathologists of Ontario(CASLPO), The Association for Public Safety Communications Officials of Canada (APCO), The Canadian Vascular Access Association (CVAA), The Canadian Society of Internal Medicine (CSIM), The Canadian Hard of Hearing Association (CHHA), Sonography Canada, Canadian Association of Pathologists (CAP-ACP) and The Canadian Association of Neurophysiologic Monitoring (CANM).
The scientific sessions of Neuroimmunology 2017 will focus on the current research going areas including Neurology, Neurosurgery, Neurodegenerative Diseases, Neuroimmunology, Auto Immune Disorders, Multiple Sclerosis, Neurotransmitters & Neuroimmune Interactions, Aging & Degeneration, Neuroendocrinology, Pediatric Neurology, Clinical Neuroimmunology, Neuropharmacology, Stem Cells in Neuroimmunology, Novel Therapeutics, Diagnosis and Therapy, Neuroinfectious disorders, Neuroimmune interactions, and its wide therapeutic aspects.
Hundreds of millions of people worldwide are affected by neuroimmunological disorders. There are more than 600 diseases of the nervous system, such as Alzheimer's disease, brain tumors, epilepsy, Parkinson's disease, and stroke as well as frontotemporal dementia. It is estimated that there are 47.5 million people worldwide with dementia with more than 7.5 million new cases per year - Alzheimer's disease is the most common cause of dementia. Also because of stroke more than 6 million people die per year, More than 50 million people have epilepsy over worldwide.


Why to attend???
Neurology and Neuroimmunology has been become a major challenge for human survival. WHO has produced a report in collaboration with several nongovernmental organizations which addresses that the important human health aspects of the following neuroimmunological disorders, epilepsy, headache disorders, multiple sclerosis, dementia, neuroimmunological disorders associated with malnutrition, pain associated with neuroimmunological disorders, Parkinson's disease, stroke, Alzheimer and some traumatic brain injuries. This conference provides a platform with its well systematic scientific program to the audience which includes discussions, general talks, keynote presentation and poster sessions etc. Interact with members from the worldwide focused on learning about Neurology and Neuroimmunology and their advancement; this is an opportunity to approach the participants from the Neuropharmacology community.
Neuro-immune procedures are probably going to add to various pathologies in both the periphery and the brain prompting complex human maladies that influence a large number of individuals around the world. Understanding instruments of neuro-immune associations could discover suitable treatments to some of these conditions.
It is progressively evident that the nervous system and immune system share parallel molecular pathways, and correspondence amongst neurons and immune cells assume critical parts in homeostasis and infection. This course will research ebb and flow subjects in neuroimmunology: CNS improvement, ceaseless agony, neurodegeneration, maturing, axon recovery, auto-immunity and infection. We will concentrate our examinations on molecular instruments shared by the immune and nervous systems and the molecular cross-talk between these two systems.
Other Reasons:
. World Class Speakers and Fresh New Talent from across the Globe in Health Industry
· Packed Schedule: Workshops, Multi-track Conference, Expo area and more...
· To network with your fellow primary care clinicians.
· To empower yourself to fill the void created by the national shortage of neurologists
· To educate yourself on the diagnosis and treatment of neurological issues.
· To enhance your ability to treat the growing number of patients affected by these multiple sclerosis,Dementia,Headache disorders, Neurological disorders.
Target Audience:
. Neurologist
. Neurosurgeon
. Pediatric Neurologist
· Neuroimmunologist
. Neurology Professors
. Neurology Researchers
· PH.D Scholars,Research Scholars, Students,
· Medical Colleges and Hospitals
· Psychiatrists
· Neurology Community, Society and Associations
· Business Entrepreneurs
· Training Institutes
· Software developing companies
· Manufacturing Medical Devices Companies
· Data Management Companies
· Pharmaceutical industries and Biotech Company
Welcome Message
Meet Inspiring Speakers and Experts at our 1000+ Global Events comprehensive of 300+ Conferences, 500+ Workshops and 200+ Symposiums consistently on Neurology and NeuroImmunology.
It is with great bliss to invite you to the official website of the 4th International Conference on Neurology and Neuroimmunology practice slated in September 18-19, 2017 at Dallas,USA.
Neuroimmunology 2017 is among the most imperative gatherings of clinical neurologist, physicians, psychologists and neuropsychologists, therapists, social workers, nurses, case managers, legal professionals, advocates and all others working in the field of Neurology and Neuroimmunology, Neurologists & Care Practice, a chance to unite each one of those with an enthusiasm.
The Neuroimmunology 2017 conference majorly concentrates on brain, spinal cord, cranial nerves, peripheral nerves, nerve roots, autonomic nervous system, neuromuscular junction, and muscles of a living organism.
A Unique Opportunity for Researchers, Advertisers and Sponsors at this International event to share their ideas and improve their communication and Networking

Your attendance and participation will be greatly appreciated as we seek to strengthen the expertise in field of Neurology, Neurosurgery and Neuropharmacology !
The live format of this educational activity will be accredited with CME and CPD Credits.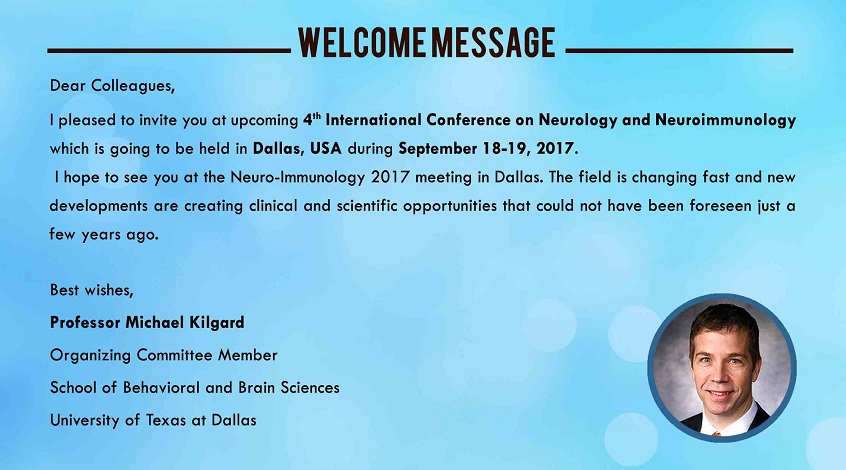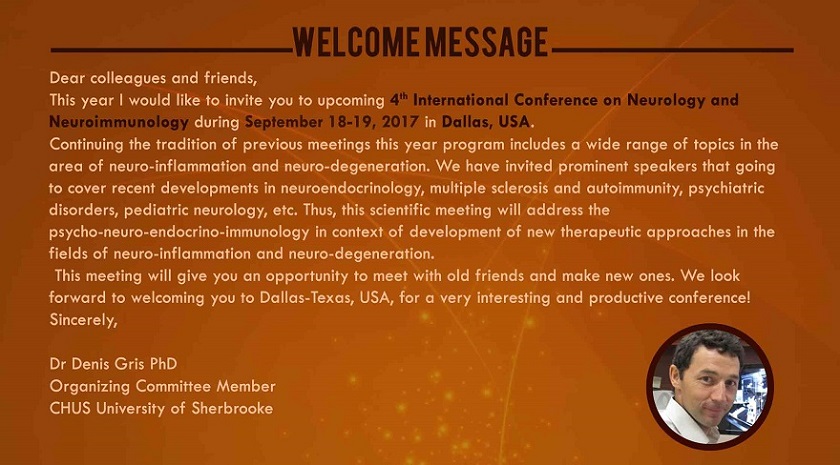 Sessions
Scientific Session on: Neurology

Neurology is the branch of medicine worried about the study and treatment of disorders of the nervous system. Neurology considers the conclusion and treatment of all classifications of conditions and illness including the central and peripheral nervous system. Neurological practice depends vigorously on the field of neuroscience, which is the logical investigation of the nervous system.
Abstracts and Proposals for Symposia are open under Neurology Session

Scientific Session on: Neurosurgery
Neurosurgery, or neurological surgery, is the medicinal forte worried with the counteractive action, conclusion, surgical treatment, and restoration of disarranges which influence any part of the nervous system including the brain, spinal cord, peripheral nerves, and extra-cranial cerebrovascular system.
Abstracts and Proposals for Symposia are open under Neurosurgery Session

Scientific Session on: Neurodegenerative Diseases
Neurons are the building blocks of the nervous system which incorporates the brain and spinal cord. Neurons ordinarily don't replicate or supplant themselves, so when they wind up plainly harmed they can't be supplanted by the body. Cases of neurodegenerative infections incorporate Parkinsons, Alzheimers, and Huntington's disease. Neurodegenerative diseases are incurable and incapacitating conditions that outcome in dynamic degeneration and/or passing of nerve cells. This causes issues with development (called ataxias), or mental working (called dementias).
Abstracts and Proposals for Symposia are open under Neurodegenerative Diseases Session
Scientific Session on: Neuroimmunology
Neuroimmunology is a field merging neuroscience, the examination of the nervous system, and immunology, the examination of the immune system. Neuroimmunologists hope to better appreciate the participations of these two complex systems in the midst of change, homeostasis, and response to injuries. A whole deal target of this rapidly making research range is to furthermore develop our understanding of the pathology of certain neurological diseases, some of which have no unmistakable etiology. In doing all things considered, neuroimmunology adds to headway of new pharmacological drugs for a couple of neurological conditions. Many sorts of joint efforts incorporate both the nervous and immune systems including the physiological working of the two systems in prosperity and disease, breakdown of either and also both systems that prompts issue, and the physical, mixture, and environmental stressors that impact the two systems routinely.
Abstracts and Proposals for Symposia are open under Neuroimmunology Session
Scientific Session on: Auto Immune Disorders
Immune system disorders cause strangely low action or over movement of the invulnerable system. In instances of insusceptible system over action, the body assaults and harms its own particular tissues (autoimmune diseases). Resistant deficiency diseases diminish the body's capacity to battle trespassers, making weakness contaminations. Autoimmune illness influences up to 50 million Americans, as indicated by the American Autoimmune Related Diseases Association (AARDA). An autoimmune infection creates when your safe system, which guards your body against illness, chooses your sound cells are outside. Therefore, your invulnerable system assaults solid cells. Contingent upon the sort, an autoimmune infection can influence one or a wide range of sorts of body tissue. It can likewise bring about unusual organ development and changes in organ work.
Abstracts and Proposals for Symposia are open under Auto Immune Disorders Session
Scientific Session on: Multiple sclerosis
Multiple sclerosis, otherwise called MS, is a chronic disease that assaults the central nervous system (brain, spinal cord, and optic nerves). In extreme cases, the patient ends up plainly deadened or dazzle while in milder cases, there might be deadness in the limbs.
Multiple sclerosis is more typical in people of northern European drop. Ladies are more than twice as liable to build up Multiple sclerosis as men. Multiple sclerosis as a rule influences individuals between the ages of 20 and 50 years, and the normal period of onset is roughly 34 years.
More than 400,000 individuals have MS in the United States. MS-related human services expenses are thought to be over $28 billion every year in the U.S. According to the British National Health Service (NHS), roughly 100,000 individuals live with Multiple sclerosis in the United Kingdom.
Abstracts and Proposals for Symposia are open under Multiple sclerosis Session
Scientific Session on: Neurotransmitters & Neuroimmune Interactions
Neurotransmitters are the brain chemicals that impart data all through our brain and body. They transfer signals between nerve cells, called "neurons." The brain utilizes neurotransmitters to advise your heart to thump, your lungs to inhale, and your stomach to process. They can likewise influence state of mind, rest, focus, weight, and can bring about unfriendly side effects when they are out of adjust. Neurotransmitter levels can be drained numerous ways. Truly, it is assessed that 86% of Americans have imperfect neurotransmitter levels. Push, less than stellar eating routine, neurotoxins, hereditary inclination, drugs (medicine and recreational), liquor and caffeine use can make these levels be out of ideal range. There are two sorts of neurotransmitters – EXCITATORY and INHIBITORY. Excitatory neurotransmitters are not really energizing – they are what animate the brain. Those that quiet the brain and help make adjust are called inhibitory. Inhibitory neurotransmitters adjust temperament and are effortlessly drained when the excitatory neurotransmitters are overactive.
In this, we specially focus on neuro-immune interactions which highlight most on-going interesting research aimed at understanding the mutual relationship between the immune and nervous systems. Although neural-immune interactions can often serve to promote healing and recovery against inflammation can also produce remarkable effects in the CNS. Microglia which are the resident immune cells of nervous system, are responsible for initiating neural responses for neuroprotection.
Abstracts and Proposals for Symposia are open under Neurotransmitters & Neuroimmune Interactions Session
Scientific Session on: Aging & Degeneration
Age-related macular degeneration (AMD) is a dynamic neurodegenerative disease that influences around 8.7% of elderly individuals around the world (>55 years old). AMD is described by a multifactorial etiology that includes a few hereditary and ecological hazard components (qualities, maturing, smoking, family history, dietary propensities, oxidative stress, and hypertension).Age-related macular degeneration is a dynamic neurodegenerative and multifactorial disease that hinders the visual field. Its clinical side effects incorporate a slow loss of central vision, the mutilation of pictures and straight lines, and the nearness of foggy and dim zones in the central vision. Subsequently AMD significantly impacts the way of life of patients by trading off regular exercises, for example, perusing and driving.
Abstracts and Proposals for Symposia are open under Aging & Degeneration Session
Scientific Session on: Neuroendocrinology
A branch of medicine worried with the collaborations between the nervous system and the endocrine system. The nervous and endocrine systems frequently act together to manage the physiologic procedures of the human body. The nervous and endocrine systems regularly act together in a procedure called neuroendocrine integration, to control the physiological procedures of the human body. Neuroendocrinology emerged from the acknowledgment that the brain, particularly the hypothalamus, controls discharge of pituitary gland hormones, and has in this way extended to research various interconnections of the endocrine and nervous systems.
Today, neuroendocrinology grasps an extensive variety of points that emerged specifically or in a roundabout way from the center idea of neuroendocrine neurons. Neuroendocrine neurons control the gonads, whose steroids, thusly, impact the brain, as do corticosteroids emitted from the adrenal gland affected by adrenocorticotrophic hormone. The investigation of these criticisms turned into the territory of neuroendocrinologists.
Abstracts and Proposals for Symposia are open under Neuroendocrinology Session
Scientific Session on: Pediatric Neurology
Pediatric neurology concerns those strategies with the conclusion and organization of neurological conditions in children. The field covers a wide show of degrees inside a tyke's body. Pediatric neurologists are basically animated by disorders of the focal, self-choice, and periphery sensory frameworks, yet they are once in a while in like way called upon to look at the veins, nerve spreads, and effector tissues, for example, muscles, that are steadily identified with the apprehensive system. Some prepare of child neurology incorporates diseases and disorders of the spinal string, mind, periphery sensory framework, autonomic sensory framework, muscles and veins that effect people in these age packs.
Abstracts and Proposals for Symposia are open under Pediatric Neurology Session
Scientific Session on: Clinical Neuroimmunology
Strokes, Multiple Sclerosis and many Related Disorders provides as a resource for neurologists and physicians take interested in, and dealing with this branch of neurology. The main approach of this branch is to develop neuroprotective treatment approaches and establishing modest examination procedures such as motion analysis, MRI (magnetic resonance imaging) and OCT (optical coherence tomography). This branch provides an introduction to basic reciprocal relation of neurons and immunology and principles of immunotherapy and also serves as a thorough guide to immune-mediated disorders of the central and peripheral nervous system.
Abstracts and Proposals for Symposia are open under Clinical Neuroimmunology Session
Scientific Session on: Neuropharmacology
Neuropharmacology is on the simply study and understanding of the mechanism of known exogenous and endogenous chemical agents on neurobiological processes in the nervous system. In the neuropharmacology field, individuals work to produces novel drugs to cure neurochemical disorders, and they have to be responsible for evaluating the level of efficiency and overall safety. Neuropharmacology study includes specializations in such areas as drug neurotoxicity, nervous system disorders, neurotransmission, and behavioural pharmacology.
Abstracts and Proposals for Symposia are open under Neuropharmacology Session
Scientific Session on: Stem Cells in Neuroimmunology
Stem cells have been the concentration of various logical attempts because of their potential for interceding improved tissue repair, regeneration from degenerative diseases, and amelioration of age-related organ dysfunction. The likelihood of outfitting stem cells to turn around typical aging brings up the issue in the matter of how the aging procedure tweaks tissue particular stem cell movement. In the focal sensory system, examining the impact of aging on neural stem/progenitor cell (NPC) capacity is quite compelling due to the related onset of cognitive impedances, and absence of neural repair because of neurodegenerative diseases. Already, we found that sub-atomic changes happening in the aging systemic milieu contrarily direct NPC capacity and perception. Besides, we recognized a subset of systemic safe elements, as potential controllers of neurogenesis and cognitive capacity. Strangely, invulnerable flagging has developed as a key player in the negative control of adult neurogenesis. In this manner, one point of our examination is to research how invulnerable related sub-atomic changes in the aging systemic milieu control NPC work and related cognitive procedures. We trust that by exploring components fundamental hindrances in NPC work, we can better see how to improve age-related cognitive dysfunction in the old mind.
Abstracts and Proposals for Symposia are open under Stem Cells in Neuroimmunology Session
Scientific Session on: Novel Therapeutics
The purpose of the session is to consider the use of novel therapeutics for the treatment of CNS disorders, Neurological disorders Multiple Sclerosis etc.Novel therapeutics includes use of nanotechnology to treat CNS disorders and molecular therapeutics based diagnosis etc.
Abstracts and Proposals for Symposia are open under Novel Therapeutics Session
Scientific Session on: Diagnosis and Therapy
Multiple sclerosis is the most widely recognized incapacitating neurological disease in youthful grown-ups. Late advances in understanding the basic instruments and the improvement of new treatments have expanded seek after specialists and their patients. New treatments are accessible and numerous different operators are experiencing clinical trials. New data reveals some exasperating parts of the disease be that as it may. Prove from a few sources recommends that the disease is available some time before the principal side effect. The disease is additionally more boundless and persistent than beforehand suspected, with changes in dark and also white matter and changes in ordinary seeming white matter. Multiple sclerosis has for some time been viewed as a demyelinating disease, yet proves now recommends across the board harm to axons that might be all the more firmly associated with movement of incapacity. Better comprehension of the fundamental systems of the disease is permitting more engaged improvement of new treatments.
Abstracts and Proposals for Symposia are open under Diagnosis and Therapy Session
Market Analysis
Allied Academics invites all the participants from all over the world to attend the Conference on 4th International Conference on Neurology and Neuroimmunology during Sep 18-19, 2017, at Dallas, USA.
Importance and Scope
The 4th International Conference on Neurology and Neuroimmunology is a unique convention to involve globally distinguished academics in the field of Neurology, Neuroscience, Immunology, Neurology researchers, public health professionals, Scientists, Professors, Industry researchers, Scholars to exchange the state of the ideas related with research and technologies.
The aim of the conference is the scientists and professionals to share their knowledge and experience in dealing with Neuroscience issues. This meeting will talk about relevant topics in order to provide a global vision on sustainable development. The scope includes novel therapeutics, brain disease cures, and neuroimmune interactions. Conference attendees are expected to gain relevant knowledge and better understanding of the neurology.
So, welcome at Neuroimmunology platform please come join us and share your ideas in this event which will take place at Embassy Suites by Hilton, Dallas Park Central Area Dallas,USA on 18th-19th September 2017.
Hope to see you there!
Why Dallas, USA?
The 4th International Conference on Neurology and Neuroimmunology is being held in Dallas, USA. United States provides the world the largest market for pharmaceuticals and leaders in biopharmaceutical research. The global marketing of drugs used in cure of mental disorders was $70.1 billion in 2012 and $68.9 billion in 2013. This global market is expected to increase at a compound annual growth rate (CAGR) of 2.3% from the 2013 to 2018 and will reach $77.1 billion by 2018. We are concentrated to finding ways to treat and prevent Alzheimer's disease which is a devastating disease that is estimated to rise to 12 million cases by the year 2030. San Antonio has many pharmaceutical companies such as BioNumerik Pharmaceuticals, Evestra, Genemed synthesis, GenSpera, Genzyme, Ockham Development Group, Radiant Research, SRI International and universities and their combined approach aims to develop streamline drug by selecting and optimizing drugs or compounds in the discovery process earlier. The pharmaceutical pipeline also has over 5,000 new medicines currently in development around the world with approximately 3,400 compounds currently being studied in the United States.
Neurology and Neuro Immunology Market Report
Market Capitalization of Neurology and Neuroimmunology companies in 2014 investors provided $3.3 billion into firms that are developing drugs for neurodegenerative or psychiatric illnesses. Some big drug companies, including Biogen, Johnson & Johnson, Roche and Novartis are finding methods to prompt their efforts. New medicines for severe depression, psychosis and schizophrenia could reach the market within the next few years and treatments for diseases such as Alzheimer's, Dementia, and Parkinson's too.
For more details please visit : http://neuro.alliedacademies.com/