Welcome Message
Engage yourself to participate in your career improvising
Health Conference
2018.
Healthcare Conference
2018 with an excellent scientific program for all the three days which includes global Healthcare experts 20+ keynote talk, 50+ plenary talk, 50+ posters, 30+ video presentations, 2+ workshops and 2+ exhibitions.
Salient Features available at Health 2018:
Opportunity to meet global experts in Health Care Management

Health Care experts keynote speech
More than 50 plenary talks from researchers all over the world
Posters, e-posters and video presentation by the research community
World level exhibitions, workshops, and Symposia
International Certification by Organizing Committee
Live Streaming of your presentation through our websites and YouTube
Publishing accepted abstract in International Journals
Health 2018 Highlights
Healthcare
is the attempt made to retain the physical, mental, or emotional health of an individual or community, especially by the trained healthcare specialists.
Healthcare management
is also well-known as healthcare regulations or control of healthcare systems, free health systems, hospitals, or other medical amenities.
Most of the people think of
healthcare
as primarily Medical Staff including doctors, nurses and medical staff. Yet, there are many professionals or administrators who keep
healthcare
organizations running skillfully. Healthcare managers are proficient individuals that make favorable changes within the healthcare environment they serve. The people with a
healthcare management
degree are the men and women who can lead hospital and
healthcare
organizations.
Healthcare innovation
is defined as the application of new or modified products, services, processes, systems, policies, organizational structures, or business models that aim to improve one or more domains of
health care
quality or reduce health care variations.
1.
Next-generation sequencing:
Applications of genetic sequencing to identify target remedy to patients who are likely to react.
2.
3D-printed devices:
Lower-cost and highly demonstrated medical technology products that can be tailored to suit the physiological needs of individual patients
3.
Immunotherapy:
Treatments with the potential to significantly extend survival for cancer patients, without the negative side effects and related
Healthcare
costs of traditional chemotherapy
4.
Artificial intelligence:
The capacity of computers to think like and complete tasks currently performed by humans with greater speed, accuracy, and lower resource usage.
5.
Point of care diagnostics:
Allow for proper testing at the point of care (e.g. Physician office, ambulance, home, or hospital), resulting in faster patient recovery from any health-related issue
6.
Virtual reality:
Artificial environments that could accelerate behavior change in patients in a way that is safer, more convenient, and more accessible
7.
Leveraging social media to improve patient experience:
Extracting data from social media and online communities to give
HealthCare
organizations the ability to track user experience and population health trends in real-time
8.
Biosensors and trackers:
Technology-enabled activity trackers, monitors, and sensors integrated into clothing, accessories, and devices that allow consumers and clinicians to easily monitor
the health
9.
Convenient care:
Retail clinics and urgent care centers that provide more convenient and lower-cost care to patients for a number of
health
issues
10.
Telehealth:
A more convenient way for consumers to access and increase self-care while potentially reducing office visits and travel time; may also prevent complexity and emergency room visits.
Related Conferences:
7
th
Annual Congress & Expo on
General Practice
and
Women's Healthcare
July 27-28, 2018 Vancouver, Canada | 7
th
Annual Congress on
Primary Healthcare
,
Nursing
and
Neonatal Screening
July 27-28, 2018 Vancouver, British Columbia, Canada | 3
rd
World Congress on
Midwifery
and
Women's Health
September 26-27, 2018 Chicago, USA | 5
th
International Conference on
Gynecology
and
Obstetrics
October 08-10, 2018 Zurich, Switzerland | 14
th
International Conference on
Healthcare
September 19-20, 2018 Vancouver, Ontario, Canada
Healthcare Pediatrics
involves the medical care of infants, children and adults and the age limit usually ranges from birth to 18 years of age. Nutritional and food sciences examine the metabolic and physiological responses of the body to diet. With advances in the fields of
molecular biology
,
genetics
,
biochemistry
, the study of human nutrition is mainly concerned with metabolism and metabolic pathways.
Nutrition
is some of the most powerful forms of development aid. Breastfeeding can lower the rates of malnutrition and death in children.
Emergency Healthcare
is a fundamental part of the health system and serves as the primary point of contact for many people around the world.
Emergency Health Service refers to the treatment and transport of people in crisis health situations that may be life-threatening.
Emergency Health Support
is applied in a wide variety of situations from car accidents to incidents of the Heart attack. Emergency health services are staffed by trained medical professionals, called as Emergency Medical Technicians. Ambulances are the most common provider of Emergency Health Service operations. Federal regulations specify that ambulances be staffed with two workers with a minimum of Basic Life Support training. The most common staffing is with one basic Emergency Medical Trainer and one paramedic. Occasionally, a unit is staffed with more than one paramedic.
Healthcare medical ethics
is a set of moral principles, beliefs, and values that lead us to make choices about
medical care
. On the basis of health care ethics is our sense of right and wrong and our beliefs about rights we possess and duties we owe others. Thinking carefully about the ethical forms of
Healthcare
decisions helps us make choices that are right, good, fair and just.
IMPORTANT PRINCIPLES OF MEDICAL ETHICS:
Our ethical responsibilities in a given situation depend in part on the nature of the decision and in part on the roles we play. For example, a patient and his/her family play various roles and owe different ethical commitment to each other than a patient and his/ her doctor.
In the US, four main principles define the ethical duties that healthcare professionals owe to patients. They are:
Autonomy:
to honor the patients right to make their own determination
Beneficence:
to help the patient advance his/her own good
Non-maleficence:
to do no violence
Justice:
to be lawful and treat like cases alike
Healthcare nurses
maintain the definition of health by supporting the state of complete physical, mental, and social well-being and not merely the absence of disease.
They maintain health as a human right and see economic and social development as essential to the attainment of health for all. They witness the promotion and protection of health, including the reduction of social elimination and imbalance in health, as having positive effects on economic and social development and on world peace. Healthcare nurses see the cooperation of people as a group or individually in planning and achieving their
healthcare
as a human right and duty. Healthcare nurses acknowledge the honor, culture, values, beliefs, and rights of individuals or groups.
Occupational healthcare
is the healthcare scheme for the working people. Its main aim is to promote occupational safety,
health
and working capacity. The purpose of occupational health care is to avoid work-related illnesses and accidents. It is also planned to promote employees work capacity and functioning and to help the workplace to function more effectively.
Disease management
is one path that aims to provide better care while reducing the expenditure of caring for the chronically or extremely diseased. Disease management programs are arranged to develop personal health with particular chronic conditions and to reduce
healthcare
service use and costs associated with avoidable complications, such as emergency room visits and hospitalization.
Vast reductions in
Healthcare
service use and expenditures have occurred for many individuals enrolled in disease management programs. Disease management is still relatively new, however, and programs are still evolving.
Public Health
incorporates Community health. Public health is "the science and art of avoiding disease, prolonging life and promoting health through the organized efforts and informed choices of society, organizations, public and private, communities and individuals". It is concerned with the risk health based on population health analysis.
Community Healthcare delivers health services to individuals, groups, and families and diagnosis are based on the needs of individual, family or group whereas
public health care
access the population's health needs and diagnose and develop policy in relation to community health needs.
Health informatics
targets on advancing tools to advance healthcare, whereas
eHealth
is organized to make it easier to share this useful information. The two can work in association to provide patients with top-quality care, in a much more efficient manner.
E-technology has the potential to significantly strengthen patient-physician relationships. At the same time, additional research is needed to determine specific outcomes, preliminary studies and surveys have reported clear and positive results. Administering patients with the tools to take over their own care allows them to enjoy a sense of elevated confidence in their physicians and be more comfortable dealing with their conditions.
If the patients have e-Health resources then they are better equipped to inquire their physician's more sharp questions to understand their conditions and take better care of their
health
. People are more likely to complete treatment plans suggested by physicians when they can research outcomes to learn the benefits of remedy, exercises and other
health
activities invented to improve their conditions.
Basic 10 e's of e-health:
1.Efficiency
2.Enhancing Quality
3.Evidence-Based
4.Empowerment
5.Encouragement
6.Education
7.Enabling
8.Extending
9.Ethics
10.Equity
About 60% of Australians use complementary medicines at least once per year. Many people trust that different or complementary preparations, such as herbal remedies are out of danger because they are derived from natural resources. This isn't always true. Some herbs can act on the body as effectively as any traditional medicine, and unwanted side effects can occur. When Alcohol used with medicines can cause side effects and traditional medicine toxic side effects and drug interactions.
In the field of
healthcare
and medicine, digital technology help us to convert unsuitable
healthcare
systems into suitable ones and adjust the relationship between medical specialists and patients, provide cheaper, faster and other useful remedies for diseases and technologies could win the conflict against diseases like
Cancer
,
Ebola
and could simply result in healthier individuals living in healthier communities.
Many ways how technology transforms healthcare
Artificial intelligence
Virtual reality
Augmented reality
Healthcare trackers, wearables, and sensors
Medical tricorder
Genome sequencing
Revolutionizing drug development
Nanotechnology
Robotics
3D-printing
Market Analysis
Global
healthcare
expenditures are expected to increase from 2.4% to 7.5% between 2015 and 2020 that is equal to the market value of US $7 trillion to the US $8.7 trillion respectively.
The requirement for
healthcare
is set to grow rapidly over the medium to long-term. Between 2015-2050, the total worldwide population will grow by 7.3 billion to 9.7 billion.
Population growth is currently at 0.8% per annum for 2010 to 2020, faster than any other decade in recent history.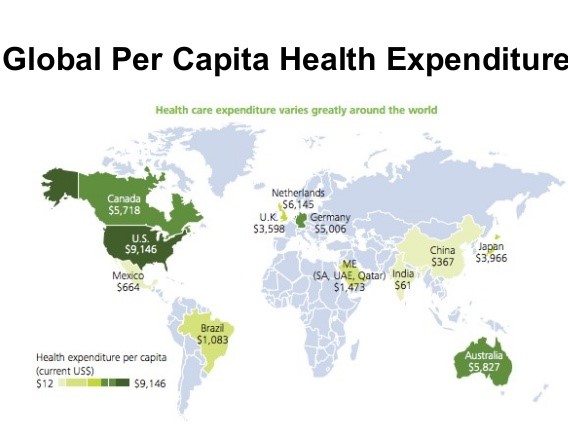 World Health Day is celebrated on April 7 which was introduced by World Health Organization in order to concrete steps to advance Health for all that ensures everyone everywhere can access essential quality health services without facing financial hardship.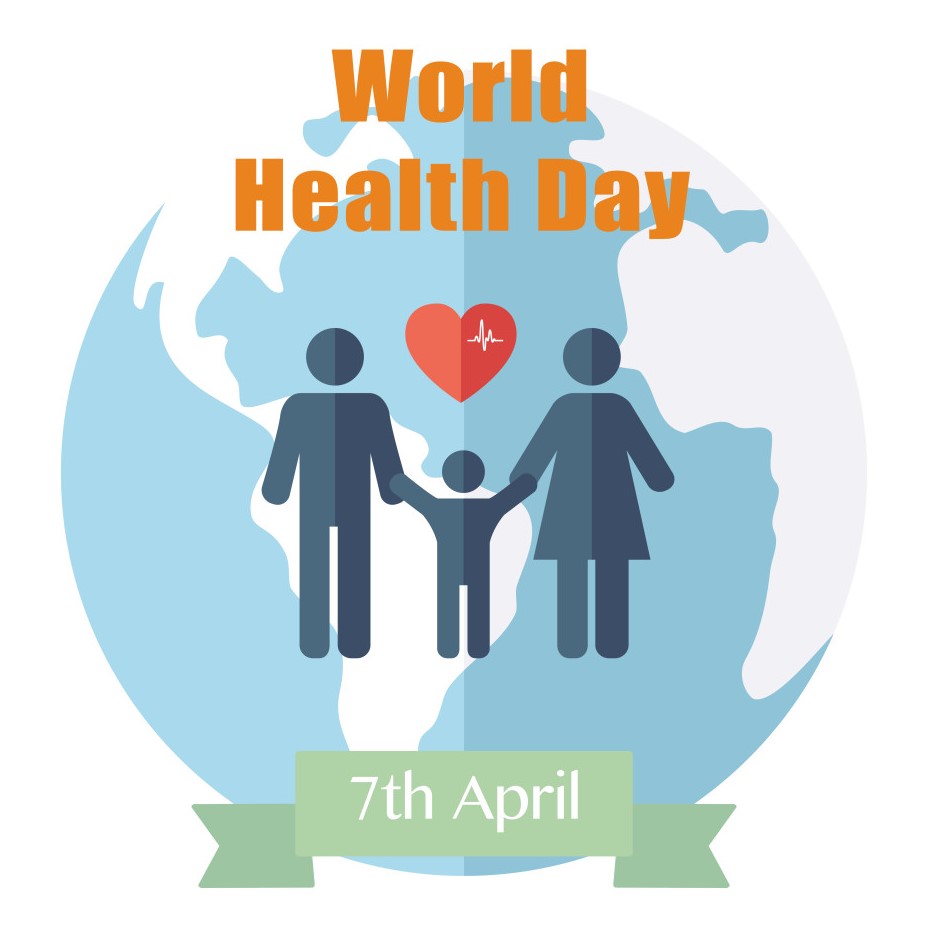 Percent of GDP (Gross Domestic Product) spent on world healthcare should also rise slightly, from an estimated 10.4% in 2015 to 10.5% in 2020.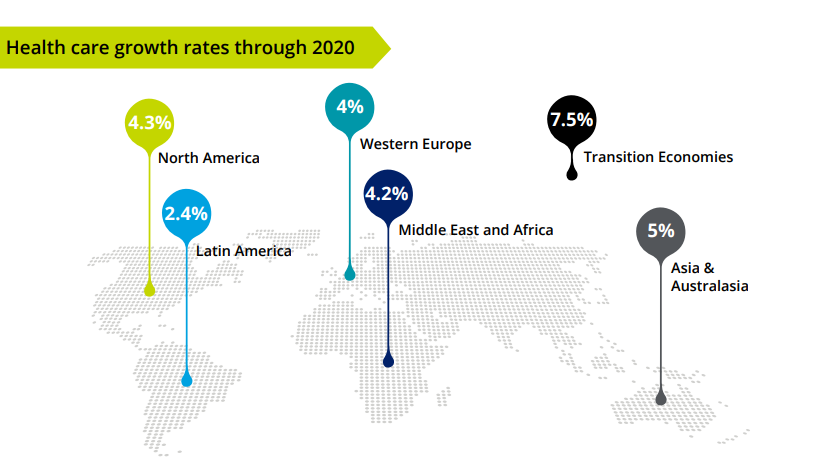 Global Healthcare Drivers
By the year 2020, 50% of global healthcare expenditures about $4 trillion will be spent on three leading causes of death: Cardiovascular diseases, Cancer, and Respiratory Diseases.

The number of diabetic patients is expected to rise from the present 415 million to 642 million by the year 2040.

HIV-AIDS continues to affect 36.9 million people worldwide, around 70% of them living in Sub-Sahara Africa. The Zika virus and associated improvements in microcephaly are major threats in Latin America.

Prevalence of dementia is projected to increase in every part of the world and is anticipated to double every 20 years, reaching 74.7 million by 2030.

Aging population (> 65 yrs old) will increase by 8%, from 559 million in 2015 to 604 million in 2020.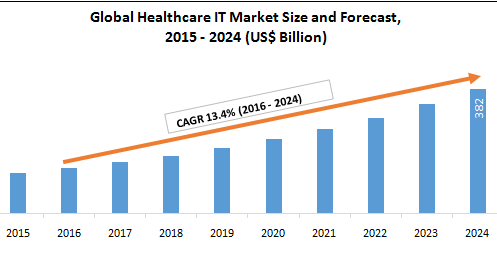 Global Healthcare IT Market is approximated to attain $382 billion by 2024, growing at a CAGR of 13.4% between 2016 and 2024. IT services in healthcare are mostly used to support patients database through advanced software. The complete database of patients is recorded by the software which can be searched immediately in an emergency. Rising consumer awareness towards enhanced health care facilities has increased the growth of healthcare IT market. Rising tendency of home health care among patients have also increased the selection of IT service.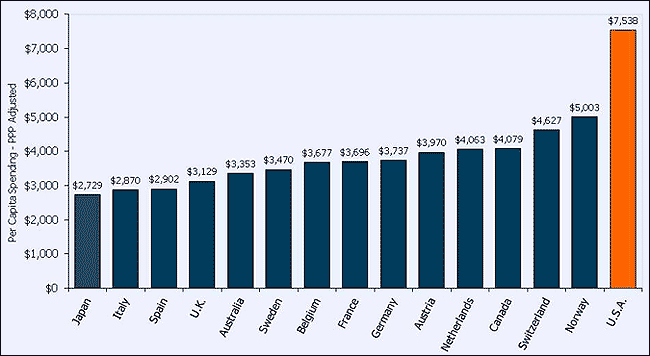 The framework shows per capita health expenditures for 2008 in U.S. dollars purchasing power equality. Health spending per capita in the United States is much higher than in other countries at least $2,535 dollars, or 51%, higher than Norway, the second largest per capita spender. Moreover, the United States spends nearly double the average $3,923 for the 15 countries.
While a rising GDP per capita is associated with elevated health spending, the United States is an outlier, spending more than similarly wealthy countries.

List of few Healthcare associations in World:
Medical Technology Association
Australian Healthcare & hospitals association
European Medical student's Association
Phillipine Association of National Advertisers
The International Association of Healthcare Professionals
International Federation of Medical Students Associations
Healthcare Universities around the Globe:
The College of Health Care Professions
Oregon Health & Science University
About Health 2018
Healthcare
has become one of India's largest sectors both in terms of wealth & employee recruitment. The industry is thriving at a tremendous pace owing to its strengthening coverage, services and increasing investment by the public as well as private players
Health Conference
2018 is a three days conference which will address current issues concerning
healthcare
and solutions to them in theoretical or practical context. This
healthcare
conference focuses on moving from present innovative knowledge for health problems to future solutions. At the end of each talk question asking session is provided for learning self-assessment discussion.
International
Conference on Healthcare
and
Health Management
anticipates International Organizing Committee Members, International keynote speakers, oral presentations by renowned speakers, Poster presentations, Video Presentations, e-poster presentations, Workshops and Exhibitions with delegates all around the world.
Health Conference
is a platform for the global promotion of Research work in an effective way.
Health Conference
also provides overall Health networking and opportunities to collaborate with worldwide health companies and
healthcare
related industries.
Healthcare
in London is less compared to the United States and Australia since 2008. London is world's leading financial centers for Medical Research, Innovations, International business and commerce. London is most diverse and welcoming city in the world with best sightseeing attractions and wide varieties of food. It provides world-class facilities and interesting career opportunities for people across the globe. The UK National Health service is recognized as one of the leading health services in the world as it provides free medical care to British Nationals and visitors from EU Countries, Australia, and New Zealand. You can network with clients, proposed partners, companions, vendors and industry leaders all in one venue. Meeting people in one location will save you - precious time and travel expense
Doctors
Medical Scientists
Research scholars
University Professors
Public health professionals
Healthcare companies
The heads of HealthCare Foundations across the Globe
Physicians
Academicians
Students
Colleges offering health management courses
NGOs involved in healthcare
Community health workers
Policymakers on health
Health care insurance firms