About
Dermatology 2019 invites all the participants across the globe to attend the International Conference on "3rd World Dermatology and Cosmetology Congress", which is going to be held on April 11-12,2019 at Barcelona, Spain. 3rd World Dermatology and Cosmetology Congress is an international occasion which brings together a completely unique and worldwide blend of big and medium businesses, leading universities and educational institutes and establishing a good platform throughout the globe.
Conference highlights
Dermatopathology

Hair Loss Managing

Cosmetic Dermatology

Skin Cancer

Diagnostic techniques in Dermatology

Plastic Surgery

Cosmeceuticals

Bacterial Skin Diseases

Pediatric Dermatology

Hair Transplantation

Facial Rejuvenation

Cosmetic surgery

Dermoscopy

Viral Skin Infections

Bariatric surgery

Laser Treatment

Neonatal Dermatology

Dermatological diseases

Aesthetics surgical procedures

Plastic and Reconstructive surgery
Target audience
Dermatologists

Cosmetologists

Doctors

Skin Care Experts

Researchers

Scientist

Entrepreneurs

Manufacturing Companies

· Hair Care Experts
Why to attend?

Dermatology 2019 is going to bring all the eminent speakers, keynote speakers, businessmen, exhibitors, researchers together on one platform for global networking. Attending a conference is a professionally rewarding experience. In addition to socializing with colleagues from other institutions and a trip to a possibly exotic locale, the two main reasons to attend a conference are to hear presentations and to converse with other researchers. Listening to presentations will inform you of what others are doing will inspire research ideas of your own, and will expose you to different styles of presentation. As your career advances, you'll learn that even though listening to the talks is extremely valuable, hallway conversations can be even more fruitful. Do everything you can to cultivate such conversations: that is one of your chief jobs at the conference.
Welcome Message
3rd World Dermatology And Cosmetology Congress cordially invite all the delegates, keynote speakers, Dermatologists, Cosmetologist, Businessmen, Doctors, Researchers, Students, Exhibitors and poster presenters across the globe to attend the International Conference on Dermatology and Cosmetology Congress which is going to be held on April 11-12 2019, in Barcelona, Spain.

3rd World Dermatology and Cosmetology Congress conference along with 300+ Conferences across the USA, Europe, and Asia every year with support from 1000 more scientific societies and Publishes 400+ Open access journals which contain over 30000 renowned personalities as editorial board members.
Sessions
Dermatopathology
is a combination of dermatology and pathology and to a lesser extent of surgical pathology that specializes in the have a look at of cutaneous sicknesses at a microscopic and molecular degree. It additionally encompasses analyses of the capacity reasons of skin diseases at a primary stage.
Dermatologists
are able to apprehend most skin diseases based on their appearances, anatomic distributions, and behavior. Sometimes, however, those standards do now not allow a conclusive prognosis to be made, and pores and skin
biopsy
is taken to be tested under the microscope or are subject to other molecular checks. That system well-known shows the histology of the sickness and effects in a selected diagnostic interpretation. In some cases, extra specialized checking out desires to be performed on biopsies, inclusive of
immunofluorescence
,
immunohistochemistry
,
electron microscopy
, float cytometry, and molecular-pathologic evaluation.
Hair is an indicator of good health; it is an extension of the skin. Hair quality reflects a person's physical health. Trichology is the diagnosis and treatment of diseases and disorders of the human hair and scalp. Hair loss can cause great suffering, and there are many misconceptions about its reasons and treatment. There are some types of hair loss which can have a natural or spontaneous recovery. Excessive hair loss can often be a symptom of some other problem or variation in the metabolism of the body and for this reason, co-operation between the patient's doctor and the Trichology's is often necessary.
SESSION 3: Cosmetic Dermatology

Cosmetic dermatology focuses on improving the appearance of skin, hair, nails. Attaining and maintaining wholesome, younger pores and skin is a priority. These products or cosmeceuticals have higher concentrations of clinical-grade substances for fighting age-related skin troubles. They also are pharmaceutically formulated and researched to make certain balance and stability.
SESSION 4: Skin Cancer

Skin cancers are cancers that rise up from the skin. They are due to the development of extraordinary cells that have the ability to invade or unfold to other parts of the body. There are 3 fundamental types of skin cancers: basal-cell skin cancer(BCC), squamous-mobile skin cancer (SCC) and melanoma. The first one with a less number of common pores and skin cancers are called non-melanoma pores and skin cancer (NMSC). Basal- Squamous most cancers grow slowly and can harm the tissue around it but is not going to unfold to distant areas or bring about the loss of life. It often seems as a painless raised area of skin that can be shiny with small blood vessel running over it or can also gift as a raised region with an ulcer. Squamous is more likely to spread.
According to WHO (World Health Organisation), diagnostic techniques or procedures should encompass all kind of investigations and tests intended to gather clinical information for the purpose to identify the root cause of that particular disease. Doctors can't able to find all kind of clinical information, by simply looking at the skin. Some diagnostic technique is used to identify the characteristics (size, shape, color, and location) and clinical information about the disease. Biopsy, Scrapings, culture, wood light, Tzanck testing, Diascopy, patch test, prick test, and intradermal test these are the techniques used to identify a different kind of Dermatology.
· Biopsy
· Culture
· Wood light
· Tzanck testing
· Diascopy
· Patch test
· Prick test
Plastic surgery is a surgical distinctiveness related to the recovery, reconstruction, or alteration of the human body. It can be divided into categories. The first is a reconstructive surgical operation which incorporates craniofacial surgical operation, hand surgical procedure, microsurgery, and the remedy of burns. The other is cosmetic or aesthetic surgery. While the objective of the reconstructive surgical operation is to reconstruct a part of the body or to improve its functioning, cosmetic surgical treatment aims at improving the advent of it. Both of these techniques are being used at some point in the sector. A plastic surgery current global market is about $20 billion and it may rise to over $27 billion by 2019.
Cosmeceuticals are the combination of cosmetics and pharmaceuticals. Cosmeceuticals are cosmetic products with bioactive ingredients purported to have medical or drug-like benefits. The "cosmeceutical" label applies only to products applied topically, such as creams, lotions, and ointments. Products which are similar in perceived benefits but ingested orally are known as nutricosmetics.
SESSION 8: Bacterial Skin Diseases

Some bacteria live on the normal skin and cause no harm, such as some staphylococcus species,
Corynebacterium
species, and
Brevibacterium
species. Some bacteria invade
normal skin
, broken skin form eczema?dermatitis or wounds.
Minor bacterial
infections
may resolve without treatment. But persistent and serious bacterial infections are treated with antibiotics. It is best to take samples to test which organism is responsible for an infection before treating with antibiotics. If the infection is serious immediate treatment with the broad-spectrum antibiotic may commence. Once the specific organism causing infection has been determined, the antibiotic may be changed to a narrow-spectrum antibiotic directed against this organism.
Antibiotics
have important individual risks and societal impact and should not be prescribed or taken if they are not required.
SESSION 9: Pediatric Dermatology
Pediatric Dermatologist is concerned with skin disorders including birthmarks, skin infections dermatitis, etc. Pediatric Dermatology, a subspecialty of dermatology, specializes in the diagnosis and treatment of skin conditions in infants, children, and adolescents. Abnormal skin irritations and conditions can emotionally affect children. Atopic Eczema, also called Dermatitis, is a skin condition that is usually found in small children. Atopic Dermatitis includes a range of skin conditions with symptoms including red, itchy, oozing and scaling skin. Atopic Eczema in babies also known as Infantile Dermatitis is usually found on the face and scalp causing the skin to itch and ooze.
· Measles
· Scarlet Fever
· Rubella
· Chickenpox
· Erythema Infectiosum
· Exanthem Subitum
SESSION 10: Hair Transplantation
Hair transplantation is a surgical technique that requires relocating hair follicles from one part of the body to the other part where hair is not present. Primarily it is used to treat male pattern baldness. Research is going on the stem cells and dermal papilla cells which are found in hair follicles. Research on these cells may lead to success in treating baldness through hair multiplication which is also known as hair cloning.
Facial rejuvenation is the cosmetic treatment which aims to restore the youthful appearance of the human face. This treatment can be done in both surgical and non-surgical procedures. Surgical procedures target abnormalities like skin alteration, facial reconstructing. Non-surgical procedures target on abnormalities like wrinkles, scars, hyperpigmentation.
A cosmetic surgical procedure is an elective or non-compulsory surgical operation that is accomplished on regular components of the frame with the simplest cause of improving someone's appearance and/or putting off signs and symptoms of getting older. In 2014, almost sixteen million beauty procedures have been done in the United States. The variety of cosmetic techniques achieved within the United States has almost doubled for the reason that begins of the century. 92% of beauty procedures were performed on ladies in 2014, up from 88% in 2001. Nearly 12 million beauty tactics were performed in 2007. The American Society for Aesthetic Plastic Surgery seems at the statistics for 34 one of a kind beauty tactics. Nineteen of the approaches are surgical, such as rhinoplasty or facelift. The nonsurgical procedures consist of Botox and laser hair removal. In 2010, their survey revealed that there were 9,336,814 overall techniques inside the United States. Of the ones, 1,622,290 approaches have been surgical.
SESSION 13: Dermoscopy
Dermoscopy involves the observation of skin by skin surface microscopy and in other words, it is called as epiluminoscopy and chemiluminescent. It examines the pigmented skin lesion. It is a non-invasive method that allows the in vivo evaluation of colors and microstructures of the epidermis, the dermo-epidermal junction, and the papillary dermis not visible to the naked eye. Dermatoscopy needs a highly advanced magnifying lens as well as a powerful lighting system
· Electrical Impedance Spectroscopy
· Trichoscopy
· Mole mapping
There are many viral skin infections. They range from the common to the rare, from the mild to the severe and from those causing just skin infection to those with the associated systemic disease.
SESSION 15: Bariatric surgery
Bariatric surgery procedures cause weight loss by restricting the amount of food the stomach can hold, causing malabsorption of nutrients, or by a combination of both gastric restriction and malabsorption. Bariatric procedures also often cause hormonal changes. Most weight loss surgeries today are performed using minimally invasive techniques (laparoscopic surgery). The most common bariatric surgery procedures are a gastric bypass, sleeve gastrectomy, adjustable gastric band, and biliopancreatic diversion with duodenal switch.
· Gastric Bypass
· Sleeve Gastrectomy
· Adjustable Gastric Band
· Biliopancreatic Diversion with Duodenal Switch
SESSION 16: Laser Treatment
Laser surgery
is a type of surgery that uses a laser to cut tissue A range of lasers such as erbium, dye, Q switches lasers and CO2 are used to treat various skin conditions including scars, vascular and pigmented lesions, and for
photorejuvenation
. The laser surgeries for
dermatology
often bypass the skin surface. The principle of laser surgery for the dermatologic problem is based on
SPTL
(selective photo thermolysis). The laser beam penetrates the
skin
until it encounters chromophore which absorbs the laser beam. After absorption of the laser beam, heat is generated to induce coagulation, necrosis of the targeted tissue, this result in removal of unwanted tissue by laser surgery.
SESSION 17: Neonatal Dermatology
Neonates have rashes of all shapes and sizes. they can develop many types of skin conditions shortly after they are born, these conditions last only a short time and will go away. Babies commonly have skin problems like Erythematoxicum, Mongolian spot, Acrocyanosis. Babies even lose their hair during the first six months because it has a growth stage and a resting stage. so this is called as Telogen effluvium. Neonatal Dermatologist can treat disorders of skin, hair, nails in neonates.
· Erythematoxicum
· Cutis marmorata
· Oral erythromycin
· Antiseborrheic shampoo
· Mongolian spot
Dermatology is the branch of science which offers treatment for diseases of hair, nails, and skin. The ailments related to them are termed as dermatological diseases. A dermatologist treats illnesses, in the widest sense, and a few beauty issues of the dermis. Acne is an expanded day and age epidermis described by ranges of clogged pores, whiteheads, skin inflammation, oily dermis, and conceivably scarring. Skin cancer and malignancy of epithelial cells, Contact dermatitis, Psoriasis, Rosacea, Cellulitis, Viral skin diseases. Dermatological problems are either intrinsic abnormalities or derangement of normal processes related to skin hair and nail.
· Psoriasis
· Rosacea
· Vitiligo
· Impetigo
· Spider Veins
· Moles
· Onychomycosis
· Folliculitis
· Erysipelas
· Auto Inflammatory Syndromes
· Congenital Anomalies
· Internal Malignancies
· Cellulitis
SESSION 19: Aesthetic surgical procedures
Aesthetics is an inclusive term for specialties which focus on improving the appearance of individuals via cosmetic procedures. It is not just limited to scars, wrinkles, moles, excessive fat, unwanted hair, and skin discoloration. Aesthetic procedures traditionally included reconstructive surgery, cosmetic surgery, and dermatology. Aesthetic medicine included surgical procedures: liposuction, facelifts, breast implants, Radiofrequency ablation, and Non-Surgical procedures: radio frequency skin tightening, non-surgical liposuction, chemical peel. Few practitioners utilize the combination of both the procedures.
SESSION 20: Plastic and Reconstructive surgery
Surgery is performed to restore an individual's body i.e. to improve the functioning of the body parts. It covers a wide range of conditions. Reconstructive surgery is performed to restore faces after trauma and to reconstruct the head and neck after cancer. The common feature is that the operation attempts to restore the anatomy or the function of the body part to normal. Few procedures which are to be discussed at the conference include-Breast enhancement: Reduction & Lift, Skin cancer removal, Burn, Scar revision and Hand Surgery.
· Photodynamic Therapy (PDT)
· Regenerative Medicine
· Use of Biomaterials
· Tissue Expansion
· Scar Revision
· Hand Surgery
· Microsurgery
· Burn Surgery
· Mohs Surgery
· Cryosurgery
Market Analysis
The global dermatology market was assessed at $20.0 billion in 2015 and is foreseen to grow at a considerable Compound Annual Growth Rate (CAGR) of 7.73%, reaching $33.7 billion in 2022. The key market drivers of this growth will be the arrival of recently approved premium biologics, as well as promising late-stage products that are expected to be highly valuable. Overall, there are 801 dermatology products in the pipeline, where biologics constitute 37%, despite the fact that this molecule type represents only a small fraction of the marketed products landscape. The dermatology market is mainly separated into three sectors; general, cosmetic and Mohs surgery. Of these, general dermatology is the largest sector by revenue as it enspheres a range of skin diseases and treatments. One of the latest trends in the market is growing importance of dermatology in the cosmetic industry. The growth in treatments provided by cosmetic surgery in the field has depicted a great development in the cosmetic dermatology market. Some of the procedures frequently performed by cosmetic dermatologists include, but are not limited to; Botox injections, collagen treatments, liposuction, laser skin therapies (for hair removal, skin resurfacing, tattoo removal, etc.), and varicose vein removal. Cosmetic surgeries are gradually expanding, allowing the dermatoscopes market to grow.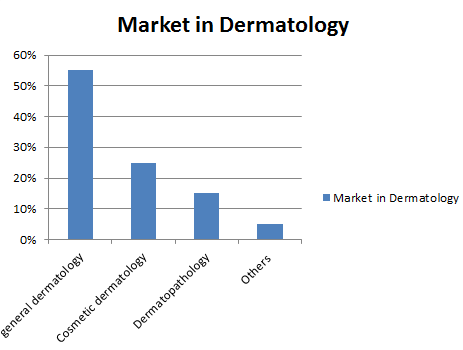 The global dermatoscopes market is projected to grow at a CAGR of 8.89% during the period 2017-2021. One of the key market drivers is increasing usage in diagnostic procedures. The diagnostic accuracy for melanoma is considerably better with those specialists who have expertise in the field of dermatoscopy than with those who do not have any specialized training in the same. There is a considerable improvement in the sensitivity or detection of the malignant melanomas with specialists trained in dermatoscopy, as well as specificity or percentages of non-melanomas diagnosed correctly as compared with the traditional clinical naked eye examination.The dermatology diagnosis device market has been gauged as an expeditiously growing market and expected to reach high growth figures. The benefits such as easy detection of the skin disease at initial stages had increased their market globally. The diagnostic devices are widely accepted by the patient suffering from diseases like skin cancer, lesions, scalp problems, wrinkles, warts, and other skin related diseases. Out of total cases of skin disease worldwide, the USA and Europe comprise of 6% and 7.5% of the cases respectively and are anticipated to increase during the forecast period, leading to the growth of the overall market. Technological advancements in treatments and increased incidences of skin diseases, acne, tattoo removal, psoriasis, and other skin related problems are the key factors contributing to the growth of the market. North America captures the largest market share of 70% in 2013 of the global dermatology diagnostic device market.