About





Allied Academies Publication is an amalgamation of several esteemed academic andscientific associations known for promoting scientific temperament. Establishedin the year 1997, Andrew John Publishing Group is a specialized Medicalpublisher that operates in collaboration with the association and societies.This publishing house has been built on the base of esteemed academic andresearch institutions including The College of Audiologists and Speech LanguagePathologists of Ontario(CASLPO), The Association for Public Safety CommunicationsOfficials of Canada (APCO), The Canadian Vascular Access Association (CVAA),The Canadian Society of Internal Medicine (CSIM), The Canadian Hard of HearingAssociation (CHHA), Sonography Canada,Canadian Association of Pathologists (CAP-ACP) and The Canadian Association of Neurophysiologic Monitoring (CANM).
AlliedAcademies cordially invites all the participants across the globe to attend "Annual Congress on Cell Science,Stem Cell Research & Regenerative Medicine 2017" during November 29-30, 2017 Atlanta, USA which includes prompt keynote presentations, Oraltalks, Poster presentations and Exhibitions.
This is an excellent opportunity for the delegates from Universities and Institutes to interact with the world class Scientists.The intending participants can confirm their participation by registering for the conference along with your colleagues.

About Conference
Cell Science 2017 offers a unique window and opportunities to present and evidence the latest updates with a holistic approach to different areas of interest. We have done our utmost to get rid of the traditional approach in the elaboration of the program and most importantly, during the active sessions, in order to foster innovation and scientific curiosity. Our intention is, to create platforms which will gather eminent scientists, medical professionals who will undoubtedly enrich the conference.
Student Poster Competition is organized at Conference, to encourage students and recent graduates to present their original research which will be later published in the Allied Academic Journals. All accepted abstracts will be presented at the poster sessions during the conference.
Business networking is an avenue for vendors to have network and B2B meetings with "Top scientists and colleagues" and with an effective low cost marketing method for developing sales and opportunities and contacts, based on referrals and introductions either face-to-face at meetings and gatherings or by other contact methods such as Telephone, E mail, Digital and Increasingly social and business networking websites.
Overview
Cell Science is an emerging field of therapeutics and as well as Stem Cell therapy also. In this Stem cells are playing widal role to develop into a new regenerative medicine of modern era in the globe. Most researchers believe that Stem Cells are play a major role in future generations and give the Big global business market across the world. This event leads us to build a great opportunity to fulfill the global needs and human welfare.
* One on One Meeting with Eminent Speakers
* Live Streaming of the conference
* Keynote sessions by world's most eminent researchers
* Top Industries Representation
* Thought provoking Symposium's and Workshops
* Preconference workshops in all major countries
* Nominations for Best Poster Award
* Outstanding Young Researcher Award
* Group Registration benefits
* Advance research oriented presentations
* Collaborations across Academia & Industry
Why Should Attend?
Everyone have the opportunity to explore the leading edge of the discipline, and making connections in the scientific community can be of huge benefit for an interested in embarking on a
scientific career
. Walking around the general poster session and attending oral presentations will allow scientific markers to get acquainted with the most important recent discoveries circulating in the field. This can help to identify potential projects, laboratories and institutions that they would like to work with in the future.
Scientific Program !
Cell Science 2017
, Despite the popular media depiction of scientists as antisocial individuals,
Annual Congress
is an inherently collaborative profession. It may be hard to see the exchanges across laboratories, But the accretion of knowledge requires the communication of complex ideas from one scientist to another. Although the advent of the e-mail has largely supplanted the necessity of face-to-face conversations, this cross-fertilization of ideas still takes place during annual congress, where researchers present their projects, discuss their findings, network with potential
collaborators
and socialize with their peers.
Welcome Message
Annual Congress on Cell Science,Stem Cell Research & Regenerative Medicine
held during
November 29-30, 2017

in

Atlanta, USA

.
Cell Science Conferences will provide a perfect platform to all the Doctors, ResearchersBusiness Delegates and Scientists to approach and deliver all the atte
ndeesabout the lat
est scientific advancements on the respective sphere.

Cell Science Conferences strategicastuteness is to be an event for bringing together Scientists, Physicians,International mix of leading Universities, Cell therapy institutions totransform the practice of medicine by incorporating the use of genetic andcellular therapies to control and cure human disease. This Two-day Cell Science Eventwill address key issues concerning Cell Science and Stem Cell Biology in the broader contextof the cellular and genetic disorder. Organized around daily themes, theConference focuses on moving from present knowledge to future solutions.
Why to attend ?
Enlightening public with recent advances in Cell Science, Stem cell Research and all the associated research areas from around the world focused on cancer about recent advances in cell diagnosis and therapy, this is your single best opportunity to reach the largest assemblage of participants. World-renowned speakers, the most recent techniques and the newest updates in cell biology and all the associated research areas are hallmarks of this conference. Conferences, National symposium and Workshops provide a dedicated forum for the advancement, execution and exchange of information about cell science and stem cell research.
Who must attend ?
Cell Biologists, Oncologists, Radiologists, Chemo therapists, Physicians, Academicians, Academic scientists, Industry professionals, Diagnostic laboratory professionals, Postgraduate students, Postdoctoral fellows, and Trainees.Allied Academies is delighted to welcome all the enthusiastic participants across the world to its prestigious"Annual Congress on Cell Science,Stem Cell Research & Regenerative Medicine 2017" which is going to be held during November 29-30, 2017 at Atlanta, USA. Cell Biology 2017 highlights the theme "Benchmark or All Scientific Markers"

Allied Academies
provides an opportunistic environment and vibrant podium through these auspicious events to amplify these steps and meet the highest demand ever, by reflexive and cerebrative connections.
Allied Academies
has been progressively organizing scientific conferences across the globe, rendezvous which consist of various streams of scientific study to improve and accelerate discovery for a better tomorrow.
The non-profit firm plans for organizing an average of 1000 international conferences in the upcoming years with its renowned journals and Editorial Board Members. The number of reader views of the website has clocked 7.5 million and still counting. Lately around more than 1000 scientific associations of various fields from all over the world have shown interest in association with Allied Academies to promote their research work.
Allied Academies conferences
offer exciting features like international symposia, B2B meetings, trade shows,
exhibitions
and international workshops to build global networking and meaningful academic research and industry alliances. Allied Academies initiated the 'Young Scientist awards' to the enterprising young science researchers and scholars across the globe.
Cell Science 2017
provides an excellent opportunity to share views, exchange knowledge and establish research collaborations & networking.
Cell Science 2017
is a unique forum to bring together worldwide distinguished academics in the field of
public health professionals
, academic scientists, industry researchers, Stem cell researchers and scholars to exchange about the state of the art research and technologies.
Target Audience ?
Diagnostic professionals, Training institutes, Manufacturing medical devices Companies, Business entrepreneurs, Medical colleges, Researchers, Academicians, Physicians, Post docs, Students, Pharmacy industries, Academic scientists, Industry professionals, and Diagnostic laboratory professionals, Stem cell researchers.
Sessions/Tracks
Overview
Cell science is an emerging field of therapeutics and as well as stem cell therapy also. In this Stem cells are playing widal role to develop into a new regenerative medicine of modern era in the globe. Most researchers believe that Stem Cells are play a major role in future generations and give the big global business market across the world. This event leads us to build a great opportunity to fulfill the global needs and human welfare.

1.Molecular and Cellular Physiology and of Structural Biology
The cell structure is an important target structure for drugs and bacterial pathogens. It is composed of different protein filaments that are continuously remodeled to construct a dynamic cellular scaffold. The cytoskeleton is a scaffold that gives cells their diverse and adaptable shapes and that organizes their internal structures.The cytoskeleton plays a fundamental role in all aspects of cell mechanics, such as cell adhesion and motility, cell division, intracellular transport, the establishment of cell polarity and the organization of cells in tissues and organs.Many drugs and bacterial toxins act by blocking or activating cytoskeletal regulatory proteins.We primarily investigate the regulation of the cytoskeleton in the context of cancer and bacterial infections.


2.Cell Biology of Vertebrates, Microbes and Parasites
Vertebrates are multicellular, heterotrophic eukaryotes with tissues that develop from embryonic layers. Biologists have identified 1.3 million living species of animals. Estimates of the total number of animal species run far higher, from 10 to 20 million to as many as 100 to 200 million.in general vertebrates are all motile, heterotropic, and multicellular .Animals are ingestive heterotrophs unlike plants, who store their food as starch,and animals store their food as glycogen. Vertebrates cells lack of cell walls that provide structural support for plants and fungi .The multicellular bodies of animals are held together by extracellular structural proteins especially collagen. Vertebrate cells are made up of cells organized into tissues .each tissue specialized to some specific functions .vertebrates have their unique types of intracellular junctions, including tight junctions, desmosomes. And gap junctions together. Microbes are member of the group of eukaryotic organisms that includes unicellular microorganisms such as yeasts and molds, as well as multicellular fungi that produce familiar fruiting forms known as mushrooms. These organisms are classified as a kingdom, Fungi, which is separate from the other eukaryotic life kingdoms of plants and animals.


3.Current Research in Cell and Molecular Biology
Cell biology is playing a vital role in current scientific research oriented studies. Current situation is all about cell biology leads to invention of regenerative medicine and receptor and antibody mediated medicine. Stem cells are using as a therapy for diseases include bone marrow transplantation ,cancer therapy and treating in Alzheimer's disease and cardiac treatments etc. The cell science research is mainly target to to achieve the diagnostic and therapeutic uses for the people across the global. Currently it has emerged as a rapidly diversifying field with the potential to address the worldwide organ shortage issue and comprises of tissue regeneration and organ replacement. Regenerative medicine save public health bodies money by reducing the need for long-term care and reducing associated disorders, with potential benefits for the world economy as a whole.

4.Nanotechnology: Stem Cells & Cancer

Nanotechnology in medicine offers some exciting possibilities. Some techniques are only imagined, while others are at various stages of testing, or actually being used today. Nanotechnologies in medicine involve applications of nano particles currently under development, as well as longer range research that involves the use of manufactured nano-robots to make repairs at the cellular level. Nanotechnology in medicine currently being developed involves employing nano particles to deliver drugs, heat, light or other substances to specific types of cells (such as cancer cells). Particles are engineered so that they are attracted to diseased cells, which allow direct treatment of those cells. This technique reduces damage to healthy cells in the body and allows for earlier detection of disease.


5.Molecular and Cellular Basis of Growth and Regeneration

Cell growth is used in the biological cell development and cell reproduction. Where a cell, known as the mother cell, grows and divides to produce two daughter cells. In the cell development cytoplasmic and organelle volume increase and genetic material also. Regeneration is the process of renewal, restoration, and growth that makes genomes, cells,organisms, and ecosystems resilent to natural fluctuations or events that cause disturbance or damage.


6.Stem Cells, Self-Assembly, Tissue Growth and Regeneration
Stem cells have the remarkable potential to develop into many different cell types in the body during early life and growth. In addition, in many tissues they serve as a sort of internal repair system, dividing essentially without limit to replenish other cells as long as the person or animal is still alive. When a stem cell divides, each new cell has the potential either to remain a stem cell or become another type of cell with a more specialized function, such as a muscle cell, a red blood cell, or a brain cell.

Germ cells are specialized cells which are involved in reproduction. The most well-known examples of this type of cell are gametes, the sperm and eggs which come together to create a zygote which can develop into a foetus. In addition to gametes, a number of other cells involved in reproduction are also germ cells, including gonocytes, the cells which regulate the production of eggs and sperm. All germ cells carry the germ line, the genetic material which an organism can pass on to its offspring. In humans, these cells are haploid, meaning that they carry only half the number of chromosomes necessary to create an organism. When germ cells from two different people meet, their haploid genetic material combines to create diploid cells which can replicate themselves through cell division, ultimately building a baby.


8.Cellular And Molecular Medicine
Regenerative medicines have the ability to repair, replace, and regenerate tissues and organs affected due to injury, disease, or natural aging process. These medicines are capable of restoring the functionality of cells & tissues and are applicable in a wide range of degenerative disorders such as dermatology, Neurodegenerative diseases, cardiovascular and orthopaedic applications. Researchers focus on developing technologies based on biologics, genes, somatic as well as stem cells. Stem cells are capable of proliferation and differentiation owing to which they are of importance in this field.


9.Computational Biology and Drug Designing

Computational Biology is the science of using biological data to develop algorithms and relations among various biological systems. Computational biology is different from biological computation, which is a sub field of computer science and computer engineering using bio engineering and biology to build computers, but is similar to bioinformatics, which is an interdisciplinary science using computers to store and process biological data. Computer-aided drug design methods have played a major role in the development of therapeutically important small molecules for over three decades. The field is broadly defined and includes foundations in computer science, applied mathematics, animation, statistics, biochemistry, chemistry, biophysics, molecular biology, genetics, genomics, ecology, evolution, anatomy, neuroscience, and visualization.

Cell signalling is major part of communication that coordinates basic activities of cells and perform cell actions. The ability of cells to perceive and correctly respond to their micro environment on the basis of development, tissue reform, and immunity as well as normal tissue homeostasis. Damage in cellular information processing are responsible for diseases such as cancer, autoimmunity, and diabetes. By understanding cell signalling, diseases may be treated more effectively and, theoretically, artificial tissues may be created. Cell signalling has been most studied in human diseases. Cell signalling may also occur between the cells of two different organisms. In mammals, early embryo cells exchange signals with cells of the uterus.

Tissue engineering evolved from the field of bio material development and describes the practice of combining scaffolds, cells, and biologically active molecules into functional tissues. The goal of tissue engineering is to assemble functional constructs that restore, maintain, or improve damaged tissues or whole organs. Artificial skin and cartilage are examples of engineered tissues that have been approved by the FDA. This field continues to evolve. In addition to medical applications, non-therapeutic applications include using tissues as biosensors to detect biological or chemical threat agents, and tissue chips that can be used to test the toxicity of an experimental medication.


12.Cell Rejuvenation and Wound Healing

Cell Rejuvenation is described as the reforming of a damaged cell. Skin compartments, epidermis, and hair follicles house stem cells that are indispensable for skin homeostasis and regeneration. The stem cells also contribute to wound repair, resulting in restoration of tissue integrity and function of damaged tissue. Unsuccessful wound healing processes often lead to non-healing wounds. Chronic wounds are caused by depletion of stem cells and a variety of other cellular and molecular mechanisms, many of which are still poorly understood. Current chronic wound therapies are limited, so the search to develop better therapeutic strategies is on going.Adult stem cells are gaining recognition as potential candidates for numerous skin pathologies. Emerging concepts offer some perspectives on how skin tissue-engineered products can be optimized to provide efficacious therapy in cutaneous repair and regeneration.
13.Stem Cell Therapeutics in Modern era

Stem-cell therapy is the use of stem cells to treat or prevent a disease or condition. Bone is the most widely used stem-cell therapy, but some therapies derived from umbilical cord blood are also in use. Research is underway to develop various sources for stem cells, and to apply stem-cell treatments for neurodegenerative diseases and conditions such as diabetes, heart disease, and other conditions. Stem-cell therapy has become controversial following developments such as the ability of scientists to isolate and culture embryonic stem cells, to create stem cells using somatic cell nuclear transfer and their use of techniques to create induced spluripotent stem cell. This controversy is often related to abortion politics and to human cloning. Additionally, efforts to market treatments based on transplant of stored umbilical cord blood have been controversial.

Cancer stem cells are cancer cells that possess characteristics associated with normal stem cells, specifically the ability to give rise to all cell types found in a particular cancer sample. CSCs are therefore tumorogenic , perhaps in contrast to other non-tumorigenic cancer cells. CSCs may generate tumours through the stem cell processes of self-renewal and differentiation into multiple cell types. Such cells are hypothesized to persist in tumours as a distinct population and cause relapse and metastasis by giving rise to new tumours. Therefore, development of specific therapies targeted at CSCs holds hope for improvement of survival and quality of life of cancer patients, especially for patients with metastatic disease.


15.Bioethical Issues in Cell and Stem Cell Biology

The main Bioethical issues associated with human stem cells involve their derivation and use for research. Although there are interesting ethical issues surrounding the collection and use of somatic adult stem cells from aborted foetuses and umbilical cord blood, the most intense controversy to date has focused on the source of human embryonic stem (hES) cells. At present, new ethical issues are beginning to emerge around the derivation and use of other hES cell–like stem cells that have the capacity to differentiate into all types of human tissue. In the near future, as the stem cell field progresses closer to the clinic, additional ethical issues are likely to arise concerning the clinical translation of basic stem cell knowledge into reasonably safe, effective and accessible patient therapies. This Review summarizes these and other bio ethical issues of the past, present and future of stem cell research.
Market Analysis
"Cell Science and Stem Cell Research and Regenerative Medicine " was important is due to human development is only from stem cells. As such, an understanding of their unique attributes and control can teach us more about early human development. Diseases such as cancer are thought to result from abnormal cell proliferation and differentiation. This means that an understanding of where things go 'wrong' in stem cell division and thus lead to cancer can help us find ways to prevent the dysfunctional changes or employ effective ways to treat them with targeted drugs. Stem cells are a type of human cells that give rise to the various types of cells found in the human body. Stem cells hold the potential to evolve into various types of human tissue, which has led to a growing acknowledgement of the obvious medical potential of this property. Stem cell therapy is becoming increasingly common in the treatment of various diseases and the increasing research in the field is expected to further drive the medical applications of stem cells in the coming years.
There are many reasons why you should visit this amazing country. Atlanta finished 2016 with its strongest quarter of the year absorbing just over 1 million business space, bringing the total to 1.5 million. On the whole, not necessarily a bad year of occupancy gain; however, when compared to last year, 2016's business is down roughly 65%. Atlanta is a country of a rich and ancient history, strikingly beautiful landscape and proud, hardy people. Atlanta's 343 parks, nature jam, and gardens cover. During September to November month the scenery changes color and are a fantastic time for outdoor activities, it is a particularly good time for people interested in Photography, Atlanta will offer you a great time and a warm welcome, November is the best time to visit the Atlanta USA. Atlanta the host city, is among the most exquisite tourist destination, and hence the perfect place to hold such event.
Cell Science currently it has emerged as a rapidly diversifying field with the potential to address the worldwide organ shortage issue and comprises of tissue regeneration and organ replacement. The global tissue engineering and regeneration market is expected to grow to nearly $20.8 billion in 2014 and $56.9 billion in 2019, a compound annual growth rate (CAGR) of 22.3%.
The global stem cell therapy market over the forecast period of 2015 to 2020.The market is poised to grow at a CAGR of 39.5% from 2012 to 2018, to reach $330 million by 2020.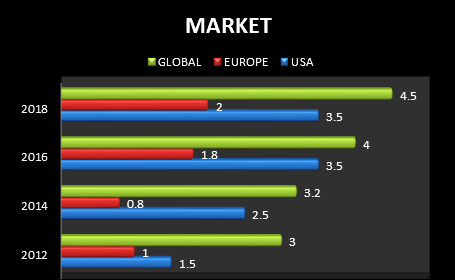 The global stem cell therapy market over the forecast period of 2015 to 2020.The market is poised to grow at a CAGR of 39.5% from 2015 to 2020, to reach $330million by 2020.
Global Regenerative Medicines Market Overview
Global Regenerative medicines market is projected to reach $ 30,237 million by 2022. Cell therapy segment is expected to dominate the market throughout the forecast period. North America led the global market in 2015, and is expected to remain dominant during the 2015-2022. Global stem cell therapy market is growing at a CAGR of 39.5% from 2015 to 2020, to reach $330 million by 2020.
The global cell sorting market is projected to reach USD 247.4 Million by 2021, at a CAGR of 7.0% Factors such as technological advancements in rising funding and investments for development of technologically advanced cell sorters, and growing adoption of cell sorting techniques in research activities are driving the growth of this market. The market is further driven by factors such as the growing prevalence of HIV/AIDS and cancer, expanding pharmaceutical and biotechnology industries, and launch of specific reagents for specific applications.
The major factors boosting the market growth include technological advancements in tissue and organ regeneration, increasing prevalence of chronic diseases and trauma emergencies, prominent potential of nanotechnology, and emergence of stem cell technology. In addition, increasing incidence of degenerative diseases and shortage of organs for transplantation are expected to boost the growth of the market. The prominent potential of regenerative medicine to replace, repair, and regenerate damaged tissues and organs has boosted the market growth. Moreover, utilization of nanomaterials in wound care, drug delivery, and immunomodulation has opened growth avenues for the regenerative medicines market. However, stringent regulatory barriers and high cost of the treatment are likely to hinder the market growth.
What are Some of the Major Drivers for the Stem Cells Market ?
The key driver for the global stem cells market is the increasing government support across the world. As widespread incorporation of stem cell therapy allows a nation to significantly improve the overall healthcare scenario, countries in North America and Western Europe have provided solid support to stem cell research. The acceptance of stem cell therapy in emerging regions is still lagging behind due to the lack of advanced medical infrastructure to adopt stem cell therapy, but the steady improvement of the healthcare sector in countries such as India and China is likely to be a major growth driver for the global stem cells market. The increasing prevalence of neuro degenerative disorders is another major driver for the global demand for stem cells. Neural tissue can't be regenerated or replaced as easily as structural tissues, and the ability of stem cells to develop into human cells provides the perfect avenue for treatment of neuro degenerative conditions.
Stem cell Market Segmentation and Industry Structure
Stem cells are widely used in drug discovery and medicine and in regenerative medicine. In 2016, approximately 90% of the revenue was generated from regenerative medicine owing to the large unmet medical needs, regenerative medicines used in the chronic disease treatment of Parkinson's and Huntington's. Stem cell research was segmented into Basic research and therapeutic research in which allogenic cell therapy succeeded 100% according world global market for the stem cells.