About Conference
The
Allied Academies
' family invites all the participants from all over the world to attend
International Conference on Cell and Gene Therapy 2018
during September 10-11, 2018, in Dublin, Ireland which includes prompt keynote presentations, Oral talks, Poster presentations, Young Research Forum, E-Poster presentation and Exhibitions.
Cell and Gene Therapy
Conference hosting presentations from editors of prominent referred journals, renowned active investigators and decision makers in the field of Genetics and many related field.
Cell and Gene Therapy 2018 Conference deals with the diagnosis, prevention, and treatment & therapies of diseases of the gene specific, cell specific, organ specific and including the latest techniques in current era. Cell and Gene Therapy 2018 is an extraordinary event designed for International medical health professionals and Immunologist, Oncologist, Neurologist, Genetic researchers, many organizations and associated people of gene and cell research to facilitate the dissemination and application of research findings related to Cell and Gene.The conference invites participants from all leading universities, clinical research institutions and diagnostic companies to share their research experiences on all aspects of this rapidly expanding field and thereby, providing a showcase of the latest techniques. Cell and Gene Therapy 2018 provides two days of robust discussions on methods and strategies related to management and quality improvement of Cell and Gene Therapy as well as explore new ideas and concepts on a global scale and the topics include Genomic Engineering, Biomarker, Advances in Cell and Gene Therapy, Manufacturing Innovation R&D, Immunogenetics & Transplantation, Future scope of Cell & Gene Therapy, Cell and Gene Therapy Innovation, Regenerative Medicine, and many related topics of gene and cell.
With members from around the world focused on learning about
Cell and Gene Therapy
and its advances: this is your best opportunity to reach the largest assemblage of participants from
Cell and Gene Therapy
community. Conduct presentations, distribute information , meet with current and potential scientists, make a splash with new
drug developments
, and receive name recognition at this 2-day event, world-renowned speakers, the most recent techniques, developments, and the latest updates in
Cell and Gene Therapy
are hallmarks of this conference.
Why to Join us in Dublin, Ireland for the leading annual Cell & Gene Therapy 2018 Event
01. Find the latest developments in Cell and Gene Therapy
02. Lectures by the world's prominent Cell and Gene Researchers and poster presentations at every career stage.
03. Network of Cell & Gene therapy with colleagues from all over the country
04. Awareness on novel tools and techniques to benefit your research
05.Promotes basic and clinical Research in Cell and Gene Therapy by facilitating recent innovations and trends in the field
Welcome Message
We are delighted to invite you a new initiative, "International Conference on Cell and Gene Therapy" during September 10-11, 2018, going to be held in Dublin, Ireland
Allied Academies Meetings invites you to the Conference on Cell and Gene Therapy 2018 going to be held in September with the topic,"International Conference on Cell and Gene Therapy 2018" This international meet (Cell and Gene Therapy 2018) foresees several delegates including Keynote speakers, Oral presentations by prestigious speakers and publication presentations by understudies other than representatives around the globe. This gathering may be a mammoth occasion that makes a perfect stage to share aptitude tending to current advancements required in Cell and Gene Therapy. It will be an awesome open door for every one of the representatives as it gives a universal systems administration chance to team up with the world class Experts of Cell and Gene Therapy researchers and pharmaceutical field.
About our Organization
Allied Academic Publication is an amalgamation of several esteemed academic and scientific associations known for promoting scientific temperament. Established in the year 1997, Andrew John Publishing Group is a specialized Medical publisher that operates in collaboration with the association and societies. This publishing house has been built on the base of esteemed academic and research institutions including The College of Audiologists and Speech Language Pathologists of Ontario(CASLPO), The Association for Public Safety Communications Officials of Canada (APCO), The Canadian Vascular Access Association (CVAA), The Canadian Society of Internal Medicine (CSIM), The Canadian Hard of Hearing Association (CHHA), Sonography Canada, Canadian Association of Pathologists (CAP-ACP) and The Canadian Association of Neurophysiologic Monitoring (CANM).
Sessions & Tracks
1. Genomic Engineering
Genomic Engineering is a hot market now-a-days. A new research report and result by Markets estimate that the global genome editing market is expected to reach about $3.7 billion by 2020, up from $1.9 billion in 2015. This demand is driven by the growth of biotechnology and pharmaceutical R&D, as well as advances in technology from all over the world.
1.1 Genomic Screening
1.2 Biomedical Research
1.3 Genome Editing
1.4 Genome Modifications
1.5 Genomic Engineering & Synthetic Biology
1.6 Gene and Genome Assembly

02. Biomarkers
Biomarkers are evolving rapidly in the advance of personalized medicine and individual health. The identification & validation of biomarkers in drug discovery, development and in disease prognosis, diagnosis, prevention & treatment play an essential role in the genomic era.
2.1 Immuno-Oncology Biomarkers
2.2 Molecular Biomarkers
2.3 Development of Biomarkers
2.4 Biomarkers in Clinical Research and Development
2.5 Advances of Biomarker Testing
2.6 Genomics biomarkers
2.7 Digital Biomarkers: Biosensors, Wearables, and mHealth
2.8 Biomarkers for Patient Selection
2.9 Biomarkers in Drug Discovery

03. Advances in Cell & Gene Therapy
In this topic we are relating to advances in cell, gene and immune therapies, and their use in the treatment. The tissue-engineered products with unique challenges throughout the development pathway we are discussing.
3.1 Recent Developments in Therapy's
3.2 Advances in Manufacturing Technologies
3.3 Importance of Innovation & Design
3.4 Automation in Cell and Gene Therapy Manufacturing
3.5 Clinical Grade Production
3.6 Improvements in Delivery Techniques

04. Manufacturing Innovation & R&D
Manufacturing Innovation is fostered by research and development of technologies in Bio that are aimed at increasing the competitive capability of manufacturing concerns. Broadly speaking, manufacturing-related R&D encompasses improvements in existing methods or processes, or wholly new processes, machines or systems.
4.1 Bioprocessing
4.2 Functional Bio material
4.3 Appropriate Targeting
4.4 Technical Challenges
4.5 Nanotechnology
4.6 Innovative Research
4.7 Novel Technologies
4.8 Gene Therapy Manufacturing
05. Immunogenetics & Transplantation
Immunogenetics and Transplantation provides specialized diagnostic services for allogeneic transplantation and related research. It provides support for blood, bone marrow, kidney, pancreas, liver, heart, lung, small bowel, and cornea transplantation. Currently Immunogenetics & Transplantation is hot topic of discussion.
5.1 Diagnostic Testing & Research
5.2 Crossmatching
5.3 Scientific Innovations
5.4 Immunogenetics Laboratory Testing
5.5 Organ & Cell Transplantation

06. Future scope of cell & Gene Therapy
The future of gene therapy holds promise in the treatment of many incurable diseases having no other solutions. At least, the focus for the gene therapy being is only on the incurable diseases. Gene therapy involves a lot of complicated activities which involve cellular trafficking, tissue targeting, safety of vector, delivery of genes to organs, activity of therapeutic protein, etc. The diseases to be treated with gene therapy in the future would mostly be the cardiovascular diseases, hemophilia, monogenic diseases and many related diseases of gene.
6.1 Effective Treatment
6.2 Replacement Therapy
6.3 Future Directions in Therapy
6.4 Problems with Future Implementation
6.5 The Promise, the Reality
6.6 Modern Genetic Analyses
Market Analysis Report
International Conference on Cell & Gene Therapy 2018 to be held during September 10-11 , 2018 Dublin, Ireland with the theme of "Exploring the possibilities in Cell & Gene Therapy" The scope of Gene Therapy Market was valued at $289 million in 2016, and is estimated to reach $2,082 million by 2023, registering a CAGR of 32.4% from 2017 to 2023. With the advancement in technology, the gene therapy market has transformed during the recent few years. Cancer gene therapy is a technique used for the treatment of cancer where therapeutic DNA is being introduced into the gene of the patient with cancer.
| | | |
| --- | --- | --- |
| | | |
| | | |
| | Human Stem Cells Institute | Shenzhen SiBiono GeneTech |
| | OncoGenex Pharmaceuticals | Sibiono GeneTech Co. Ltd. |
| | | |
| | | |
| | | |
| | | |
| | | |
| | | ViroMed Co. Ltd. dba VM BioPharma |
02.Pipeline scenario of Gene Therapy products
03.Competitive landscape of products
04. Pipeline analysis of different phases
05. Coverage of licensors, collaborators and development partners, deal terms and deal values
06. Highlights of latest developmental technologies
07. Market drivers and barriers along with the SWOT analysis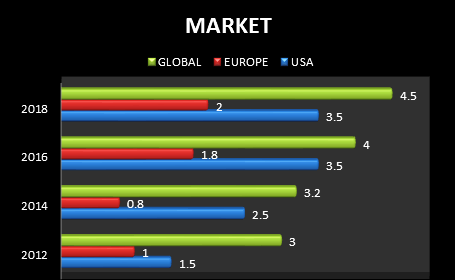 Market Challenges

02. For a full, detailed list, view our report
Market Trend
01. Favourable government regulations for gene therapy programs
02. For a full, detailed list, view & report
03. Key questions answered in this report
04. What will the market size be in 2021 and what will the growth rate be?
05. What are the key market trends?
06. What is driving this market?
07. What are the challenges to market growth?
08. Who are the key vendors in this market space?
Key Findings of Study
01. Gene transfer segment is projected to grow at the highest rate during the analysis period.
02. Oncolytic virotherapy
segment has generated the highest revenue, and is expected to continue its dominance in the future.
03. North America dominated the global cancer gene therapy market, and is projected to continue its dominance in future.
04. China is expected to grow highest in the Asia-Pacific region.
05. Asia-Pacific is expected to be the fastest growing segment during the forecast period.
I) A complete backdrop analysis, which includes an assessment of the parent market
II) Important changes in market dynamics
III) Market segmentation up to the second or third level
IV) Historical, current, and projected size of the market from the standpoint of both value and volume
V) Reporting and evaluation of recent industry developments
VI) Market shares and strategies of key players
VII) Emerging niche segments and regional markets
VII) An objective assessment of the trajectory of the market
VIII) Recommendations to companies for strengthening their foothold in the market