About
Why to attend??
The Orthodontics 2018 conference interacts with members across the globe focused on learning about Orthodontics and its specialties. This is the single best opportunity to reach the largest participants. Sharing the knowledge and demonstrations, information and B2B meetings with industrialists and potential clients to make a splash with innovative products live and brand recognition at this event. World-renowned speakers, the most recent techniques, and the latest updates in Orthodontics are hallmarks of this conference.
Allied Academies Journals:
Allied Academic Publication is an amalgamation of several esteemed academic and scientific associations known for promoting scientific temperament. Established in the year 1997, Andrew John Publishing Group is a specialized Medical publisher that operates in collaboration with the association and societies. This publishing house has been built on the base of esteemed academic and research institutions including The College of Audiologists and Speech-Language Pathologists of Ontario(CASLPO), The Association of Public Safety Communications Officials of Canada (APCO), The Canadian Vascular Access Association (CVAA), The Canadian Society of Internal Medicine (CSIM), The Canadian Hard of Hearing Association (CHHA), Sonographer Canada, Canadian Association of Pathologists (CAP-ACP) and The Canadian Association of Neurophysiologic Monitoring (CANM).
CME Credits:
In support of improving patient care, this activity has been planned and implemented by Allied Academies and Center for Education Development (CED). CED is jointly accredited by the Accreditation Council for Continuing Medical Education (ACCME), the Accreditation Council for Pharmacy Education (ACPE), and the American Nurses Credentialing Center (ANCC), to provide continuing education for the healthcare team.
Designation Statement
Center for Education Development designates the live format for this educational activity for AMA PRA Category 1 Credits™ and ANCC credit. Participants should only claim credit commensurate with the extent of their participation in the activity. Full accreditation information including disclosures, credit hours available and faculty information will be provided in the attendee handout onsite.
Target Audience:
Ø Dentists
Ø Dental surgeons
Ø Pediatric Dentists
Ø Anaesthesiologists
Ø Dental Professors
Ø Dental Researchers
Ø Ph.D. Scholars, Research Scholars
Ø Medical Colleges and Hospitals
Ø Dental Students
Ø Dental Community, Society and Associations
Ø Business Entrepreneurs
Ø Training Institutes
Ø Dental Nurses
Ø Manufacturing Medical Devices Companies
Ø Data Management Companies
Ø Pharmaceutical industries and Biotech Company
Ø Dental tool technicians
Ø Pharmaceutical Industries
Ø Healthcare Industries
Welcome Message
Allied Academics Welcomes all the speakers, Sponsor's and all the researcher's expertise from all over the world to the "International Conference on Dentists and Orthodontics'', based on the theme Orthodontics in the New Era - Building for the Future which is going to be held during June 04-05, 2018 Baltimore, USA. We are very much honored to invite you all to exchange and share your views and experience in Dentists and Orthodontics.
Allied Academics organizes Orthodontics 2018 along with 300+ Conferences across USA, Europe & Asia every year with support from 1000 more scientific societies and publishes 400+ Open access journals which contain over 30000 eminent personalities as editorial board members. We invite you to join us at the Orthodontics 2018, where you will be sure to have a meaningful experience with Doctors, Nurses, Professors and Students from around the world. All members of the Orthodontics 2018 organizing committee look forward to meeting you in Baltimore, USA.
Sessions/Tracks
Orthodontics and Dentofacial Orthopaedic:

Orthodontics and dentofacial orthopedics were the first specialties created in the field of dentistry. An orthodontist is a specialist who has undergone special training in a dental school or college after he/she has graduated in dentistry.The specialty deals primarily with the diagnosis, prevention and correction of malposition teeth and the jaws. Also commonly known as specialized dentists for braces. Dental braces are devices used in orthodontics that align and straighten teeth and help to position them with regard to a person's bite, while also working to improve dental health Orthodontics. Retainers are custom-made devices, usually made of wires or clear plastic, that hold Orthodontic retainers are custom-made devices, usually made of wires or clear plastic, that hold teeth in position after surgery or any method of realigning teeth. in position after surgery or any method of realigning teeth Risks and limitations: Before any active orthodontic treatment is considered it is essential that the oral hygiene is of a high standard and that all carious leions have been dealt with Archwires, headgears and brackets themselves may cause significant damage either during an active phase of treatment or during debonding.

· Craniofacial anomalies

· Clinical Pathology

· State-of-the-Art Orthodontics

· Embracing Orthodontic

· Discovery Craniofacial

· Orthodontics Occlusion

· Malocclusion Static occlusion

· Dynamic occlusion

· Centric occlusion




Orthognathic surgery:

Orthognathic surgery also known as corrective jaw surgery or simply jaw surgery, is surgery designed to correct conditions of the jaw and face related to structure, growth, sleep apnea, TMJ disorders, malocclusion problems owing to skeletal disharmonies, or other orthodontic problems that cannot be easily treated with braces. Originally coined by Harold Hargis, this surgery is also used to treat congenital conditions such as cleft palate. Typically during oral surgery, bone is cut, moved, modified, and realigned to correct a dentofacial deformity. The word "osteotomy" means the division or excision of bone. The dental osteotomy allows surgeons to visualize the jawbone, and work accordingly. The operation is used to correct jaw problems in about 5% of the general population presenting with dentofacial deformities like maxillary prognathisms, mandibular prognathisms, open bites, difficulty chewing, difficulty swallowing, temporomandibular joint disorder pains, excessive wear of the teeth, and receding chins. Many surgeons prefer this procedure for the correction of a dentofacial deformity due to its effectiveness.

Sub-tracks:

· Maxilla osteotomy

· Mandible osteotomy

· Sagittal split osteotomy

· Genioplanty osteotomy

· Rapid palatal expansion osteotomy




Oral and Maxillofacial Surgery:

Oral and Maxillofacial Surgery is an exciting and challenging specialty of Dentistry that combines dental, medical, and surgical knowledge and skills. Oral and Maxillofacial Surgery is the specialty of Dentistry that concentrates on the diagnosis and surgical management of oral and maxillofacial pathologic conditions, including epithelial diseases and mesenchymal disorders of soft and hard tissues.


Sub-tracks:

· Dentoalveolar / Osteonecrosis / Nerve Injuries

· Dental Implantology & Grafting

· Craniomaxillofacial Trauma

· Head & Neck Oncology

· Reconstructive Surgery

· Cleft & Craniofacial Anomalies

· Orthognathic & Aesthetic Surgery

· TMJ Disorders & Surgery




Basic Dental and Oral Health:

Dentistry is commonly defined as the evaluation, diagnosis, prevention and or treatment (nonsurgical, surgical or related procedures) of dental, oral cavity, maxillofacial area diseases or conditions and the adjacent and associated structures and their impact on the human being. Studies and advances in some dental branches such as Restorative dentistry, Veterinary Dentistry, and Cosmetic dentistry/Aesthetic dentistry encouraged the researchers to expand and explore the potential for regenerating useful teeth. Sedation in dental practice refers to the use of chemical or the pharmacological agents to calm and relax the patient prior and during a dental appointment and treatments. To make oral health convenient, economic & efficient, members of the dental team and Dental World, Rome focus on following in detail.

Ethics is a field that deals primarily with moral duties and judgment. The dentists and the dental practice are controlled by many laws on the federal, state, and local. Dental Ethics deals with moral duties and obligations of the dentists towards their profession, patients and society. Dental World Summit 2017 helps to promote the welfare and equality of human life.

The purpose of Dental Ethics is to highlight the ethical and professional responsibility, promote ethical performance, dentistry professionalism, advance talk on ethical issues, and stimulate reflection on the common ethical difficulty in dental practice. Dental Ethics makes accessible courses, activities, and resources in dental ethics and professionalism to the dental community.

Sub-tracks:

· Primary care and dental health education

· Current challenges in dental education

· Dental professionalism and laws

· Responsibilities towards patients

· Organizations of oral health systems

· Dental epidemiology and public health

· General awareness in dentistry

Pediatric Dentistry:

Pediatric Dentistry is defined as the practice, teaching and research in comprehensive preventative and therapeutic oral health care for children from birth through adolescence. It is based on basic knowledge from odonatological, medical and behavioral sciences that are applied to the unique situation of the developing child and young person. Pediatric Dentistry is constantly expanding and now includes such areas as early identification of children suspected to suffer from syndromes and of children suspected to suffer from child maltreatment.

Sub-tracks:

· Infant Oral Health

· Dental fear and behavioral management problems

· Dental Caries in Children

· Endodontic management of Primary teeth

· Genetics in Pediatric Dentistry




Dental Marketing:

Every interaction between your dental practice and a patient is a component of marketing. In some cases, this will encompass concrete details like the way your office staff answers the phone or the list of services you offer. The need for better dental marketing has increased the public's awareness, as well as an industry need to develop better services. Because of the flood of information on the internet, an average new patient is more aware and educated concerning the aesthetic options available today from a dentist. As a result, a higher quality dentist is being requested that .they have to develop a Comprehensive Marketing Strategy. The dental marketing program is not complete without comprehensive internet marketing. By now, most dental practices possess a fairly upscale website. The next key to your cosmetic dentistry marketing plan is to constantly enhance the user experience of a website.

Sub-tracks:

· How to Develop a Comprehensive Marketing Strategy

· How to Attract the Ideal Patients

· Internet Marketing

· Oral Bacteria




Dental anesthesia:

Dental anesthesia is the specialty of dentistry that deals with the management of pain through the use of advanced local and general anesthesia techniques. Dental anesthesia is the discipline in dentistry that manages pain and anxiety through the use of local anesthesia, sedation, and general anesthesia. Dental Anaesthesiology educates graduate, pre-doctoral, and dental hygiene students in the management of pain, fear, and anxiety associated with dental treatment. Dentist anesthesiologists trained to provide the entire spectrum of anesthetic services, which generally range from local anesthesia through general anesthesia, for a wide range of dental and surgical procedures. Faculty research involving dental anaesthesiology has focused on the clinical efficacy and safety of anesthetics' when used in both healthy and medically-compromised patients.

Sub-tracks:

· Sedation Techniques

· Use of lasers

· Pain-free dentistry

· Dental Radiology




Forensic Odontology:

Forensic odontology is the proper handling, examination and evaluation of dental evidence, which will be then presented in the interest of justice. The evidence that may be derived from teeth is the age (in children) and identification of the person to whom the teeth belong. This is done using dental records including radiographs, ante-mortem (prior to death) and post-mortem (after death) photographs and DNA. The other type of evidence is that of bite marks, left on either the victim (by the attacker), the perpetrator (from the victim of an attack), or on an object found at the crime scene. Bite marks are often found on children who are abused.

Sub-tracks:

· Identification of found human remains

· Identification in mass fatalities

· Assessment of bite mark injuries

· Assessment of cases of abuse (such as child, spousal or elder abuse)

· Civil cases involving malpractice

· Age estimation




Sports Dentistry:

Sports dentistry is one of the most recent and upcoming fields in dentistry. It mainly includes the prevention and management of athletics-related orofacial injuries and associated oral diseases. The sports or team dentist assists athletes in the prevention, treatment, and diagnosis of oral injuries. The most significant aspect in preventing sports-related orofacial injuries is wearing basic protective devices such as properly-fitting helmets, face masks and/or mouth guards. Dental injuries are the most common type of orofacial injury sustained during participation in sports. Many athletes are not aware of the health implications of a traumatic injury to the mouth or of the potential for incurring severe head and orofacial injuries while playing. The dentist can play an imperative role in informing athletes, coaches and patients about the importance of preventing orofacial injuries in sports.

Sub-tracks:

· Incidence and location

· Shielding devices in sports dentistry

· Risk factors for sports injuries

· Prevention of sports-related traumatic orofacial injuries

· Future outlook of sports dentistry

Dental Tools and Treatment Techniques:

The field of dentistry is constantly evolving and changing to best suit patient needs. Dentistry has seen massive improvements with respect to advancement from the traditional techniques to the digital world that has widened the scope of dental treatments and procedures. Digital dentistry tools and techniques used at present include the Laser applications, Dental implants and occlusal analysis, Forensic dentistry, Dental radiography/informatics, Robotic and digital dentistry and Imaging techniques for the craniofacial hard and soft tissues.

Sub-tracks:

· Improving Dental Health: How High-Tech X-Rays Can Help

· Lasers for Tooth Cavity Detection

· Evolving instrumentations in dentistry

· Robotic and Digital Dentistry

· Air-Abrasion Technology

· Sedation dentistry




Dental Education and Training:

Dentistry continues to change, particularly because of the advances in clinical dentistry, materials and technology. These changes offer opportunities for both patients and dental practices alike. Dental education provides the most current information available on a wide variety of topics using traditional teaching methods, from new techniques, materials and technology to innovative practical solutions. Today, there is no reason for anyone in dentistry to complain about being bored, unproductive or at a plateau. Dental Training Provides an interesting insight into the treatments that students consider to be 'specialist' in nature, identifies students interests in respect of further training and potential barriers to undertaking formal specialist training pathways and reflects undergraduate student opinions with regards to styles of teaching they prefer.

Sub-tracks:

· New Technologies in Dental Education

· Problem-Based Learning in Dentistry

· Curriculum reform

· Education research methods

· Innovative educational and assessment methodologies

· Faculty development

· Community-based dental education

· Professional and educational ethics

· Dental education around the world

Geriatric Dentistry:

Geriodontics is the delivery of dental care to older adults involving the diagnosis, prevention, and treatment of problems associated with normal aging and age-related diseases as part of an interdisciplinary team with other healthcare professionals. The dental diseases that the elderly are particularly prone to are root caries, attrition, periodontal disease, missing teeth because of earlier neglect, edentulism, poor quality of alveolar ridges, ill-fitting dentures, mucosal lesions, oral ulceration, dry mouth (xerostomia), oral cancers, and rampant caries. Geriodontics is the delivery of dental care to older adults involving the diagnosis, prevention, and treatment of problems associated with normal aging and age-related diseases as part of an interdisciplinary team with other healthcare professionals.

3-D Imaging in Dentistry:

3D Imaging is one of the most significant tools for orthodontists to evaluate and record size and form of craniofacial structures. Orthodontists regularly use 2-dimensional (2D) static imaging procedures, but deepness of structures cannot be acquired and restricted with 2D imaging. Three-dimensional (3D) imaging has been developed in the early of 1990's and has gained a prized place in dentistry, particularly in orthodontics. In 3D diagnostic imaging, a series of anatomical records is gathered using certain technical equipment, processed by a computer and later presented on a 2D monitor to present the illusion of deepness.

Sleep Apnea Syndrome:

There are numerous types of sleep apnea, but the most common is obstructive sleep apnea. It is a potentially severe sleep disorder. It causes breathing to frequently stop and start during sleep. This type of apnea arises when throat muscles intermittently relax and block the airway during sleep. There are numerous types of sleep apnea, but the most common is obstructive sleep apnea. It is a potentially severe sleep disorder. It causes breathing to frequently stop and start during sleep. This type of apnea arises when throat muscles intermittently.

Dental public health:

Good dental or oral care is important to sustaining healthy teeth, gums and tongue. Oral problems comprising bad breath, dry mouth, canker or cold sores, TMD, tooth decay, or thrush are all treatable with proper diagnosis and care. Oral health is necessary to general health and well-being at every stage of life. A healthy mouth enables not only nourishment of the physical body, but also improves social interaction and promotes self-esteem and feelings of well-being.




Periodontology:

Periodontology or periodontics is the claim to fame of dentistry that reviews supporting structures of teeth, and also ailments and conditions that influence them. The supporting tissues are known as the periodontium, which incorporates the gingiva (gums), alveolar bone, cementum, and the periodontal tendon. A man who rehearses this forte is known as a periodontist. Periodontal sicknesses go up against a wide range of structures however are typically a consequence of a combination of bacterial plaque biofilm amassing of the red complex microbes (e.g., P. gingivalis, T. forsythia, and T. denticola) of the gingiva and teeth, consolidated with host immuno-incendiary components and other hazard variables which prompt to decimation of the supporting bone around common teeth. Untreated, these sicknesses prompt to alveolar bone misfortune and tooth misfortune and, to date, keep on being the main source of tooth misfortune in grown-ups.

Sub-tracks:

· Periodontal diseases and diagnostic procedures

· Periodontal surgery

· Teeth versus implants in periodontal patients

· Smoking and periodontal health

· Clinical Periodontology

· Molecular biology of Periodontium




Hypnodontics:

Hypnodontics is the craftsmanship and exploration of utilizing hypnosis to initiate agreeable and torment free dental visits. Mesmerizing is utilized to lessen stretch so that less prescription is utilized. Trance can without much of a stretch ease the pressure, apprehension and preposterous dread of agony brought about by dental drills, analgesic infusions, root channel treatment and intraoral radiographs. It can likewise reduce a standout amongst the most troublesome issues of choking when anything is embedded in the mouth.

Sub-tracks:

· Hypnoanesthesia

· Dental phobia

· Application of hypnosis in dentistry

· Traumatic dental injuries




Endodontics:

Endodontics incorporates the review and routine of the fundamental and clinical sciences of the ordinary dental mash and the etiology, conclusion, counteractive action and treatment of maladies and wounds of the dental mash alongside related per radicular conditions. Endodontics has developed hugely in the previous decade and its applications have colossally enhanced the nature of dental treatment. Endodontists play out an assortment of techniques including endodontic treatment (usually known as "root waterway treatment"), endodontic retreatment, surgery, treating split teeth, and treating the dental injury. Root channel treatment is a standout amongst the most widely recognized methodology. In the event that the dental mash (containing nerves, arterioles, venules, lymphatic tissue, and stringy tissue) gets to be distinctly unhealthy or harmed, endodontic treatment is required to spare the tooth. Endodontics is perceived as a claim to fame by numerous national dental associations including the British General Dental Council, American Dental Association, Royal College of Dentists of Canada, Indian Dental Association, and Royal Australasian College of Dental Surgeons.

Sub tracks:

· Laser Endodontics

· Root canal Endodontics

· Dentine hypersensitivity

· Endodontic surgery

· Asepsis in Endodontics

· Dental Pulp: Regenerative Endodontics

· Advanced Clinical Endodontics

Prosthodontics:

Prosthodontists are experts in the restoration and replacement of teeth - they make smiles look beautiful and function the way they should. Maxillo-facial prosthetics, Implant-based prostheses, Management of temporo-mandibular disorders, Dentures, Crowns, bridges, and full or partial dentures are just some of the procedures that can help you regain your smile and improve your appearance and self-confidence. Another option is dental implants, a more permanent solution that has improved greatly over the last ten years, thanks to the pioneering techniques of Prosthodontists.

Sub-tracks:

· Maxillo-facial prosthetics

· Implant-based prostheses

· Management of temporo-mandibular disorders

· Dentures




Restorative Dentistry:

The term "restorative dentistry" refers to the integrated management of oral health problems and restoring the mouth to a functional anesthetic state. While it is not currently recognized as a dental specialty by the American Dental Association, general dentists are able to perform many of these procedures without additional education and certification. It all depends on how difficult the procedure is and what the dentist feels comfortable with. Many of the procedures are also covered by the dental specialty of prosthodontics dentistry, including fillings, veneers, crowns, bridges, full and partial dentures and dental implants.

Sub-tracks:

· Strategic Regeneration: Biomaterial Selection and Surgical Techniques

· Alveolar Ridge Regenerative Strategies

· The Creation of Optimal Ceramic Esthetics

· Bone Preservation for Compromised Extraction Sites

· Adult Orthodontics to Resolve Spacing and Tissue Deficiencies

· Identification and Management of Prosthetic Problems for Dental Implants

· Periodontal Plastic Surgery for the Treatment of Recession Defects

· Periodontal Plastic Surgery for the Treatment of Recession Defects

· Novel Advances and Rationale for Implant Success




Dental Nursing:

Dental care is important to prevent dental disease and to maintain proper dental and oral health. Oral problems, including dental and periodontal infections, dry mouth, tooth decay, are all treatable with proper diagnosis and care. Over one-third of the population has no access to community water fluoridation which causes serious oral health problems. Over 108 million children and adults lack dental insurance, which is over 2.5 times of the number who lacks medical insurance. American dental attains greater significance as it has taken the concepts of promoting oral health, and preventing oral diseases. The significant role that dentists, dental hygienists, scientists, and other health professionals of Dental events will lead to the: safe and effective disease prevention measures exist that everyone can adopt to improve oral health and prevent disease.

Sub-tracks:

· Dental Sedation Nursing

· Special care dental nursing

· Orthodontic nursing

· Medical emergencies

· Oral Health Education




Nano dentistry:

Nano dentistry is a branch that involves the maintenance and up gradation of oral health care yet more precise by employing nanomaterial's, biotechnology, including tissue engineering & ultimately dental Nanorobotics. Recent developments of nanoparticles and nanotubes in operative dentistry, Endodontics, periodontal management, has played a growing role in the enhancement of dental industry. Nanomaterial's and nanoparticles are cornerstones of innovative dental devices used for drug discovery and delivery, a discovery of biomarkers, and molecular diagnostics. Nano dentistry aims to manipulate and fine-tune particle to create unique with novel properties and advances in dentistry.

Sub-tracks:

· Head and Neck Cancer

· Surgical Approaches in Head and Neck Surgery

· Anaesthesia and Pain Relief

· Pediatric Head and Neck Surgery




Cosmetic dentistry:

Corrective or cosmetic dentistry is the way toward enhancing the presence of a man's teeth, gums and grin. In spite of the fact that the American Dental Association (ADA) does not perceive restorative dentistry as a formal forte, most corrective dental practitioners are held in high respect in light of their broad instruction, preparing, and involvement in enhancing the style of a man's oral appearance. Corrective dentistry techniques vary from general dentistry or helpful dentistry strategies in that they are chosen instead of required. Corrective dentistry has the additional measurement of workmanship and also consolidating the oral medical advantages of general and therapeutic dentistry to give patients the grin they have longed for. The most recent progressions in dental innovation have permitted restorative dental specialists to use materials that are both sturdy and stylishly satisfying. The measure of extra preparing corrective dental specialists experience permits them to mix both craftsmanship and science into grins that are solid and excellent. Materials, for example, porcelain or composite materials are firmly coordinated to take after the look and feel of your unique teeth, giving a characteristic appearance of your teeth and grin that upgrade one's oral appearance.

Sub-tracks:

· Latest Technology in Facial Esthetics


· Teeth whitening

· Full mouth reconstruction

· Dental implants

· Fillings

· Dentures

· Smile makeover
Dental Market Analysis
· Orthodontics-2018 welcomes attendees, presenters, and exhibitors from all over the world to gather in arena. We are delighted to invite you all to attend and register for the "International Conference on Dentists and Orthodontics" which is going to be held during June 04-05, 2018 at Baltimore, USA.
The organizing committee is gearing up for an exciting and informative conference program including plenary lectures, symposia, workshops on a variety of topics, poster presentations and various programs for participants from all over the world. We take immense pleasure inviting you to join us at Dentists and Orthodontics conference 2018, where you will be sure to have a meaningful experience with scholars from around the world. All members of the Dental organizing committee look forward to meeting you in Toronto, Canada.
For more details please visit- http://orthodontics.alliedacademies.com/
TOTAL PRACTICING SPECIALISTS: 1,059
· Orthodontists: 240
· Pedodontists: 163
· Periodontists: 167
· Prosthodontists: 106
· Public Health (community health centre, etc.): 42
· Oral Surgeons: 213
· Endodontists: 128
Industry Analysis & Industry Trends:
Over the past five years, the Orthodontists industry has benefited from favorable demographic trends and technological advances. More people have visited dentists, which has led to heightened awareness of the need for orthodontic services. However, rising capital costs associated with starting an industry establishment have discouraged new orthodontists from opening independent practices, and many established practices have consolidated to share operating costs and increase profitability. Although the industry will face increased competition over the next five years from general dentists, dental schools and do-it-yourself teeth alignment, a declining orthodontist-to-patient ration will present significant growth opportunities for industry operators.
Industry Report - Industry SWOT Analysis:
The Orthodontists industry is currently in the mature phase of its life cycle. During the 10 years to 2021, industry value added (IVA), which measures an industry's contribution to the overall economy, is expected to grow at an annualized rate of 1.7%. Comparatively, GDP is anticipated to rise at an average annual rate of 2.1% over the 10-year period. Though the advent of new technologies has spurred industry growth, the industry's established place in the economy places it in a mature phase of its life cycle.
The global orthodontic supplies market accounted for USD

942.8

Million in 2016. The market is expected to reach USD 1232.2 million by 2021, growing at a CAGR of 5.5% during the forecast period. The cosmetic industry is booming at present and people tend to undergo various procedures and therapies in order improve their appearance. Teenagers nowadays are availing a lot of such dental procedures, which include corrective measures such as braces and arch wires.
Statistical Reports
1) Percentage of the population that visits a dental clinic every year, various OECD countries.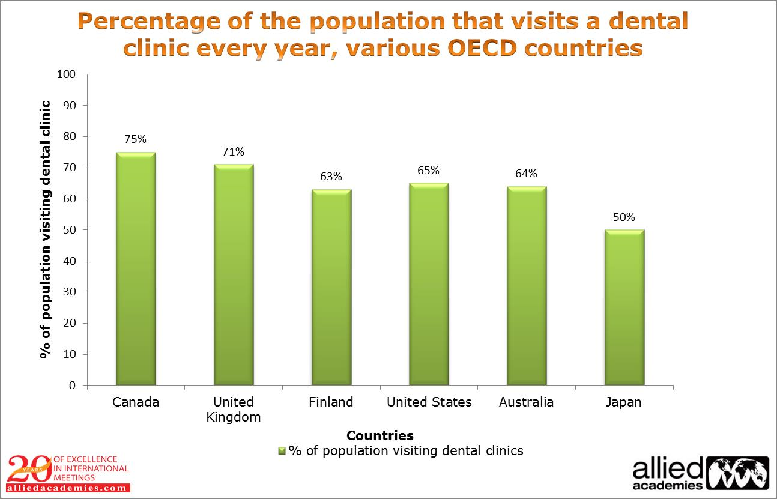 2) Percentage of dental care spending financed by private sources, various OECD countries 2012.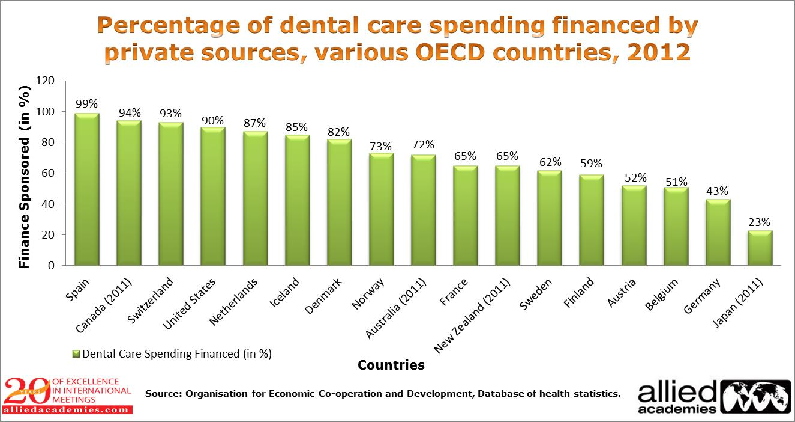 A Unique Opportunity for Advertisers and Sponsors at this International event:

http://orthodontics.alliedacademies.com/
http://alliedacademies.com/advertisements
Major Dental Associations in Canada:
1. Canadian Association of Orthodontists
2. Canadian Dental Association
3. Royal College of Dentists
Major Dental Associations in USA:
1. Academy for Sports Dentistry
2. Academy of General Dentistry
3. Academy of Operative Dentistry
4. Academy of Interdisciplinary Dentofacial Therapy
5. Academy of Laser Dentistry
6. Academy of Osseointegration
7. Alpha Omega International Dental Fraternity
8. American Academy of Cosmetic Dentistry
9. American Academy of Dental Hygiene
10. American Academy of Dental Practice Administration
11. American Academy of Esthetic Dentistry
12. American Academy of Fixed Prosthodontics
13. American Academy of Implant Dentistry
14. American Academy of Implant Prosthodontics
15. American Academy of Maxillofacial Prosthetics
16. American Academy of Orofacial Pain
17. American Academy of Pediatric Dentistry
18. American Academy of Periodontology
19. American Academy of Restorative Dentistry
20. American Academy for Oral Systemic Health
21. American Association for Dental Research
22. American Association of Endodontists
23. American Association of Oral and Maxillofacial Surgeons
24. American Association of Oral Biologists
25. American Association of Orthodontists
26. American Association of Public Health Dentistry
27. American Board of Forensic Odontology
28. American Cleft Palate-Craniofacial Association
29. American College of Dentists
30. American College of Forensic Examiners
31. American College of Prosthodontics
32. American Dental Assistants Association
33. American Dental Association
34. American Dental Education Association
35. American Dental Hygienists Association
36. American Dental Society of Anesthesiology
37. American Equilibration Society
38. American Orthodontic Society
39. American Society for Dental Aesthetics
40. American Society of Dental Anesthesiologists
41. American Society of Forensic Odontology
42. American Society for Geriatric Dentistry
43. American Student Dental Association
44. Arizona State University Pre-Dental Organization
45. Association of Managed Care Providers
46. Charles Tweed Foundation
47. Certified Dentists Internationale
48. Committee on Dental Auxiliaries
Target Audience:
The conference discusses the Emerging Trends and technological advancements in the field and brings together Dentists, Dental surgeons, Dental Nurses, research scholars, students along with industrial and professionals to exchange share their views on critical aspects of Dental research. The event is designed in a way to provide an exclusive platform for new researchers, scholars and educators to present and discuss the most recent innovations, trends, and concerns, practical challenges encountered and the solutions adopted in the field of Dental. Orthodontics-2018 will comprise leading keynote speakers, session speakers, poster presenters who will be presenting their research on the topics Orthodontics & Dentofacial Orthopaedic, Orthognatic surgery, Oral and Maxillofacial Surgery, Basic Dental and Oral Health, Pediatric Dentistry, Dental Marketing, Forensic Odontology, Sports Dentistry, Geriatric Dentistry, 3-D Imaging in Dentistry, Periodontics, Hypnodontics, Endodontics, Prosthodontics, Restorative Dentistry, Dental Nursing, Nano dentistry, Cosmetic Dentistry.
Industry 30%
Academia 60%
Others 10%
For more information, please visit: http://orthodontics.alliedacademies.com/