About Conference
Neonatology Congress 2019 is a remarkable event in the field of Pediatrics

.

Neonatology

Congress2019 aims to gather the

Pediatricians

,

Neonatologists

,

Physicians

,

pediatrics

nurses and researchers working under academia and health care industry,Business Delegates, Scientists and students across the globe to provide aninternational forum for the dissemination of original research results, newideas and practical development experiences.

Neonatology

Congress is pleased toinvite

Pediatricians

, practitioners,

Physicians

,

Neonatologists

,

Pharmacists

, and students to exchange ideas and be informed about the latestresearch developments in the field.
The conference will be organized with the theme of "Current trends and Innovations in Neonatology".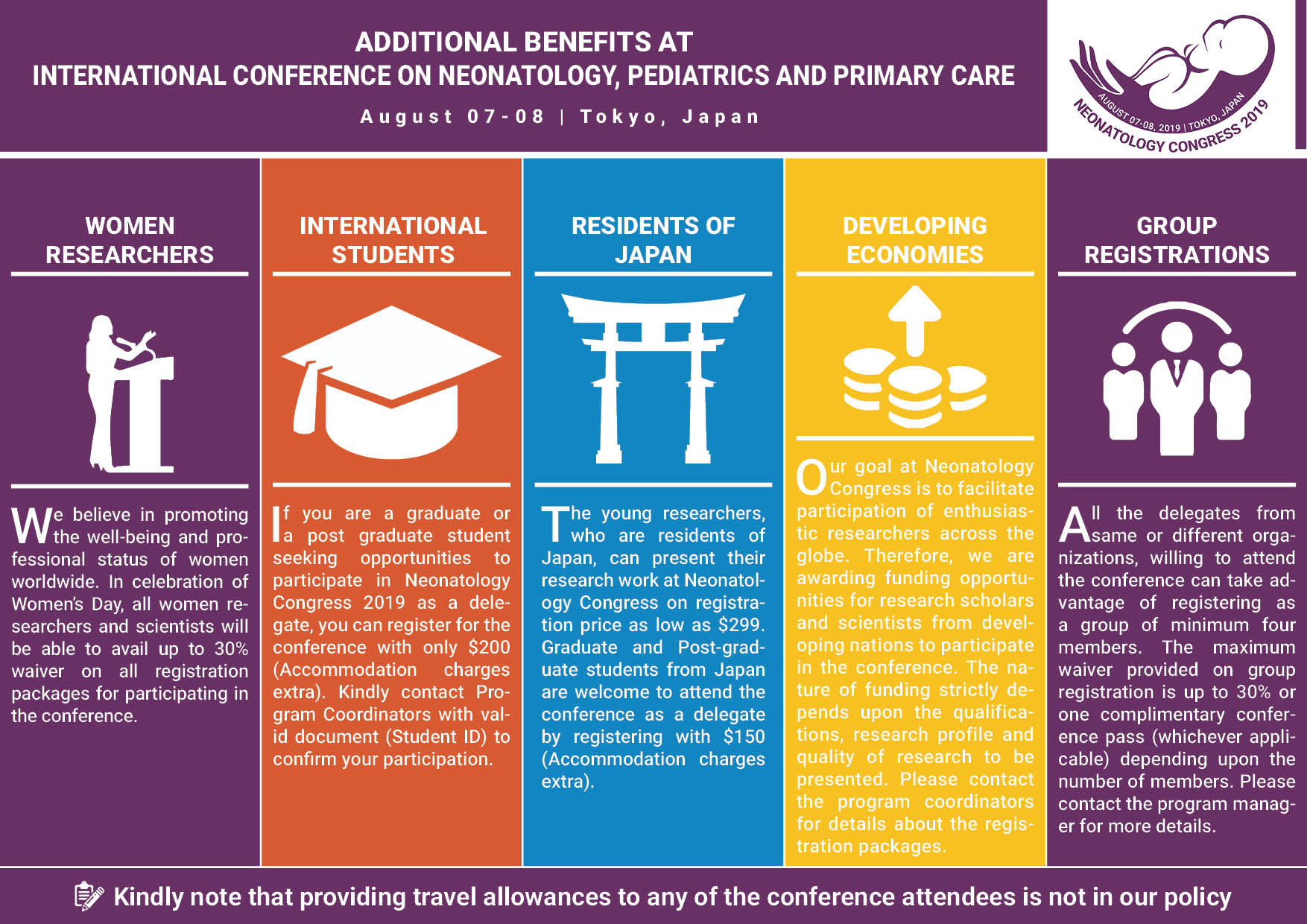 Welcome Message
It is truly a pleasure and welcome you all to our prestigious conference "International Conference on

Neonatology

,

Pediatrics

and

Primary Care" on August 07-08 | 2019, Tokyo, Japan


The aim of the event is to bring together leading academic

neonatologists

,

scientists

and practicing

clinicians

in

neonatal

medicine from all parts of the world and beyond to discuss and determine the current status of knowledge as well as standards in the field to improve the care of preterm and term

infants

.
Neonatology

Congress is organized by Allied Academies. Allied Academies every year hosts interdisciplinary international conferences worldwide on cutting-edge basic and applied research in

Pediatrics

,

life sciences

,

Pharma

,

Medicine

,

Healthcare

and

Nursing

delivered by the best talents in industry and academia. Our conferences are oriented to drive the scientific community at large, facilitating access to the newest technical and scientific achievements and to shape future research directions through the publication of applied and theoretical research findings of the highest quality. Bound together Allied Academies has transformed into a prominent choice for the experts and academicians to display their marvellous duties. The distributer gives pursuers and creators an aggregate stage to confer their work to the overall gathering.
WHY TO ATTEND
??

Neonatology
Congress 2019 gives a complete 360-degree overview and current research on
Neonatology
and
Pediatrics
: Present scenario & Future prospects. Participants will leave the conference with a wealth of new information and an expanded network of contacts.

Advantage from updates and bits of knowledge on the most recent government
Neonatology
procedure, and in addition recommendations for guaranteeing best practice and enhancing results.

Associate with more than 200 amazing representatives who are included in Neonatology and
Pediatrics
, issue settle shared difficulties and gain from the broad experience of others.

Targeted audience

·

Neonatologists

·

Pediatricians

·

Pediatric surgeons

·

Pharmacists

·

Pediatric Nurses

·

Physicians

·

Pharmaceutical Companies

·

Specialists in adolescent medicine

·

Academic Professionals

·

Research Scholars

·

Students


2019 Highlights
·

300+Participation

·

10+Keynote Speakers

·

50+Plenary Speakers

·

20+Exhibitors

·

5+Workshops


Motives to attend

·

Keynote presentation along with interactions to galvanize the scientific community.

·

Workshop and symposiums to reach the largest assemblage of participants from the pediatrics community.

·

A wide track of exhibitors to showcase the new and emerging technologies.

·

Platform to global investment community to connect with stakeholders in pharma sector.

·

Young Scientist/ Investigators Award geared towards best budding young research.

·

Links to the political marketing resources in order to expand your business and research network.

·

Triumph of Awards, Certificates recognizes your commitment to your profession to encourage the nascent research.
Thematic Sessions
Neonatology




It is concerned with the treatment and care of

newborn

babies .It is a subspecialty of pediatrics that consists of the medical care of new born infants, especially the ill or

premature

new born. It is a hospital-based specialty, and is usually practiced in

neonatal

intensive care units (NICUs).The principal patients of

neonatologists

are newborn infants who are ill or require special medical care due to

prematurity

, low birth weight, intrauterine growth restriction etc.
Community neonatal education

Fetal and perinatal therapy

Neonatal medicine

Neonatal health

Neonatal resuscitation

Neonatal nursing

Related Societies and associations

:

Neonatal Intensive Care Unit (NICU)
NICU
stands for
newborn
intensive care unit. This is a nursery in a hospital that provides around-the-clock care to sick or
premature
babies.
Neonatal
nurse practitioners are advanced practice nurses that care for
premature
babies and sick newborns in intensive care units, emergency rooms, delivery rooms and special clinics. It has health care providers who have special training and equipment to give your baby the best possible care.
Prematurity
is a risk factor that follows early labour, a planned
caesarean
section or pre-eclampsia.

Premature infants/ preemies
Special care nursery
Anemia
Feeding issues
Hypoglycemia
Intrauterine growth restriction (IUGR)
Retinopathy of prematurity (ROP)
Macrosomia



Related Societies and Organizations

:



Preterm Birth Defects




A

premature

birth is a birth that takes place more than three weeks before the baby's estimated due date i.e. is fewer than 37 weeks

gestational

age. Those premature babies may have very mild symptoms or may have more-obvious complications.

Babies

born this early will likely need a longer

hospital

stay in a special nursery unit at the hospital. The cause of

preterm

birth is often exactly not known, but it may happened due to conditions like diabetes, high blood pressure, being

pregnant

with more than one baby, being either obese or underweight, a number of

vaginal infections

,

tobacco smoking

and

psychological

stress are some of the reasons.

Preterm

birth is the most widely recognized reason for death among new born children around the world.




Related Societies and Organizations

:
Brain Tumor Foundation for Children, Orange County Foundation for Oncology, Children and Families (OCF-OCF)

,

National Children's Cancer Society

,

Neuroblastoma Children's Cancer Society, Pediatric Endocrine Society

Pediatrics
Pediatrics
is one of the fields of
medicine
which is concerned with the medical,
healthcare
and development of babies and children and their opportunity to get complete potential to grow into adults. Pediatrics follows the age range from infants to
adolescents
.
Pediatrics
is the newly emerged medical specialty. The main aim of the
Pediatrics
is to reduce the child and infant death rates, to control the spreading of infectious diseases and to promote healthy life styles.
Pediatrics
is not only concerned about the immediate cure but also the long term effects on quality life, abilities and survival.
Pediatric gastroenterology

Pediatrics nephrology and urology

Pediatric psychology

Pediatrics surgery

Pediatrics dermatology

Pediatrics pharmacology

Clinical pediatrics

Pediatrics neurology

Pediatric cardiology

Pediatrics dentistry

Pediatrics allergy and infections

Breast feeding

Pediatric nursing

Related Associations
American Pediatric Society
,
National Association of Neonatal Nurses
,
International Neonatology Association
,
Academic Pediatric Association
,
International Societyfor Neonatal Screening
,
Children's Leukemic Research Association New York
,
American Academy of Paediatrics Washington
,
Albanian Association of Perinatology
,
Argentine Society of Neonatology
,
California Association of Neonatologists
,
Florida Society of Neonatologists
,
Ibero-American Society ofNeonatology (Sociedad Iberoamericana De Neonatología-SIBEN)
,
International Association for Maternal and Neonatal Health (IAMANEH)
,
Chilean Society of Neonatology
,
Colombian Federation of Perinatology
,
Southeastern Association of Neonatologists (USA)
Neonatal Resuscitation
Many
babies
receive some sort of "
resuscitation
" during their transition from
intra-uterine
to
extra-uterine
life. How do we decide when a baby needs intervention? A baby who is active and breathing is usually left alone, a baby who is neither of those things might need intervention, and many of our decisions are based on the baby's
heart rate
. Recent studies have focused on heart rate determination as the best indication that adaptation is appropriate, but that begs the question:, how to determine heart rate? Should we listen to their heart sounds, palpate their pulses, or watch their
ECG
? It seems that getting an accurate heart rate is faster with immediate ECG application. At some point we should confirm that there is actually cardiac contraction, not just electrical activity. If the infant starts to move and breathe, that is probably enough evidence. BUT, if the
ECG
heart rate is present but the baby isn't improving, we should immediately evaluate whether there is sufficient cardiac activity.
Related Societies and Organizations

:

Asian Society for Pediatric Research
, Asia Pacific Congress of Pediatrics, Asian Society for Pediatric Infectious Diseases (ASPID), Asian pediatric pulmonology society, Malaysian pediatric association congress

Neonatal Diseases
Many factors are responsible for the development of
neonatal
diseases like household air
contamination
, natural factors and high
maternal Body-Mass Index
(BMI), which leads to neonatal mortality.
Maternal Smoking
, overweight amid
pregnancy
is associated with risk of
neonatal infection
.
Neonates
, particularly preterm newborn children are moderately invulnerable traded off with immaturity of the immune system and with highly developed antibodies leads to increased susceptibility to serious bacterial, viral and fungal infections.
Blood cell disorders

Congenital heart defect

Down syndrome

Cystic fibrosis

Respiratory Syncytial Virus infection

Neural tube defects

Related Societies and Organizations

:

Pediatrics Nutrition and Metabolism
Nutrition
is the intake of nourishment as per the body's dietary needs. Great nourishment implies getting the appropriate amount of supplements in the correct mixes. Having
nutrition
information will assist you with achieving good wellbeing over your lifetime. Poor
Nutrition
can leads to disease like
Malnutrition
, marasmus, Obesity,
Anemia
,
Vitamins
and Iron deficiency. Nutrition and Metabolism reaches out to a wide range of utilizations including healthful requirements, Nutritional needs etc.

Meningococcal vaccines
Gene-nutrient interactions
Nutritional care and disease
Molecular, cellular and human metabolism



Related Societies and Organizations

:



Neonatal and Pediatric Cardiology
Pediatric Cardiologists
spend significant time in treating
Congenital
or acquired heart diseases in children and infants. Assessment and treatment may start with the fetus since heart issues can even be identified before birth.
Cardiovascular
catheterization is used to analyze or treat the Child's heart problems. Patients frequently present with complex symptomatic and therapeutic issues look for the assessment of
pediatric
cardiologist
. They treat children's sicknesses utilizing the least invasive techniques as possible pediatric cardiology incorporate directing physical exams,
Electrocardiography
, and
electrocardiograms
on kids. They work with different specialists and attendants in diagnosing heart and vein inconsistencies and plan the best possible course of treatment.
Pediatric Cardiology
is regularly the foundation of expansive scholastic medicinal Centers and there are numerous divisions of high volume and high force.
Congestive Heart Failure

Fetal Cardiology

Pulmonary Hypertension

Heart Failure and Transplantation

Intensive Cardiac Care

Cardiac Catheterization and Intervention

Related Societies and Organizations
American Association of Pediatric Urologists
, American board of Pediatrics,
American Brain Tumor Association
,
American Childhood Cancer Organization
,
American Society for Echocardiography Conferences
,
American Society for Gastrointestinal Endoscopy
.

Neonatal Medicine
Neonatal
medicine is the branch of
medicine
dealing with the health and medical care of
infants
. It is one of the best
neonatal
cares for the sickest
babies
as they require specialized care in the region's newest and most up-to-date neonatal
intensive
care unit (NICU). Most advanced technologies should be available to create a
healing
environment
for premature and critically ill
newborns
.
Related Societies and Organizations

:

Canadian Pediatric Association
;
Society for Academic Emergency Medicine
; Advanced Pediatric Emergency Medicine Assembly; Aimee's Army Childhood Cancer Foundation; International Pediatric Association; Society of Developmental and Behavioural Pediatrics.
Neonatal Cancers and Hematologic Disorders

:


Neonatal

oncology

is a sub specialty of

pediatrics

oncology that deals with the prevention,

diagnosis

, and treatment of cancer in babies. Newborn cancer is rare and comprises a

heterogeneous

group of

neoplasms

with substantial histological diversity. Almost all types of pediatrics cancer can occur in

fetuses

and

neonates

. The causes of neonatal cancer are unclear, but genetic factors probably have a key role.

Teratoma

and

neuroblastoma

are the most common histological types of neonatal cancer, with soft-tissue

sarcoma

,

leukemia

,

renal tumors

, and brain tumors also among the more frequent types. Neonatal cancer raises diagnostic,

therapeutic

, and

ethical issues

, and management requires a multidisciplinary approach. Medical professionals who practice

oncology

are called

Cancer specialists

or

oncologists

.
Related Societies and Organizations
Canadian Pediatric Association
;
Society for Academic Emergency Medicine
;
Advanced Pediatric Emergency Medicine Assembly
;
Aimee's Army Childhood Cancer Foundation
;
International Pediatric Association
;
Society of Developmental and Behavioral Pediatrics
.
Neonatal Surgery
Neonatal surgery is the
sub-specialty
of pediatrics surgery which is dealing with all the
surgical
operations in newborn
infants
, especially the ill or
premature
newborn. It is responsible for the treatment of many
disorders
through surgical operations in newborn infants and playing
vital
role in saving lives at birth stage by newborn and
fetal
surgery. Neonatal surgeons are the ones who perform surgeries including
chest
,
abdominal
and
urological
defects
. It includes the treatment of infants in the first 28 days of birth.
Related societies and Organizations
Child Health International Foundation
;
Childhood Cancer Foundation
,
CHOC
;
Pediatric Cardiology Medical Associate
;
International Pediatric Association
;
The World Federation of Associations of Pediatric Surgeons
Neonatal Genetics, Screening and Rare Diseases

:


Newborn genetic

screening

is the practice of

testing

every newborn for certain harmful or treatable genetic disorders in newborn infants.

Babies

with these conditions appear normal at birth. It is only with time that the conditions affects the baby's

brain

or physical development or causes other

medical

problems. By then the damage may be

permanent

. Early diagnosis and treatment can result in normal

growth

and development and can reduce

morbidity

and

mortality

.Newborn babies to be tested for

rare

diseases. A rare birth defect is a

health

condition that is present at birth. Birth defects may change the

shape

or function of one or more parts of the body as there are

thousands

of different birth

defects

. The most common are

heart

defects,

cleft

lip and

palate

, Down

syndrome

and

spina bifida

.
Related societies and Organizations

:

Neonatal Opthamology
Risk Factors

:

High
oxygen
levels

Anaemia
Blood transfusion
Intraventricular
haemorrhage
Respiratory
distress
syndrome

Chronic
hypoxia in utero

Multiple spells of apnoea / bradycardia

Mechanical ventilation

Seizures
Related Societies and Organizations
Asian Pacific Pediatric Association
;
the Malaysian Pediatric Association Kuala Lumpur
;
Asian and Oceania Society for Pediatric Radiology



Neonatal Endocrinology

:

Congenital malformations & Birth Complications
A
congenital
disease, otherwise called as congenital disorder
deformity
, birth
imperfection
, or irregularity, is a condition existing at or before birth without any cause these disorders, which are described by structural deformities are termed as "Congenital
Anomalies
". Birth defects vary widely in signs and symptoms, mainly the substance which cause's birth defect is known as
teratogen
. Few disorders can be detected before through
perinatal
Screening (diagnosis)
Birth
defects might be the result of environmental or
genetic
factors. This incorporates errors of
contamination
, Morphogenesis,
epigenetic
adjustments on a parental
germ
line, or a chromosomal abnormality. The result of the disorder will rely upon complex interactions between the
pre-natal
shortfall
and the post-
natal
condition.
Animal
studies have demonstrated that paternal exposures before and amid
pregnancy
result in increased risk of certain birth defects and
tumors
.
Related Societies and Organizations
American Academy of Pediatrics
;
The Society forPediatric Research
;
American Academy of Pediatrics
;
Oregon Pediatric Society
;
North Carolina Pediatric Society
;
American Society-Retina
;
Kentucky PediatricSociety
;
American Society of Anesthesiologists
Developmental and Behavioral Newborn baby
Infant Behavior & Development is nothing but the babies born at risk for
developmental
delays or behavioral problems due to
prematurity
or born with other
medical
complications
that resulted in
hospitalization
in one of our Neonatal Intensive
Care
Units. It includes the development of
sleep
, crying,
reflexes
,
vision
, hearing, and
breathing
in newborns.
Related Societies and Organizations

:

Neonatal Pulmonology
Neonatal pulmonology is a medical sub-specialty that deals with diagnosis and treatment of diseases involving respiratory tract. Neonatal/Pediatric pulmonologists are specially trained in pulmonary neonatal diseases and conditions of the broken rib or collapsed lung, particularly pneumonia, asthma, tuberculosis, complicated chest infections, etc. The most common cause of persistent pulmonary hypertension of the newborn is meconium aspiration syndrome. Most infants who have meconium aspiration syndrome (60%) are born by cesarean delivery, indicating that they aspirate meconium before birth. Some aspiration may occur during the second stage of labor. Children who present with stridor and respiratory distress with epiglottitis, the presentation of this disease in neonates may be different. Hence it is important to study the diagnosis, immunization
and preventive measure of these diseases.
Related Societies and Organizations
Neonatal CNS Disorders
The central
nervous
system of a developing
foetal
begins with a basic structure called the 'Neural
Groove
' that folds in to form 'Neural Tube'. This at that point forms into the
spinal
cord and
cerebrum
. By 28th day after conception, the neural tube to be shut and
intertwined
. If it doesn't close, the outcome is a neural
tube
defect. These deformities can be determined amid
pregnancy
in most of the cases by
ultrasound
checks and, with different tests, for example,
amniocentesis
(breaking down an example of amniotic liquid).
Neonatal Cerebral Hemorrhage

Hypertonia

Seizures

Coma

Lethargy

Hydrocephalus

Neoplasia


Related societies and Organizations
Perinatology
It is a part of prescription that focuses on overseeing wellbeing worries of the mother and embryo preceding, amid, and soon after pregnancy.Maternal– fetal experts are doctors who subspecialize inside the field of Obstetrics. They may perform pre-birth tests, give medications, and perform medical procedures. They act both as a specialist amid lower-hazard pregnancies and as the essential obstetrician in particularly high-chance pregnancies. Some of the services provided by the maternal-fetal specialist include diabetes care, management of multiple gestations, and level II ultrasound of the fetus, chorionic villus sampling, Genetic Amniocentesis, and fetal surgery.
Neonatal health

Neonatal drugs

Ultrasound in Perinatology


Related Societies and Organizations
Market Analysis
Global Neonatal Ventilator Market is poised to cross USD 430 million by 2024; according to a new research report by Global Market Insights. Rising incidences of preterm births with respiratory disorders and mortality rates primarily drive the demand for various neonatal ventilators worldwide. Technological advancements in ventilators' design and function are resulting in rising adoption rate, especially in developed regions. Moreover, growing birth rate should augment market demand during projection years.




Inadequate infrastructure in developing and under-developed regions to support advanced ventilators proves to be growth hindering factor. Also, high prices of ventilators happen to hamper adoption rates in many economies across the globe. During the forecast timeframe, price constraint will continue to restrain industry growth.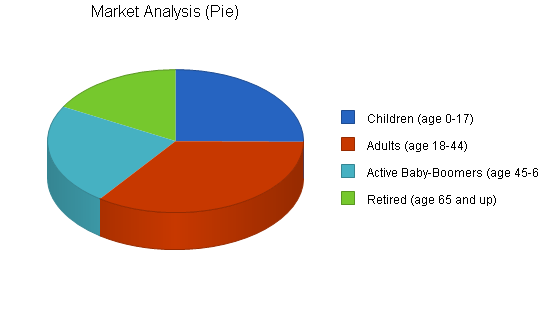 The need to use non-invasive interface for treating preterm birth neonates will prove to be high impact rendering factors for market growth. Use of neonatal ventilators is found to be highest in hospitals amongst all other healthcare facilities offering maternity care. During the forecast timeframe, hospitals will continue to dominate the end-user market segment; factors such as people's preference to hospitals over other healthcare facilities and their large size should fuel demand for various neonatal ventilators.



Growing popularity of clinics in developed countries should significantly contribute to demand for ventilators in this setting. Moreover, rapid adoption of advanced airway interfaces will augment market size over the projection years. With increase in number of clinics, the demand is anticipated to only increase in near future, especially in industrialized nations.



The U.S. neonatal ventilator market is the largest in the world, being the pioneer and early adopter of various airway interface devices. During the forecast period, it will continue to grow with modest but steady growth and dominate the industry worldwide.

Improving healthcare infrastructure, expanding and developing hospital sector, and increasing adoption of new devices to address appalling conditions of neonates suffering from respiratory problems should drive the Indian neonatal ventilators market during the projection years. With growing number of births in the country, the demand must grow in near future.







Some of the key industry players operating in global neonatal ventilator market are Medtronic Plc, GE Healthcare, CareFusion, HAMILTON MEDICAL, Phillips Respironics, Smith Medical, Breas Medical, Drager Medical, ResMed and MAQUET.

The industry participants focus on new product developments, mergers and acquisitions and geographical expansion to increase their foothold in the market and gain competitive advantage.
Why Japan?
Japan is also called as Land of Rising Sun. It is a stratovolcanic archipelago consisting of about 6,852 islands. The four largest are Honshu, Hokkaido, Kyushu, and Shikoku, which make up about ninety-seven percent of Japan's land area and often are referred to as home islands. The country is divided into 47 prefectures in eight regions, with Hokkaido being the northernmost prefecture and Okinawa being the southernmost one. The population of 127 million is the world's tenth largest, of which 98.5% are ethnic Japanese. 90.7% of people live in cities, while 9.3% live in the countryside.About 13.8 million people live in Tokyo, the capital of Japan. The Greater Tokyo Area is the most populous metropolitan area in the world with over 38 million people.
Researchers at the University of Tokyo strive to carry out world-class research in pursuit of academic excellence and to contribute to the accumulation and diversity of human knowledge. By active translation of research results to society, the University of Tokyo aims to support deeper and broader understanding of our research activities within society in general, and to contribute to the realization of peaceful and fair international and local societies.