About
International Conference on In Vitro Fertilization and Embryo Transfer offers a stimulating program featuring the latest scientific developments and updates in in vitro fertilization, sexual health and reproductive biology. This Conference will be organized with a theme of "Developmental and environmental impacts on the ovary".
On behalf of the Organizing Committee, it gives us a great pleasure to invite you to participate in International Conference on in vitro Fertilization and Embryo Transfer which will take place in Chicago, USA during November 02-03, 2017. IVF is a method of assisted reproductive technology used for treatment of infertility, in which a fertilized egg is implanted into a uterus. It is evident that, more physicians and researchers choose to devote their professional for understanding the techniques of human reproduction which is essential to provide the best options for diagnosis and treatment of the problems and diseases related to the human life.
IVF 2017 aims to gather large group of participants from all over the world in related topics to address and discuss about the recent information, controversies and the future directions. It will be a good opportunity for us to update the relevant research data and their clinical applications and interactive moments which will clarify the uncertainties. This conference will offer an exciting, cutting edge program with a high profile in scientific international speakers, with a wide range of concurrent sessions focusing on specialist areas in IVF and reproductive biology.
Who should attend?
· Pharmacologists
· Ultra Sound Specialists
· Clinical Embryologists
· Infertility and IVF Units
· Gynecologists
· Obstetricians
· Reproductive Endocrinologists
· Internists
· Hematologists
· Reproductive Medicine Specialists
· Reproductive Immunologists
Allied Academic Publication is an amalgamation of several esteemed academic and scientific associations known for promoting scientific temperament. Established in the year 1997, Andrew John Publishing Group is a specialized Medical publisher that operates in collaboration with the association and societies. This publishing house has been built on the base of esteemed academic and research institutions including The College of Audiologists and Speech Language Pathologists of Ontario (CASLPO), The Association for Public Safety Communications Officials of Canada (APCO), The Canadian Vascular Access Association (CVAA), The Canadian Society of Internal Medicine (CSIM), The Canadian Hard of Hearing Association (CHHA), Sonography Canada, Canadian Association of Pathologists (CAP-ACP) and The Canadian Association of Neurophysiologic Monitoring (CANM).
Welcome Message
Greetings...!!!
On behalf of organizing committee, it's a great pleasure and an honor inviting you for the "In Vitro Fertilization and Embryo Transfer" to be held on November 2-3, 2017 at Chicago, USA.
The main theme of this conference is "Developmental and Environmental Impacts on the Ovary", which broadly covers the topics related to in vitro fertilization. Many eminent speakers are appearing to this conference, which helps in the knowledge transfer.
In Vitro Fertilization and Embryo Transfer is a very important and commonly used technique now a day. There are many leading causes for infertility, and this conference helps to bring awareness among many delegates.
This is a good platform for all the delegates to interact with topmost scientists all over the world.
Hope to see you soon…
Best regards,
Program coordinator,
In Vitro Fertilization and Embryo Transfer-2017.
Sessions
Track 1: Ovulation Induction

Ovulation induction treatments, also referred to as fertility drugs, are used to stimulate follicles in ovaries resulting in production of multiple eggs in one cycle. These medications also control time that you release eggs, or ovulate, so that sexual intercourse, intrauterine inseminations, and in vitro fertilization procedures can be scheduled at the most likely time to achieve pregnancy. Risks associated with use of ovulation induction medications include increase in chance for high order multiple births and development of ovarian cysts. Rare side effect that occurs is ovarian hyperstimulation syndrome, symptoms include severe pain in pelvis, abdomen and chest, nausea, vomiting, bloating, weight gain and difficulty in breathing.

Track 2: Artificial Insemination

Artificial insemination (AI) is that the deliberate introduction of sperm cell into a female's womb or cervix for the aim of achieving a physiological condition through in vivo fertilization. It is a fertility treatment for humans, and could be applied in animal breeding also. Artificial insemination could use motor-assisted fruitful technology, sperm cell donation and agriculture techniques. Insemination techniques on the market can be done by intracervical insemination and intrauterine insemination. The beneficiaries of insemination are ladies who need to convey birth to their own kid, who could also be in a very lesbian relationship, single ladies or ladies who are in a very heterosexual relationship but male partner suffers from male sterility. Intracervical insemination (ICI) is that the best and most typical insemination technique and might be utilized in the house for self-insemination without any caregiver help. Compared with natural insemination (i.e., insemination by sexual intercourse), artificial insemination will be costlier and additional invasive, and needs skilled help.




Track 3: IVF Treatment

In vitro fertilization (IVF) treatment is complex series of procedures used used for fertility treatment or genetic problems and assist with the conception of a child. During in vitro fertilization, mature eggs were collected from ovaries and fertilized by sperm in a lab conditions. In vitro fertilization is the most effective form of assisted reproductive technology. During in vitro fertilization, eggs and sperm are brought together in laboratory glass dish to allow the sperm to fertilize an egg. Using in vitro fertilization, one can use any combination like own eggs and sperm or donor eggs and sperm. After in vitro fertilization, one or more fertilized eggs are placed in the uterus.




Track 4: Frozen Embryo Transfer

Frozen embryo transfer (FET) is a cycle where a frozen embryo of previous fresh IVF cycle is softened to liquid and transferred back into the woman's uterus. This means it doesn't undergo another cycle of hormone stimulation and an egg collection .This cycles can be undertaken on natural cycle by using hormone preparation or ovulation induction. Embryo freezing gives more opportunities for pregnancy for each hormone stimulation cycle and egg collection. Frozen embryos are viable to the infinite time after the first freeze. Embryo transfer can be done either after a successful or unsuccessful in vitro fertilization due to their infinite viability. Freezing embryos previously was a very slow process. But now, the applications were changes and freezing was done by a very simple and easy method called vitrification (freezing of embryos using cutting edge technology).




Track 5: Fertility Surgery

In female fertility surgery following are the initial testing and assessment that a fertility specialist may recommend. It involves the laparoscopy, surgery of endometriosis, surgery for fallopian tubes, female micro surgery. This can be used for further investigating the cause of infertility or to overcome the problems making it difficult to conceive.

Track 6: Assisted Hatching

Assisted hatching is an advanced scientific technique which involves using a laser to gently thin the outer shell of the egg. In some cases, particularly in older women, the thickness of the outer shell is implantation if an embryo hatches out of the shell more easily, in such cases it may have a better chance of implanting inside the uterus. If they have 38 years of age and had an unsuccessful IVF treatment cycle, then recommend using Assisted Hatching.

Track 7: Ovarian Reserve (AMH) Test

Assisted hatching is a scientific technique used in In Vitro Fertilization, which improves implantation of embryos into woman's uterine lining by creating an opening through which embryonic cells hatches out. Pregnancy doesn't occur unless embryo hatches. Before embryo implantation, developing embryo must hatch out of its outer shell named as zona pellucida. Some embryos seem to have thicker shell that may decrease their ability to hatch and therefore reduce likelihood that they will implant. This may be due to age of woman or other, unknown reasons. The unfertilized egg is surrounded by zona pellucid. Zona pellucida allows only one sperm cell to enter and fertilizes egg. After fertilization, embryo begins to cleave into two, four and so on. Assisted hatching is performed on embryos at this early cleavage stage. Women aged >37 have tendency to produce oocytes with harder or thicker zona pellucida compared to younger women. Same applies to women with high level of follicle-stimulating hormone.




Track 8: Karyomapping

Pre implantation genetic diagnosis with Karyomapping is a highly sophisticated scientific technique which can test embryos for presence of a single gene disorder. This allows selection of embryos which are not affected by a specific disorder for embryo transfer during an IVF cycle, preventing the condition from being passed on to any future children. In vitro fertilization (IVF) is essential to carry out PGD. This process involves collecting several eggs from the ovaries and fertilizing them outside the body (in vitro) to produce several embryos. Each of the embryos can then be tested to find out which is healthy. Only embryos that are predicted to be free of genetic condition are transferred to the uterus and consequently if any pregnancy that begins has a low risk of being affected by disorder.

Track 9: PolScope Technology

PolScope or Oosight Technology is an advanced scientific technique that uses polarized light to study the genetic material in the egg and help to identify which eggs may have a better chance of implanting. It may also help with the ICSI process, as the scientist performing the procedure to see where the genetic material is located to avoid injecting through this spindle.

Track 10: In vitro Maturation Techniques

IVM is the technique of permitting the ovarian follicles and the oocytes inside the mature in vitro. It can be offered to women with infertility problems combined with IVF, offering women pregnancy without ovarian stimulation. The obstetric and perinatal outcome of births from IVM cycles is similar to those with ICSI treatments. However, IVM involves the use of invasive techniques, and this can harm the mother.

Track 11: Assisted Reproductive Technology (ART)

Assisted reproductive technology (ART) is a treatment used for infertility. It includes fertility treatments that handle both woman's egg and man's sperm. It works by removing eggs from woman's body. Eggs are then mixed with sperm to produce embryos. Embryos are then placed in woman's body. In vitro fertilization (IVF) is most common and effective type of assisted reproductive technology. Assisted Reproductive Technology includes in vitro fertilization-embryo transfer, gamete intrafallopian transfer, zygote intrafallopian transfer, and frozen embryo transfer. Approximately 99% of ART cycles performed are in vitro fertilization-embryo transfer. In vitro fertilization-embryo transfer helped many couples to conceive successfully. Assisted Reproductive Technology can be recommended when other fertility treatments were not successful or when there is severe male factor infertility, severe endometriosis or tubal obstruction.

Track 12: Aging and Reproduction

The main function of human reproduction is mainly influenced by age to produce sex cells and hormones. Aging process affects reproductive systems of both men and women. The most striking age related changes in female reproductive system occur at menopause, while changes in the male reproductive system occur more gradually over a longer period of time. Despite this, a modern technology has been unable to extend the reproductive system in women, and the age of onset of menopause remains remarkably constant. Although many factors contribute to the age-related decline in human fertility, data suggested that the maternal aging renders the most significant impact.

Track 13: Cryopreservation Techniques in ART Success

Cryopreservation or cryoconservation is a method where organelles, cells, tissues, animate thing matrix, organs or the other biological constructs liable to injury caused by unregulated chemical mechanics are preserved by cooling to terribly low temperatures. At low temperatures, any protein or enzymatic activity may cause injury to biological material which is effectively stopped. Cryopreservation strategies look forward to achieve low temperatures without changing further injury caused by formation of ice throughout phase change. Ancient cryopreservation has relied on coating fabric to be frozen with category of molecules termed cryoprotectants. New strategies are perpetually being investigated owing to inherent of many toxic cryoprotectants. By default, it ought to be thought of that cryopreservation alters or compromises the structure and performance of cells unless it's established otherwise for a specific cell population. Cryoconservation of animal genetic resources is that method during which animal genetic material is collected and kept with intention of conservation of breed.




Track 14. Polycystic Ovarian Syndrome

Polycystic ovary syndrome (PCOS) could be a set of symptoms because of elevated androgens (male hormones) in girls. Signs and symptoms of PCOS include irregular or no discharge periods, serious periods, excess body and facial hair, acne, girdle pain, issue obtaining pregnancy, and patches of thick, darker, velvety skin. Associated conditions include a pair of polygenic disease, obesity, preventative apnea, cardiovascular disease, mood disorders, and carcinoma. PCOS is because of a mix of genetic and environmental factors. Risk factors include fleshiness, not enough workouts, and a case history of somebody with the condition. Diagnosing relies on 2 of the subsequent 3 findings: no organic process, high steroid hormone levels, and sex gland cysts. Cysts could also be detectable by ultrasound. Different conditions that turn out similar symptoms include adrenal dysplasia, gland disease, and hyperprolactinemia.




Track 15. IVF Antagonist Injection

Antagonist injection is performed on a daily basis during 1-4 days, before the trigger injection to suppress ovulation until the maturation of follicles. It is given along with follicle stimulating hormone.

Track 16.

Egg Donation:

Egg donation is the method by which girl donates eggs to make other woman to conceive as a part of an aided copy treatment or for medicine analysis. For aided copy functions, egg donation generally involves in vitro fertilization technology, with the eggs being impregnated within the laboratory; infertile eggs are also frozen and hold on for later use. Egg donation could be a third party copy as a part of aided procreative technology. In US, the American Society for procreative medication (ASRM) has issued tips for these procedures, and therefore FDA incorporates a range of tips still. There are boards in countries outside United States of America that have an equivalent rules. However, egg donation agencies within the U.S. will lawfully opt for whether or not to abide by ASRM.
Market Analysis
Glance at Market of In Vitro Fertilization
In vitro fertilization market is projected to reach USD 756.7 Million by 2021 from USD 468.3 Million in 2016, at a CAGR of 10.1% during the forecast period. Medical tourism provides a great opportunity for the growth of this market. Developing countries are found to be the most preferred destinations for IVF treatments with increased focus on advanced technologies, improved health care infrastructure and favorable health care cost. Globally, around 30 countries have some form of Assisted Reproductive Techniques (ART) with certain limitations. Few countries such as Israel, Belgium and France offer comprehensive reimbursement schemes.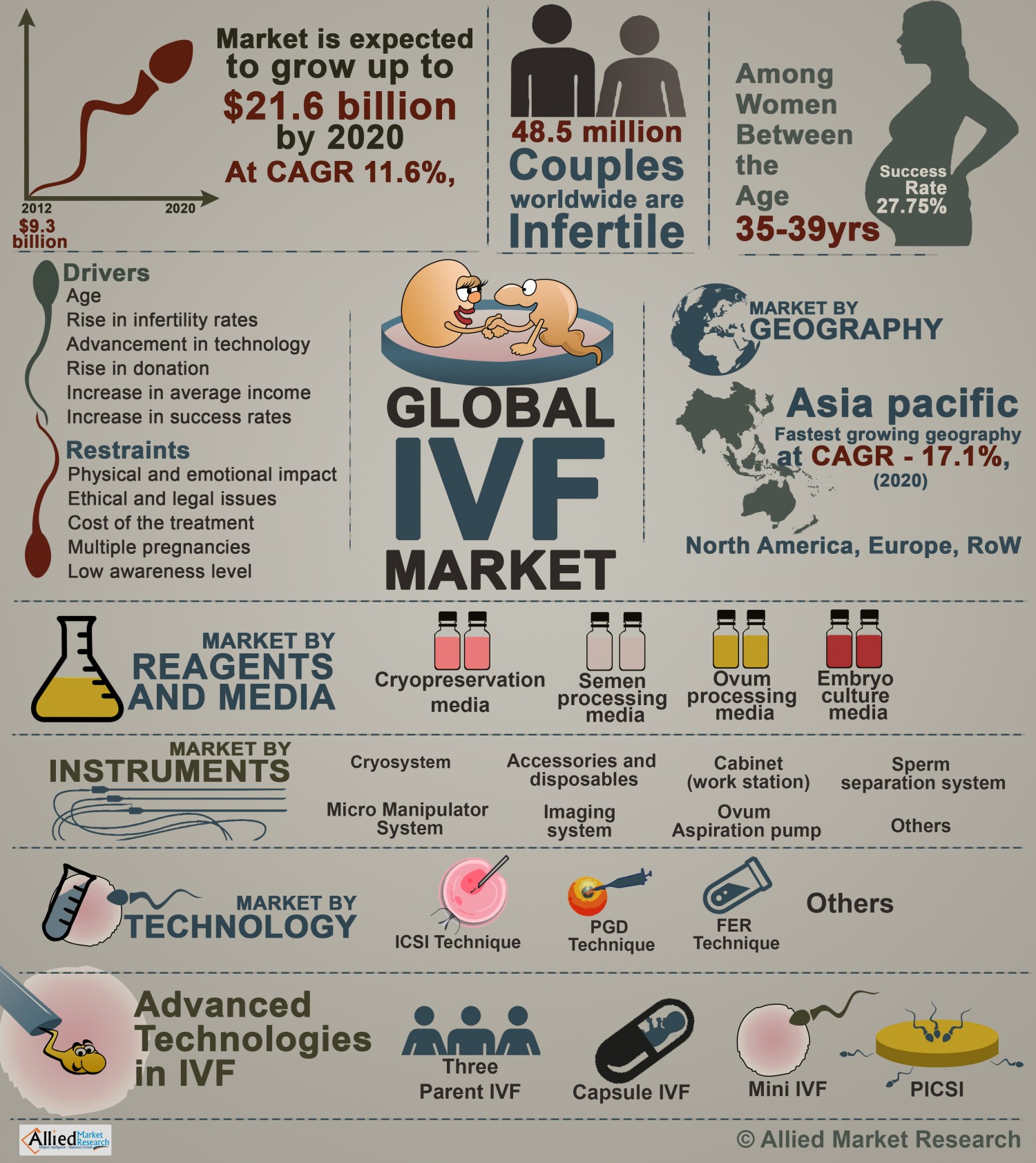 Major restraint in the IVF market is the cost factor. The total cost of the treatment depends on the number of cycles, cost of the procedure, drugs and hormones. The average cost of the IVF treatment is about $10,000- $20,000. Europe is expected to generate revenue of $8 billion by 2020 growing at a CAGR of 10.2% during 2013 to 2020. However, Asia-Pacific is a high-opportunity market that is expected to grow at a CAGR of 17.1% from 2013 to 2020.

Market Report
Market report profiled some of the key players such as Vitrolife AB, EMD Serono Inc, Irvine scientific, Cooper Surgical Inc, Cook Medical Inc, Thermo Fisher Scientific Inc, Genea Biomedx, Auxogyn, Inc, Oxford Gene Technology and Ovascience.
Global In Vitro Fertilization market based on different devices:
Global IVF devices market comprises five key segments namely, IVF instruments, reagents and media, technology, end users and geography.

The instruments market considered in this report include, sperm separation system, cryosystem, incubator, imaging system, disposables and consumables ovum aspiration pump, IVF cabinet, micromanipulator, IVF accessories and disposables, and others. In the instruments market, micromanipulator is the highest revenue-generating segment owing to its extensive use in various stages of the IVF procedure. However, sperm separation system segment would witness a significant growth due to its extensive use in healthy sperm selection and gender determination.

Based on reagents and media, the global IVF devices market is categorized into cryopreservation media, semen processing media, ovum processing media and embryo culture media. Cryopreservation media is the highest revenue-generating segment due to its extensive use in frozen IVF cycles. IVF devices and consumables market by techniques is categorized into fresh embryo transfer technique, frozen egg transfer technique and donor egg transfer technique. In the current market scenario, fresh embryo transfer technique is the highest revenue-generating segment and would continue to maintain this trend during the forecast period owing to the higher user preference for this technique.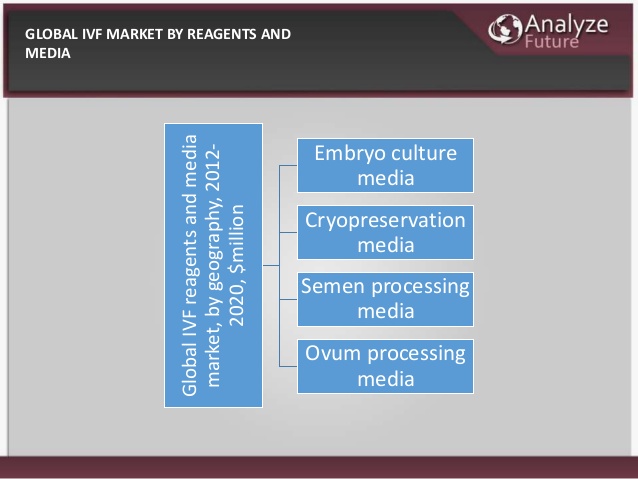 Global IVF devices market by end-users is segmented into fertility clinics, hospitals, surgical centers and clinical research institutes. Fertility clinics are the highest revenue-generating segment in the IVF market due to easy accessibility of IVF treatment and services and high success rates. Furthermore, surgical centers forecast to exhibit rapid growth due to the use of sophisticated IVF technologies.

Global IVF devices market has been analyzed on the basis of geographical regions, which include North America, Europe, Asia Pacific and LAMEA. Europe and North America are the dominant regions of this market, collectively accounting for about 79% of the total market share. This is mainly attributed to the widespread adoption of advanced technologies, healthcare awareness, favorable reimbursement policies and supportive legal frameworks. Nevertheless, Asia Pacific would emerge as the fastest growing region owing to low manufacturing costs of IVF devices and increasing popularity of medical tourism. Moreover, availability of skilled personnel and rising awareness would further augment the market growth in this region.
Testing and treatment market is growing at a faster rate in males and females. The earlier social taboos among men regarding male fertility have been declining, leading to increase in the male infertility testing and treatment market.
Major Universities Supporting Embryology are:
Indiana University School of Medicine
University of Illinois College of Medicine
Florida State University College of Medicine
Stanford University School of Medicine
California North state University College of Medicine
University of Alabama School of Medicine
Australian National University Medical School
Griffith University School of Medicine
University of Queensland School of Medicine
Australian National University
Major associations supporting Embryology are:
Human Fertilization and Embryology Authority (HFEA)
American embryo Transfer Association (AETA)
International Embryo Transfer Society (IETS)
Canadian Embryo Transfer Association (CETA/ACTE)
Breed Associations-Canadian Embryo Transfer Association
European Union Tissues and Cells Directives (EUTCD)
Societies and Organizations supporting Embryology are:
British Society for Developmental Biology (BSDB)
International Society of Stem Cell Research (ISSCR)
International Society of Developmental Biologists (ISDB)
International Federation of Placenta Associations (IFPA)
Japanese Society of Developmental Biologists (JSDB)
Teratology Society (TS)
Alex's Lemonade Stand Foundation
Alliance for Aging Research
Alliance for Regenerative Medicine
ALS Association (Amyotrophic Lateral Sclerosis Association)
Alpha-1 Foundation Colleen M. Murphy
Why to attend?

In Vitro Fertilization 2017 conference fuels innovation and cutting-edge fertility research that has positive impact on outcomes for couples to further increase the success rate. With the advancements in microscopy during the 19th century, increasing numbers of biologists examine the embryo and see changes as it moved through the different stages of development. Eventually the theory of preformation was abandoned in favor of epigenesis concept. Aside from this, much of the early work into embryology was performed by other great Italian anatomists. Increased knowledge in the areas of molecular biology led to the emergence of developmental biology. Developmental biology examines the correlations between genes and morphological changes that occur in the embryo.