Welcome message
We take great pleasure in inviting you to participate in the
3rd International Conference on
Ophthalmology, Optometry and Vision Science
,
which is going to be held in
Bangkok Thailand
on
September 02-03, 2019
.
This conference covers a wide range of important sessions related to ophthalmology, Optometry and Vision Science. The conference will focus on analyzing the evolutions and all the advanced technologies on this Ophthalmology,
Optometry
and Vision Science field.
We are providing you with the platform to showcase your knowledge, Research works, Experience, your specialty in front of the world. This Conference will encourage the research scholars and Young Research forum to do more research and gaining the knowledge from the experienced and topmost scientists. Delegates can know the real facts and cause of all the diseases and how to cure that. Gaining and Sharing knowledge in the field of Ophthalmology, Optometry, and Vision Science is our main moto.
We will be delighted if all the researchers, Ophthalmologists, Optometrists, Scientists, research scholars, Ph.D. Holders can attend this

Eye Congress

2019

conference in

Bangkok, Thailand

on

September 02-03, 2019.
About the Conference
We are honored to invite you to be a part of the World Congress On Eye And Vision, which is scheduled to be hosted at Amsterdam, Netherlands on May 18th and 19th, 2020. This conference urges to bring together all the eminent Ophthalmologists, Researchers, Doctors, Medical professionals, Fellowship holders, Residents, Pharmaceutical industries and Healthcare industries in the field of Ophthalmology from all over the globe under one roof.
We want to provide a platform to share and enrich your knowledge, Research work, Experience and exhibit new inventions to the world. This Conference enables the research scholars and Young Research forum to do more research and enhance the knowledge from the experienced and eminent scientists and Delegates in the field of ophthalmology. This conference will serve as a great opportunity to know about the real facts and cause of all the diseases and how to cure that. Gaining and Sharing knowledge in the field of Ophthalmology, Optometry, and Vision Science is our main motto.
We are delighted to have the presence of all the Ophthalmologists, Optometrists, Scientists, research scholars, Ph.D Holders can attend this Eye and Vision Congress 2020 conference at Amsterdam Netherlands.

Sessions and tracks
Session1 Neuro-ophthalmology:
Neuro-ophthalmology is the ophthalmic subcategory that deals with eye diseases and problems caused by different neurological conditions including various optic nerve disorders. This highly specialized and challenging sub-specialty is a comprehensive combination of different primary specialties like Neurology, Neuro-surgery and Radiology with ophthalmology its parent specialty. The Neuro-ophthalmology department deals with an enormous number of patients with a wide range of symptoms including vision loss, double vision, drooping of eyes, visual field defects, headache, eyelid and facial disorders every day. It also examines and treats patients with ophthalmic symptoms of various neurological diseases.
Session2 Glaucoma:
Glaucoma is one the disease in eye diseases that can lead to vision loss and blindness by damaging a nerve in the rear side of the eye called the optic nerve. The symptoms can begin slowly that you may not notice them. The only way to identify if you have glaucoma is to get a complete dilated eye exam. There's no cure for glaucoma, but early treatment can prevent the damage and protect your vision.
Types of glaucoma:
·
Primary open-angle glaucoma
·
Angle-closure glaucoma
Session3 cornea:
The cornea is the transparent tissue at the front and center of the eye. Its transparency allows light to pass into the eye, through the pupil, lens, and onto the retina at the rear part of the eye. The three major corneal layers are the outer layer of the cornea or epithelial layer, the middle layer termed the stroma, and finally a single layer of cells called the endothelium. The curvature of the cornea plays a major role in focusing (refracting or bending) light. The normal cornea is smooth, clear, and tough. It helps to protect the eye from infection and foreign material. various corneal diseases are:
· Keratoconus
· Fuchs' endothelial dystrophy
· bullous keratopathy
Session4 cataract:
A cataract is a dense, cloudy area forms in the lens of the eye. Cataracts are very common as you become aged. At first, you may realize that you have a cataract. But as time progresses, cataracts can make your vision blurry, hazy, or less colorful. You may have trouble reading or doing other everyday activities. The good news is that surgery can cure cataracts. Cataract surgery is safe and cures vision problems caused by cataracts.
· Phacoemulsification
· Extracapsular cataract surgery
· Intracapsular cataract surgery
Session5 Pediatric ophthalmology:
Pediatric ophthalmology is a subspecialty of ophthalmology that deals with treating eye diseases, visual development, and vision care in children.
Session6 Eye muscle surgery:
Eye muscle surgery is a medical procedure that repairs a muscle imbalance in the eyes. The muscle imbalance makes the eyes to cross inward or outward. This condition is known as strabismus. People with strabismus eyes don't line up properly. As a result, they look in different directions. It's necessary to treat strabismus as early as possible to avoid vision problems. In fact, vision loss could become a permanent disability if treatment isn't received quickly.
· Esotropias
· Exotropias
· Hypertropias And Hypotropias
· Paralytic Strabismus
Session7 oculoplastic surgery:
oculoplastic surgery deals with a wide variety of surgical methods that deal with the eye socket, eyelids, tear ducts, and the face. It is also associated with the reconstruction of the eye and related structures.
· Eyelid surgery
· Tear duct surgery
· Orbital surgery
Market Analysis
As a result of speedy growth in world population, patients with eye diseases and patients with cataract, glaucoma is increasing every year thus stabilizing the ophthalmology market which experienced a downfall in the year 2008-2009. According to a survey, the total world population suffering blindness because of cataract and glaucoma are 48% and 60 million respectively. By the end of the year 2020, it is predicted that people suffering from glaucoma will be 80 million. According to the World Health Organization(WHO) estimated the population to be suffering from visual impairment worldwide is 253 million of which 36 million are blind and 217 million people have moderate to severe vision impairment. Approximately 81% of people aged 50 years and above are suffering from blindness or moderate to severe vision impairment.80% of all vision impairment cases can be prevented or cured.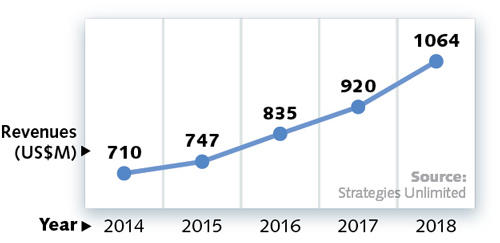 The field of ophthalmology and Optometry are experiencing increased use of robotic systems. Robot-assisted surgeries provide an advantage to surgeons like to perform complex surgeries with increased precision, the amplified scale of motion, decreased tremor, flexibility and task automation. The analyst predicts during the period 2018-2022 the ophthalmology device market will grow to USD 84.16 billion. The largest region of ophthalmic devices is in Asia-Pacific with a share of 33%. North America stands as the second largest region with a market share of 29%. The smallest region was Africa with a market share of 3%. According to a study in 2011, the worldwide ophthalmic market was $17.5 billion and is expected to grow by the year 2023 to $34.7 billion, thus indicating a 5.9% of compound annual growth rate. Ophthalmic product market crosses USD 22 billion worldwide and is growing at a rate more than 10% per year. The inclusion of ophthalmic products, eye care products the market is USD 17 billion.