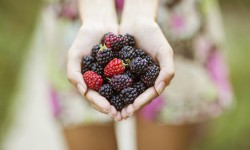 Taking steps to prevent and control diabetes doesn't mean living in deprivation; it means eating a tasty, balanced diet that will also boost our energy and improve our mood. No one have to give up sweets entirely or resign our self to a lifetime of bland food. We can still take pleasure from meals without feeling hungry or deprived. Trying to prevent or control diabetes, the most important thing is to lose a weight. Focus on high fibre complex carbohydrates and do regularly yoga and physical exercise.
There are many myths about diabetes. We should try to go with real facts and have balanced diet with protein, carbohydrates and lipids. The keys to a healthy eating plan are:
Eat meals and snacks regularly (at planned times)
Eat about the same amount of food at each meal or snack.
Choose healthful foods to support a healthy weight and heart.
Best options are lean proteins low in saturated fat, like fish or turkey. Aim for two or three servings of seafood each week; some fish, like salmon, have the added benefit of containing heart healthy omega-3 fats. For a vegetarian protein source, experiment with the wide variety of beans. Nuts, which are protein and healthy fats powerhouses, are also a great choice. Whole grains such as wild rice, quinoa, and whole grain breads and cereals contain fiber, which is beneficial for digestive health. Greek yogurt is a healthy and versatile dairy option. Non-starchy vegetables such as leafy greens, broccoli, cauliflower, asparagus, and carrots are low in carbohydrates and high in fiber. Choose the monounsaturated fats found in avocados, almonds, and pecans or the polyunsaturated fats found in walnuts and sunflower oil, which can help to lower bad cholesterol.

· Healthy diet
· Obesity effects
· Emotional eating vs mindful eating
· Myths and facts about diabetes