About Conference
Allied Academies takes immense pleasure in inviting all the participants around the globe to attend ''Global Congress on Biotechnology'' which is going to be held at Bangkok,Thailand during September 06-07, 2018.

Global congress on Biotechnology (Biotechnology Congress 2018) is being organized by Allied Academies. Allied Academies every year hosts interdisciplinary international conferences worldwide on cutting-edge basic and applied research in life sciences, Pharma, Medicine, Healthcare and Nursing delivered by the best talents in industry and academia. Our conferences are oriented to drive the scientific community at large, facilitating access to the newest technical and scientific achievements and to shape future research directions through the publication of applied and theoretical research findings of the highest quality. Bound together Allied Academies has transformed into a prominent choice for the experts and academicians to display their marvelous duties. The distributor gives pursuers and creators an aggregate stage to confer their work to the overall gathering.

Biotechnology Congress 2018 aims to gather the Researchers, principal investigators, experts and researchers working under academia and health care industry, Business Delegates, Scientists and students across the globe to provide an international forum for the dissemination of original research results, new ideas and practical development experiences.




Biotechnology Congress 2018 has focused on various important disciplines of biotechnology and its allied areas. This conference had a variety of plenary lectures, session lectures and poster presentations, Scientific Exhibitions, Panel Discussions, and the B2B meetings with world-renowned speakers, biotechnologists, pharmaceutical professionals and leading specialists involved in biotechnology and its allied areas.

Objective:

Biotechnology Congress 2018 is a platform to achieve the prevailing gaps in the transformation of this multidisciplinary science of hope, to serve promptly with solutions to all in the need. Biotechnology Congress 2018 will have an anticipated participation of 120+ delegates across the world to discuss the purpose of the conference.

About Organizers:

Allied Academies is one of the leading Open Access publishers and organizers of international scientific conferences and events every year across USA, Europe & Asia. Allied Academies has so far organized 3000+ Global Allied Academies Events with over 600+ Conferences, 1200+ Symposiums and 1200+ Workshops on Medical, Pharma, Engineering, Science, Technology and Business with 700+ peer-reviewed open access journals in basic science, health, and technology.

Type of sessions:

1. Keynote Presentations

2. Oral Presentations,

3. Plenary talks,

4. Symposia

5. Workshops

6. Poster sessions and

7. Panel discussion on latest research developments in the field of Biotechnology.

TARGETED AUDIENCE:

Biotechnologists, Professors, Researchers, scientists, Business Giants, CEOs, COOs, Directors, Vice Presidents, Co-directors, Managing Directors, Industry Safety Officers, Environmental & Plant Scientists, Post Doctorate Fellows, Vendors of Consumer Products/ Managers, Pharmaceutical Scientists, Students from the Biotechnology and its allied areas.

Why you should attend conference/lecture
To sharpen your skills
Meet Experts & Influencers Face to Face
Networking Opportunities
Learning In a New Space
Break Out of Your Comfort Zone
New Tips & Tactics
The Energy of Like-Minded Individuals
The Serendipity of the Random Workshop
Invest In Yourself
Have Fun
Welcome Message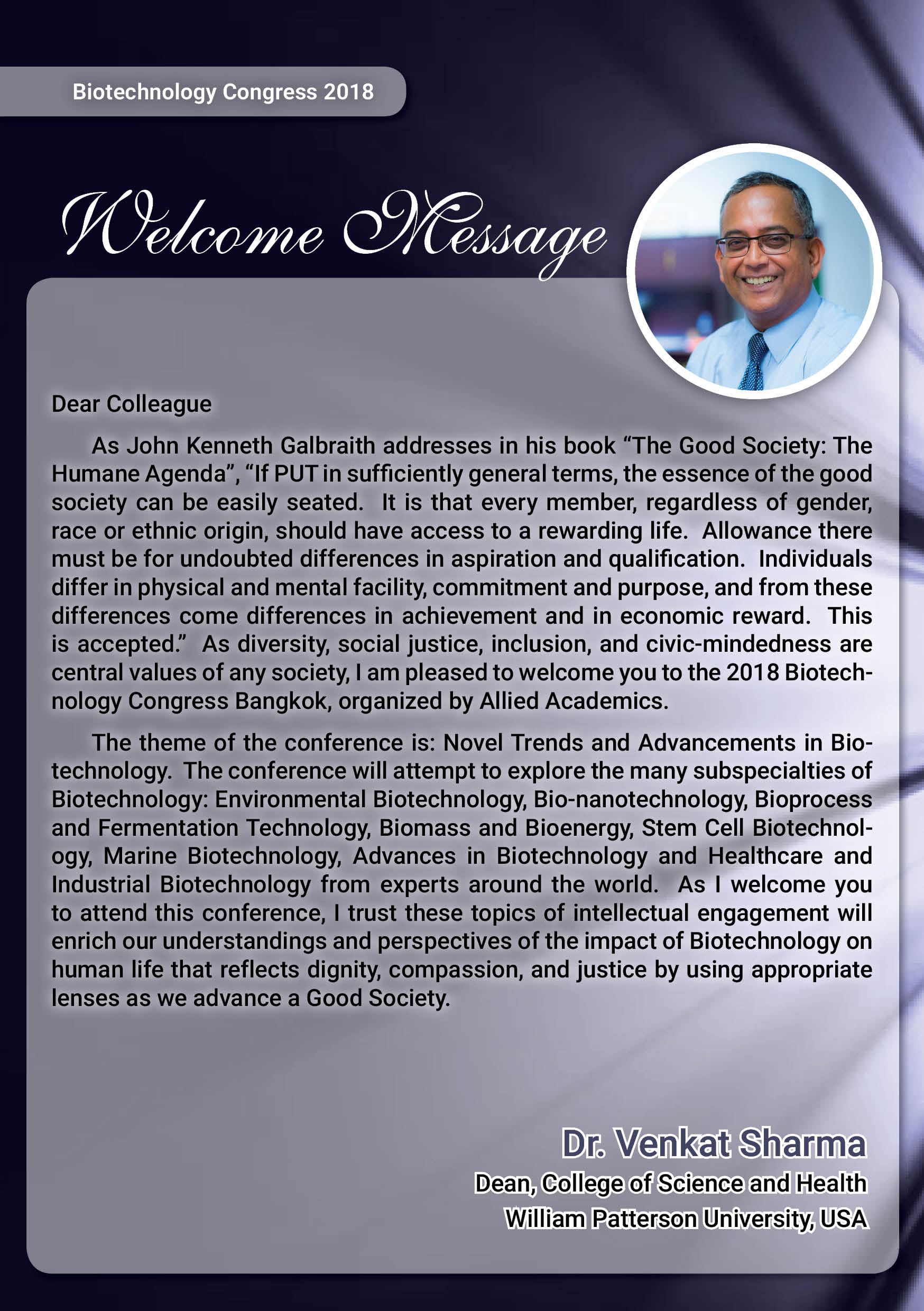 Allied Academies extends heartiest welcome to all the participants across the globe to attend "Global congress on Biotechnology" which is going to be held at Bangkok, Thailand during September 06-07, 2018.
Biotechnology Congress 2018 aims to gather the Researchers, principal investigators, experts and researchers working under academia and health care industry, Business Delegates, Scientists and students across the globe to provide an international forum for the dissemination of original research results, new ideas and practical development experiences.
Allied Academies organize Biotechnology Congress 2018 conference along with 300+ Conferences across USA, Europe & Asia every year with support from 1000 more scientific societies and Publishes 400+ Open access journals which contain over 30000 eminent personalities as editorial board members.
We invite you to join us at the Biotechnology Congress 2018, where you will be sure to have a meaningful experience with scholars from around the world. All members of the Biotechnology Congress 2018 organizing committee looking forward to meet you at Bangkok, Thailand.
Sessions/Tracks
Session 1: ADVANCES IN BIOTECHNOLOGY

Biotechnology is the branch of biology which is leading to its progression in a technical ways. There are many biotechnological advances in various fields like genetic engineering, monoclonal antibodies, genomics, proteomics and gene therapy etc. Thus it has various applications in many major fields which makes it able to change impossible to possible.
Session 2: BIOETHICS AND BIOTECHNOLOGY

Biotechnology is an intersection of science and ethics and is about understanding life and using this knowledge to benefit people. Technological developments are shaped by ethical vision, which in turn is shaped by available technologies. Ethics involves assessment of rights and wrongs of specific technologies. The other important pursuit within ethics is examining the broader goals and aims of enterprises like Biotechnology.
Session 3: BIOMASS AND BIOENERGY

Biomass is a fuel that is developed by burning wood and other organic matter. Burning biomass releases various carbon emissions which are used to generate electricity and other forms of power .It is considered as renewable source as plants stocks can be regrown. Biomass is often referred to plant or plant based materials that are not used as food and they are specifically called as lignocellulosic biomass. Biomass has stored sunlight in the form of chemical energy. Bioenergy is the renewable energy produced by burning biomass.
Session 4: BIOPROCESS AND FERMENTATION TECHNOLOGY

Bioprocess is a process of obtaining our desired products either by the use of complete living cells or by their components. It involves complex living cells, organelles or enzymes as biocatalyst. Organic products can be produced by biological rather than chemical means and has many advantages and disadvantages.
ADVANTAGES:
Complex molecules such as antibiotics and proteins cannot be produced by chemical means.
Bioconversion gives higher yields.
Biological systems operate at low temperatures and neutral pH.
DISADVANTAGES:
Product can be easily contaminated by foreign organisms.
The required product will be a complex form which needs separation.
Bioprocesses are extremely slow when compared with chemical process.
All biotechnological processes are essentially performed in a Bioreactor. Fermentation is the process of conversion of substrates to our desired products with the help of biological agents such as microorganisms. It is generally completed in two major steps. They are Upstream process and Downstream process. The upstream process is the entire process of cell isolation and cultivation to the final harvest. The Downstream process is a part of bioprocess where the cell mass from upstream are processed to meet purity and quality requirements.
Session 5: BIOTECHNOLOGY AND HEALTHCARE

A widespread revolution in healthcare system has taken place due to great advancement in biotechnology. The medical applications of biotechnology are often referred as Red Biotechnology. It involves the usage of living organisms or its parts for the emergence of innovative methods of production such as therapies with a lot less side effects, vaccines which are safer than before, reduction in pesticide level, diagnostic aids that are faster and bacteria being used in cleaning up the oil spills. Genetically modified crops are a beneficial product of biotechnology which fulfills the requirement of essential nutrients and vitamins in the body. All these features related to biotechnology are totally applicable to human health care.
Session 6: PHARMACEUTICAL BIOTECHNOLOGY

Pharmaceutical Biotechnology is the new and growing field in science and technology which covers all the technologies required for design, manufacture and delivery of new therapeutic drugs. This brings pharmaceutical analyses that help in prevention of human infections. These biopharmaceutical drugs are normally different from other drugs as they are either manufactured in extracted form or semi synthesized from biological sources. The basic pharmaceutical biotechnology items that are made by the biotech pharmaceutical associations include Antibodies, Proteins, and Recombinant DNA Products.
Session 7: BIOTECHNOLOGY AND INTELLECTUAL PROPERTY RIGHTS

Biotechnology is a field where wide range of advances can be seen but return on investments may be slow. Due to this reason the public research organisations and enterprises should protect their innovations with Intellectual Property Rights which will act as a basis for their return on investment by granting monopoly rights for a certain period of time. Thus all those involved in biotechnology based industries should understand the following things:
Different types of IP rights

What results can be protected

The IP rights at their disposal and

How long these rights last
Session 8: BIOTECHNOLOGY ENTREPRENEURSHIP

Biotechnology entrepreneurship is the sum of all activities through the melding of both scientific and business disciplines. Thus by this integration, the biotech entrepreneur creates, develops and commercializes the biotechnological products by successful biotech companies. Biotech entrepreneur is the backbone of biotech industry and is always the source of future innovations. They start the company with a vision of benefiting the lives of countless individuals. In addition biotech entrepreneur is usually an accomplished scientist, bioengineer, physician or businessperson .Most often but not always they might have PhD, MBA, MD or combination of these educational backgrounds.
Session 9: ENVIRONMENTAL BIOTECHNOLOGY

Environmental Biotechnology is a system of scientific and engineering knowledge to solve the environmental problems such as removal of pollution, generation of renewable energy or biomass production in the environment and ecosystem by exploiting biological processes. The remedy of environmental problems can be achieved to some extent by environmental biotechnological techniques such as bioremediation, prevention, detection and monitoring, genetic engineering for sustainable development and better quality of living.
Session 10: INDUSTRIAL BIOTECHNOLOGY

Industrial biotechnology is also known as White biotechnology. It is the third wave of biotechnology after medical and agricultural biotechnology. From the beginning, industrial biotechnology has integrated product improvements with pollution prevention.Industrial biotechnology focuses on using microorganisms and enzymes to make value added products such as antibiotics, chemicals, textiles, biogas or biofuel and to reduce harmful waste from industrial products. It is a rapidly growing field as it is associated with reduced energy consumption, greenhouse gas emissions and waste generation. The industrial biotechnology rides on a series of related developments in three fields of study derived from the cell such as genomics, proteomics, and bioinformatics.
Session 11: FOOD AND ENZYME TECHNOLOGY

Food technology deals with all the techniques and activities involved in processing, preserving and manufacturing safe, wholesome and nutritious food stuff. It is the blooming field of science and technology which modifies living organisms like plants, animals and microorganisms by the use of various tools and techniques like genetic engineering, molecular markers and tissue culture etc.
Enzyme technology is a field of biotechnology that has many industrial applications of enzymes that are used to produce or make improvements in the quality of different foods.
Enzymes have wide range of applications in many fields such as:
Session 12: PLANT AND AGRICULTURAL BIOTECHNOLOGY
Plant biotechnology is a specific area of plant science which brings about technological upgrades in plant species through genetic modifications such as genetic engineering, tissue culture etc. Agricultural biotechnology is also known as agritech, the area of agricultural science which is majorly used to alter the genome sequence of crops in order to construct our desirable products in terms of flavor, growth rate, size of harvested products and also those that are resistant to pests or herbicides and vitamin fortification. Thus these crops are termed as transgenic or genetically modified crops.It is also called as Green Biotechnology as it enhances plants with disease resistant and increased productivity.
Session 13: ANIMAL BIOTECHNOLOGY

Animal Biotechnology is a process of using molecular biology techniques to genetically engineer animals in order to improve their suitability for agriculture, industrial and pharmaceutical applications. Animal biotechnology has been utilized to deliver genetically modify animals that produce helpful proteins, enhanced development and resistance to disease for production of Transgenic animals.
Animal biotechnology had wide applications in
Creating transgenic animals (animals with one or more genes introduced by human intervention), eg: Introduction of growth hormone gene of rainbow trout into carp eggs produces transgenic carp which will grow one third larger than normal carp with both the growth hormones.
Using gene knock out technology to make animals with a specific inactivated gene and producing nearly identical animals by somatic cell nuclear transfer (or cloning).
Use of animal organs in humans(pigs are used to supply heart valves in humans).
Session 14: GENETIC ENGINEERING AND MOLECULAR BIOTECHNOLOGY
Genetic engineering also called as genetic modification is an exciting field of changing the genetic makeup of gene by direct manipulation with the use of biotechnology. Novel or improved organisms can be produced either by transferring the genes within or across various species. Molecular biotechnology is a combination of many areas of research, such as molecular biology, microbiology, immunology, genetics, and cell biology. The tools of molecular biotechnology are applied in developing new vaccines, drugs and diagnostic therapies. They also play a key role in plant and agriculture, aquaculture, forestry and food industries.
Session 15: MARINE BIOTECHNOLOGY

Marine biotechnology is often referred as Blue Biotechnology which explores and uses marine bio resources as the target to make or modify products. Marine biotechnology may include techniques such as bioprocessing, bioharvesting, bioprospecting, bioremediation, using bioreactors while applications may include health, food, cosmetology, aquaculture, agriculture, fisheries, manufacturing, environmental remediation, biofilms and corrosion, biomaterials, research tools etc.
Session 16: MICROBIAL BIOTECHNOLOGY

Microbial Biotechnology has a great aspect in the field of biotechnology which utilizes microorganisms to bring fostered progress in various biological fields such as Microbial nutrition, fermentation, Biosensors etc. Microbial Biotechnology mostly correlates with protein engineering, lipid technology etc. Microbial Biotechnology is also called as Industrial Microbiology due to the new discoveries made in the field of genetic engineering. Industrial Microbiology is initially developed for alcoholic fermentation but later it is being used in microbial production of enzyme, antibiotics, citric acid etc.
Session 17: STEM CELL BIOTECHNOLOGY

Stem cells are unique cells found in multicellular organisms with an ability to differentiate to different biological cells through mitosis. In mammals they are broadly into embryonic stem cells and somatic stem cells which help in repairing and regenerating damaged tissues. Due to their potency and self-renewal capacity they can differentiate into any type of body cells. Thus stem cell biotechnology can be defined as the field of biotechnology that develops tools and therapeutics for many untreatable diseases through cellular replacement and tissue engineering of stem cells. Regenerative medicine is the main application which repairs and restores damaged tissues.
Session 18: REPRODUCTIVE TECHNOLOGY

Reproductive technology includes the current and anticipated uses of technology in human and animal reproduction including contraception, assisted reproductive technology, prognostics and others (same sex procreation). The extensive use of modern reproductive technologies lead many ways to study, treat and manipulate reproductive phenomenon both invitro and invivo to improve reproductive performance. Various developments made are Semen Sexing, Sperm Encapsulation, Somatic Cell Nuclear transfer, Stem Cell Technology, Embryo Transfer Technology, Embryo Cryopreservation etc.
Session 19: BIONANOTECHNOLOGY

Bionanotechnology is an intersection of Nanotechnology and molecular biology. It deals with Nano sized materials which are used to study biological phenomena with the nanotechnology. Nano devices, nano-particles and nanocantilevers are the concepts that are being emerged through bionanotechnology. Peptoid nanosheets are the new tools that being developed in medical and biological fields. Peptoid nanosheet is a synthetic protein structure developed from peptoids. Due to high surface area, they serve as a platform in sensing and templating.
Market Analysis
Scope and Importance:

Biotechnology involves a set of techniques which uses biomolecular processes to develop products and technologies by manipulation of organisms at genetic level to improve our lives, nutrition and health. Modern Biotechnology combat rare diseases to reduce environmental footprint, use cleaner and lesser energy and have the more efficient industrial manufacturing processes. World renowned experts agree that biotechnological innovation is the foundation-stone of our future, and a 'game changer.' Revenue for Global Biotechnology Industries has increased rapidly over the past five years and their investment has grown consistently with more R&D being funneled into medical applications aiming care for aging Global population. Key technologies include fermentation, Bio Nanotechnology, Cell based assays, DNA sequencing and others. In 2103, tissue engineering and regeneration segment dominated the global industry with USD 87.92 billion revenue. However DNA Sequencing and cell based assay are expected to bring immense growth till 2020 due to R&D development initiatives by various pharmaceutical and biotechnological companies.
Since the last decade, the biotechnology industry in Thailand has been a great supporter in Thailand developmental plan, thus transforming into a high value added economy. Global Biotechnology conference provides a path to carve out a near-to-perfect platform where people like you and we can get together, stand together and discuss the possibilities and advancements in the field of Biotechnology and its related aspects. This conference would also allow various exhibitors and sponsors to exhibit their products such as pharmaceutical and genetically engineered products.