Welcome Message
Time to explore the Alternate Medicines 2019!

We are glad to welcome the experts from all over the world in the field of holistic medicine for the "International Conference on Alternative Medicine and Traditional Medicine", scheduled at Edinburgh, Scotland , during June 10-11, 2019.
Alternative medicine 2019 intends to gather leading educational scientists, researchers ,research students and business delegates to exchange & share their experiences and research results about all aspects of Natural and Alternative Medicine across the Globe.
The stimulating theme of the congress is "Passion towards the progress of Alternative Medicines".
It will be the best platform to showcase the various research works in the field of the different healing practices. The conference includes reputed keynotes talks, oral presentations, Symposium, and poster presentations.
This is a wonderful opportunity for the delegates to meet the Global Eminent experts from research foundations and demonstrative organisations at our Alternative Medicine Congress 2019, it will help to know the recent progress in the field of medicine to improve the health of many souls.
Looking forward to guide you.
About Conference
We invite all the participants from all over the world to attend the International Conference on Alternative Medicine and Traditional Medicine entitled which is held during June 10-11, 2019, Edinburgh, Scotland. This Alternate Medicine 2019 meeting deals with the current research developments in its field and about the new treatment methods which are devised by scientists to treat various diseases in easier way.
Alternate Medicine 2019 includes international attendee workshops, lectures and symposium, including a designated registration area, a respite and regalement. Traditional and alternative medicine educators can join the conference as an international member to receive discounts on registration. So come and join leading experts and allied professionals in Edinburgh, Scotland to keep up with the rapid change that is already having an impact on the field of Alternate Medicine and will continue to in the future.
Why should you attend?
This international conference gives you a precious opportunity to meet the like minded people and academicians. A conference of such a kind will help you to overcome the geographical barriers and come and unite so that they can discuss their same disciplines with their individual vivid knowledge.Alternate Medicine 2019 anticipates hundreds of delegates including international keynote lectures and oral presentations by renowned speakers and poster presentations by students.
Alternate Medicine 2019 anticipates hundreds of delegates including international keynote lectures and oral presentations by renowned speakers and poster presentations by students. And this congress focuses to unite all the researchers, scholars, industrialists from the alternative and traditional medicine field.
Target audience
· Directors
Business Delegates
Professors, Researchers, and technical staff from the field of alternate medicine and traditional medicine
Different Alternative Medicine Practitioners
Scientific Sessions/ Tracks
Track 1: Alternate and Traditional Medicine
Track 2: Evolution of Alternative Medicine
Track 3: Challenges and future innovations of Alternate medicine
Track 4: Acupuncture.
Track 5; Ayurveda.
Track 6: Homeopathy.
Track 7: Naturopathy.
Track 8: Traditional Chinese or Oriental medicine.
Track 9: Herbal medicine
Track 10: Arabic and Unani medicine
Track 11: Yoga and meditation
Track 12: Siddha
Track 13: Chiropractic
Track 14: Osteopathy
Track 15: African Traditional medicine
Track 16: Advantages of Alternate and Traditional medicine
Track 17:Advanced Developments and Current research works in Alternate medicine
Market Analysis
The global alternative and complementary medicine market was valued at $40.32 billion in 2015 and $71.19 billion in 2016. As a result to the increasing support by the masses, increased usage of traditional therapeutic methods has a scope for considerable growth in the coming decade. It was estimated that more than 60% of the global population uses some or the other form of traditional medicine as of 2017.
Alternative medicine involves the traditional methods of medication such as the use of herbs and other mind and body healing techniques that are mostly based on faith and belief like Ayurveda, Unani and Traditional Chinese Medicine. However, many of these techniques have no regulatory approval or clinical evidential backing. Many of the regulatory and government bodies have put up efforts in finding clinical support for the incorporation of alternative treatments to help improve the market and treatment methods.
Complementary & Alternative Medicine Market, by intervention, 2013 - 2025 ($Billion)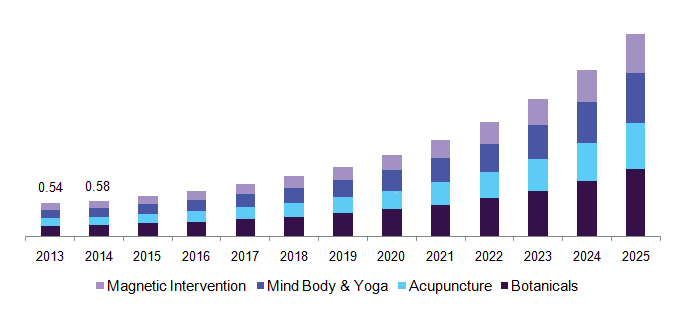 Europe is the first in the market owing to the extensive use of botanical's, the other methods of alternative and traditional medicine in the regions. And it is the best in the revenue generation in the market. The Asia Pacific is expected to show the rapid growth over the few years due to increasing recognition of the products which include drugs, dietary supplements, and skin care products. India and China being the major markets for herbal medicinal products in the region since they have a strong background.
Why Edinburgh?
Europe is the best around the world in Alternate and Traditional Medicine. And Edinburgh has many societies related to Alternate Medicine and Traditional Medicine. A lot of researchers and scientists are working along with the industries to expand the cover area of the alternate medicine sector in France and Europe too.